Air Fryer Spaghetti Squash
Jun 25, 2020, Updated Aug 24, 2023
Air fryer spaghetti squash makes a simple and delicious side dish or substitute for pasta. A wonderful option for those looking for a low-carb, Keto and Paleo friendly recipe.
These squashes can be used in so many different ways, one of our family's favorite is this chicken taco spaghetti squash.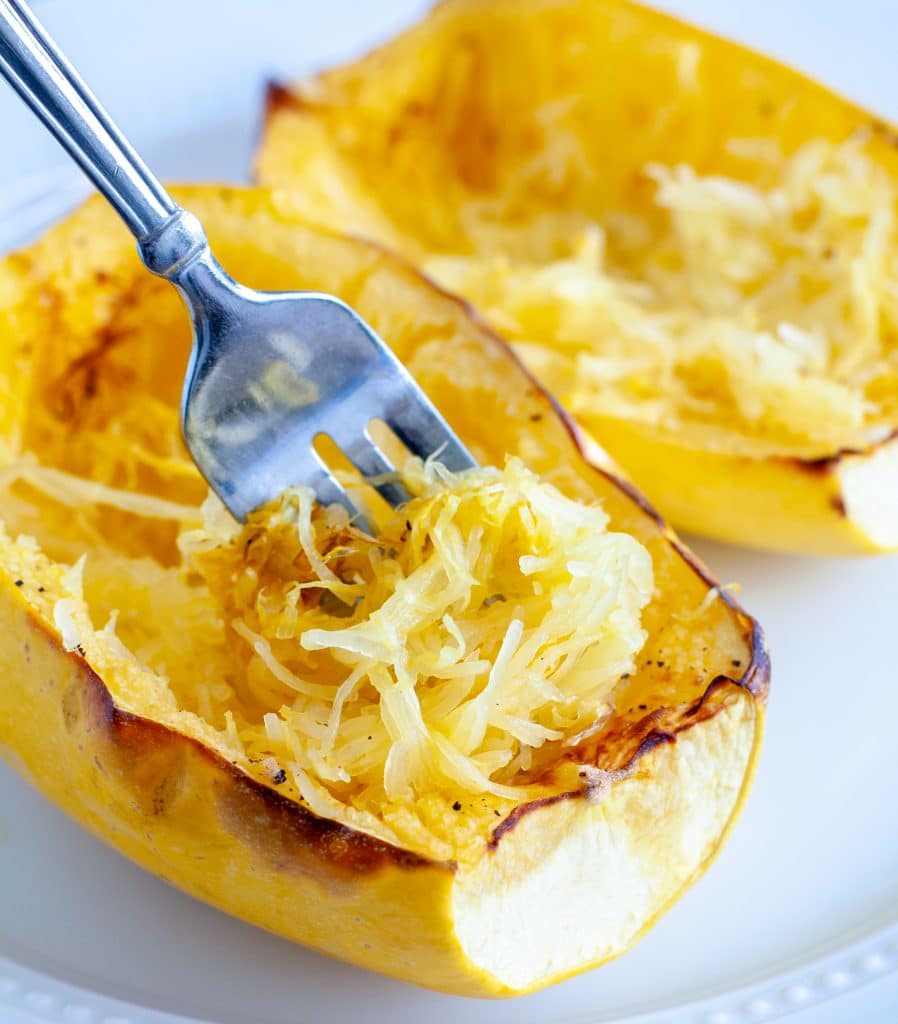 Why make spaghetti squash in the air fryer
Easy – This recipe is made with just a few simple ingredients and can be prepared in about 20 minutes.
Delicious – Roasted spaghetti squash is full of flavor and a great alternative to pasta.
Versatile – This can be served as a simple side dish or as part of a main meal. It's a great pasta substitute. Be sure to check out these wonderful spaghetti squash recipes.
I love spaghetti squashes because you can fill them or top them with so many different things. From chili, to taco meat, cheese or even roasted vegetables, the possibilities are endless.
What is spaghetti squash?
You can find spaghetti squashes in the produce section of the grocery store. They are yellow, long and oval in shape. Their peak season in Fall and early Winter but are typically available all year in the grocery store.
When cooked, the inside of these squashes can be shredded into long strands that look like thin pasta. Depending on how long it's cooked, the texture can go from al dente to soft. There are many ways to cook spaghetti squash like in the Instant Pot, oven microwave, and the air fryer.
Ingredients needed
Spaghetti squash – Fresh spaghetti squash. Make sure it is small enough to fit in the air fryer basket.
Olive oil – This is used to help roast the squash.
Salt and Pepper – A little seasoning to enhance the flavor of the squash.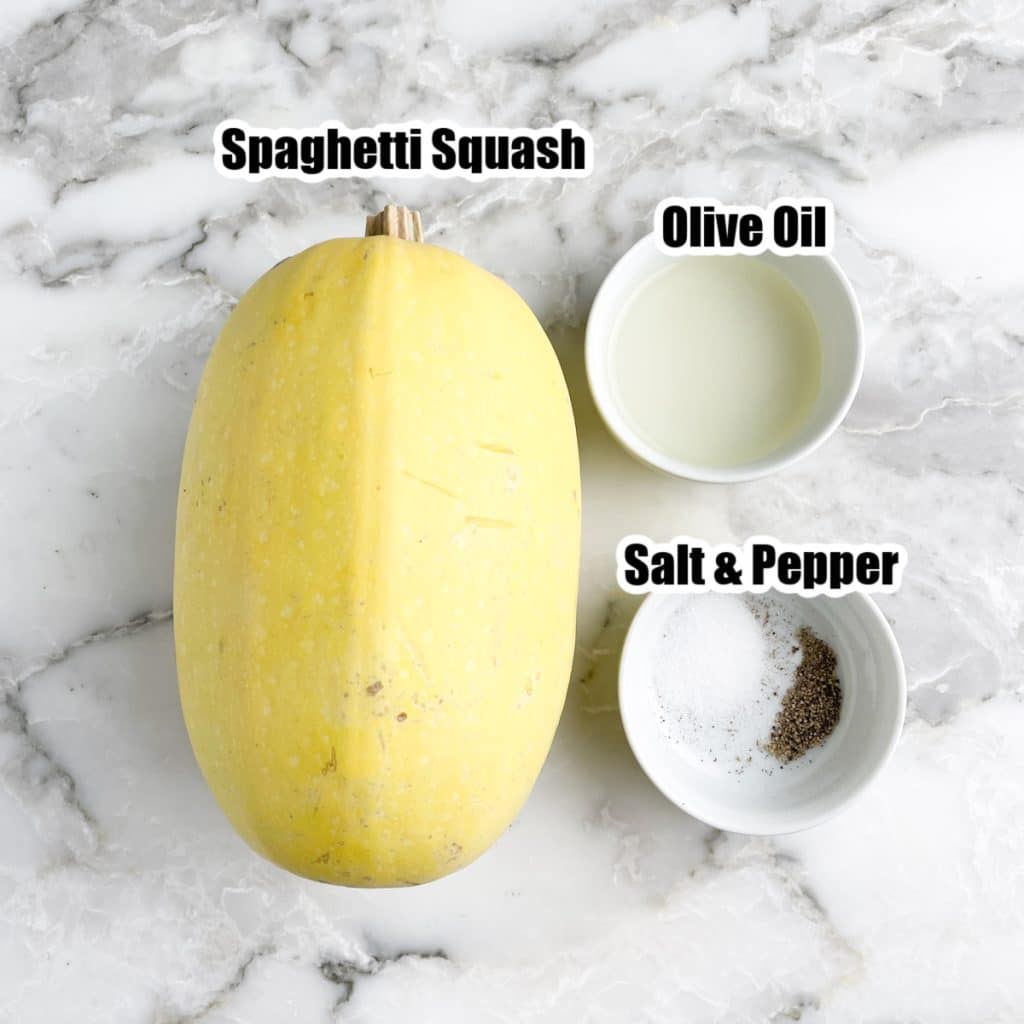 How to pick a spaghetti squash
When looking for the perfect squash be sure to check for:
Look for a firm, not soft or mushy, squash.
Size is important. Make sure to get a squash that will fit in your air fryer basket.
Try to find one without any bruises or soft spots.
How to cook spaghetti squash in air fryer
Scroll to the bottom for full printable recipe, ingredients and video.
Prepare: Cut off the ends of the squash using a sharp knife then cut the squash in half, lengthwise. Scoop out the seeds and discard them.
Season: Brush olive oil over the inside the halves of the squash and sprinkle with salt and pepper.
Cook: Place each half in the air fryer basket, cut side up, and cook at 370 degrees for 12 minutes. Check the squash and add an additional 4-6 minutes depending on the size of the squash.
Scrape: Using a fork, scrape out the spaghetti squash strands and serve.
How to cook whole Spaghetti Squash in the Air Fryer
If you would prefer to cook the squash whole, place the whole squash in the air fryer basket and cook at 400 degrees for 35-40 minutes. Let cool for at least 5 minutes before cutting open and scooping out the seeds.
How to serve
This winter squash can be used in so many ways. Here are a few suggestions:
Seasonings – Try adding your favorite seasonings like salt, ground black pepper, a little garlic powder, Italian seasoning, lemon pepper, or even a dash of Cajun seasoning.
Sauce – Top the strands with your favorite pasta sauce like marinara, green pasta sauce, alfredo sauce, or even a simple garlic butter sauce.
Filling – You can also top with things like mozzarella cheese, Parmesan cheese, chili, taco meat, roasted veggies, grilled chicken and more.
How to store
Store: To store leftover spaghetti squash, let it cool and then place in and airtight container. Store in the refrigerator for up to 5 days.
Freeze: Spaghetti squash can also be frozen in a sealed, airtight container or freezer bag for 6-7 months.
Reheat: Reheat the squash strands in a microwave for 1-2 minutes or in a saucepan on the stove top.
Recipe tips & variations
If you are having difficulty cutting the squash in half, try microwaving it for 4-5 minutes to soften it up.
Try gently cutting around the seeds to make it easier to scoop them out.
Each squash size will be a little different so cook time may vary. I like to check mine at the 12 minute mark and then add more cook time as needed.
Don't waste the seeds, they can be roasted just like pumpkin seeds.
What air fryer to use?
There are many great options to choose from on the market. I am currently using a Cosori 5.8 quart that works really well. You can read more about it in my full review. Here are a few others that have good ratings and are priced well.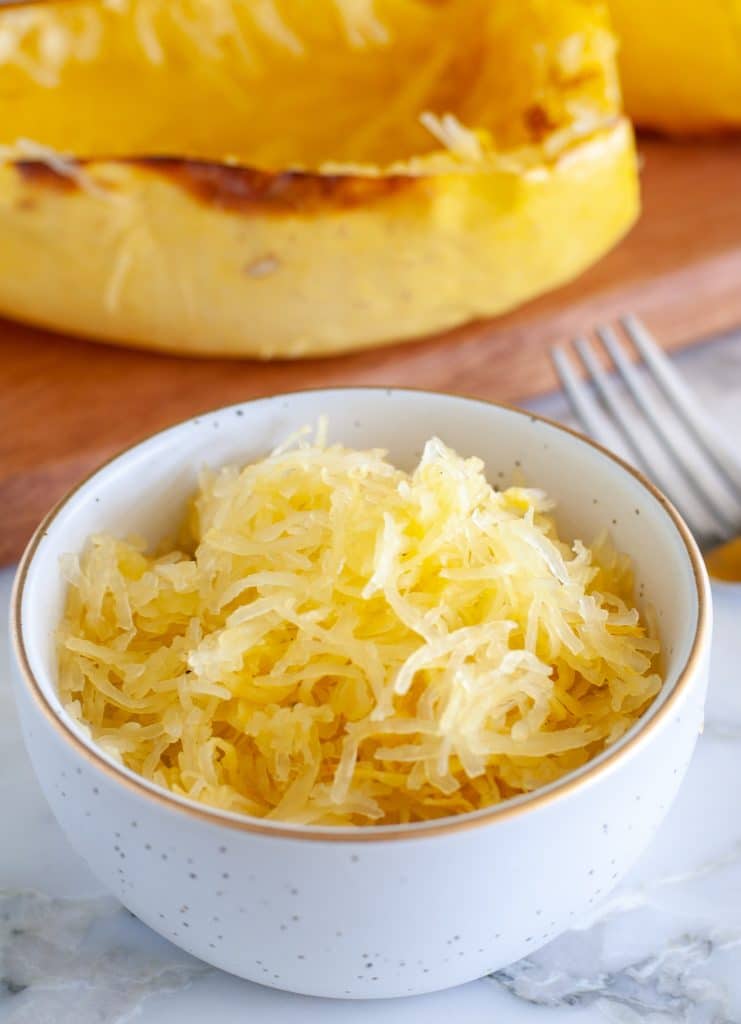 How long does it take to cook squash in air fryer?
It will take anywhere between 20-30 minutes to fully cook the spaghetti squash. The size of the squash will determine how long it needs to cook.
How do you get moisture out of spaghetti squash?
If you have a spaghetti squash that has excess moisture, try cutting it in half and sprinkling with salt. Let it sit for about 10 minutes before air frying.
Is spaghetti squash in the air fryer healthy?
Yes, this squash is low in calories and high in fiber, vitamins and antioxidants. It's a great substitute for things like pasta and other recipes.
What temp to cook spaghetti squash in the air fryer?
Cooking spaghetti squash at 370 degrees will help to keep it tender and not burn the squash.
More easy air fryer vegetable recipes
If you made this spaghetti squash air fryer recipe be sure to leave a comment and rating below.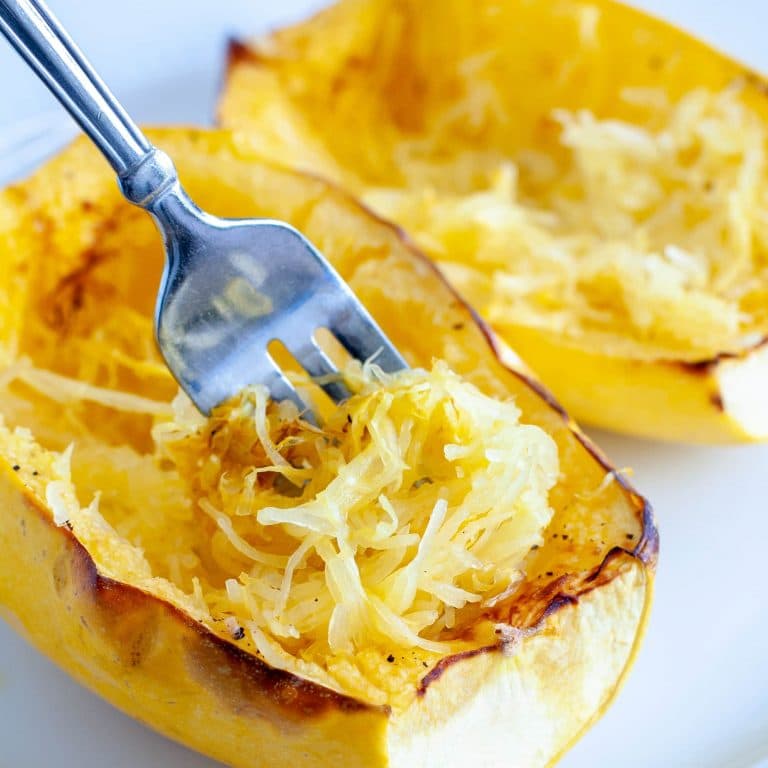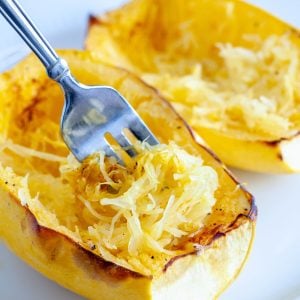 Spaghetti Squash in Air Fryer
How to cook spaghetti squash in the air fryer
Ingredients
1

medium

spaghetti squash

1

tablespoon

olive oil

1/2

teaspoon

salt

1/4

teaspoon

ground black pepper
Instructions
Cut ends of the squash then cut down the middle, lengthwise.

Scoop out and discard the seeds. Drizzle oil over the spaghetti squash and the season with salt and pepper.

Place the 2 halves in the air fryer and cook at 370 degrees F for 12 minutes. Check the squash and continue cooking another 4-6 minutes depending on the size of the squash.

Remove from air fryer basket and using a fork, scrape the inside of the squash to form strands.
Nutrition
Calories:
212
kcal
|
Carbohydrates:
34
g
|
Protein:
3
g
|
Fat:
10
g
|
Saturated Fat:
2
g
|
Sodium:
664
mg
|
Potassium:
521
mg
|
Fiber:
7
g
|
Sugar:
13
g
|
Vitamin A:
579
IU
|
Vitamin C:
10
mg
|
Calcium:
111
mg
|
Iron:
1
mg
Nutrition information is automatically calculated, so should only be used as an approximation.
Like this? Leave a comment below!