What To Serve With Ribs – 32 Recipes
Jan 09, 2023, Updated Oct 28, 2023
If you have ever wondered what to serve with ribs, look no further than this tasty list. Ribs are a classic BBQ option with their juicy, fall-off-the-bone meat.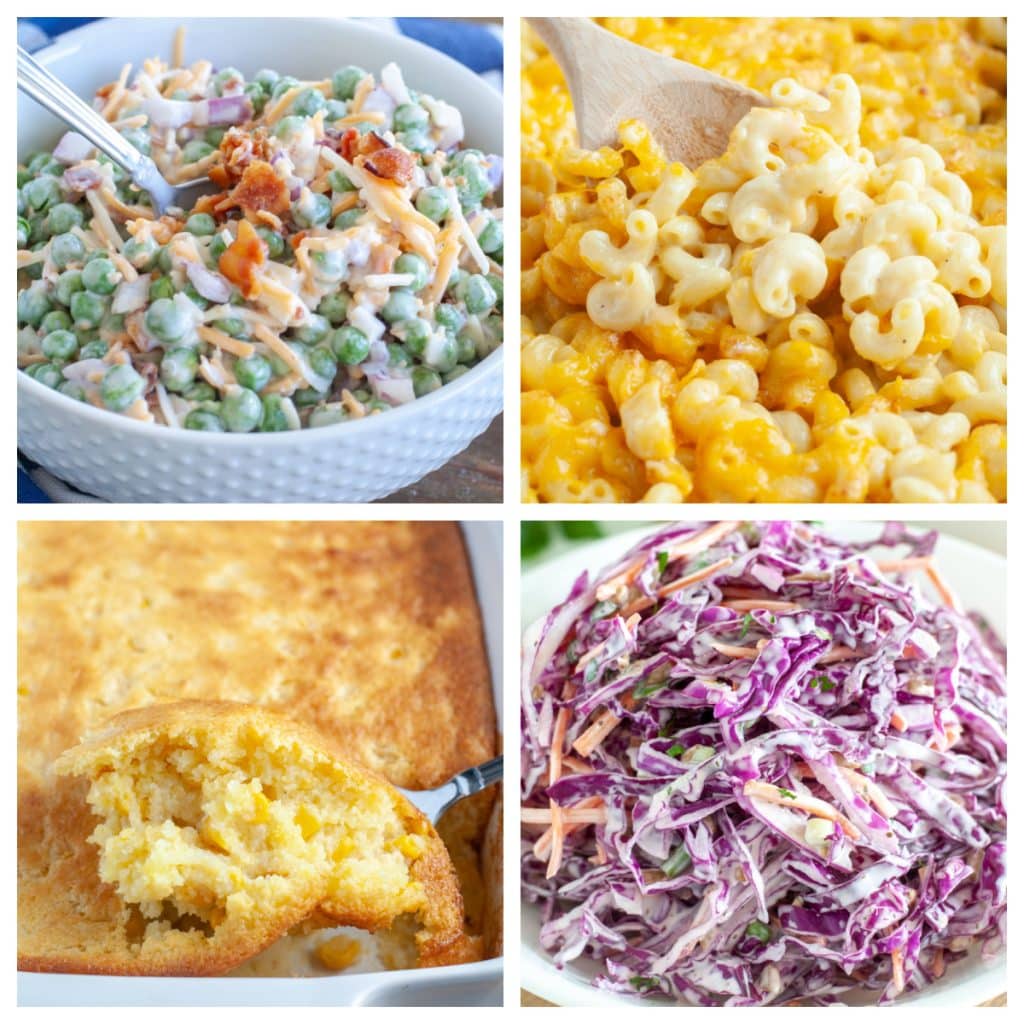 Summer cookouts are not complete without a rack of ribs on the grill. But what should you serve with them? We've got you covered with this extensive list of delicious easy sides.
From traditional baked beans to potato salad to Southern favorites like hush puppies and collard greens, there is something for everyone. With over 30 alluring choices, they are guaranteed to be a hit.
Read through this comprehensive list, and let us know your favorites.
It does not feel like a summer cookout without potato salad. It is a quintessential and required side dish during the warmer months. This beloved dish has several iterations, but the simplest is the best.
Pure flavor and perfectly cooked potatoes make this recipe my go-to for an easy side to BBQ ribs.
The great thing about green beans is how versatile they are. Many do not realize how wonderful green beans are in recipes. This green bean salad is an easy side to make ahead that is worthy of your holiday table and happens to pair perfectly with a rack of ribs.
It is full of flavor with a balsamic basil vinaigrette making this a must-try recipe.
A cold pasta salad is a fabulous addition to summer cookouts. This recipe has fresh flavors such as diced onion, bell peppers, celery, and shredded carrots. They are combined with a creamy dressing, making this pasta salad a hit every time with BBQ ribs.
You do not need to travel to the south for mouthwatering, delicious collard greens. A classic dish that is a must-have with a rack of ribs, this recipe is simple for an easy side. Seasonings, a touch of brown sugar, chicken broth, and greens are all you need.
Simple and bursting with fresh flavor, fruit salad is a refreshing addition to any summer cookout. Easy sides are essential, and it doesn't get much easier than this. Strawberries, blueberries, and grapes are combined with a dash of sugar and fresh lemon juice for a simple and beautiful dish.
There is nothing like homemade hushpuppies! This recipe is one of those easy sides that is a Southern classic and goes great with that rack of ribs. These hushpuppies have a soft, fluffy inside with a crispy outside.
A touch of sweetness adds to the savory flavors making this a recipe one to have on repeat.
Corn on the cob is an essential summer cookout favorite. Nothing beats its fresh flavors and fun-to-eat style. A delightful and versatile vegetable, when deciding what to serve with ribs, do not forget this tasty and beloved easy side.
Pea salad is a delectable easy side dish full of flavor. It has bacon, cheese, onions, and tender, sweet, crisp peas. They are all tossed in an irresistible sweet and salty dressing bringing this delightful salad together. This is one of those salads that pair wonderfully with main dishes.
French fries go with just about everything. They are a quick and simple side dish to whip up, and everyone loves them. Elevate traditional fries with this copycat recipe for seasoned French fries. The favorite Wingstop fries are a fun addition to any BBQ ribs plate.
Mix up the way you enjoy corn and make these enticing corn fritters. Packed with alluring flavors and fried until golden, they are one tasty treat. Corn in any form pairs well with BBQ, especially a rack of ribs. Make these today and be the hit of the summer cookouts.
Another way to enjoy the fresh flavor of corn is to make this impressive corn pudding. With a corn trifecta of creamed corn, whole kernel corn, and Jiffy corn mix, this is a cornapalooza pudding not to be missed and sure to become a family favorite.
Mac and cheese is one of the most adored foods. Kids and adults equally go crazy for its cheesy goodness. It also happens to be an amazing side dish to BBQ ribs. The creamy, cheesy, rich flavors compliment the smokey, grilled BBQ flavors. It's a match made in heaven.
A light, fresh, and flavorful dish is always a welcome accompaniment to BBQ ribs. Cucumber salad is bursting with fresh flavor, is light with a creamy dressing, and is an all-around delicious side dish. With fresh dill, lemon juice, sour cream, and seasonings, this is a summer cookout favorite.
Another light and fresh option is a tasty cabbage slaw. A quality slaw like this one adds a fresh flavor. The crunch is a welcome texture change from a mouthwatering rack of ribs while being a light side dish. Using purple cabbage is a colorful addition and adds pizzazz to a summer cookout party table.
This salad is a stunning, light, and fresh salad that will knock your socks off. Shaved Brussels sprouts are combined with julienned apple slices, seasonings, and a delicious dressing. This delightful dish is bursting with sweet, nutty, and savory flavors. It is an easy side dish to keep in your recipe repertoire.
Creamy, cheesy, and oh-so-satisfying, cheese grits are your next obsession. The Southern classic is loaded with butter and cheese for the creamiest grits you have ever had. This savory side dish is a must-have and the perfect pairing with a rack of ribs.
A tasty broccoli salad is always a welcome addition to a summer cookout. It is such an easy salad to throw together and is full of splendid flavors. With bacon, raisins, red onions, and sunflower seeds tossed in a creamy dressing, it is a beautiful flavor explosion with every bite.
If you have not tried fried green tomatoes, this is your sign that it is time. This Southern classic is required eating during the summer and always on plates at summer cookouts. You will be surprised at how delicious these green gems are and how well they go with BBQ ribs.
Arguably one of the most popular side dishes for BBQ ribs, baked beans never disappoint. They are as traditional as grilling meat over fire. This recipe has it all: brown sugar, bacon, onion, and a secret ingredient. This is an easy homemade side dish with mouthwatering flavors to pair with that rack of ribs on the grill.
Fried pickles are irresistible, tasty treats all on their own, however, they also pair nicely with BBQ ribs. Tart, briny pickles are dredged in seasoned panko bread crumbs and fried to perfection. They are a delectable dish everyone can't get enough of.
As we know, potato salad is a quintessential dish at every summer cookout. Mix up your potato salad game with this simple recipe. The German potato salad is served warm with bacon, onion, and a vinegar dressing. It is a satisfying salad that compliments BBQ ribs nicely.
Another easy side is asparagus. This versatile veggie cooks up wonderfully in an air fryer for a fresh side dish everyone loves. The air fryer makes it a cinch to whip up and only requires 3 ingredients. Just add a dash of lemon pepper and olive oil to your asparagus, and the air fryer does the work for you.
French fries are always a welcome side dish. Using sweet potato fries instead of traditional French fries adds a depth of flavor to your meal. These delicious French fries cook nicely using an air fryer for perfectly crispy fries to pair with that rack of ribs.
Potatoes, in all of their glorious forms, are loved and desired side dishes. The baked potato is no different. This classic side is a traditional accompaniment to meat, BBQ ribs included. With a crispy skin and fluffy, soft middle ripe for all the fixings, you never go wrong with a satisfying baked potato.
A great way to brighten up your palate while enjoying BBQ ribs is with a light side dish. Ambrosia salad is overflowing with fresh flavors. With fresh fruits, mini marshmallows, and a bright, creamy dressing, it hits the spot every time.
When in need of a quick and easy side dish to go with a rack of ribs, look no further than this simple recipe. Frozen okra and a little olive oil are all it takes. Add to the air fryer, and in 14 minutes, delicious fried okra bites are ready to be devoured.
Buttered noodles are a divinely easy side for any meal. Especially popular with picky eaters, these luscious noodles pair well with BBQ ribs. From start to finish, it only takes 13 minutes to whip up a bowl of buttered noodles.
There is nothing simpler than enjoying food the way nature intended, naturally. Roasted vegetables cook up quickly in the air fryer and are bursting with fresh flavor. Minimally seasoned, so their natural flavors shine, this is a wonderful healthy side to enjoy during any summer cookout.
Another great way to enjoy the almighty potato and add a tasty side dish to your table is a hash brown casserole. This copycat recipe from Cracker Barrel is oozing in mouthwatering flavors with cheese, seasonings, and sour cream. There are never any leftovers from this incredibly satisfying dish.
Corn salad is an irresistible, delightful salad. It is bursting with fresh flavors of the season and a fabulous addition to a summer cookout. It has fresh sweet corn, cucumber, tomato, bell peppers, and fresh basil. They combine in a heavenly dressing that is a light, bright, and satisfying treat.
You can never go wrong with a simple garden salad. They are always full of fresh flavor, light, easy to eat, and complements everything. Every summer cookout has some form of a green salad. This recipe includes bacon and onion, but there are no rules when it comes to a simple salad. Fresh greens and your favorite toppings do the trick every time.
More sides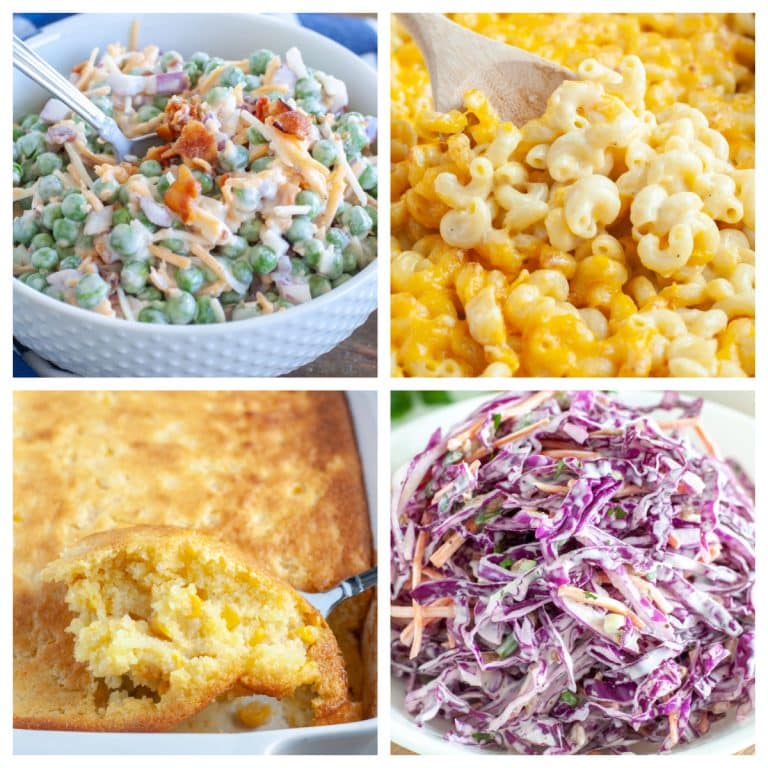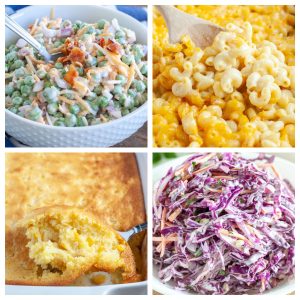 What To Serve With Ribs
A variety of side dishes to serve with ribs. These rib side dishes range from vegetables to casseroles including these super simple tomato and cucumber salad.
Ingredients
2

cups

cherry tomatoes, halved

1

English cucumber

sliced

1/2

red onion

sliced

1/4

teaspoon

salt

1/4

teaspoon

ground black pepper
Dressing
1/4

cup

red wine vinegar

1/3

cup

olive oil

1/2

teaspoon

Italian seasoning

1/4

teaspoon

salt

1/8

teaspoon

ground black pepper
Instructions
Place tomatoes, cucumber, onion, salt and pepper in a large bowl.

In a small bowl, whisk together oil, vinegar, Italian seasoning, salt, and pepper.

Pour the dressing over salad and toss to combine.
Nutrition
Calories:
193
kcal
|
Carbohydrates:
7
g
|
Protein:
1
g
|
Fat:
18
g
|
Saturated Fat:
3
g
|
Polyunsaturated Fat:
2
g
|
Monounsaturated Fat:
13
g
|
Sodium:
303
mg
|
Potassium:
304
mg
|
Fiber:
1
g
|
Sugar:
4
g
|
Vitamin A:
449
IU
|
Vitamin C:
20
mg
|
Calcium:
29
mg
|
Iron:
1
mg
Nutrition information is automatically calculated, so should only be used as an approximation.
Like this? Leave a comment below!