Cooking with an air fryer is quick and easy if you have the right machine. I am sharing my Cosori air fryer review to help you determine if this one is right for you.
There is so much more than frozen fries and fish sticks you can make in this machine. It's a great appliance to have in your kitchen for quick, easy, delicious meals.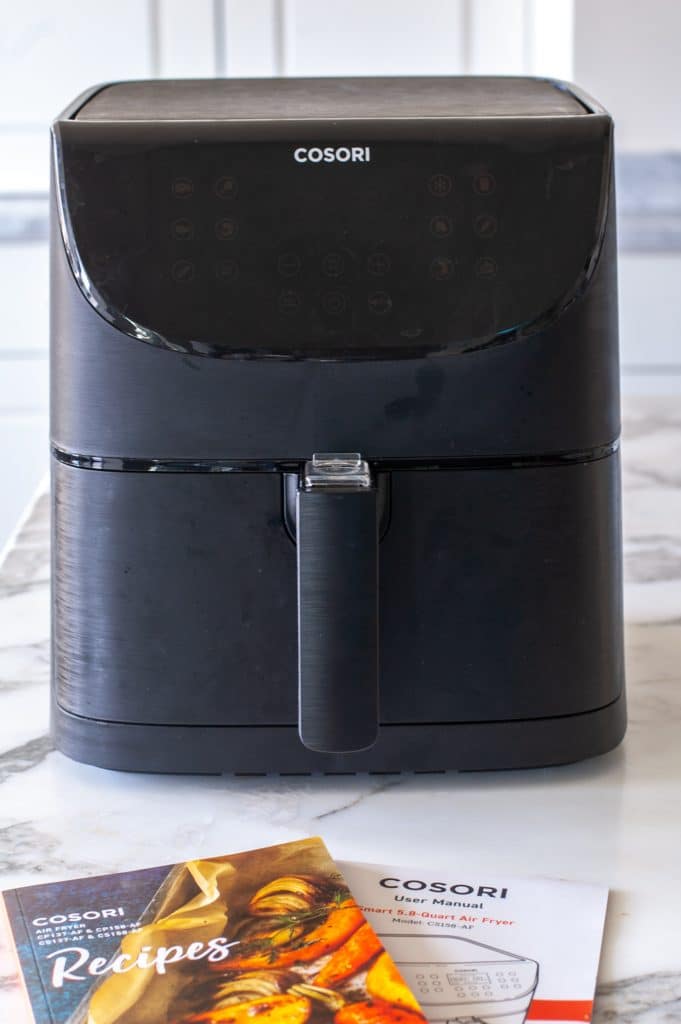 When it comes to choosing the best air fryer you will need to determine your needs and budget. How big is your family, will you be using it often and how much do you want to spend are great questions to answer before buying.
Is Cosori a good air fryer?
This is a product I purchased myself and will give you an honest review. I have been using it for about 4 months and so far think it is wonderful.
I previously owned an Elite air fryer and after a few months the basket handle broke and the basket started chipping.
After cooking with the Cosori 3-4 times per week for the last few months, my machine still looks and works like new.
Design
This is on the large size for an air fryer. It's 5.8 quart with the measurements of 11.8 x 12.6 x 11.7. The fry basket is square shaped and about 9 x 9.
This will manually air fry temperatures between 170 degrees F – 400 degrees F and between 1-60 minutes. It also includes a digital touch screen with 11 cooking presets, a preheat button and a warming button. Another great feature is that it reminds you to shake or flip the food halfway through cooking.
This is a very user friendly machine and you don't have to press many buttons to get it cooking
The model I purchased is compatible with the VeSync app and Amazon Alexa. It allows you to control the machine via your smartphone for things like setting cook time and scheduling cook time. I have not used this feature so while it's very cool, it might not be necessary.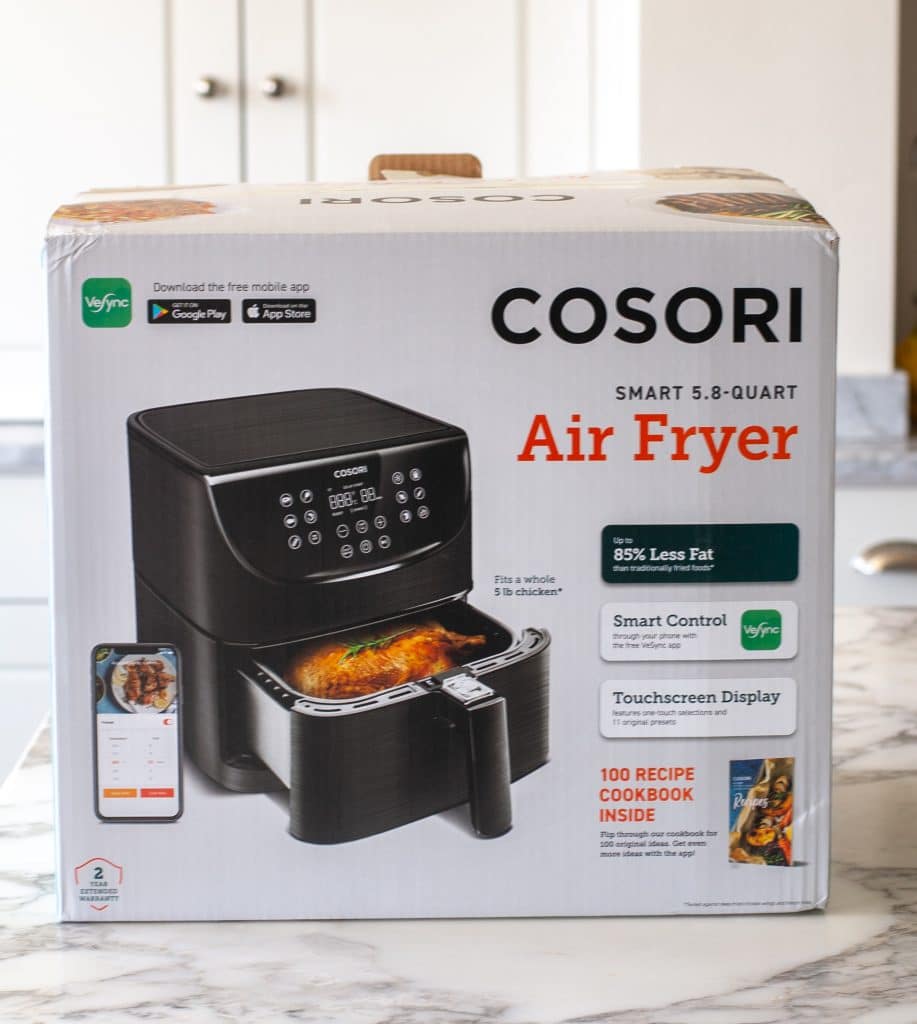 Features
The Cosori air fryer offers many great features including:
5.8 quart basket – This is on the larger size when it comes to fryer baskets.

Digital interface – 11 presets come with this model. They include Steak, Bread, Desserts, Poultry, Seafood, Shrimp, Bacon, French Fries, Frozen Food, Root Vegetables, and Vegetables.

120V and 1700W

Preheating button and shake reminder – These are features that some fryers don't have.

Non-stick and dishwasher safe – Great for easy cleanup.

Comes with a recipe book and 2 year warranty.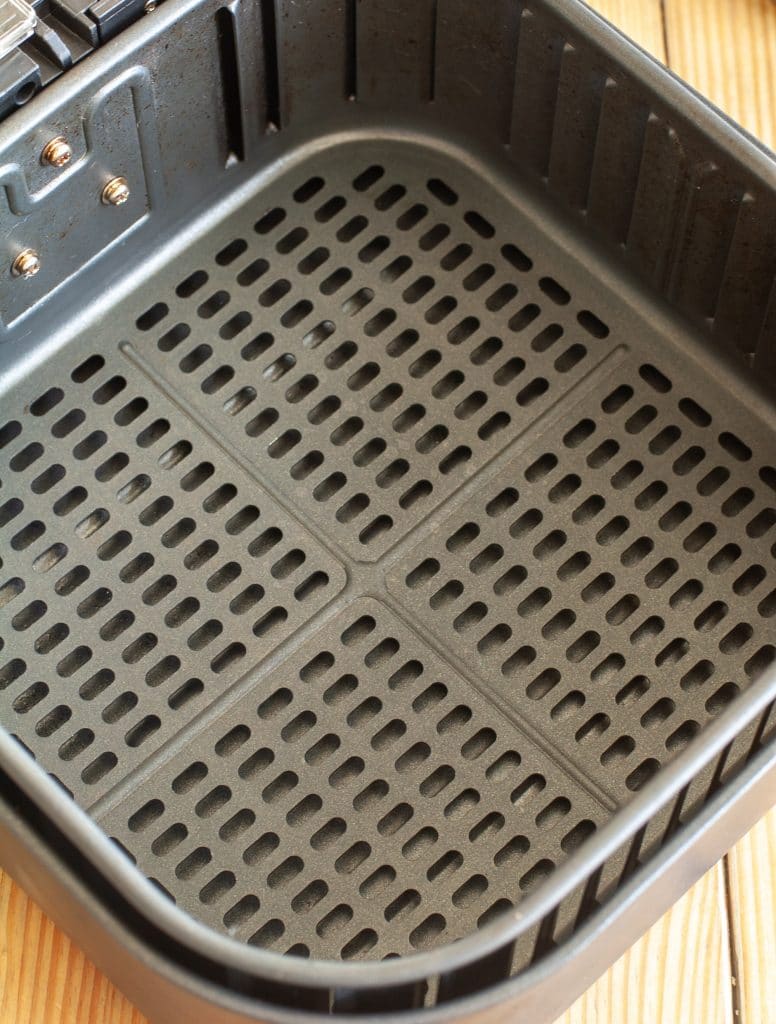 Pros and cons of Cosori air fryer
There is always a good and a bad when it comes to most products. I will say that I haven't found many cons while using this Cosori.
Pros
Large capacity – The square shape and large basket allows you to cook a lot at once.
Easy to clean – Since it's non-stick and dishwasher safe, it's so fast and easy to clean. Since I have been cooking with my machine, I haven't had any issues with the outer layer of the basket peeling.
Cooks great – This cooks fast and delicious.
2 year warranty – Even though I haven't had any problems, it's nice to know that it's covered.
Affordable – This product is right in line with most air fryers when it comes to price.
Cons
Large – It takes up a large amount of counter space. I keep mine in a cabinet and bring it out as needed. If you plan to leave it out, make sure you have the space.
Noise – I have 3 kids so the noise doesn't bother me. I used to have a different brand and the noise level is about the same.
Does it dehydrate?
This model does not have a dehydrate button but they do make an air fryer toaster oven that can dehydrate.
Do you need to use oil?
It depends on the recipe and what you are cooking. I do have an oil mister for the times it's needed.
For many pre-frozen foods, extra oil is not required.
Cosori Air Fryer Recipes
This product comes with a great recipe book. I have made a few and they always turn out fantastic.
Here are a few of our favorite recipes that we have shared on our site:
If you are new to this method of cooking, be sure to download this printable Air Fryer Times and Temperature Sheet.
AIR FRYER COOKING TIMES CHEAT SHEET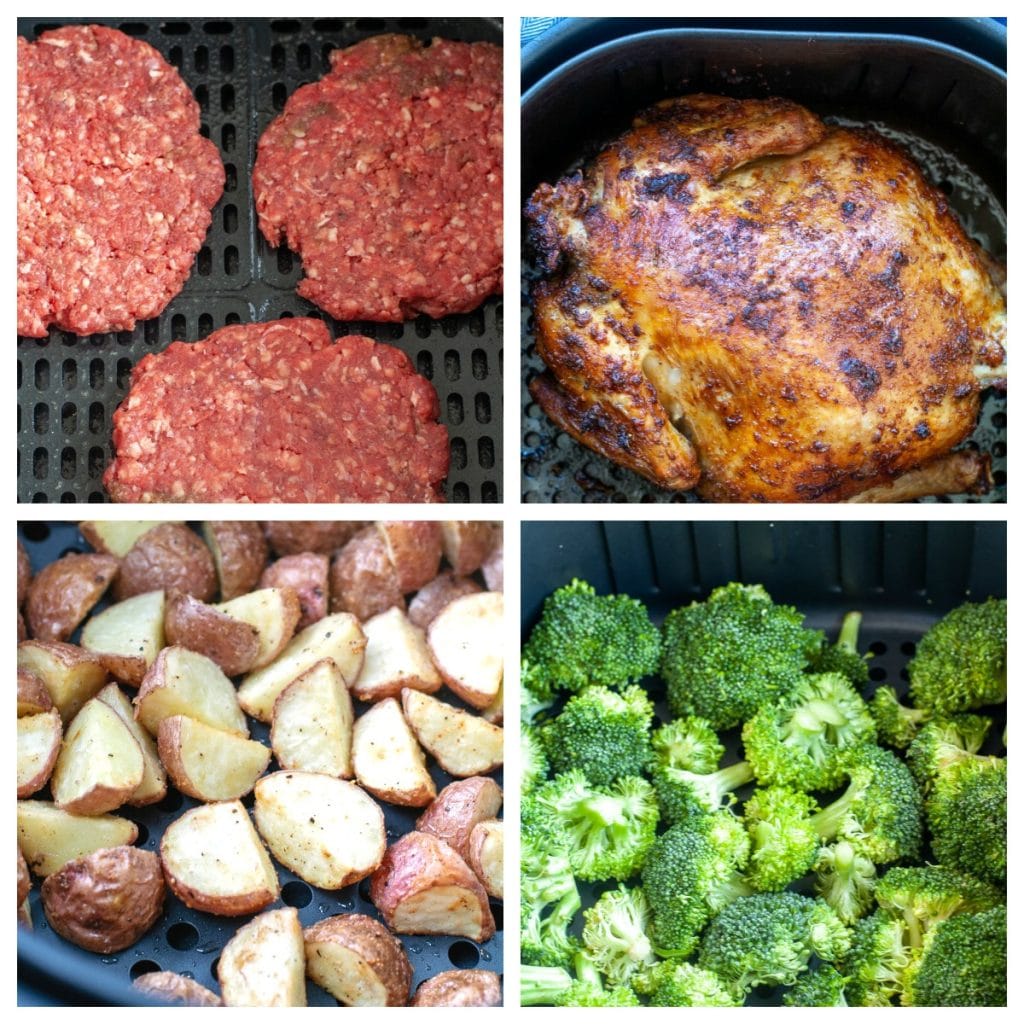 Is cooking with an air fryer healthy?
It is more healthy than a regular fryer because you need minimal, if any, oil. This means that calories and fat are greatly reduced compared to frying in oil.
Where to buy?
I found mine on Amazon and with prime free shipping it's hard to beat the price.
Cosori also sells an accessory kit that comes with 6 tools that allow you to make almost anything.
They also make an Air Fryer Toaster Oven that has many different functions like dehydrate, acts like a rotisserie, bakes, toasts, air fries and more.
Conclusion
Are air fryers worth it?
If you have the space and the budget I would recommend purchasing an air fryer. There are so many wonderful things you can make and the food always comes out delicious.
The reviews on this machine are overall very positive and I have several friends and family members who are very satisfied with the one they own.
After cooking with my Cosori for many months, I would highly recommend this machine. The size is perfect for our family of five and I love how it cooks and the ease of cleaning.
You can watch my review here: