31 Easy Asian Desserts To Make At Home
Step into the enchanting world of Asian desserts! From delicate green tea mochi to luscious Japanese cheesecake and Hong Kong egg tarts to cherry blossom milk pudding, these delicious dessert recipes will transport your taste buds to a realm of pure bliss. Prepare to indulge in irresistible sweet sensations!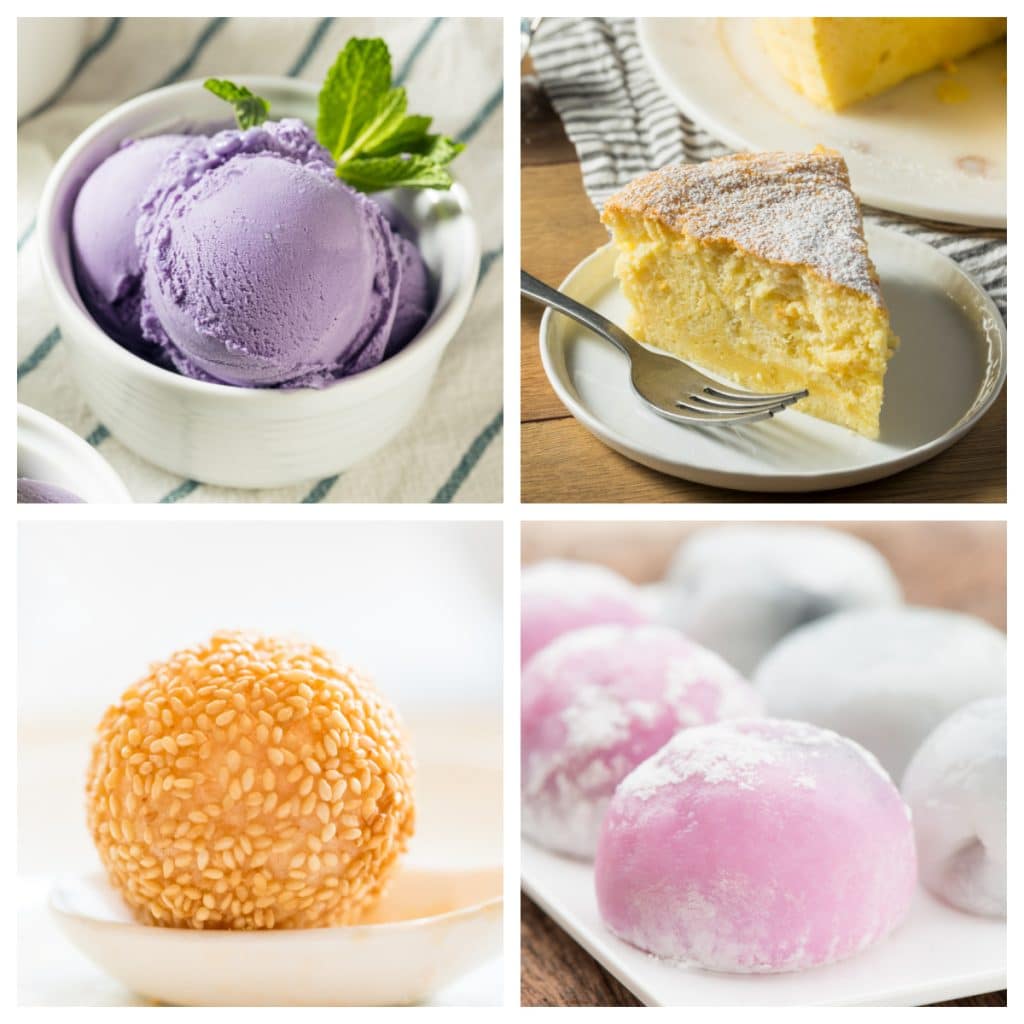 Indulge your sweet tooth in the delightful world of Asian desserts! This collection is packed with exotic flavors to exquisite presentations that will transport your taste buds to a realm of culinary bliss.
Satisfy your cravings with an array of treats, from delicate mochi and Korean tea cookies to mouthwatering mango sago and even ube ice cream. Try a popular dessert you've enjoyed before or branch out with something entirely new!
Whether you're a fan of traditional classics or eager to explore innovative fusion creations, this list has everything you're looking for and more. Get ready to embark on a delectable journey through the realm of Asian desserts!
With just a few simple ingredients, you can create your own colorful and irresistible mochi ice cream balls! The soft and chewy mochi exterior perfectly encapsulates the velvety ice cream inside for an irresistible treat.
Also known as Injeolmi, you can make this delicious dessert in the microwave in just 10 minutes! Soft, chewy, nutty, and with the perfect amount of sweetness, you'll be hooked from the first bite.
Sweet mangos and coconut milk create a lusciously smooth dessert that practically melts in your mouth with natural sweetness! Prep only takes 15 minutes, but the final result will impress pretty much anybody.
This melt-in-your-mouth cookie, also known as Dasik, is beautifully delicate and pairs wonderfully with green teas. It's a delightful way to honor guests and wish them good fortune in the Lunar New Year!
Elevate your dessert game with heavenly Japanese cotton cheesecake. With its ultra fluffy texture that is somehow still rich and creamy, this delicate cheesecake will have you reaching for more.
Typically made for the Chinese New Year, these cookies are somehow crisp and melt-in-your-mouth buttery at the same time. The subtle but distinct almond flavor makes them downright irresistible!
This colorful icy dessert is perfect for summer! Made from sweet red beans mixed with shaved ice and a drizzle of condensed milk, you can add fruit, candy, mochi, or even cheesecake bites to craft your ideal treat.
Tropical canned fruits, jellies, and coconut milk come together to make this refreshing dessert drink that's sure to hit the spot on a hot day. And since there's no actual baking or cooking, it's great for entertaining as well!
If you enjoy Trader Joe's ube ice cream, just wait: this 3-ingredient homemade version blows it out of the water! Best of all, you don't even need a machine to whip up a batch. No churning necessary!
Simple yeast dough and a syrup filling made from brown sugar, cinnamon, and walnuts come together to make Hotteok. This popular Korean street food can be enjoyed as a delectable snack or dessert.
Indulge in a decadent Filipino dessert made with rice, coconut milk, and brown sugar. Even though the ingredients are super simple, you won't believe how incredible this popular dessert turns out!
Don't let the swirl intimidate you, this Filipino dessert is super easy! It takes less than 10 minutes to prepare, and the gorgeous green cake contrasted with the white and orange filling is a feast for the eyes as well.
Moist, tender, slightly chewy, buttery rice cakes are traditionally served at Christmas, but once you taste one, you'll want to make them all year round! And using rice flour means there's no overnight soaking required.
When you're looking for the perfect dessert to usher in spring, sweet and colorful Japanese dango is just the thing! You only need a few ingredients, and you'll be amazed at how easy these rice balls are to make.
Soft, fluffy, and filled with delicate whipped cream, these beautiful cupcakes are light as air! The flavor is balanced without being too sweet, and it's entirely up to you whether you want to add frosting on top.
The key to an authentic Chinese bakery egg tart is a beautifully layered and super thin crust that has just the right amount of crispiness topped with a mild and creamy filling that is sweet without being overpowering.
Banh Chuoi Hap boasts the most incredible fragrance thanks to the ripe bananas. Meanwhile, the soft and chewy texture with the drizzle of coconut sauce on top makes this easy cake truly irresistible.
Yes, you read that correctly! Super crispy on the outside and ultra creamy on the inside, this is a traditional Chinese dessert that you have to try to believe. Best of all, you only need 3 simple ingredients to make it.
This dessert is elegant enough for entertaining, but so easy to make that you could enjoy it for your everyday treat! It can be eaten on its own, paired with lychee, or topped with any other fresh or canned fruit.
Did you know you could make this Indonesian dessert right in your Instant Pot? The Pandan extract gives the moist cake its beautiful green color while the pressure cooker helps you achieve the perfect texture!
You may have seen this traditional Chinese dessert taking over your Instagram or TikTok feed. But even if these candied strawberries are totally new to you, you should do yourself a favor and give them a try!
Chewy marshmallow nougat packed with crunchy, roasted peanuts is a traditional Lunar New Year food symbolizing good wishes. But it's so easy to make, you may find yourself whipping up batches all year round!
These adorable treats are made with naturally sweet and delicious Japanese sweet potatoes, then shaped back into miniature versions of the root veggie! Toast, sprinkle with black sesame seeds, and enjoy.
Classic Chinese sesame balls are crispy, gooey, and super nutty. You'll go crazy for these rice balls covered in sesame seeds and deep-fried to perfection, especially when they're made with sweet potato!
Imagine a lusciously creamy mango smoothie made even better with the addition of sago pearls, and that's pretty much what you get with this popular Asian dessert! You'll love how easy it is to make.
The smooth and creamy texture of the panna cotta is infused with the earthy and vibrant flavors of matcha for a beautiful balance that will delight your taste buds. And just wait until you see its stunning green color!
Originating from Taiwan, this delightful sponge cake is known for its fluffy texture and delicate sweetness. With its golden-brown crust and soft, moist interior, each bite is a moment of sheer delight.
If you've never had a sweet soup as the finishing touch to a great meal, you're in for a serious treat! This popular Chinese soup is nutty and fragrant thanks to the black sesame seeds and rice.
Would you believe you can make this vegan dessert in less than 15 minutes? Matcha-flavored mochi balls are soft, chewy, and sweet with a beautiful green color you won't be able to get enough of.
Steamed glutinous sticky rice in coconut milk and topped with fresh sliced mangoes is every bit as luscious and decadent as it sounds! See why this traditional Southeast Asian dessert, also known as mango sticky rice, is so popular!
Treat yourself to soft, silky pudding that simply melts in your mouth. The secret to this incredible dessert is salt pickled cherry blossoms, which you can make by handpicking tender young buds and following a few simple steps.
Will you be making any of these Asian desserts? Let me know in the comments.
More delicious desserts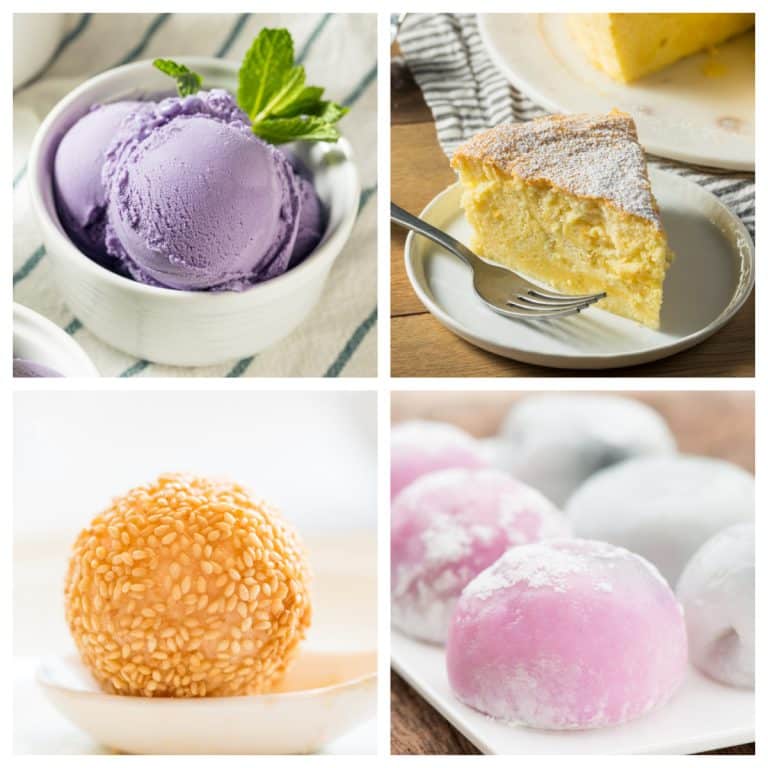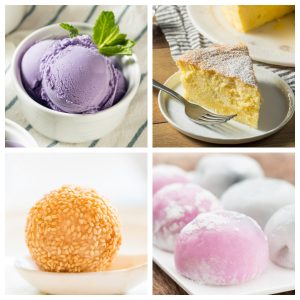 Asian Desserts
This ground of delicious asian dessert recipes is sure to inspire. Make these easy asian desserts at home, including this easy mango pudding.
Ingredients
1

tablespoon

unflavored gelatin

1/2

cup

boiling water

1/2

cup

sugar

1

cup

coconut milk

1

cup

mango puree
Instructions
Whisk together boiling water and unflavored gelatin.

Whisk the sugar into gelatin mixture.

Stir in mango puree and coconut milk.

Pour the mixture into four small serving bowls. Cover each bowl with plastic wrap and chill for at least 3 hours.
Nutrition
Calories:
246
kcal
|
Carbohydrates:
36
g
|
Protein:
2
g
|
Fat:
12
g
|
Saturated Fat:
11
g
|
Polyunsaturated Fat:
0.2
g
|
Monounsaturated Fat:
1
g
|
Sodium:
10
mg
|
Potassium:
232
mg
|
Fiber:
1
g
|
Sugar:
34
g
|
Vitamin A:
690
IU
|
Vitamin C:
24
mg
|
Calcium:
18
mg
|
Iron:
2
mg
Nutrition information is automatically calculated, so should only be used as an approximation.
Like this? Leave a comment below!