35 Best Party Dip Recipes
Nov 16, 2022, Updated Oct 28, 2023
There is something fun about dipping veggies, chips, or crackers into a tasty concoction. Dips are a favorite item on party tables and the perfect late-night snack. This list of some of the best dip recipes has something for everyone.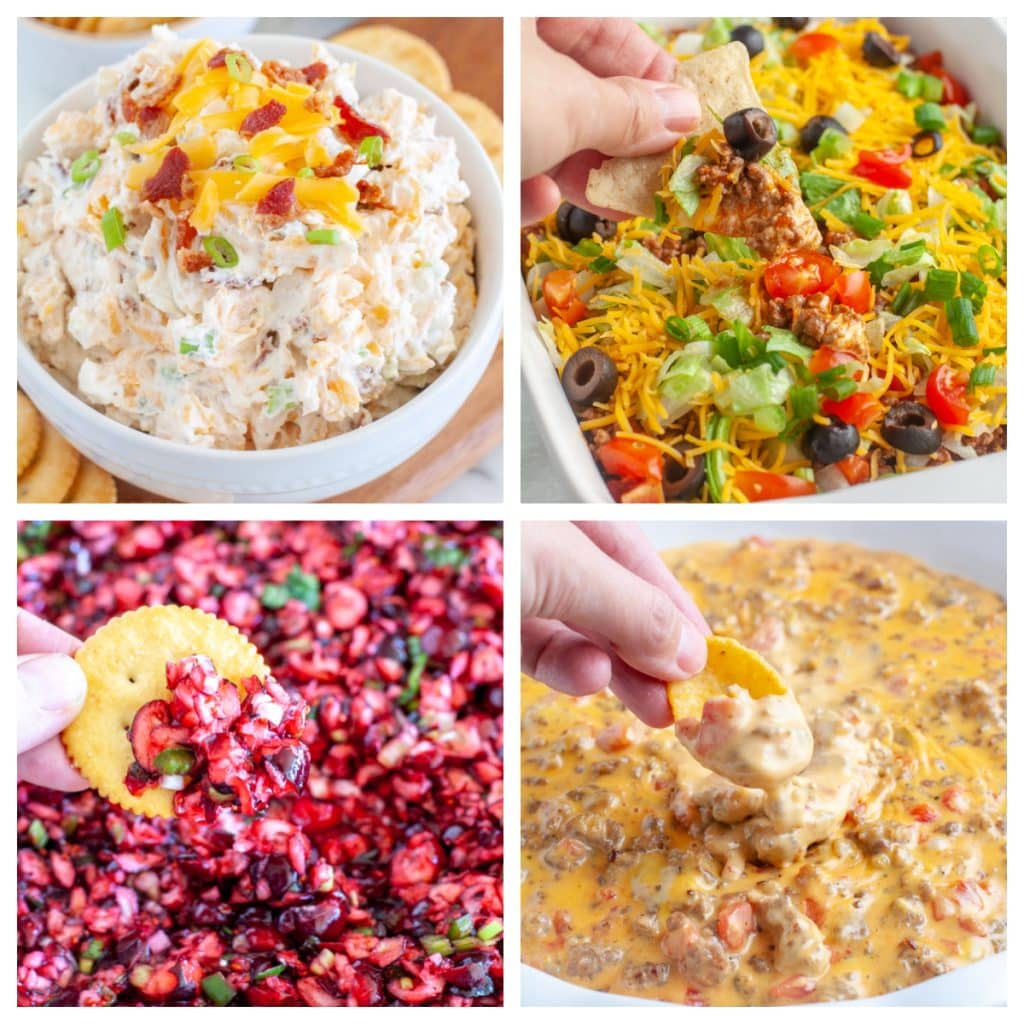 Whatever the occasion, there's a dip for that! Holiday parties, game days, kids' birthdays, or BBQs; tasty party dips are always some of the best party appetizers on the menu.
No matter what you choose to make, you can't go wrong. Many whip up in mere minutes while others take their time in the slow cooker or oven.
We've got you covered with a wide variety of party dips. From sweet dessert dips to classic party dips, there is something for everyone.
This is the ultimate list of delicious party dip recipes, so read through, and find your new favorite.
Get your game face on because this dip is no joke. It has the name crack dip for good reason; it is seriously addicting.
A crowd favorite that is perfect for game day, parties, and holidays, this dip will be your new obsession. This beautiful blend of enticing flavors is a palate-pleasing joy that will be savored down to every last dip.
Party dips are great because you can serve them with an array of dippers. Chips, vegetables, crackers, and toasted bread all make great vehicles to enjoy the delicious flavors of a good dip.
This olive dip is a favorite in our house. It is a simple recipe that comes together in 5 minutes and yields a big flavor. After it has chilled, this crowd favorite is ready to devour.
Beer cheese dip is the perfect game day dip. It has sausage, IPA, cheeses, green onion, and seasoning that blend together for a delectable appetizer. Everyone loves this dip, so it gets made often. It is easy to make and comes together in 30 minutes. We love this dip, especially during football season.
Taco dip is a classic dip everyone loves. This recipe is filling enough to be a meal but also makes a great party dip. It has a seasoned, creamy base topped with seasoned ground beef and a can of Rotel.
Then it is topped with traditional taco toppings such as shredded lettuce, tomatoes, cheddar cheese, and green onions. This flavorful dip is a crowd favorite that always gets eaten up.
Spinach dip is another classic dip that graces many party tables. Whether it's a game day, a cookout, or a holiday, you can find a spinach dip on the table. This simple recipe is ready in 10 minutes and uses the Knorr seasoning packet. Mix things up and throw it in a bread bowl to elevate this flavorful dip.
Cranberry jalapeno dip is a masterful blend of flavors. It has a tart flavor from the cranberries, spiciness from the jalapeno, and sweetness from the sugar. Cream cheese, green onions, cilantro, lemon juice, and a touch of chili powder join the party to create this flavorful dip. Perfect dip to serve during the holiday season.
I love a dip that can double as a dessert. This incredible caramel apple dip can be served as an appetizer or a dessert. Either way, it is a celebrated dish. Cream cheese is whipped with vanilla and powdered sugar for the base.
Caramel sauce is layered over the cream cheese and topped with chopped toffee and nuts. Serve with slices of apple and enjoy.
You know the delicious bread and oil they give you when you sit down at an Italian restaurant? Well, now you can enjoy it at home with this easy recipe. In 5 minutes, this insatiable oil is ready for fresh bread to be dredged through it and dipped right into your mouth-watering jowls.
Olive oil, balsamic vinegar, minced garlic, seasonings, and parmesan cheese create this divine dip.
Chipped beef dip is a tasty dip that can double as a sandwich filling. Cream cheese, sour cream, horseradish, green onion, chipped beef, and seasonings combine to make this flavorful dip. Great for game day and parties, this crowd favorite never disappoints.
Cucumber avocado dip is a refreshing, crisp dip. Simple to make in 10 minutes, it is light, cool, and all-around fabulous. Cucumber, avocado, bell pepper, red onion, sour cream, parsley, lemon juice, and salt combine to make this fresh dip. It is refined and tasty making this party dip favorite.
A sophisticated dip worthy of any holiday table, shrimp dip is a flavorful and desirable dish. It comes together in 30 minutes and is an easy baked dip to create.
Shrimp is added to a blend of cream cheese, sour cream, mayonnaise, mozzarella cheese, parmesan cheese, red bell pepper, and red pepper flakes. Baked to perfection, this captivating dip is ready to enjoy.
This onion dip is surprisingly exquisite. The trick is to caramelize the onions first so they turn deliciously sweet. Mix them with sour cream, mayonnaise, and seasonings to complete this wonderful recipe. This dip is so good it can double as a spread on sandwiches or burgers.
Bacon makes everything taste better. Adding bacon to a creamy, cheesy spinach dip takes it to the next level. This dip is a marvelous addition to your appetizer table. If you want to take it up a notch, serve it in a bread bowl, and you will definitely impress your guests.
The seven-layer dip: a quintessential party dip, gracing the tables at every party from holiday gatherings to potlucks to school functions to summer cookouts. Make the best ever seven-layer dip with this easy recipe.
Refried beans, sour cream, salsa, guacamole, cheddar cheese, and an array of taco toppings make this classic a crowd favorite.
Mix up your party dips routine with this fun and original pizza dip. It's an ooey-gooey cheesy delight. Mozzarella, parmesan, and cream cheese are layered in a baking dish. Then add pizza sauce, more cheese, and top with pepperoni.
Bake and then serve with breadsticks, garlic toast, or crackers. It's a delicious addition to any table and is a favorite with the kids.
You don't have to like chicken wings to love this dip. It has all the best flavors of buffalo wings in an elevated dip. Shredded chicken, cream cheese, buffalo sauce, ranch seasonings, and cheddar cheese combine and cook in the slow cooker.
The result is an out-of-this-world mouthwatering buffalo chicken dip. Make this tasty crowd favorite for game day or any gathering.
This recipe is a classic dip for juicy, fresh fruits. It is wonderful to enjoy during the summer months when fresh fruit is in season. Simply mix cream cheese, marshmallow fluff, and vanilla together. The combination complements the ripe, sweet fruit and elevates the natural flavors.
Who doesn't love a good queso dip? This classic Mexican cheese dip is a crowd favorite that graces most Mexican restaurant menus. You can enjoy it at home with this restaurant-quality recipe that whips up in 6 minutes. It's cheesy, bursting with flavor, and is a fantastic creamy dip everyone loves.
What is a party table without a cheese dip? Make this copycat Taco Bell cheese sauce to add pizzazz to your next appetizer menu. It's ready in 5 minutes and is a delicious indulgence.
Guacamole is a classic dish and crowd favorite. It is flavorful, healthy, and a delectable dip that can also be a food topping. This easy recipe takes a handful of ingredients and makes the best guacamole ever. Some may say it's better than your local Mexican restaurant.
Chocolate fondue is an exciting, fun addition to any party. As far as party dips go, this one takes the cake. It is simple to make, takes 10 minutes, and has a variety of dipping options.
Chocolatey goodness complements many foods. Serve with fruit, pretzels, chips, bits of cake, marshmallows, and more. Dip into the chocolate and relish the yumminess.
Homemade hummus is a cinch to make with this easy recipe. Hummus is a classic party dip, always a crowd favorite, and is great for game day gatherings. It only takes 5 minutes, 7 ingredients, and a food processor to create flavorful, creamy hummus.
Celebrate the Autumn season with this amazing pumpkin dip. It tastes like pumpkin pie filling, making it a fun addition as an appetizer or to serve as a dessert.
Cream cheese, pumpkin, cool whip, powdered sugar, and pumpkin pie seasoning are all it takes to whip up this sweet, delicious sweet dip. Serve with apples for the ultimate fall dip.
Crab Rangoon dip is a cheesy, savory, flavorsome dip. It adds elegance and sophistication to any party table. You can make this up to two days ahead and bake it before serving. It's simple to make, full of tasty flavors, and always a crowd favorite.
Dessert takes on a new shape with this easy cannoli dip. An amazing alternative to a traditional cannoli, this dessert dip is fun, easy to make, and a wonderful sweet treat.
Ricotta, cream cheese, powdered sugar, vanilla extract, and chocolate chips blend together for the ultimate party dips finisher. Serve with broken waffle cone pieces and watch it disappear in no time.
I'm not sure there is a more classic party dip than tortilla chips and salsa. You can find this crowd favorite at every game day party, appetizer table, and in everyone's kitchen.
This beloved snack is easy to make at home. It takes 5 minutes to create and makes the best fire-roasted salsa. Add in more jalapenos to kick up the spice level to your liking.
Take your love of jalapeno poppers to the next level with this marvelous party dip. The delicious flavors of jalapeno poppers transform into a cheesy, spicy dip with this simple recipe. It's a delightful dip that is a palatable blend of divine flavors.
This sauce may be a French fry dipping sauce, but it is so tasty on an array of foods. Mayonnaise, chili sauce, pickle juice, pepper, and paprika combine to make this delectable fry sauce.
Dip any variety of French fries in it for the ultimate fry experience. You can also use this magical sauce to spread on sandwiches and burgers or mix into wraps. It's one of the sauces that you put on everything.
Whip up an appetizing dip on the fly with this easy recipe. This recipe uses a handful of ingredients you likely already have on hand. Cream cheese, mayonnaise, green onions, seasonings, and tuna are all it takes. Tasty, simple, and oh-so-good!
Banana pudding dip is a jolly dessert dip sure to please all your partygoers. Great for kids' parties, dessert tables, and more, banana pudding dip is as good as it sounds. It has cream cheese and vanilla pudding mix, with fresh bananas and crushed Nilla wafers. It's so good, you'll go bananas over it.
If you haven't tasted Babaganoush, you are missing out. This traditional Mediterranean dip is made from cooked eggplant, seasonings, tahini, garlic, olive oil, and other ingredients. Similar to hummus but with eggplant instead of chickpeas. It's fresh, light, and amazing.
It's not a fiesta if there isn't a bean dip on the table. Creamy, seasoned refried beans with cheese, salsa, and diced jalapeno is a luscious dip. Bursting with tasty taco flavors, this crowd favorite is great for game day, taco nights, or any fiesta.
This is one of those dips you didn't know you needed in your life. Sausage is cooked and then combined with Rotel tomatoes and Velveeta cheese. The beauty is in the simplicity of this rich, flavorful dip.
Whipped Feta dip is a heavenly creation. Light, flavorful, and downright delightful, this dip will be your new obsession. It only takes 10 minutes to whip up and is a wonderful party dip. Cream cheese, Feta, olive oil, seasonings, and garlic make this a tasteful dish. This divine dip will certainly be a hit at your next party table.
Chili cheese dip is a quintessential game day and party dip. Cream cheese, chili, and cheddar cheese are all it takes to make this classic creation. It's savory, cheesy, and downright delicious. Mix things up and serve it in a bread bowl to elevate your next party. Try serving with tortilla chips or corn chips.
Let me know which one of these party dip recipes you will be making.
More easy appetizer recipes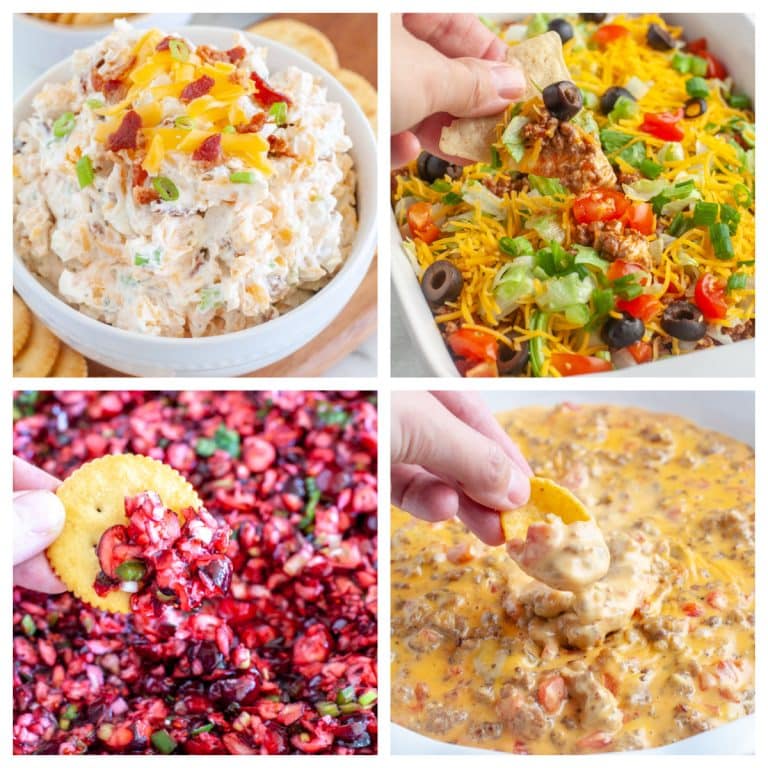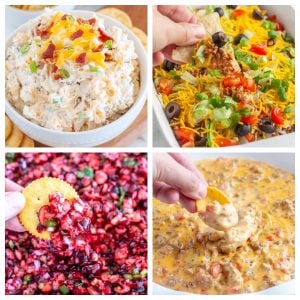 Best Dip Recipes
35 of some of the best dip recipes from savory to sweet, these dip recipes, including this 3-ingredient peanut butter dip, are sure to be a hit at your next gathering.
Ingredients
1

cup

peanut butter

8

ounces

vanilla yogurt

1

teaspoon

vanilla extract
Instructions
Stir together peanut butter, vanilla yogurt, and vanilla extract until combined.

Serve or store in an airtight container in the refrigerator.
Nutrition
Calories:
291
kcal
|
Carbohydrates:
15
g
|
Protein:
12
g
|
Fat:
22
g
|
Saturated Fat:
5
g
|
Polyunsaturated Fat:
5
g
|
Monounsaturated Fat:
11
g
|
Cholesterol:
2
mg
|
Sodium:
209
mg
|
Potassium:
326
mg
|
Fiber:
2
g
|
Sugar:
10
g
|
Vitamin A:
16
IU
|
Vitamin C:
0.3
mg
|
Calcium:
86
mg
|
Iron:
1
mg
Nutrition information is automatically calculated, so should only be used as an approximation.
Like this? Leave a comment below!