What To Serve With Pork Chops – 31 Recipes
When cooked just right, pork chops make for a juicy, tender main course that will have everyone cleaning their plates. Are you wondering what to serve with pork chops to round out such a delicious meal? From classic potatoes to indulgent French onion soup to roasted veggies and more, we have the perfect side dish or two to complement those tasty chops!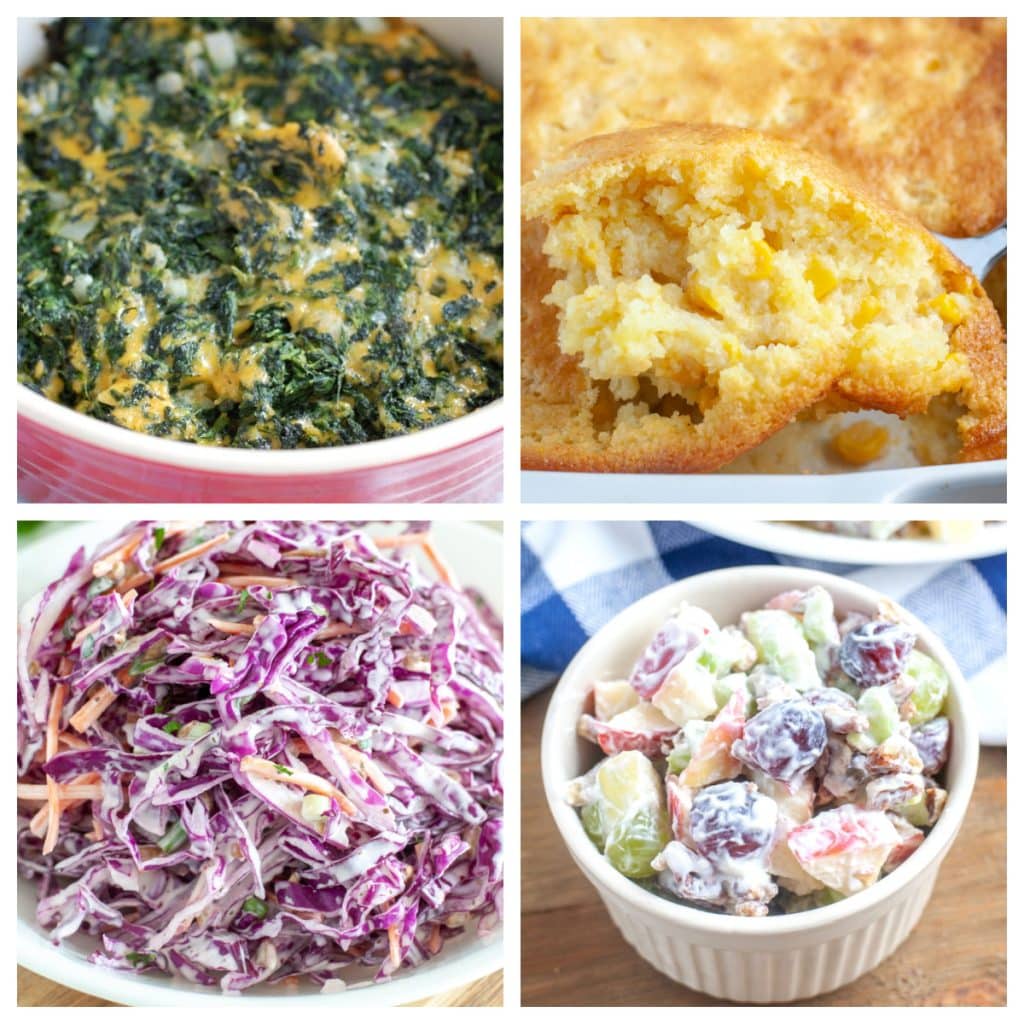 The right side dish has the power to take an entire meal to the next level. And if you've been wondering what to serve with pork chops for the best combination of flavors and textures, you're in the right spot!
Craving a classic side dish? It's hard to go wrong with potatoes, whether you like them baked, mashed, or roasted! Want to add some greens? Brussels sprouts, spinach casserole, or roasted veggies make a great side dish. For classic comfort, cornbread or mac & cheese never fail.
There are so many amazing options that will complement tender, delicious pork chops. From family meals to dinner parties, this list has the best sides (or two) to elevate your entire meal!
Get perfectly-fluffy baked sweet potatoes every time without wrapping them in tin foil! Prep only takes a few minutes, then simply roast at 400°F for up to an hour, add your favorite toppings to this easy side dish, and enjoy.
Have a bag of frozen brussels sprouts hanging out in the back of your freezer? Thanks to the air fryer, you can cook this nutritious veggie to crispy, golden, caramelized perfection in just 15 minutes flat!
When you need a fool-proof recipe that's sure to be a crowd pleaser, this baked Velveeta mac and cheese is always a hit! A secret spice ingredient elevates the flavor of the cheese sauce for some truly indulgent comfort.
The trick to copycat Texas Roadhouse seasoned white rice is to toast the rice first in butter, then cook it in broth and spices for the ultimate burst of flavor! Best of all, you can go from pantry to table in less than half an hour.
Is there a more classic side dish than a baked potato with super crispy skin on the outside that's still fluffy and tender on the inside? You can add any toppings you like, but they're so good, all you really need is a little butter, salt, and pepper!
This recipe made with simple ingredients tastes so fresh, you'll never want to buy the premade stuff again! The potatoes boil for about 20 minutes, which gives you time to prep the rest of the ingredients. After that, simply cool the potatoes, mix it all together, and serve!
Did someone say creamy dreamy mashed potatoes? With this no-lumps-ever-again recipe, you'll have silky-smooth potatoes that are delightfully flavorful and guaranteed to have everyone reaching for extra helpings!
You don't have to wait until Thanksgiving to enjoy stuffing! This recipe adds a few extra ingredients to a store-bought stuffing mix base for a super easy recipe that really takes the flavor to the next level.
Need an easy side the whole family will love that can go from freezer to table in about 10 minutes? If you have a bag of frozen sweet potato fries and an air fryer, you're about to meet your new favorite recipe!
If you've never had homemade dinner rolls, you won't believe how fluffy, light, and buttery they are! The dough is oh-so-simple to make, and you can brush them with regular butter or garlic butter for that final savory touch.
When your delicious pork chops call for a simple veggie, this 3-ingredient air fryer asparagus is the perfect side dish. All you need is olive oil and a little lemon pepper seasoning for wonderfully crisp and flavorful asparagus.
You can't go wrong with a creamy, cheesy baked spinach casserole. This cozy comfort food has surprising layers of flavor and just a hint of spice that will keep you reaching for more. You can also serve it as spinach dip!
Add a little sweetness to your meal with Southern fried apples! Butter, brown sugar, and cinnamon make these tender apple slices sing, and the entire dish is ready in less than 30 minutes.
This half store bought, half homemade recipe results in the most delicious cornbread you've ever tasted! Every slice is moist and fluffy, and the 5-ingredient dish is an absolute breeze to throw together.
Thanks to the magic of the slow cooker, it's so easy to make the most amazing homemade applesauce right in your own kitchen! Plus the smell of the applesauce cooking all day is nothing short of intoxicating.
If you didn't love green bean casserole as a kid, this recipe is a reason to give it one more try! Creamy mushroom soup and crispy fried onions give it the rich taste and texture that will have you craving this easy casserole year round.
Treat yourself to the sweet and savory combination of sweet apples, fresh cranberries, crispy bacon bits, crunchy pecans, creamy goat cheese, and earthy green onions tossed in a tangy light vinaigrette!
For a classic summertime side, you can't go wrong with red cabbage slaw! Crunchy red cabbage, carrots, and sunflower seeds with green onions and fresh parsley tossed in a mayo and apple cider vinegar dressing is always a winner.
When you truly want to treat your family or impress dinner guests, French onion soup is a sure bet. Who can resist beef broth loaded with caramelized onions and topped with melted cheese and a slice of baguette?
The key to perfect broccoli is getting the cooking time just right. Learn how to achieve that perfect crisp-tender texture every time by simply boiling your broccoli for a few minutes. Add some salt and pepper to this simple side dish and serve!
This is the kind of dish that's nice enough to serve at a holiday feast but easy enough to make on a busy weeknight. No matter the occasion, everyone will love creamy and slightly sweet Southern corn pudding casserole!
Just wait until you taste baked mashed sweet potatoes combined with butter, brown sugar, and cinnamon! This ultra-creamy dish can also be customized to make it sweet or savory depending on your preferences.
When you want something simple that can still deliver on flavor and be ready in 15 minutes, this easy side always delivers. The mushrooms have a delicious, meaty texture that goes perfectly with the sweet onions.
With the perfect mixture of butter and brown sugar, these carrots are just sweet enough without going overboard and will pair beautifully with your pork chops! For an elegant finish, sprinkle some fresh chopped parsley on top.
Talk about a classic! Perfectly seasoned roasted potatoes get that golden, crispy texture on the outside that makes them so irresistible. Prep is a breeze, then simply roast until fork-tender on the inside and enjoy!
Savory spices and the perfect amount of cream make this smooth, flavorful dish a cold-weather staple. Butternut squash is also packed with vitamins and minerals, so you can feel good about every spoonful!
Even if you think of yellow squash as summer produce, trust me when I say you'll want to eat this casserole all year round! It comes together super fast and can also be prepped in advance so all you have to do is toss it in the oven before serving.
Ditch the takeout and treat yourself to this 20-minute fried rice instead! The burst of flavors is sure to complement your pork chops, and you can customize this recipe based on your preferences or what you have on hand.
Sometimes, simple is best, and these roasted veggies are a great example! You'll love how the veggies get the perfect amount of crisp and so much flavor with so little prep. And you can use just about any vegetables you want!
Enjoy a sweeter twist on the classic salad with this combination of chopped apples, pears, celery, and pecans. Toss it all in a creamy Miracle Whip and citrus dressing for a delightful medley of tastes and textures!
This summertime staple features crisp vegetables, tender macaroni, fresh herbs, and a luscious, creamy dressing to bring it all together. The ingredient list isn't overwhelming, so it really lets the pasta and veggies shine.
More side dish recipes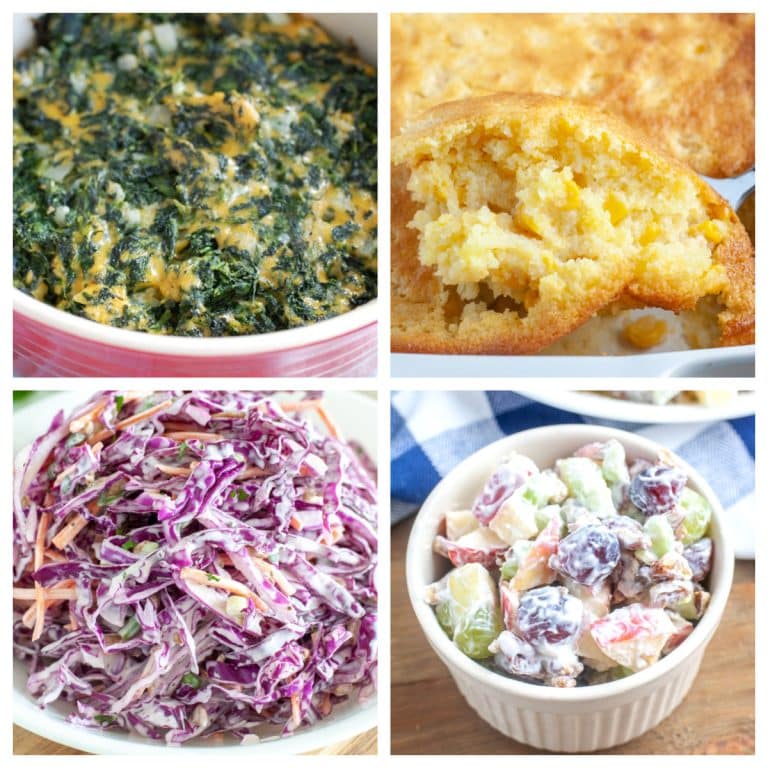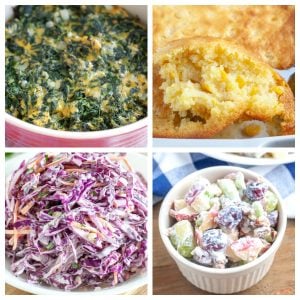 Side Dishes For Pork Chops
Wondering what to serve with pork chops? These delicious side dishes for pork chops include everything from vegetables, potato dishes, pasta, and more.
Ingredients
12

ounces

green beans

Fresh and trimmed green beans.

1/2

tablespoon

olive oil

1/2

teapoon

salt

1/4

teaspoon

ground black pepper
Instructions
Add green beans in a bowl. Pour on olive oil, salt, and pepper. Toss to coat all of the beans.

Pour the green beans in air fryer basket. Air fry at 380 degrees for 8-10 minutes.
Nutrition
Calories:
42
kcal
|
Carbohydrates:
6
g
|
Protein:
2
g
|
Fat:
2
g
|
Saturated Fat:
0.3
g
|
Polyunsaturated Fat:
0.3
g
|
Monounsaturated Fat:
1
g
|
Sodium:
54
mg
|
Potassium:
181
mg
|
Fiber:
2
g
|
Sugar:
3
g
|
Vitamin A:
588
IU
|
Vitamin C:
10
mg
|
Calcium:
32
mg
|
Iron:
1
mg
Nutrition information is automatically calculated, so should only be used as an approximation.
Like this? Leave a comment below!