29 Best Chicken Tender Sides
Sep 23, 2022, Updated Oct 28, 2023
Chicken tenders are a family favorite and classic meal. Chicken fingers, chicken strips, or chicken tenders all mean the same thing; delicious chicken tenderloins. You won't need to wonder what chicken tender sides to serve with this list of delicious recipes.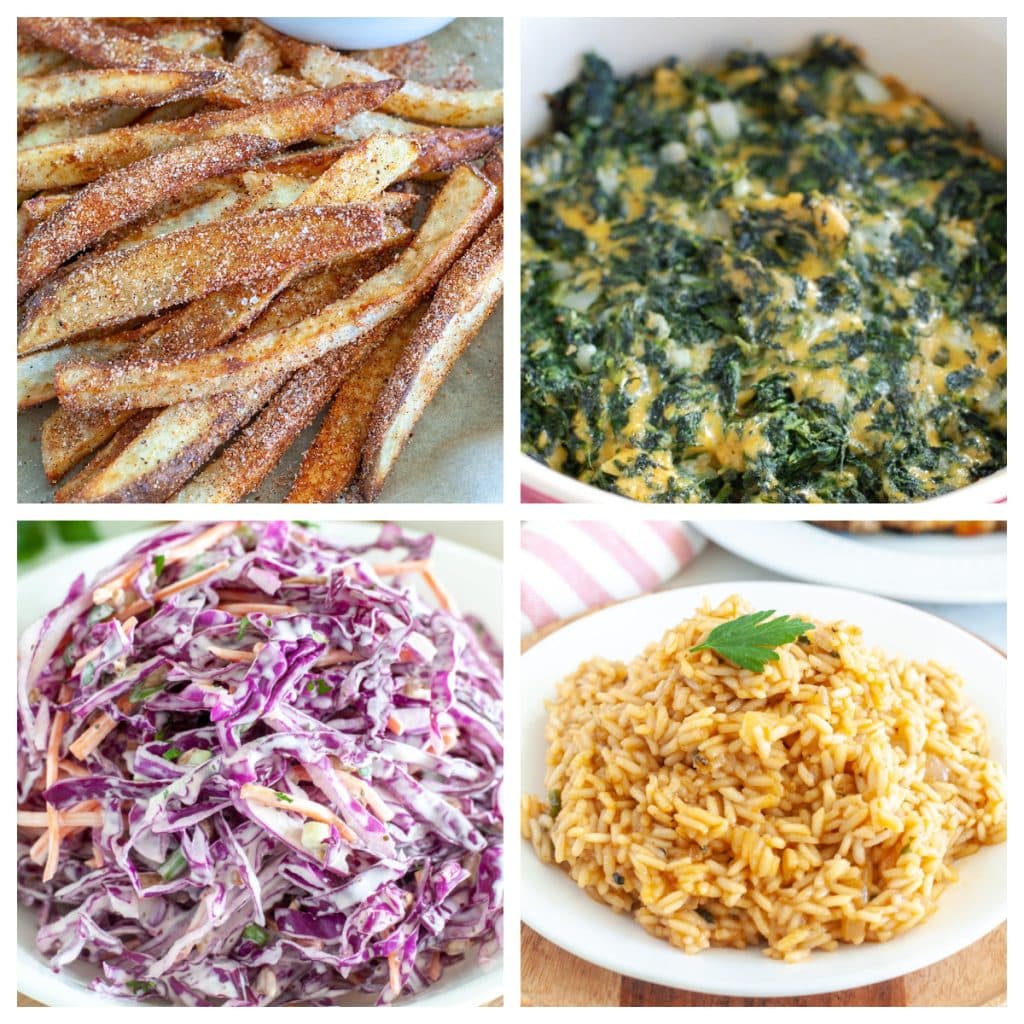 Most families in America have this beloved protein on hand. A bag of chicken tenders in the freezer makes for a quick snack or meal. Even though chicken tenders are usually served with French fries, there is a multitude of culinary creations that pair deliciously with them.
These crispy, succulent, tenders have a variety of side dishes that complement them. Salads, vegetables, rice, mac and cheese, and French fries are just the beginning.
Read below to find your new favorite side dish for chicken tenders, and let us know which is your new go-to dish.
Fries and delicious chicken tenders go together like peanut butter and jelly. Crispy sweet potato fries are a delicious change from regular French fries.
They have more nutrients and vitamins than their russet counterparts too. Using an air fryer helps maximize crispiness. Add your favorite dipping sauce and enjoy.
Seasoned French fries are the classic side to crunchy chicken tenders. This recipe is a copycat recipe for Wingstop seasoned French fries.
No need to grab takeout when you can create these mouthwatering, crispy fries at home. Utilizing an air fryer, they are ready in 30 minutes.
Red cabbage coleslaw is a tasty side dish that goes wonderfully with chicken tenders. If you want to skip the fries but not the crunch, then this zesty slaw is the answer. It takes 10 minutes to make, is a colorful addition to the plate, and tastes heavenly.
This classic pea salad recipe does not disappoint. It is a great accompaniment to many dishes, including chicken tenders. It has bacon, onion, cheese, peas, seasoning, mayonnaise, and sour cream, making it a flavorful salad. This salad whips up in 10 minutes, which makes it great for busy nights.
If you have never tried corn pudding, you are in for a big treat. This exciting recipe uses Jiffy corn mix, whole kernel corn, and creamed corn for a corn trifecta. This is a corn lovers utopia dish that is full of flavor. You will never want to serve regular old corn again.
You've heard of chicken and waffles, right? How about chicken and apples? It's an absolutely divine culinary pairing. The savory from the chicken tenders and the sweetness from the apples complement each other for a mouthwatering delight.
Potato wedges are the ultimate homemade French fries. Also known as JoJo's, these tasty wedges of potato are not to be missed. The secret to this recipe is the flavorful seasoning that coats the potato.
Pop them into an air fryer for a crispy outside and soft inside.
Chicken tenderloins go beautifully with a variety of side dishes. This spinach casserole is definitely one of them. It's cheesy, creamy, and a little spicy. It takes 15 minutes of prep time and 30 minutes to bake. Great for busy weeknights and a healthy, delicious side.
Rice is one of those dishes that begins as a blank canvas that can be painted into many culinary masterpieces. This is a tasty and flavorful recipe. It is a copycat recipe of the famous Texas Roadhouse seasoned rice. If you've never had it before, hang on because you are in for a treat!
This quick and easy recipe is a lifesaver on busy weeknights. Frozen okra is added to the air fryer and topped with olive oil. The air fryer does the rest of the work. This makes an incredible side dish and pairs wonderfully with chicken tenderloins.
Mac and cheese is one of those beloved dishes we all loved as kids. Let's face it, we never lost our love for it. This quick and easy recipe for homemade mac and cheese will knock your socks off.
In 35 minutes, you have ooey-gooey, cheesy, yummy mac and cheese. Next to French fries, this is the quintessential side dish to enjoy with chicken tenders.
When you prefer something fresh and light to enjoy with your chicken tenderloins, then make this enticing salad. It is full of tasty flavors and crunch. Cucumbers, grape tomatoes, red onion, olives, feta cheese, olive oil, and seasonings combine for an exquisite, fresh salad.
Cold pasta salad is a refreshing and flavorful side dish. It has versatility in recipes and uses. This southern-style pasta salad is filled with fresh vegetables, hard-boiled eggs, and a creamy dressing. It is fresh, satisfying and a great accompaniment to chicken tenders.
These mouthwatering homemade baked beans will surprise you with how fabulous they are. Baked beans are a great side dish. Popular at most BBQs and cookouts, they are also great any night of the week.
Whip up this recipe to have the most incredible baked beans on hand for a delicious side dish.
Chicken tenderloins are enhanced with this easy recipe. Warm, fluffy, buttermilk biscuits are tasty and good for the soul. They may taste like they took grandma all day to bake, but they only take 30 minutes.
Potato salad is a comforting food we all know and love. This simple recipe is delicious, easy, and tastes great. When eating chicken, especially in the summertime, a good ol' potato salad is a classic, flavorful side dish.
Skip the canned green beans and make this easy recipe instead. It only takes 10 minutes to make this easy recipe. Fresh green beans are sautéed with butter, garlic, and sea salt.
This scrumptious combination creates the best green beans and is a delight to eat with chicken tenderloins.
Roasted vegetables are a favorite because they are so easy to make. The natural flavors of the veggies are enhanced with a touch of seasoning.
Roasting them in an air fryer is a great way to cook them quickly, which is great for quick weeknight meals. These delectable veggies make an amazing side dish for any meal.
Hold on to your hats because these incredible fried pickles are about to be your new obsession. Dill pickle chips are dipped in a delightful batter of flour, seasonings, and beer.
Once fried, they are the most divine, palatable little morsels of goodness. I bet you can't eat just one.
Fresh salads are always a good idea at mealtime. This Broccoli salad is abundant with fresh, savory, and sweet flavors. Bacon, red onion, craisins, and sunflower seeds combine with the broccoli and a creamy dressing for an out-of-this-world delicious salad.
There's just something super fun about curly fries isn't there? We already know fries and chicken tenders are a match made in heaven, but curly fries and chicken tenders are next-level goodness. They are fun, yummy, and an easy meal.
Baked zucchini chips are a delicious way to eat your veggies. The zucchini is chopped into rounds, tossed in oil, and dipped in a crunchy combo of Panko breadcrumbs, salt, and parmesan cheese. Baked until golden brown, they are a flavorful side dish that even the kiddos will love.
Zoodles are a great way to keep dinner light yet filling. Chicken tenderloins pair well with this fresh, bright recipe. Zoodles, or spiralized zucchini, are sautéed with garlic, tomatoes, fresh basil, red pepper flakes, and olive oil. It is a simply delightful dish.
You haven't had a fresh fruit salad like this one before. Mouthwatering fresh fruits are combined with a divine honey lime dressing.
The dressing complements the natural sweetness of the fruit while the lime gives it a little acidity to help balance the sweetness. It's a heavenly combination sure to be a big hit with everyone.
Follow this recipe for the best mashed potatoes you'll ever eat. Perfectly creamy and fluffy, there won't be any lumps in this dish. These sublime potatoes pair well with many proteins, including chicken tenders. It's a comfort food meal that's quick and easy to make.
If you have a finicky eater, serve them these roasted carrots and watch them gobble them up. This family favorite whips up in 30 minutes and is always a hit. Carrots are tossed with a mouthwatering butter, garlic, and parmesan mixture with seasonings and then baked. The result is delectable, sweet, and tender carrots.
Chicken and waffles are one of those dishes that might seem odd but are outrageously delicious. Use this recipe for fluffy, perfectly crisp waffles to enjoy with your chicken tenders. It's a fun combination that even the kids will enjoy.
Fried yellow squash is another great option to get veggies on the table. This simple recipe is a family favorite in the summertime. Use your favorite dipping sauce with your chicken tenderloins and enjoy a delightful, delicious meal.
Dips and sauces are also great side dishes to serve with chicken tenders. Some of our favorite sauces that are perfect for dipping are:
BBQ Sauce
Honey Mustard Sauce
Let me know if you have any more to add to this list of the best side dishes for chicken tenders.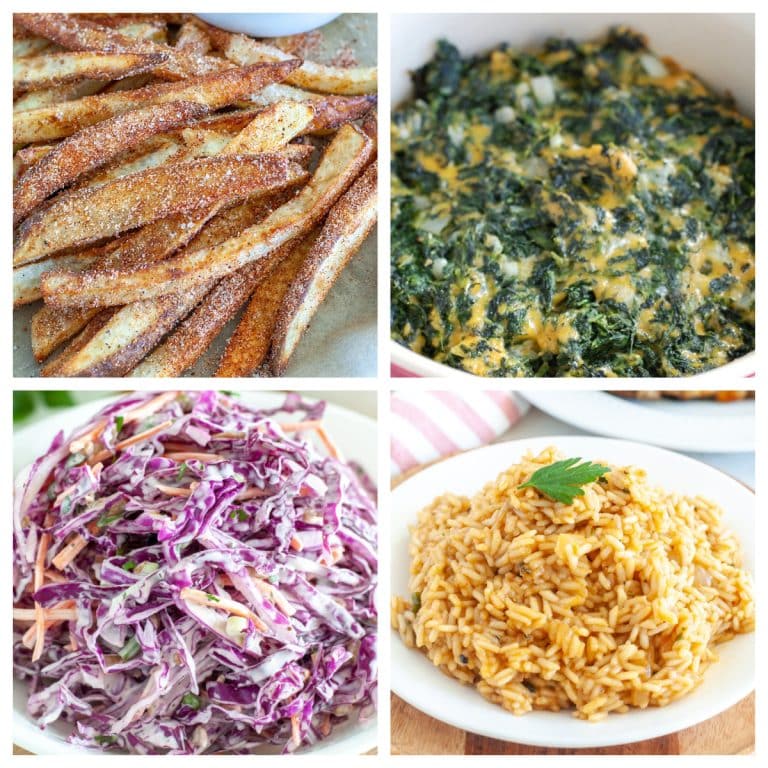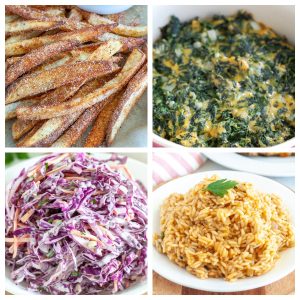 Best Chicken Tender Sides
The best chicken tender sides range from simple fries, slaw, and even spinach casserole. And this simple honey mustard recipe is great for dipping.
Ingredients
3

tablespoons

honey

1/2

cup

mayonnaise

1

tablespoons

Dijon mustard

2

tablespoons

yellow mustard

1

teaspoon

lemon juice

1/8

teaspoon

salt
Instructions
Mix the ingredients together until well combined.

Serve immediately or store covered in the refrigerator.
Nutrition
Calories:
245
kcal
|
Carbohydrates:
14
g
|
Protein:
1
g
|
Fat:
21
g
|
Saturated Fat:
3
g
|
Polyunsaturated Fat:
13
g
|
Monounsaturated Fat:
5
g
|
Trans Fat:
0.1
g
|
Cholesterol:
12
mg
|
Sodium:
375
mg
|
Potassium:
32
mg
|
Fiber:
1
g
|
Sugar:
13
g
|
Vitamin A:
26
IU
|
Vitamin C:
1
mg
|
Calcium:
10
mg
|
Iron:
0.3
mg
Nutrition information is automatically calculated, so should only be used as an approximation.
Like this? Leave a comment below!