50 Cold Lunch Ideas
May 17, 2022, Updated Aug 04, 2022
Don't let your lunch routine become a groundhog's day of eating the same old boring things. We've rounded up 50 delicious, unique, and tasty cold lunch ideas.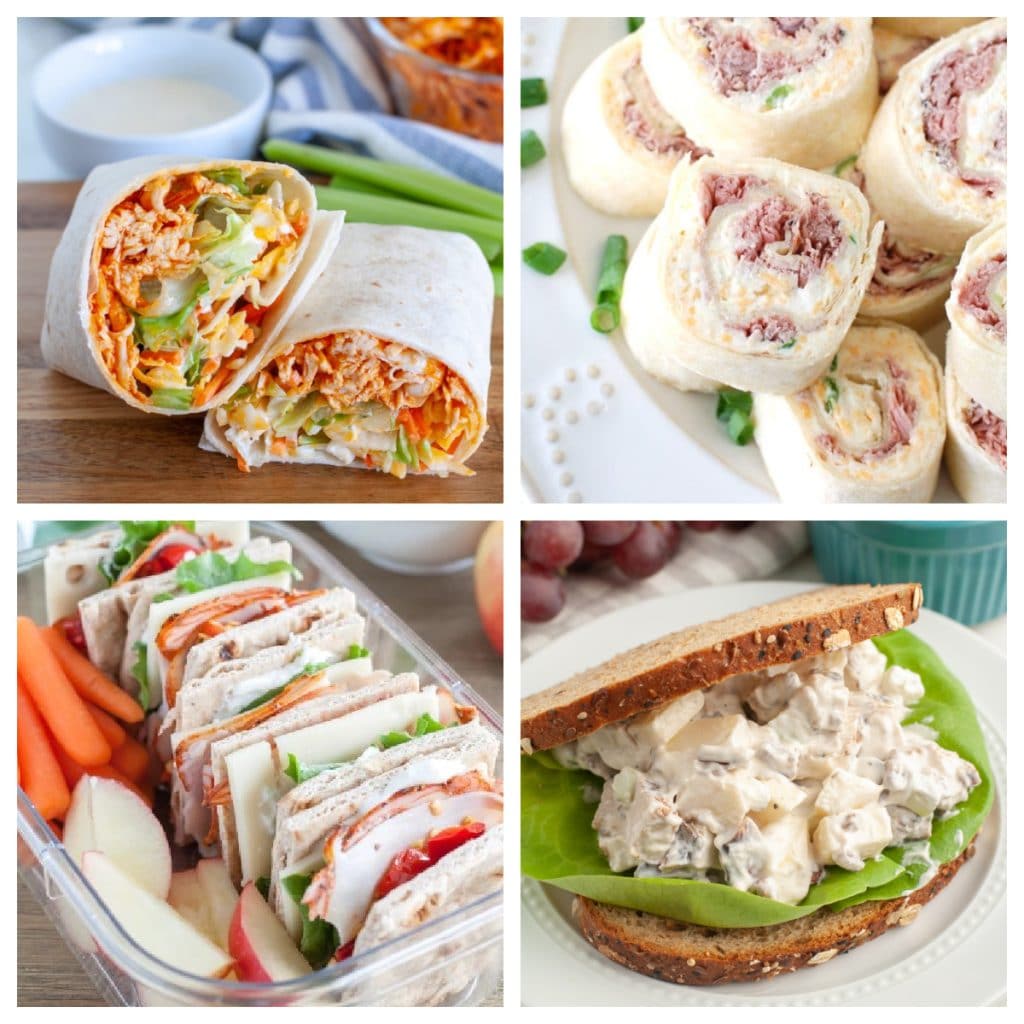 Cold lunches are ideal as they store and transport easily and are ready to eat straight from the fridge. They are also great for meal prepping, ensuring your lunch routine stays original and you always have something ready to enjoy.
We've included an eclectic array of 50 appetizing cold lunch ideas that are perfect for work or school, to have a quick grab-and-go lunch on the fly, or to whip up in no time before you leave the house.
What I love the most about chicken salad is how versatile it is. From ingredients to different ways of eating it, it's a mercurial cold lunch in my regular lunch rotation. There is a wonderful juxtaposition of textures with the cool, creamy dressing and crunch from the celery, pecans, and apple. Whether I'm making a chicken salad sandwich, a wrap, or putting it on a bed of lettuce, it's always a favorite cold lunch.
These tasty little roll-ups are a fun way to mix up your lunch routine. While also fabulous party appetizers, they are simple to make and have many variations. This recipe is ham and cheese rolled in a flour tortilla with cream cheese and ranch seasoning making these roll-ups a powerhouse of delicious flavor.
The zing of buffalo sauce is an appetizing contrast to the cool lettuce, cheese, and ranch in these mouthwatering wraps. Great way to use leftover rotisserie chicken. A delectable, restaurant-worthy cold lunch idea. Making these wraps is a breeze and only takes 5 minutes to throw together.
This keto lunch box is ideal for meal prepping and to have on hand for an easy grab-and-go lunch. Deli meat, hard-boiled eggs, and veggies all add to this low-carb, flavorful cold lunch with plenty of protein. When you want to go low-carb, are enjoying a Keto diet, or want to mix up your lunch routine, this lunch box is the simple, delicious answer.
This is a copycat recipe of the infamous Starbucks turkey protein box. It can be prepped ahead of time for another easy grab-and-go lunch. Turkey deli meat, the tangy cream cheese spread, and Swiss cheese make fun little sandwiches. Apples and carrots complete the lunch box and store until ready to devour.
All of the traditional Italian sub toppings are included in this bright, tasteful pasta salad. Salami, provolone cheese, pepperoncini, red onion, tomatoes, and chopped green leaf lettuce combined together with pasta in a tangy vinaigrette dressing. Easy to transport and meal prep, this pasta salad makes a delicious cold lunch or dinner.
When searching for cold lunch ideas for work, meal prepping, and low-carb meals, this tuna salad hits the mark. Similar to chicken salad, it has a creamy, mayonnaise dressing and crunchy bites of celery. Easy to prep ahead of time and have a delicious protein-packed dish at the ready.
This Greek orzo salad is a tasty salad with a flavor explosion in every bite. The herb dressing allows for a nice tang against the fresh veggies of cucumber, tomato, red onion, and chickpeas. The feta cheese balances the salad with its creamy chunks and mild flavor. Perfect for a hot summer day, it's fresh, light, and full of flavor.
Grain bowls are a great idea for a filling and healthy lunch. This recipe takes it up a few notches and is a fun twist on a traditional chicken salad. It adds quinoa, carrot, raisins, and onion to the chicken, pecans, and apples. It has a bright lemon garlic dressing that gives the salad a nice zing of flavor.
A wonderful cold lunch idea is to meal prep mason jar salads. Mason jars are convenient and easy way to transport salads. In this recipe, the creamy lemon Greek yogurt dressing is the star of the show. It's a lighter version of the traditional mayonnaise dressing which complements the freshness of the salad and offsets the heavier elements of cheddar cheese and bacon.
Pesto pasta is a classic Italian dish. The basil pesto is full of fresh, luscious flavor. This recipe takes that loveable dish and turns it into a wondrous cold salad. Cherry tomatoes, pepperoncini, and red onion add to the traditional pesto and pasta to make this a well-rounded and delicious salad, perfect for a cold lunch idea or summer potluck.
Wraps are a fun alternative to sandwiches, especially when you want to cut out bread. This zesty Italian wrap is full of zing and bursting with flavor. Ham, pepperoni, salami, lettuce, cheese, and peppers are all mixed with a zesty Italian dressing and wrapped up in a flour tortilla.
This wonderful chickpea salad is a vegan take on the traditional chicken salad. Chickpeas replace the chicken and blend favorably with fresh herbs, celery, and pickles. They are combined together with an inviting vegan mayonnaise dressing. Scoop the salad onto your favorite bread and enjoy a luscious vegan cold lunch.
Egg sandwiches are quintessential beloved sandwiches. Kid-approved and delicious, egg sandwiches are a comfort food loved by everyone. This simple recipe is a leveled-up version of the classic recipe and a great addition to your lunch routine.
Pita pockets are such a fun alternative to sandwiches. This recipe is hearty, healthy, and flavorful. A mini tuna salad is tossed in a creamy lemon herb dressing creating a bright flavor. It gets stuffed into the pita pocket with spinach and tomatoes for superb texture and flavor.
This cold noodle sesame salad is a great cold lunch idea for work. It's packed full of fresh vegetables and mixed with a jaw-dropping sublime sesame ginger dressing. The best part is that it's ready to devour in 25 minutes.
Forget boring old peanut butter and jelly, there's a new recipe in town. This leveled-up peanut butter wrap will be your new obsession. It's crunchy, creamy, and chewy with a hint of sweetness. It's fast, easy to make, and perfect for meal prepping. It's loaded with protein and fruits giving you sustained energy to finish your day strong.
This chicken rice bowl is a bowl full of yummy goodness. Fresh, bright, and brimming with delicious flavors, it's a marvelous cold lunch idea. Fresh Basil, lemon, diced chicken breast, veggies, and rice all blend in a glorious lemon dressing. Easy to throw together and makes for a great lunch or dinner.
This is a healthy, naturally fresh salad full of dazzling flavors. Quinoa, black beans, chickpeas, mango, avocado, onion, cilantro, and mint are combined with a tangy lime dressing. Bold flavors make this vegetarian salad a fantastic lunch or side dish.
This salad is an exceptional side dish; however, it also makes a delicious lunch. Fresh broccoli, savory bacon, cheddar cheese, dried cranberries, sunflower seeds, and red onion are tossed in a creamy lemon dressing. It's satisfying and filling.
These little pinwheels are a pickle lover's dream. Easy to meal prep and a great cold lunch idea for work, they are brimming with tasty flavors. The fresh dill and dill pickles give a nice crunch and complement the cool cream cheese and ranch for a perfect bite every time.
This is an elevated pasta salad with cheese tortellini and homemade Italian dressing. It comes together quickly in 25 minutes. This salad is packed full of fresh ingredients and is delightful and delectable to eat.
Ham salad is perfect to make when you've got leftover ham. It makes a great lunch or snack and whips up in just 10 minutes. There's a secret ingredient that makes this southern classic an amazingly appetizing salad.
This vegan sandwich is a tasty treat. The thinly sliced bread is stacked with fresh veggies, hummus, and avocado. It's fresh, fabulous, and all-around an exceptional sandwich.
All of your favorite cobb salad flavors are wrapped up in a tortilla for a delicious cold lunch! Great for hot days or when you want a cool, crisp, and yummy lunch. This handheld version of the classic salad is a great way to enjoy lunch on the go.
These roast beef roll-ups take all of the classic flavors of a roast sandwich and roll them into these bite-sized fun roll-ups. Deli roast beef, horseradish, cream cheese, sour cream, mustard, and Colby jack cheese are rolled in a flour tortilla and then sliced. Not a wrap, not a sandwich, they are fun-size and make a great meal.
This is a healthy and protein-packed inviting salad. The tuna and white beans are combined with red onion and tangy red wine vinaigrette. Light and satisfying, you can whip it up in a mere 15 minutes.
You don't have to sacrifice flavor for a healthy version of classic dishes. A healthier take on buffalo chicken, these meal prep bowls are packed full of luscious flavors, protein, fiber, and healthy fats. They are perfect for prepping on a Sunday and having on hand for lunches or dinners.
Cold lunch ideas for work can get repetitive and daunting. These turkey spinach pinwheels are a flavorful way to mix up your lunch routine. Easy to meal prep or throw together in the morning, they are nutritious, delicious, and filling.
This is an easy chopped salad to throw together and is full of appetizing and tasty flavors. A tangy peanut sauce dresses the salad that is filled with crunchy veggies and it's topped with crunchy cashews. It's a bright and luscious salad you'll love to add to your lunch routine.
This bell pepper turkey sandwich is a fun and delicious way to skip the bread. Simply swap out the bread for a bell pepper and stuff with deli turkey, crispy bacon, avocado, cheese, mayo, and mustard. The bell pepper adds a nice crunch and flavor to this healthy and already appetizing sandwich.
A tantalizing and favorable wrap, this southwest chicken wrap is so good you'll be making it at least once a week. It quickly comes together in 25 minutes and has a flavor punch of southwest goodness.
This is a refreshing wrap that has a different spin on it. Crab, cucumber, mango, cilantro, and green leaf lettuce all get wrapped up in a tortilla covered with a yummy creamy garlic sauce. Fresh, flavorful, and light all at once.
Salmon salad is a great alternative to tuna salad, especially when you're looking to change up your lunch routine. A palatable and inviting salad, it has fresh dill, lemon juice, and Dijon mustard adding freshness and bright tones to it.
This Waldorf chicken salad is a tasty spin on the traditional recipe. The apples, grapes, and sunflower seeds are mixed together with chicken and mayonnaise for a creamy, crunchy consistency. Laid into crisp lettuce wraps, this recipe is fresh, light, and a perfect cold lunch during the warm summer months.
This is a cool, refreshing, and light soup that will satisfy any palate on a hot day. You can top it with a variety of options like burrata or crab, or simply serve and enjoy it as is.
Move over lobster rolls, these shrimp salad rolls are next-level delicious. Similar to a tuna salad, the shrimp is mixed with celery, herbs, and a creamy mayonnaise-based dressing. The salad is a powerhouse of wonderful flavors and spread into buttery brioche buns.
This salami sandwich is a delightful alternative to other lunch meats. Cream cheese, fresh leaf lettuce, and garlic are included in this easy-to-make sandwich. Quick to make, easy to meal prep, and a great cold lunch idea to add to your lunch routine.
This isn't your ordinary turkey sandwich, it's a next-level turkey sandwich with delectable rosemary focaccia bread. The sun-dried tomato pesto, fresh mozzarella, arugula, and turkey are piled high between the bread slices. It's fresh, tangy, and bursting with mouthwatering flavors.
Take your pasta salad game up a few notches with this bright, cool, and tasty salad. This pasta salad is a crab lover's dream packed with fresh flavors and delicious crab. It's a perfect cold lunch, potluck, or picnic salad.
Asian noodle salad is a refreshing, bright, and light salad. The lip-smacking peanut dressing brings all of the fresh ingredients together. Red cabbage is included adding a crunchy texture against the soft noodles.
Not your average BLT, this wrap includes deli turkey, avocado, and ranch. A powerful and appetizing flavor combination all wrapped up in a tortilla. It's a wonderful alternative to a regular BLT and a wonderfully easy lunchtime meal.
This Mediterranean lunch box is a great idea to add to your lunch routine. Easy to meal prep and perfect for on-the-go lunches, it's full of bright and fresh veggies, luscious, creamy hummus, and protein-rich chickpeas.
These are an easy, healthy lunch or dinner to meal prep and have on hand for your week. These bowls are full of the Greek flavors we know and love. The tzatziki dipping sauce, cucumber salad, and herb marinated chicken all go into these fresh and delightful bowls.
It only takes 5 minutes to throw together this delectable bagel sandwich. It's packed full of fresh veggies, delicious creamy hummus, and savory turkey. It's completely customizable too so you can throw in whatever you have on hand and make it your own masterpiece sandwich.
Chopped salads are great cold lunch ideas for work. Easy to meal prep and make ahead of time, they make taking lunch to work a breeze. This salad is no exception. It's loaded with fresh veggies, herbs, avocado, and bacon. An irresistible lemon vinaigrette dresses the salad for a healthy, delicious salad.
A quintessential summer salad, this spinach salad is berry good. Loaded with fresh berries, goat cheese, red onion, and pecans, it's a summertime salad bursting with amazing flavors. The raspberry vinaigrette is a sweet and tangy dressing that compliments this fresh, bright, and luxurious salad.
This BBQ chicken pasta salad is a flavor explosion in the best way. It's brimming with an array of delicious ingredients including black beans, corn, bacon, and bell pepper. The salad is tossed in a creamy, tangy BBQ sauce dressing. This will become your new favorite summer salad.
This salad is a veggie lover's dream. Loaded with fresh veggies and cheddar cheese, it's a fresh, flavorful, and healthy salad. An upgraded Italian dressing coats the salad adding a tasty zing.
These cucumber wraps are so bright, fresh, and tantalizingly delicious that you'll be going back for seconds and thirds. Great for parties, tasty cold lunches, or snacks, they are easy to whip up in only 20 minutes. The green goddess dressing is a showstopper and so good that you'll want to make extra to keep on hand.
If you need something for dinner, be sure to try these amazing 50 dinner ideas.
Did you try any of these cold lunch recipes? Let me know in the comments below.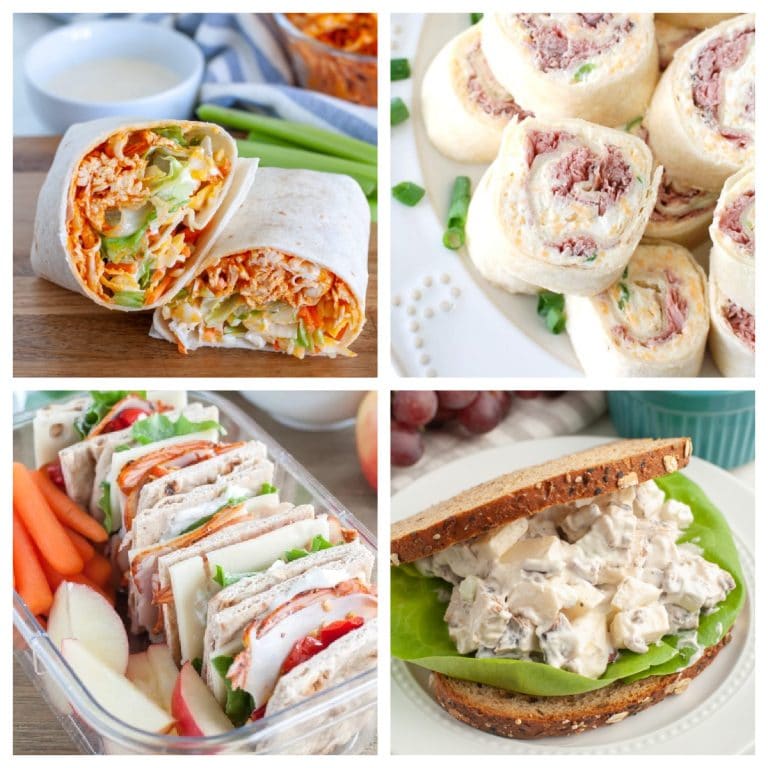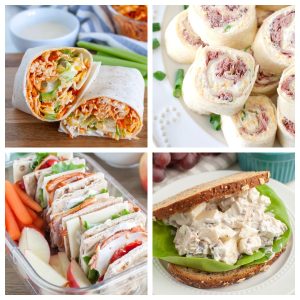 Cold Lunch Ideas
50 delicious cold lunch recipe ideas including this easy copycat bistro box.
Ingredients
1

ounce

Gouda cheese

sliced

1

ounce

sharp cheddar cheese

sliced

1

ounce

Brie

6

crackers

1/4

cup

mixed almonds and cashews

1/4

cup

dried cranberries

or raisins

1

apple

sliced

1/2

teaspoon

lemon juice
Instructions
Toss apple slices in lemon juice to help prevent browning.

Arrange ingredients in a meal prep container. Refrigerate before eating.
Nutrition
Calories:
147
kcal
|
Carbohydrates:
16
g
|
Protein:
5
g
|
Fat:
8
g
|
Saturated Fat:
4
g
|
Polyunsaturated Fat:
1
g
|
Monounsaturated Fat:
2
g
|
Trans Fat:
1
g
|
Cholesterol:
22
mg
|
Sodium:
190
mg
|
Potassium:
83
mg
|
Fiber:
2
g
|
Sugar:
11
g
|
Vitamin A:
177
IU
|
Vitamin C:
2
mg
|
Calcium:
123
mg
|
Iron:
1
mg
Nutrition information is automatically calculated, so should only be used as an approximation.
Like this? Leave a comment below!