Homemade White Gravy
Sep 19, 2020, Updated Oct 13, 2023
White gravy is a classic, creamy recipe that can be served over biscuits, chicken, potatoes, and more. Make this gravy from scratch in minutes to add flavor and texture to many dishes.
We love serving this gravy recipe with biscuits, bacon, and eggs for a full breakfast or brunch.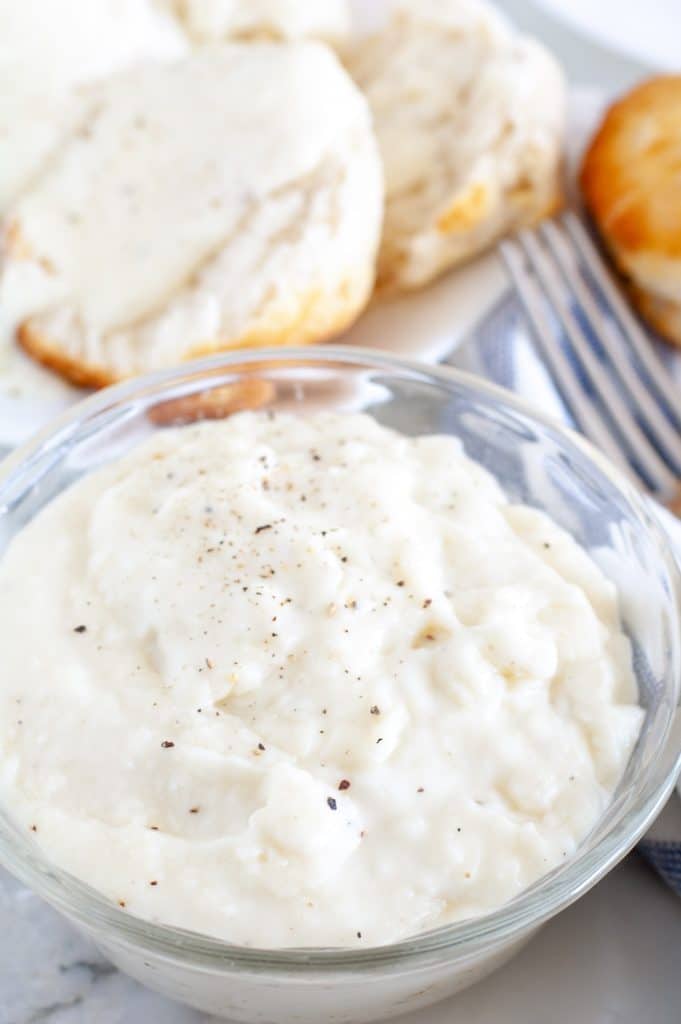 Creamy White Gravy from Scratch is Easy!
Craving some southern-inspired comfort that doesn't take forever to make? This classic, creamy white gravy can be made from scratch in 15 minutes flat! Perfect over biscuits, chicken, potatoes, and so much more.
When you want to add a dash of comfort to your meal, white gravy always does the trick. Growing up in Virginia, we put my mom's version on just about everything, from chicken to pork chops to mashed potatoes. And, of course, biscuits.
These days, I love treating my family to a taste of my childhood! My version of white gravy is rich, creamy, and oh-so-easy to make I can whip up a batch in minutes to add cozy comfort to any meal!
Over the years, I've seen plenty of gravy recipes that call for complicated ingredients or take forever to make. Not this one! Flour, butter, milk, salt, and pepper are all it takes to add a little bit of heaven to your next meal.
What is white gravy?
White gravy is one of those recipes that every family makes a little differently. It's passed down through generations with small tweaks and updates along the way.
If you've never heard of white gravy before, keep in mind that this is different from the gravy you have at Thanksgiving. Brown gravy uses broth and sometimes incorporates drippings from a roast for a meatier taste. White gravy uses milk for a creamier texture.
This smooth, silky sauce can also be called country gravy, white sauce, homestyle gravy, or sawmill gravy. And though often thought of as a southern dish, it actually has French roots!
Bechamel sauce is considered one of the "mother sauces" of French cuisine. Also popular in Italian and Greek cooking, bechamel sauce often includes nutmeg in the base of the sauce. Besides that, it's pretty interchangeable with white gravy.
How long does white gravy take to make?
When I first started making my version of white gravy, I wanted to use my mom's recipe as the base, but make some tweaks for the best texture and flavor with minimal work. Basically, it needed to taste good and be ready fast!
I'm proud to say that this version might be even faster to make than a batch of canned biscuits! And thanks to the basic ingredients, you can throw the whole recipe together at a moment's notice.
Gravy is my go-to when I want to make a nice, hearty meal. Especially when it's bitter-cold outside, it's the best way to warm yourself up!
What you will need
Flour – All-purpose flour is used to make white gravy.
Butter – Sweet cream, unsalted butter is used.
Milk – I think whole milk works best but feel free to use 2%, half and half, or heavy cream.
Seasoning – Salt and ground black pepper.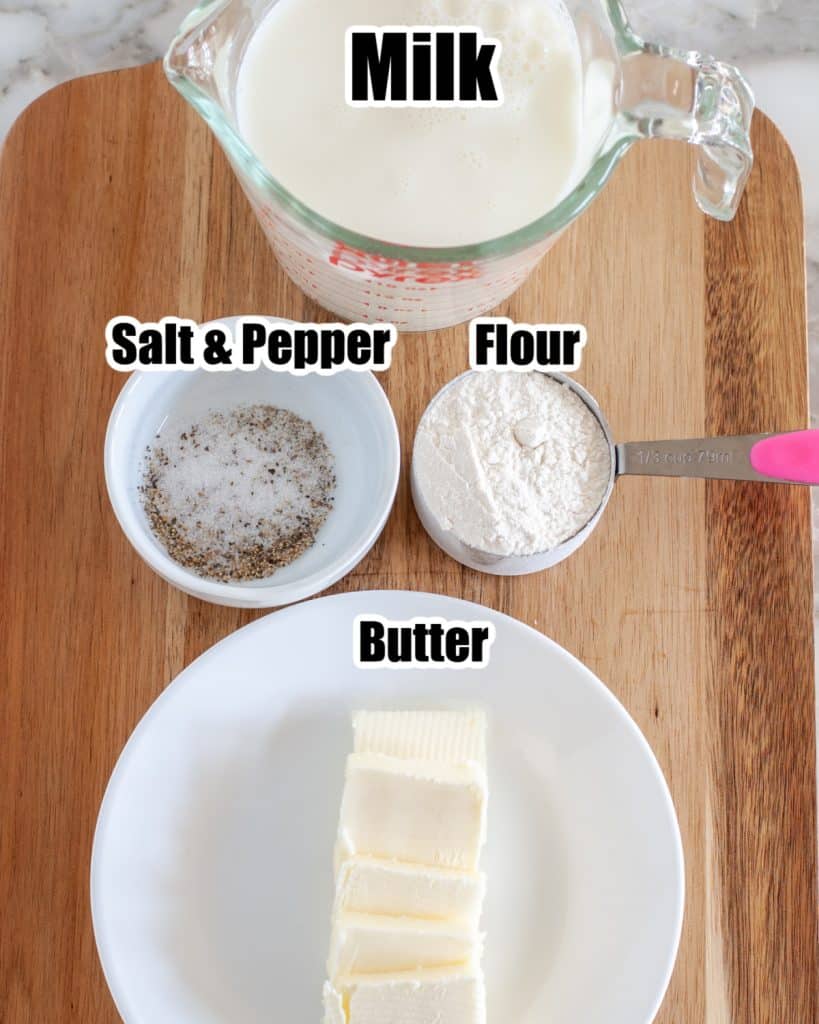 How to make white gravy from scratch
Scroll to the bottom for full, printable recipe, ingredients and video.
Cook: Add butter to a large saucepan or skillet and melt over medium heat. Whisk in flour and then slowly pour in the milk. Keep whisking to make sure to remove lumps.
Stir in the salt and pepper. Cook until desired thickness, about 3 minutes.
Serve: Serve the gravy warm.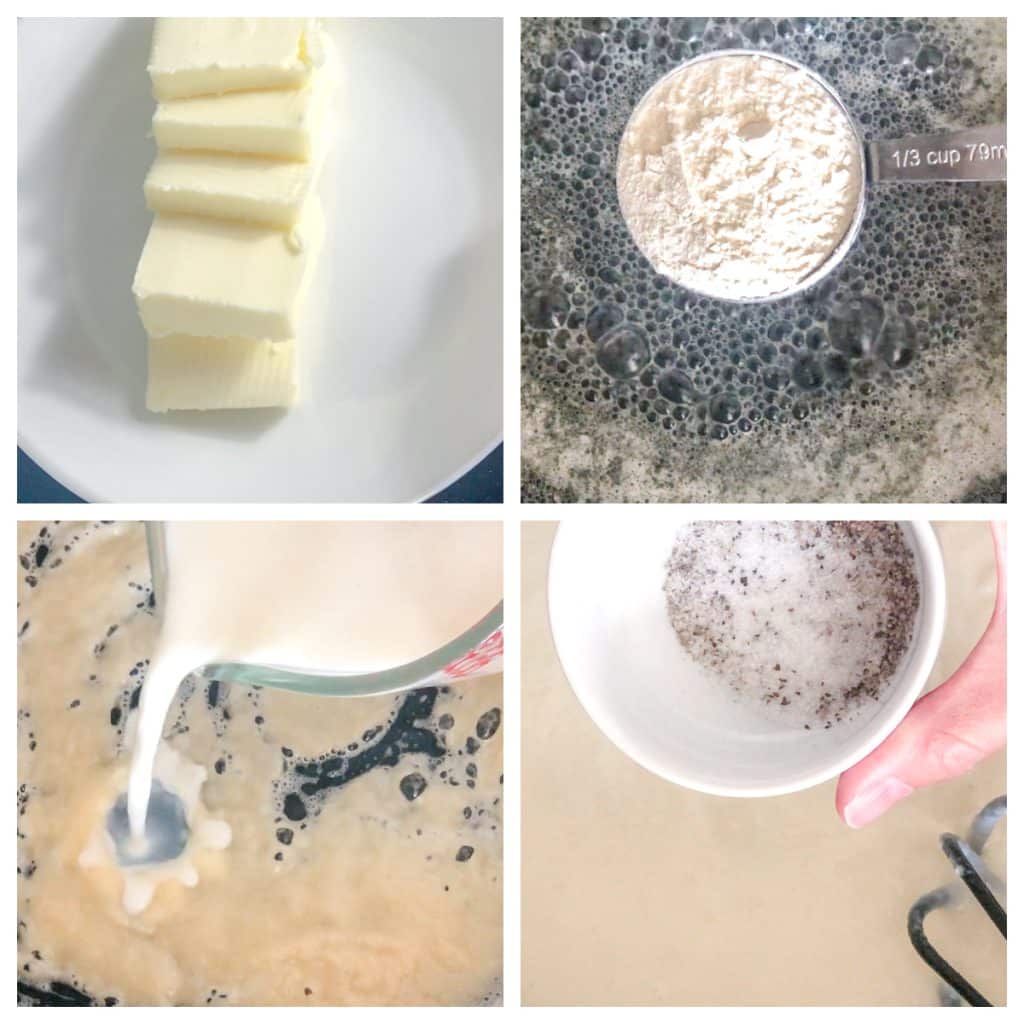 How to store
Store: Let the gravy cool. Store in an airtight container for 4-5 days. To reheat, pour back in a saucepan and add a little extra milk to help thin out the gravy. Heat over medium heat until warmed.
How to serve
This white gravy recipe can be poured on just about anything in my opinion but here are some favorites:
Substitutions
There are a few ingredient substitutions you can use for this recipe.
Fat: My mom would often replace butter with sausage or bacon grease. You can use 4-5 tablespoons of grease in the place of butter.
Liquid: Choose your favorite milk, half and half, or cream. If you want to avoid dairy, you can make the gravy with water or chicken broth. Substitute equal amounts.
Seasoning: I love classic salt and pepper but feel free to try other seasonings like seasoned salt, a pinch of cayenne pepper for heat, or a pinch of dried sage.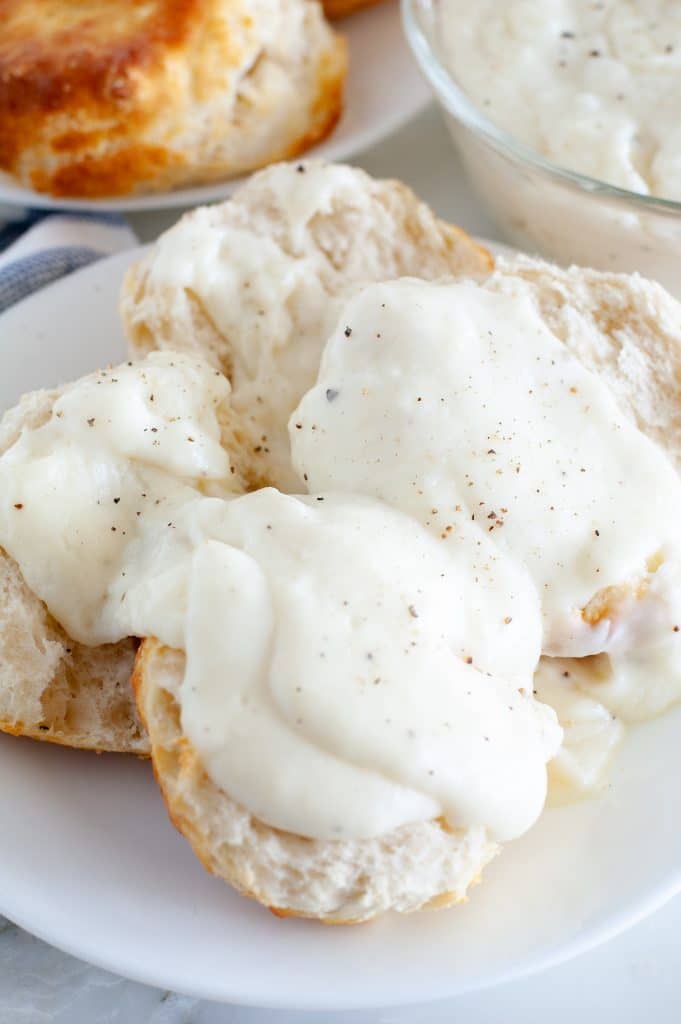 Common questions
How do you thicken white gravy?
If your gravy isn't thick enough, whisk together 2 teaspoons of cold water and 2 teaspoons of cornstarch. Slowly drizzle into the gravy and stir until thickened.
What is the secret to good gravy?
The key to a smooth, delicious gravy is to make sure that you whisk the butter and flour together and then slowly whisk in the cold milk until the flour dissolves.
What is the difference between country gravy and white gravy?
The big difference between country gravy and white gravy is the liquid used to make the recipe. Country gravy uses leftover meat grease or even broth. White gravy uses milk.
More easy breakfast recipes
If you mad this recipe, please feel free to leave a comment and rating.
*** You will notice in the pictures and video that the gravy is a little thick. That is how my family likes gravy. To get thinner gravy, add more milk, up to 1 cup more.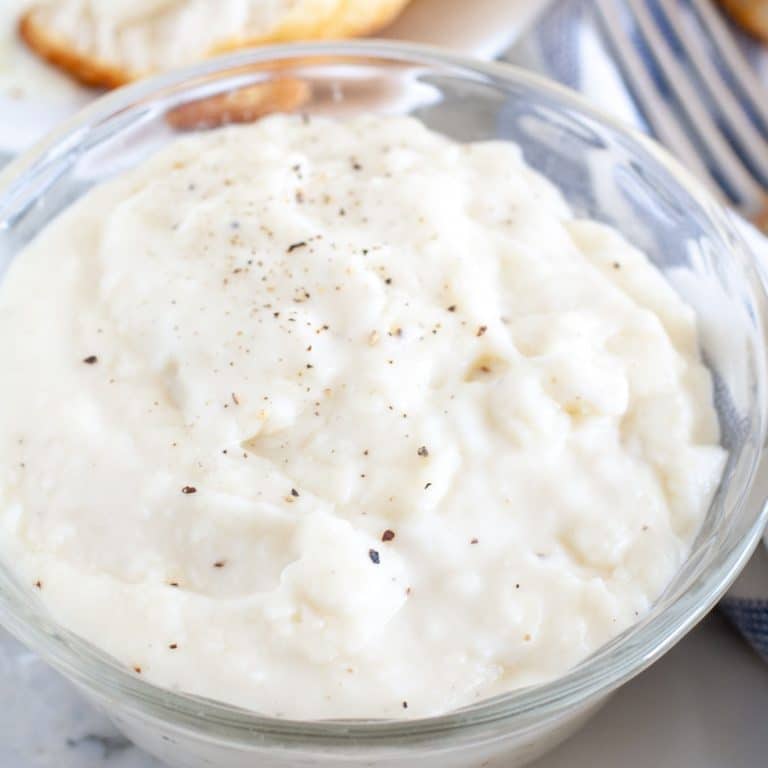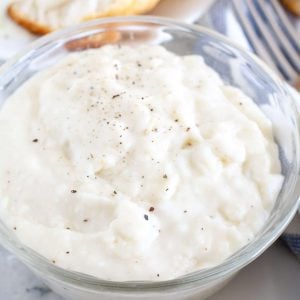 Ingredients
1/3

cup

all-purpose flour

5

tablespoons

butter

2

cups

milk

1

teaspoon

salt

1

teaspoon

ground black pepper
Instructions
Heat butter in a large skillet over medium heat. Once melted whisk in the flour. Whisk until combined.

Slowly pour in the milk and keep whisking until it thickens. Let simmer for about 3 minutes. Stir in salt and pepper.
Notes
Gravy is too thick – Whisk in a little milk, a few tablespoons at a time until desired thickness.
Gravy is too thin – Let it keep boiling until it thickens. It that still doesn't work, stir 1 tablespoon of flour in with 1 tablespoon of water and pour into the mixture to help thicken.
Nutrition
Calories:
159
kcal
|
Carbohydrates:
9
g
|
Protein:
3
g
|
Fat:
12
g
|
Saturated Fat:
8
g
|
Cholesterol:
33
mg
|
Sodium:
506
mg
|
Potassium:
115
mg
|
Fiber:
1
g
|
Sugar:
4
g
|
Vitamin A:
423
IU
|
Calcium:
95
mg
|
Iron:
1
mg
Nutrition information is automatically calculated, so should only be used as an approximation.
Like this? Leave a comment below!
What is the difference between brown and white gravy?
Brown gravy uses broth instead of milk.
Why is it called sawmill gravy?
White gravy is sometimes referred to as sawmill gravy. It's called that because it was a popular dish at old time sawmill camps. It was originally made using cornmeal which gave it a gritty consistency similar to sawdust.