22 Breakfast With Chicken Recipes
These breakfast with chicken recipes are the perfect way to start the day with protein-packed goodness! From zesty chicken tacos to crispy pancake battered chicken nuggets to a cheesy chicken bacon quesadilla, there are so many delicious options. Whether you want to try something adventurous like making your own chicken sausage or you just want to use up last night's leftover chicken, here are the best chicken recipes to start your morning!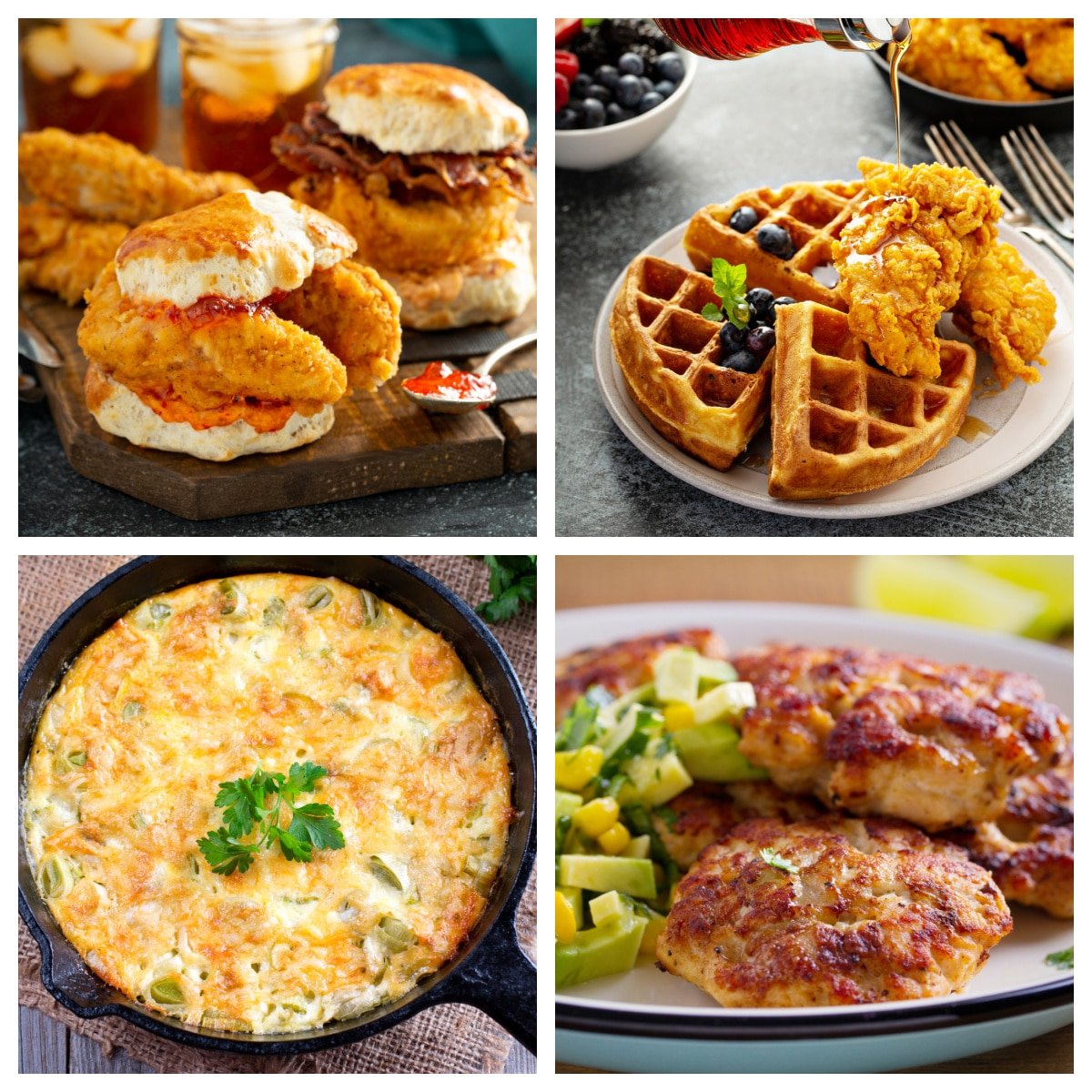 If you're looking for a delicious, high-protein way to start the day, these breakfast with chicken recipes are sure to hit the spot! Explore healthy, hearty breakfast inspiration to jump start your morning.
Enjoy egg-based chicken dishes like a tasty chicken frittata, elegant chicken quiche, or flavorful California chicken breakfast burrito. Or maybe you want something sweet and savory like chicken waffles and gravy, French toast chicken sandwich, or a copycat chicken McGriddle. There are so many possibilities!
Whether you want to use up leftover chicken from last night's dinner or you're in the mood to change up your morning routine, there's a recipe for everyone. Let's dive into the very best chicken breakfast recipes!
Jump-start your day with a California twist! These burritos pack tender chicken, fluffy eggs, and a medley of fresh veggies into a warm tortilla for handheld perfection that will keep you satisfied for hours. Try adding a splash of hot sauce for a little kick.
Fuel the whole family up for a busy day with a hearty air-fried meal! This bowl combines succulent chicken, perfectly cooked eggs, and savory potatoes for a protein-packed breakfast that's both tasty and filling.
Thanks to frozen popcorn chicken and crescent rolls, this irresistible casserole is a breeze to throw together! Each bite-sized portion is a complete meal, great for busy mornings or a leisurely brunch.
Treat yourself to homemade goodness in every patty! These maple-infused chicken sausages strike the perfect balance between savory and sweet, plus they freeze beautifully for super easy meal prepping.
Indulge in the ultimate comfort food fusion! This casserole layers crispy oven fried chicken with fluffy waffles, all drenched in a rich maple-flavored sauce for a decadent dish that will have everyone begging for seconds!
Crispy-on-the-outside, tender-on-the-inside chicken smothered in savory gravy, sandwiched between soft biscuits, and topped with a fried egg is breakfast nirvana! Treat yourself to this filling and delicious meal.
Start your day with a burst of satisfying flavors and textures! This breakfast taco recipe is filled with leftover chicken, bacon, and avocado, then wrapped in a soft flour or corn tortilla for a fresh and exciting way to do breakfast.
Golden, crispy fried chicken nestled in a soft bun is a hearty and indulgent way to kick off the day. When you're craving something extra special in the morning, savor the crunch and flavor of this sandwich!
Recreate a fast-food favorite right in your kitchen! These mini chicken sandwiches are both adorable and delicious, perfect for when you're craving Chick-Fil-A but don't want to leave the house.
Experience comfort food at its finest! This dish pairs crispy oven-fried chicken with soft, fluffy waffles, all topped with velvety white pepper gravy. It's the kind of brunch you'll be dreaming about making again and again!
Ready in less than 30 minutes, this delightful baked frittata is brimming with chunks of chicken and veggies. A delicious way to incorporate chicken in your breakfast. It's a nutritious and flavorful start to your day that's high in protein, low in carbs, and so easy to make.
Indulge in this creamy, savory quiche! Filled with tender chicken and cheese over a perfectly baked crust, it's a sophisticated breakfast option that's great for entertaining and sure to impress.
Fried chicken smothered in a bourbon sweet chili sauce and served between two slices of French toast? Yes please! The combination of sweet and savory flavors makes this a uniquely amazing breakfast.
Ditch the store-bought sausages from the frozen section and make your own chicken sausage instead! It's easier than you think to whip up breakfast sausage that's flavorful, lean, and perfect for pairing with your favorite morning sides.
If you've ever enjoyed a cheesy hash brown casserole, also known as funeral potatoes, then you're going to love this version with added chicken! It's a filling dish great for feeding a crowd or enjoying leftovers throughout the week.
This one-skillet wonder can be ready in about 25 minutes! Enjoy delicious chicken sausage, bell peppers, crispy-yet-tender potatoes, and hearty eggs all cooked together in one pan on the stove to make this breakfast hash.
Elevate your breakfast with a light and flaky croissant filled with a creamy chicken salad. The chicken salad can be ready in as little as 4 hours, but it's even better if you make it the night before so the flavors can really meld!
Chicken nuggets coated in pancake batter offer the perfect blend of sweet and savory. Your family will be begging you to cook this breakfast again and again — good thing it's so easy to make!
The secret to the perfect copycat McGriddle is getting little pockets of warm maple syrup inside every bite of the pancake bun. After that, add your fried chicken, drizzle on more syrup, and enjoy!
Delight in these tender biscuits topped with crispy chicken and a drizzle of sweet honey butter for the perfect amount of sweetness and crunch in every bite. It's a southern-style breakfast that's both comforting and delicious!
Kickstart your morning with a protein-packed copycat Chick-Fil-A breakfast burrito! Filled with chicken nuggets, eggs, tater tots, and cheese, it's a mouthwatering option for those on-the-go mornings. This is an easy chicken recipe everyone will love.
Why not kick off your day with a hearty, high-protein quesadilla? Chicken, bacon, ranch, green chiles, and plenty of melted cheese come together for a quick, easy, and tasty way to jumpstart your morning! Top with a little sour cream or avocado for something extra.
Which one of these chicken breakfast ideas will you be trying?
More chicken recipes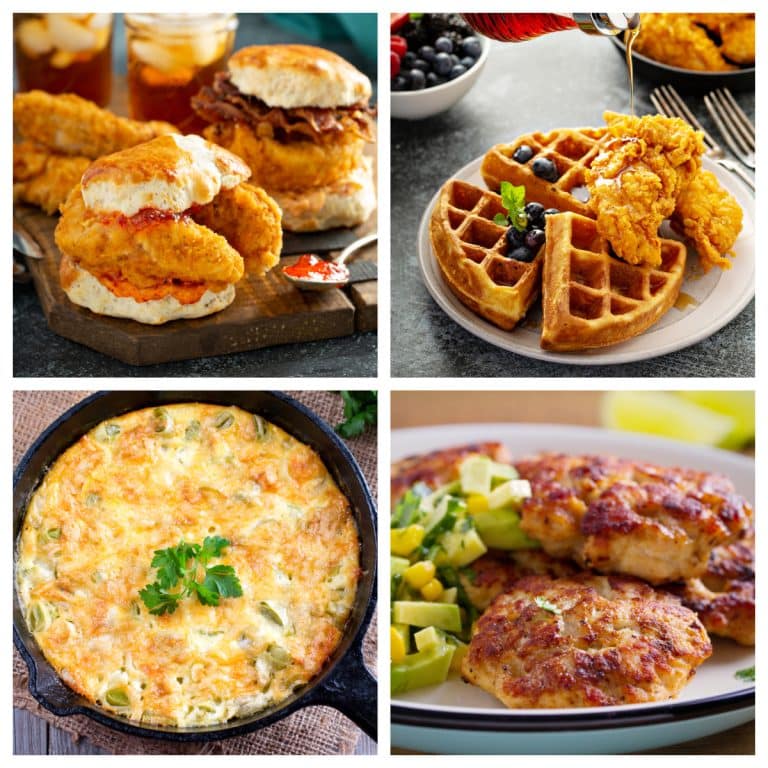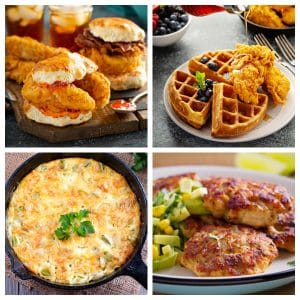 Chicken Breakfast Recipes
A group of chicken breakfast recipes that can be eaten for breakfast, lunch, or dinner. From chicken biscuits to breakfast burritos, there is something for everyone.
Ingredients
2

cups

cooked, diced chicken breast

4

flour tortillas, burrito sized

1

tablespoon

unsalted butter

8

eggs

1/8

teaspoon

salt

1/8

teaspoon

ground black pepper

1

cup

shredded cheddar cheese

1

cup

diced tomatoes

2

avocados, peeled and diced
Instructions
Whisk together eggs in a bowl. Heat a pan over medium heat on the stove.

Place butter in the skillet to melt. Add in whisked eggs. Using a spatula, move the eggs from side to side in the pan. Once they have cooked and scrambled, remove heat and season with salt and pepper.

In the center of each tortilla add 1/4 scrambled eggs, 1/4 diced chicken, 1/4 cup cheese, tomatoes, and avocado. Roll into a burrito and serve.
Nutrition
Calories:
484
kcal
|
Carbohydrates:
19
g
|
Protein:
42
g
|
Fat:
26
g
|
Saturated Fat:
12
g
|
Polyunsaturated Fat:
3
g
|
Monounsaturated Fat:
7
g
|
Trans Fat:
0.1
g
|
Cholesterol:
423
mg
|
Sodium:
661
mg
|
Potassium:
474
mg
|
Fiber:
2
g
|
Sugar:
3
g
|
Vitamin A:
931
IU
|
Vitamin C:
6
mg
|
Calcium:
323
mg
|
Iron:
4
mg
Nutrition information is automatically calculated, so should only be used as an approximation.
Like this? Leave a comment below!