30 Best Frozen Meatball Recipes
Meatballs are tender, juicy, and flavorful! On top of that, they're also incredibly versatile, with so many different ways to cook and serve them.We love that meatballs are not only a crowd-favorite appetizer at parties, but also make a great side dish or entree.Here are some of our favorite frozen meatball recipes that the whole family will be sure to enjoy.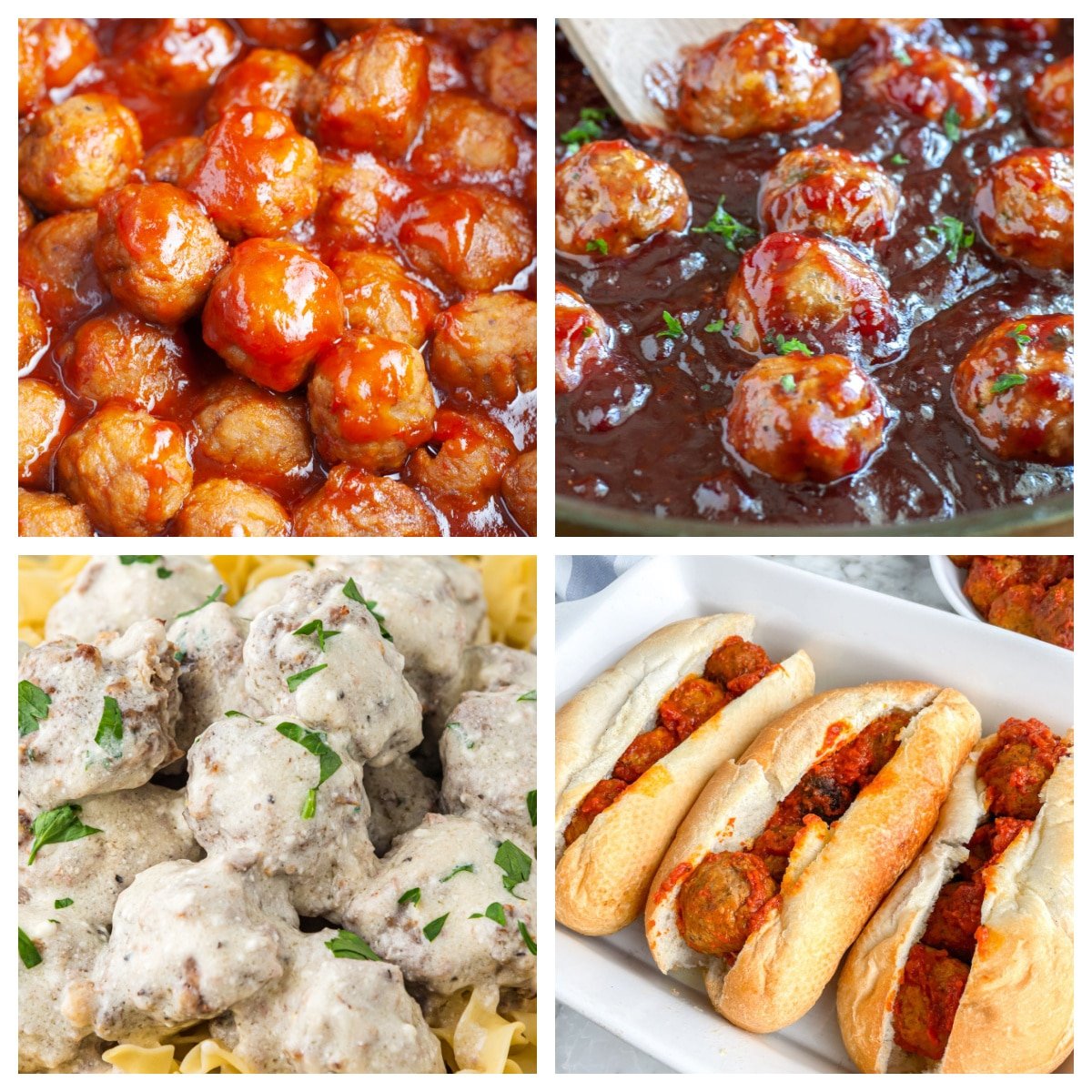 Easy recipes made with frozen meatballs
While homemade meatballs are certainly a treat, frozen meatballs are the way to go when you don't have much time on your hands.
Our list of frozen meatball recipe ideas features a variety of simple but flavorful dishes, many of which can be made in just 10, 20, or 30 minutes.
Whether you're cooking for game day, preparing a party appetizer, or deciding on easy recipes for a busy weeknight dinner, meatballs are a tasty choice that will fill you right up.
Meatball sandwiches are tasty, filling, and easy to make in just 30 minutes. We love how simple it is to customize this recipe by using your favorite cheese, or by adding veggies such as onions or bell peppers.
For extra flavor, add some garlic and butter to your bread rolls. Or sprinkle on some fresh herbs to really take this recipe to the next level.
Here's a dump-and-bake casserole that's perfect for busy weeknight dinners. Made with only six ingredients and five minutes of prep time, this recipe with frozen meatballs requires almost no effort at all. Best of all, there's no need to cook the pasta in advance since the water will soften the noodles in the oven.
For best results, you'll want to stir the casserole when it's cooked halfway. This step is optional but will help the pasta cook evenly!
Covered in a homemade gravy made from beef broth, Worcestershire sauce, ketchup, and cornstarch, Salisbury steak meatballs are savory and oh-so comforting. This recipe only takes 20 minutes to make from start to finish!
You can enjoy these meatballs as an appetizer or entree. Serve them on top of mashed potatoes or pair them with egg noodles to make your meal complete.
Four ingredients and thirty minutes are all you need to whip up these sweet, spicy, and tangy meatballs. The unique sauce mixture in this recipe gets its bold flavor from a combination of honey mustard, teriyaki sauce, and hot sauce.
While the instructions for this recipe are for the stovetop, you can also make these meatballs in the crockpot. Crockpot meatballs are tender, juicy, and can easily be cooked to perfection with no hassle at all.
Classic Swedish meatballs are the perfect appetizer for parties or family dinner. Dried onion soup mix is the key ingredient that gives this meatball recipe a rich and tangy flavor.
While this recipe is packed with flavor, the ingredients are actually quite simple. Using frozen meatballs will simplify this recipe even further!
We love crockpot meatballs because of how easy they are to prepare, plus how soft and juicy they get from being cooked for multiple hours. What makes this recipe extra special is the homemade teriyaki sauce that the meatballs simmer in.
Made with soy sauce, garlic, brown sugar, ginger, and red pineapple juice, the teriyaki flavor is the perfect balance between sweet, tangy, and spicy.
Toss your ingredients into a crockpot and let your meatballs simmer to perfection. These sweet and spicy meatballs have a bold and balanced flavor thanks to the combination of brown sugar, honey, jalapeño ketchup, sriracha, soy sauce, and garlic.
You can make frozen meatballs in 2-3 hours if cooking on high, or in 5-6 hours on the low setting.
This quick and easy casserole only requires four ingredients: frozen meatballs, tater tots, sloppy joe sauce, and Velveeta! The combination of meat, potatoes, and cheese is simple but satisfying.
Since you only need 10 minutes of prep time for this recipe before popping it in the oven, it's a great option for busy weeknight dinners –– and the kids will love it too!
There are so many different ways to cook meatballs, but the air fryer is one of our absolute favorite ways to prepare frozen meatball recipes! The circulation of hot air helps the meatballs become tender and juicy on the inside, while the outside gets slightly crispy.
Air fried meatballs will taste delicious with your sauce of choice, or you can use them in a sandwich or other side dish.
A twist on your traditional beef stroganoff recipe, meatball stroganoff features mushrooms and meatballs in a savory sour cream sauce. Not only is this recipe incredibly easy to make, but it's also so comforting and will warm you right up. This creamy meatball dish will taste best paired with egg noodles or served on a bed of rice.
Making cocktail meatballs is as easy as can be, requiring only 5 minutes of prep time. All you need are three simple ingredients to make these crockpot meatballs: chili sauce, grape jelly, and frozen meatballs.
Want to make your sweet and spicy sauce thicker? Stir in some cornstarch to help it reach the desired consistency.
How cute are these meatball cupcakes?! This is one of our favorite frozen meatball recipes –– one that the kids are sure to love. Refrigerated dough, frozen meatballs, pizza sauce, and cheese are baked to perfection, resulting in a treat that's savory, melty, and resembles cupcakes.
Meatballs and gravy are the ultimate comfort food. The gravy in this recipe is extra rich and creamy, thanks to heavy whipping cream. The addition of dried onion soup mix will not only add savory flavor but also help the gravy mixture thicken.
You'll be sure to enjoy this comforting and convenient crockpot recipe that tastes incredible but requires almost no effort at all.
A hearty meatball soup is one of the best frozen meatball recipes to make during the colder seasons. Made with a beefy tomato broth and flavored with Italian seasoning, this one-pot soup with pasta and veggies is so comforting and easy to prepare in just over half an hour.
While soup will make a delicious and complete meal on its own, it also makes a great side soup to enjoy with other dishes.
We're a huge fan of easy recipes that are made with simple ingredients. This one-skillet recipe for meatballs and rice is not only easy to make, but also easy to personalize with a variety of ingredients. Toss in a few handfuls of spinach if you want to add extra greens.
For best results, be sure to use either jasmine rice or medium-grain rice.
Italian meatball soup is a hearty crockpot meal that will warm you right up. Best of all, it will fill your kitchen with an incredible aroma as it cooks to perfection!
Dump in all of your ingredients –– minus the pasta, parsley, and parmesan –– and let simmer for a while. Stir in your pasta during the last 30 minutes, then garnish with herbs and cheese to finish off the recipe.
This meatball sub casserole features juicy meatballs, buttery biscuits, and melty cheese –– a savory and simple recipe that you can whip up for a busy weeknight dinner.
While you can certainly use frozen meatballs in this recipe, it's recommended that you let them thaw first so that they don't make the biscuits soggy once baked.
Sweet BBQ meatballs are sure to satisfy your taste buds! This easy crockpot recipe will give you perfectly juicy, flavorful meatballs in just a few hours. Adding peppers, onions, and pineapple chunks will give your recipe even more flavor and texture.
We love this recipe because there are so many different ways you can enjoy BBQ meatballs. Try making kabobs or serving them with rice!
One of the easiest frozen meatball recipes for game day is meatball sliders! Made with sweet Hawaiian bread, each bite of these sliders is saucy, cheesy, and satisfying. Brushing on some garlic butter will add extra flavor to your mini sandwiches while also giving them a nice golden shine.
Be sure that your meatballs have thawed before assembling and baking the sliders. This will ensure that the bread doesn't get soggy.
20. Sweet And Sour Meatballs
Next time you're craving Chinese takeout, give these sweet and sour meatballs a try! You can make your own sweet and sour sauce from scratch by mixing brown sugar, vinegar, ketchup, soy sauce, and pineapple juice. Use a cornstarch slurry to thicken the sauce, adding more cornstarch if needed to achieve your desired consistency.
Cranberry BBQ meatballs are the perfect side dish for holiday parties. Three simple ingredients are all you need to make these sweet and spicy crockpot meatballs: canned cranberry sauce, BBQ sauce, and frozen meatballs!
Bourbon is the key ingredient that will give these meatballs a unique and naturally sweet flavor. After simmering in the slow cooker for a few hours, the alcohol content will be cooked out, resulting in tender, flavorful meatballs that are smoky, savory, and tangy all at once.
Spaghetti and meatballs is a reliable staple meal that is loved by kids and adults alike. We love that this recipe can be made in a single pot, making not only the cooking process but also the cleaning process incredibly simple.
Once you've tried these meatball bombs, you won't want to have meatballs any other way. Buttery biscuits provide a soft outer shell to cover the juicy meatballs, sauce, and cheese on the inside.
You can make a batch of these in a single round pan, and they'll be super easy to pull apart and serve as an appetizer or snack.
Tangy and delicious, buffalo meatballs are an easy party appetizer that you can prepare in just a few minutes and toss in the slow cooker.
The combination of honey and buffalo hot sauce will leave you with meatballs that are the perfect balance between spicy and sweet. Garnish with blue cheese crumbles and enjoy!
Italian wedding soup is pure comfort food, loaded with nutritious veggies, tender meatballs, and creamy orzo pasta.
Ready in just over half an hour, this flavorful soup is packed with the delicious flavors of different herbs. An ingredient that you don't want to skip is lemon juice, as a little bit will bring out a lot of flavor!
This soup with pasta is easy to make at home with the help of frozen meatballs. The secret behind creating the perfect soup base is starting with a mirepoix: a mixture of diced veggies and fat, such as butter or oil. Thick and hearty, this recipe is as satisfying and filling as a stew.
Pizza is one of those easy recipes that you simply can't go wrong with. Cook and slice some frozen meatballs and add them as a topping! Meatballs will add plenty of savory flavor and take your pizza to the next level.
Melty and flavorful, this cheesy ravioli casserole with meatballs is incredibly satisfying and easy to make in the slow cooker. All you need is 10 minutes of prep time, and this hearty meal will be ready to serve in just a few hours.
Easy dump-and-go frozen meatball recipes like these are a life-saver. These slower cooker meatballs are sweet, savory, and tender –– flavored with a combination of beer, ketchup, and dry onion soup mix.
Which one of these meatball recipes will you be trying?
More easy frozen recipes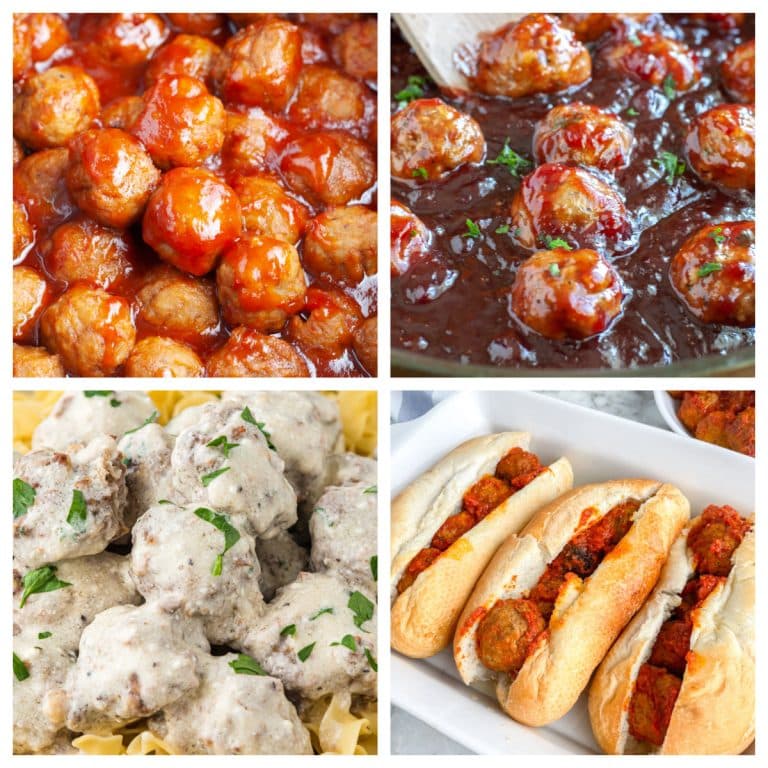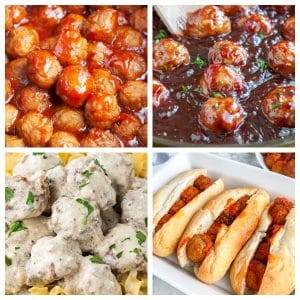 Frozen Meatball Recipes
A collection of delicious frozen meatball recipes. These recipes using frozen meatballs include full meals and easy appetizers.
Ingredients
12

frozen meatballs

1

jar

marinara sauce
Instructions
Place the frozen meatballs and jarred sauce in a large pot on the stove over medium heat.

Cook for 30 minutes or until the meatballs are heated through.
Nutrition
Calories:
50
kcal
|
Carbohydrates:
3
g
|
Protein:
3
g
|
Fat:
3
g
|
Saturated Fat:
1
g
|
Polyunsaturated Fat:
0.3
g
|
Monounsaturated Fat:
1
g
|
Cholesterol:
10
mg
|
Sodium:
276
mg
|
Potassium:
208
mg
|
Fiber:
1
g
|
Sugar:
2
g
|
Vitamin A:
246
IU
|
Vitamin C:
4
mg
|
Calcium:
10
mg
|
Iron:
1
mg
Nutrition information is automatically calculated, so should only be used as an approximation.
Like this? Leave a comment below!