31 Delicious Turkey Side Dishes
Sep 21, 2023, Updated Sep 30, 2023
Whether you're whipping up one of your favorite turkey tenderloin recipes, turkey breast, or cooking a whole turkey in the oven for your Thanksgiving table, side dishes will certainly take your turkey dinner to the next level. Here are some delicious turkey side dishes that will have everyone at the table coming back for more.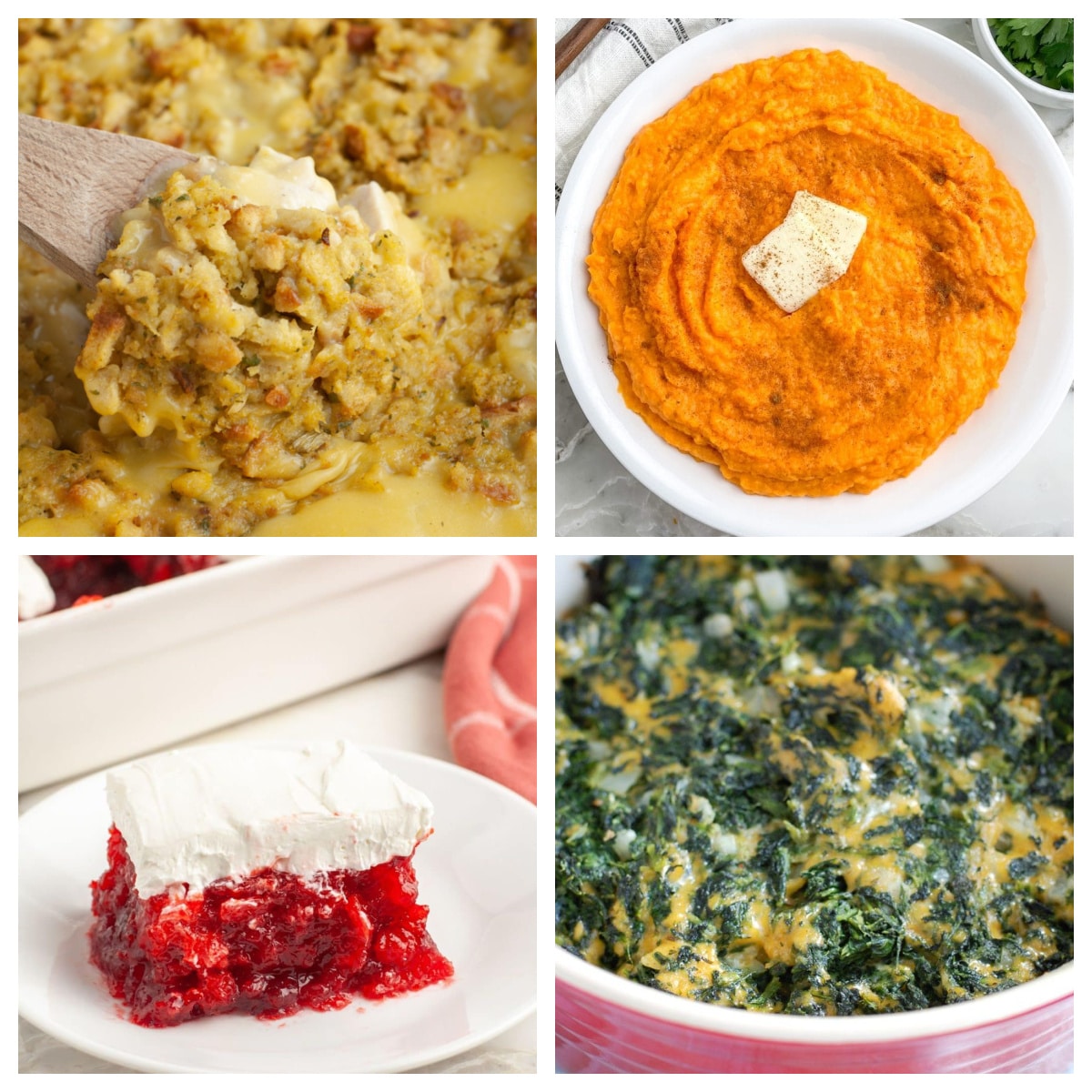 Best side dishes for turkey dinner
Our list of side dish ideas includes sweet and savory recipes that are easy to make at home.
Many of these recipes can be made with simple ingredients, such as cheese, veggies, and common household spices.
Next time you're serving turkey, be sure to try out one of these recipes! Tasty side dishes have the power to turn a good meal into a great one, and to make any regular dinner feel like a special occasion.
Turkey and stuffing make the perfect pairing for a holiday meal or cozy dinner. Made with a few simple ingredients, this stuffing recipe starts on the stovetop then moves to the oven until golden.
One of the best things about this delicious savory stuffing is that it can be prepared up to 2 days in advance!
Mash up some sweet potatoes and mix them up with butter, brown sugar, and cinnamon for one of the best side dishes. We love how easy it is to customize this recipe with either sweet or savory variations.
To make it sweeter, add some maple syrup or bake it in the oven with marshmallows. You can make a savory version by stirring in some parmesan cheese or fresh herbs.
Here's one of our favorite turkey side dishes: classic mashed potatoes! Fluffy, creamy mashed potatoes will take your meal to the next level.
The key to making the best mashed potatoes is cutting up your potatoes before boiling them. This will allow all the pieces to cook evenly. Be sure not to overmix your mash, as your potatoes can lose their fluffy consistency and turn gummy if stirred too much.
Ready in 15 minutes, this easy cranberry sauce will add just the right amount of sweetness to your savory turkey meal. Each bite is infused with the flavors of cinnamon and orange juice, resulting in a delightful sweet and tart balance.
A warm and creamy spinach casserole is so satisfying and delicious with turkey. This baked spinach dish is loaded with plenty of flavor from mustard and Worcestershire sauce, and the addition of cayenne pepper gives it a kick of spice.
You can make this casserole in just 45 minutes, using frozen spinach to keep the process simple. Enjoy this dish as a side or use it as a dip with bread or crackers!
Acorn squash is an absolute treat during the Fall and Winter seasons. We're a huge fan of squash not only because of how tasty it is, but also because of how many nutrients it contains.
Our all-time favorite way to cook acorn squash is in the air fryer –– you'll have a delicious mess-free side ready in just 30 minutes. Season your squash with oil, salt, and pepper to make it savory, or butter, cinnamon, and sugar to keep it sweet.
Crispy fried onions, fresh green beans, and a creamy garlic butter sauce come together to create a cozy, savory casserole. This side dish is sure to be a favorite at your next holiday dinner.
For best results, use fresh green beans instead of canned green beans for this green bean casserole recipe.
Mac and cheese is the ultimate comfort food. Loved by kids and adults alike, it's one of the best side dishes for family dinner.
Velveeta and shredded cheese make this tasty pasta dish extra creamy, but the secret ingredient that makes this recipe unique is nutmeg!
Preparing butternut squash is as easy as can be. All you'll need to do is peel, cut, season, and bake! Simple seasonings will bring out so much flavor from this savory, healthy squash.
Butternut squash is a healthy side dish that will make a great addition to your meal prep rotation. You can prepare it in advance and enjoy it with multiple meals throughout the week, including turkey.
You can roast frozen Brussels sprouts to perfection in the air fryer in just 15 minutes! The air fryer is one of the best methods for cooking Brussels sprouts, as it will cook all of the sprouts evenly and leave them nice and crispy.
This is one of our favorite healthy turkey side dishes because of how easy it is to make –– not to mention it's also great for meal prep!
Potato salad is a creamy and satisfying side that is best served cold. This dish will taste incredible with turkey as it's simultaneously light and refreshing, but also filling.
Check out the step-by-step instructions in the post for some helpful tips for making the best potato salad ever.
This copycat version of the Ruth's Chris sweet potato casserole is even better than the original. Featuring creamy sweet potatoes and a scrumptious pecan sugar crumble topping, this rich casserole will practically melt in your mouth.
Southern corn pudding is a sweet and creamy casserole dish that gets its name because of its creamy texture. Simply mix your ingredients together and bake until the casserole reaches a beautiful golden brown color.
Pair your turkey dinner with a portion of these savory Southern-style collard greens. Cooked with bacon, garlic, and onion, these greens are rich in nutrients and are also loaded with so much flavor.
While it takes about an hour from start to finish to prepare this side dish, the results will certainly be worth it! Your collard greens will be tender and juicy after having enough time to soften.
Sweet turkey side dishes add something special to the meal. This fruity salad is made with raspberry Jello, pineapple, cranberry sauce, and a creamy layer of Cool Whip.
A few simple ingredients are all you need to make this delicious potato casserole. Party potatoes are creamy and cheesy, topped with a layer of cornflakes to add a crunch to every bite.
As the recipe name implies, this potato casserole is perfect to share at parties or to whip up for an easy weeknight dinner. The whole dish comes together in just over 45 minutes.
Buttery dinner rolls are one of the best side dishes to go with any meal! Making these rolls from scratch is simple, and you'll only need to let the dough rise for an hour.
Not only are these light and fluffy rolls so comforting, they're also beautifully golden. Brush a thin layer of egg wash over the rolls before popping them in the oven to help them achieve a nice shine and color.
You simply can't go wrong with buttered noodles! This is one of our favorite turkey side dishes because of how easy it is –– a one-pan meal that only takes 10 minutes to prepare.
Egg noodles are the key ingredient that make this dish top tier. Simply cook your noodles in broth and butter, and they'll soak up all of the flavor and liquid quickly. Garnish with some fresh herbs to make this recipe complete.
This copycat hash brown casserole is even better than the original from Cracker Barrel! Loaded with cheese and flavored with a savory beef broth, this casserole is creamy and oh-so-comforting.
We love how easy it is to personalize this recipe with different add-ons. Try mixing in some veggies, adding meat, or topping with sour cream, jalapeños, or salsa!
Wild rice with veggies is a tasty side dish that will taste phenomenal with turkey. The key to getting perfect, fluffy rice is toasting the rice with veggies and oil first before bringing it to a simmer.
While this recipe is already packed with so much flavor, feel free to get creative and add more ingredients. Fresh herbs, cranberries, or even chopped nuts will make a great addition.
Add some color and nutrients to your meal by serving up this gorgeous kale apple salad! The apple and pomegranate add the perfect amount of sweetness, while the radicchio and pepita seeds add a nice crunchy texture.
Toss with feta crumbles and a delicious apple cider vinegar dressing to bring out some tangy flavors that will complement the sweetness of the fruits.
Cornbread and traditional stuffing come together in this delicious, savory casserole that's perfect for the holiday season. Crispy on the outside and soft and buttery on the inside, this comforting casserole is sure to become a family favorite.
Fresh herbs, veggies, and honey are just a few of the ingredients that give this side dish its incredible flavor.
Potatoes au gratin is a cheesy potato dish that will warm you up and make your taste buds happy. A variety of cheeses with bold flavors will give you the most flavorful results. Gruyere, parmesan, sharp cheddar, provolone, and Swiss are some of the best options.
Pop your potatoes in the oven until they're golden and oozing with cheese. This is a great recipe for parties or holidays because you can prepare it up to 24 hours in advance.
Save the drippings from your turkey and turn it into a rich, creamy gravy sauce! This easy gravy recipe is made with chicken broth and a cornstarch slurry, and takes only 15 minutes to prepare.
You can enhance this simple gravy recipe by incorporating some of the turkey fat into the mixture. Use a fine mesh sieve to remove any lumps if needed.
Roasted carrots are one of the best turkey side dishes. The high temperature in the oven will help your carrots caramelize and soften.
Carrots have a natural sweetness, but you can prepare sweet or savory versions of this side depending on what you prefer! Make them sweet by adding honey and cinnamon butter, or make them savory by seasoning with oil and fresh herbs.
Making twice baked potatoes is simple! Start by baking your potatoes until soft, then scoop out the insides. Once you've created a cheesy mashed potato mixture, add it back into the potato skin base.
These potatoes will bake until melty and warm, with the insides staying soft while the skins reach a delightful crispy texture.
Here's a great substitute for mashed potatoes, made from rutabaga –– a root vegetable that's similar to both a turnip and cabbage. Mashed rutabaga is a lower-carb alternative to mashed potatoes, and it's also loaded with healthy fiber and potassium.
A crockpot will make it so easy to prepare this cheesy corn recipe. Simply add your 5 ingredients –– canned corn, butter, cream cheese, Pepper Jack, and Colby Jack –– and let everything cook to perfection.
Browned butter, garlic, and thyme are simple ingredients that will add so much flavor to this mushroom side dish. It only takes 30 minutes from start to finish to make this easy recipe.
We love turkey side dishes that add a splash of color to the dinner table! This healthy veggie recipe brings together roasted brussel sprouts, butternut squash, pecans, and cranberries. Not only is it beautiful, but it's also healthy and packed with fiber.
With a soft interior and crispy edges, these roasted potatoes are absolutely heavenly. Our favorite thing about this recipe is the dehydrated onions that add so much flavor and texture to the dish.
What is your favorite side dish for turkey? Let me know in the comments below.
More delicious side dish ideas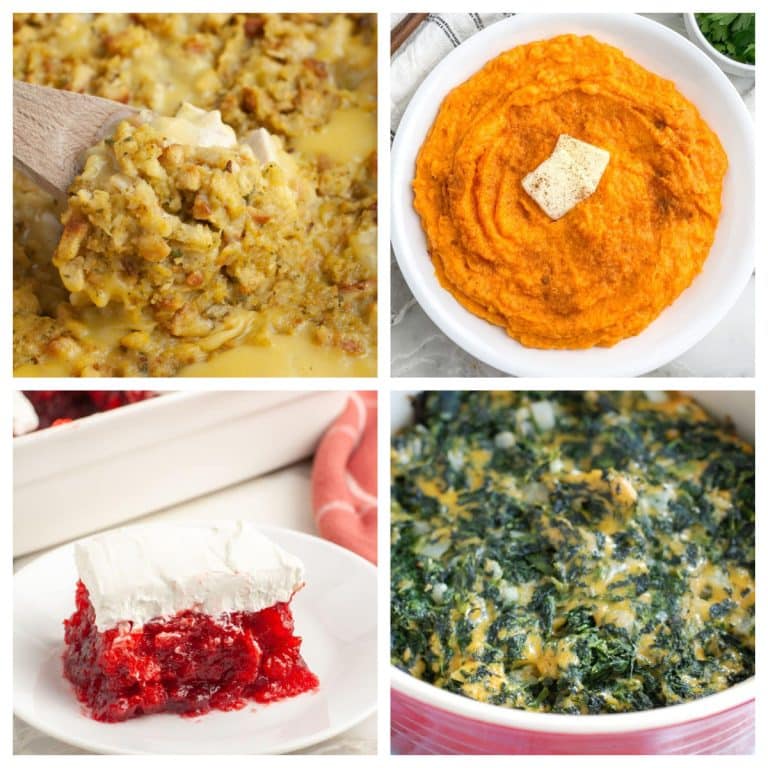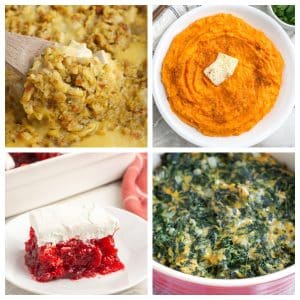 Turkey Side Dishes
A collection of delicious side dishes perfect to serve with turkey. These turkey side dishes range from stuffing, mashed potatoes, corn pudding, including this parmesan asparagus. Try one of these tasty side dishes for turkey with your next Thanksgiving dinner or weeknight meal.
Ingredients
1

pound

asparagus

1

tablespoon

olive oil

1/2

teaspoon

salt

1/4

teaspoon

garlic powder

1/2

teaspoon

ground black pepper

1/2

cup

Parmesan cheese
Instructions
Preheat the oven to 400 degrees F. Line a baking sheet with parchment paper or foil.

Wash asparagus and trim off the bottom part of the stalk with a knife. Place asparagus on prepared baking sheet.

Drizzle olive oil over asparagus. Sprinkle with garlic powder, salt, and pepper.

Bake for 15 minutes or until desired crispness.
Nutrition
Calories:
104
kcal
|
Carbohydrates:
5
g
|
Protein:
7
g
|
Fat:
7
g
|
Saturated Fat:
3
g
|
Polyunsaturated Fat:
0.5
g
|
Monounsaturated Fat:
3
g
|
Cholesterol:
9
mg
|
Sodium:
493
mg
|
Potassium:
246
mg
|
Fiber:
2
g
|
Sugar:
2
g
|
Vitamin A:
956
IU
|
Vitamin C:
6
mg
|
Calcium:
177
mg
|
Iron:
3
mg
Nutrition information is automatically calculated, so should only be used as an approximation.
Like this? Leave a comment below!