What To Serve With Meatballs: 31 Side Dishes
Yes, meatballs go great with spaghetti but there are so many other delicious sides to choose from. This list of what to serve with meatballs is sure to inspire.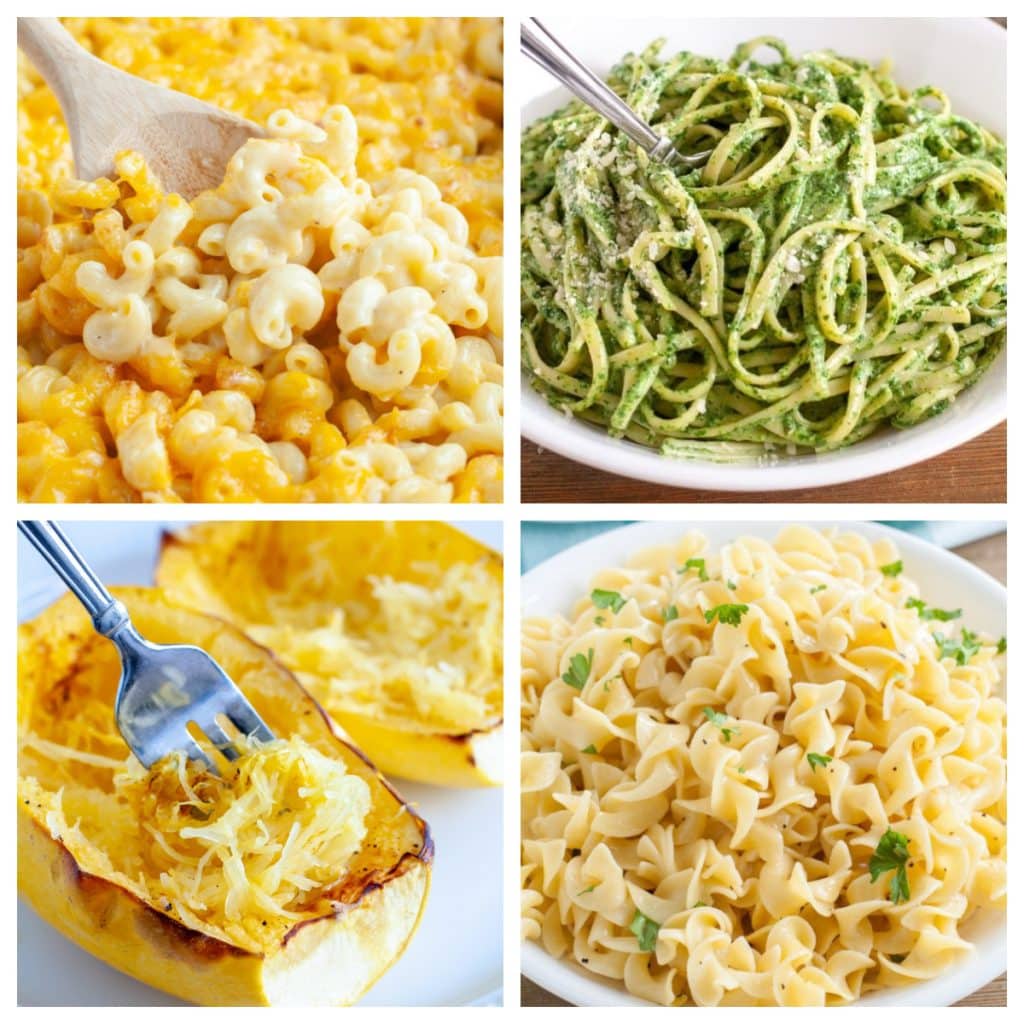 Meatballs are simple and easy to make. Spaghetti and meatballs might be the first pairing that comes to mind but there is a wide variety of meatball sides. There are so many options! If you're looking for some new recipes to put on your dinner table, give these a try.
Butter up these egg noodles for a simple and delicious meal! Everyone loves buttered noodles, and this is an easy recipe that is quick, simple, and so flavorful.
They're made with tender egg noodles cooked in chicken broth, then coated in melted butter, garlic powder, salt, and pepper. Serve with your favorite meatball recipe and you've got your next family dinner!
This warm dinner is overflowing with great ingredients and lots of flavor! These classic spaghetti noodles are lathered in a rich garlic butter sauce, and can be paired with meatballs for an extra filling and delicious dinner.
This recipe is very quick to make, coming together in only 20 minutes! Top with parmesan cheese, and enjoy!
Green beans are a great side dish, especially when they're paired with meatballs! Together, these two taste like heaven. These green beans are cooked with shallot and a little bit of lemon for a sensational flavor. With these buttery beans, you'll never want to make another side dish again!
This rice-alternative dish is crazy good! I love cauliflower rice; it's healthy and delicious! Not to mention super easy to make. All you'll need is your rice, black pepper, and a little bit of garlic salt. These ingredients come together for a great tasting dish you won't be able to resist!
Zucchini noodles are a great tasting alternative to regular pasta, and really easy to throw together! This recipe for zucchini noodles comes together in only 10 minutes.
It's made with spiralized zucchini coated in butter and olive oil, fresh garlic, red pepper flakes, salt, pepper, and fresh parmesan cheese. Great ingredients and great flavor! What more could you need?
This homemade Caesar salad dressing beats any other dressing I've had. It's creamy, savory, and bursting with flavor! It uses great ingredients like mayo, lemon, Dijon mustard, Worcestershire sauce, and more! In just 20 minutes, you'll have a delicious dressing for your greens!
Break out that air fryer for this crispy red potato recipe! This quick and easy side dish uses only olive oil and seasonings for a great tasting appetizer everyone will love! They're perfect for family get-togethers, potlucks, or any other occasion! You don't want to miss out on this recipe.
A fluffy baked sweet potato, bursting with flavor? Sign me up! This baked sweet potato recipe teaches you how to make the perfect baked potato. It gets you a warm and soft appetizer that just melts in your mouth! Prepare this recipe in only five minutes and let your oven do the rest of the work!
Follow this recipe to learn how to make the perfect fluffy white rice! Rice is such a versatile and delicious ingredient, and when you know how to make it, you won't be able to stop! For this recipe all you'll need is rice, water, and butter or oil. Simple and delicious! You'll be serving this with everything.
Who could say no to mashed potatoes? Certainly not me! That's why this recipe is the perfect meatball pairing. This recipe gives me the best tasting mashed potatoes, and you can have them ready in no time! Whether you're in a time crunch, or just want to whip up a delicious batch of mashed potatoes, you will not want to miss out on this recipe.
These brussels sprouts changed my life. They're the perfect side dish and can go with any meal! With this recipe, you'll have the ultimate golden and crispy brussels sprouts flavored with garlic and parmesan. This dish gives you that classic flavor in only 25 minutes.
Garlic bread is universally loved, and it's no wonder why! For the best homemade garlic bread ever, you're going to want to try this recipe. This perfectly seasoned appetizer is made in the air fryer for perfectly crispy bread with a golden-brown finish and a buttery texture that melts in your mouth. So good you'll eat the whole loaf!
Looking for an easy and delicious summer appetizer? We've got you covered! This corn on the cob recipe gives you a warm and juicy appetizer that's great tasting and well-loved! Just 5 ingredients for the perfect texture and flavor. This recipe is a go-to for a summer cookout!
I love making risotto. It's a classic rich and creamy Italian side dish that can be paired with so many different proteins…and meatballs are a favorite! This is my go-to recipe for when I'm making this dish. It creates the perfect flavor, using butter, onion, garlic, chicken stock, and other delicious seasonings!
This Israeli-inspired dish is warm and comforting—just what I like! Garlic couscous is one of my favorites! This savory dish has a light, fluffy texture, and is packed with great flavor. With garlic, chicken broth, and parmesan, you won't be able to put it down!
Spaghetti squash is a great low-carb option to serve with meatballs. These squash "noodles" can be made in the air fryer, oven, or even Instant pot. Try serving with Italian meatballs and your favorite marinara sauce on top.
Make a crispy and flavorful side dish with this air fryer asparagus recipe! With only three ingredients, this recipe is super easy and quick to whip up. Lathered with lemon pepper and olive oil, this asparagus recipe is a great healthy option for your next dinner!
Don't miss out on this creamy black garlic mushroom udon recipe! This recipe is the best udon you will ever have. It's made with mushrooms, onion, butter, and various seasonings to create the perfect blend of flavors and textures. It's great tasting and fun to make. You can't get better than that!
Broccoli is an amazing side dish that can really go with any of your favorite meals. All you'll need is salt, pepper, water, oil, and of course, broccoli! Sauté these ingredients up in a pan, and you'll have a healthy and delicious appetizer; the best combination!
You can't go wrong with mac and cheese, but you can make it a lot better by using this baked Velveeta mac and cheese recipe! Not only is this mac and cheese super fun and easy to throw together, but it uses nutmeg and paprika to give you the best flavor imaginable!
Take your tortellini up to the next level with this alfredo tortellini bake! When I found this recipe, it quickly became one of my favorite comfort foods of all time. Warm and creamy, this dish is perfect for late night dinners, family get-togethers, or your next dinner party! It takes only 35 minutes, and the flavor is so worth it!
Get your greens in with this spinach pasta dish! This recipe uses a blended sauce of spinach, cream cheese, Parmesan, and broth for a creamy and nutrient-filled dish. This pasta is delicious and can be made in only 20 minutes! And the best part? There are hidden veggies and it's kid-approved!
Mashed rutabaga is an appetizing alternative to mashed potatoes. You can barely taste the difference! This delicious side dish uses half-and-half and butter for ultimate creaminess, and salt and pepper for taste. Simple ingredients, but immense flavor! I love this dish, and I know you will, too.
Corn pudding is my favorite dish to bring to parties; it's always a hit! This recipe uses Jiffy mix, canned and creamed corn, egg, butter, sour cream, and sugar. It's simple, creamy, and so tasty. Ready with just 5 minutes of prep!
Everyone loves French fries, and with this recipe, you'll be able to make your favorite ones from home! This Wingstop copycat recipe calls for delicious seasonings like paprika, onion powder, chili powder, garlic powder and sugar. It's the perfect combination of flavors that everyone will love!
Spinach casserole is a phenomenal dish for when you need something quick and to feed a crowd! This recipe for spinach casserole comes together in under an hour. It's made with spinach and onion baked in a rich, flavorful, cheesy sauce. It's simple to make and always a crowd pleaser. You're going to love it!
I love potatoes in any form, especially tater tots! And this recipe gives me the perfect batch of tots. These crispy crowns are named that for a reason. They're soft in the middle with a perfectly golden, crispy exterior thanks to the air fryer. The perfect side dish for your next meal!
Creamy, cheesy, hot potatoes
Stuffing and meatballs is a great combination. I love coating turkey meatballs in a cranberry sauce to add a slightly sweet and tart flavor.
Salad is always a great option to serve with juicy meatballs. This simple lemon parmesan salad pairs great with any meatballs.
Crunchy, creamy, pea salad is made with crispy peas, bacon, cheese, and a creamy dressing. This is an easy side that can be served with meatballs.
More meatball recipes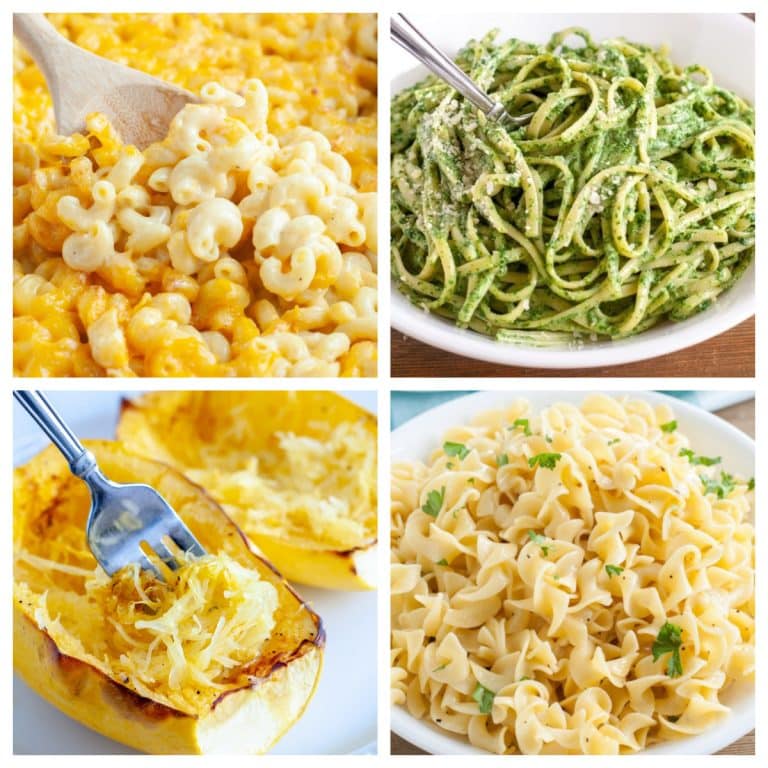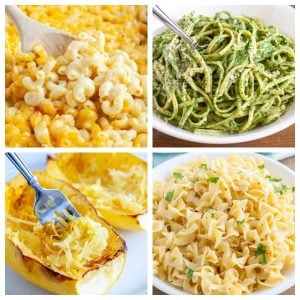 What To Serve With Meatballs
A collection of 31 delicious side dishes to serve with meatballs.
Ingredients
1

red bell pepper, diced

1

zucchini sliced

1

yellow squash sliced

1

cup

broccoli

2

tablespoons

olive oil

1/2

teaspoon

salt

1/4

teaspoon

ground black pepper
Instructions
Place peppers, zucchini, squash, and broccoli in a bowl. Toss with oil, salt, pepper.

Preheat oven to 400 degrees F. Pour vegetables on a sheet pan.

Roast in the oven for 15 minutes.
Nutrition
Calories:
78
kcal
|
Carbohydrates:
3
g
|
Protein:
1
g
|
Fat:
7
g
|
Saturated Fat:
1
g
|
Polyunsaturated Fat:
1
g
|
Monounsaturated Fat:
5
g
|
Sodium:
300
mg
|
Potassium:
136
mg
|
Fiber:
1
g
|
Sugar:
2
g
|
Vitamin A:
1074
IU
|
Vitamin C:
58
mg
|
Calcium:
14
mg
|
Iron:
0.3
mg
Nutrition information is automatically calculated, so should only be used as an approximation.
Like this? Leave a comment below!