20 Best Sausage Casseroles
Apr 19, 2022, Updated Dec 02, 2022
Sausage casseroles are such easy meal solutions. Whether you're looking for an easy breakfast for a crowd or a quick, painless dinner for busy weeknights, sausage casseroles are here to save the day. Take a look at some of the best sausage casserole recipes for breakfast, lunch, dinner, or any meal in between!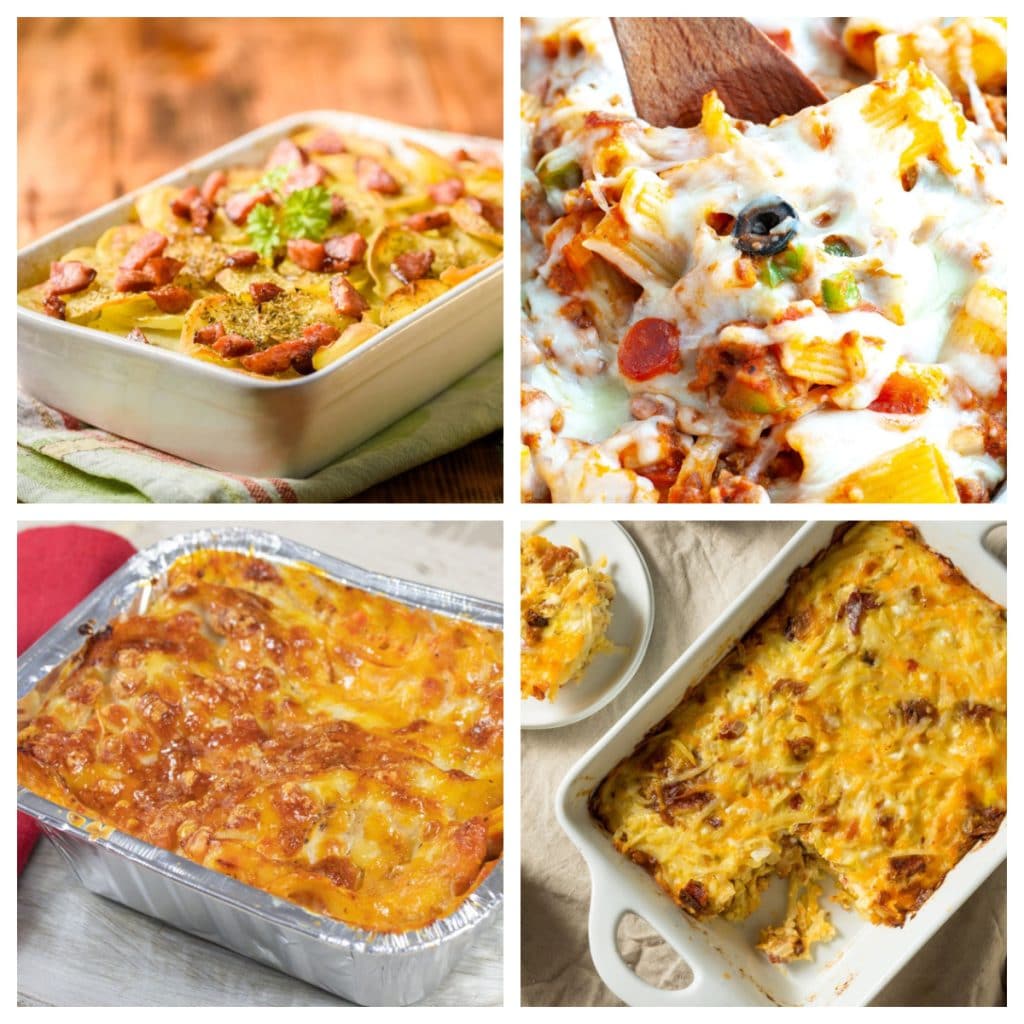 Savory, simple, and satisfying – sausage casseroles check all of the boxes!
From classic casseroles we've all had throughout our childhood to creative, innovative sausage casseroles with flavor combinations you've never imagined, there's a dish out there for everyone.
Turkey, pork, and chicken… Noodles, rice, and potatoes… whatever it is you're craving, one of these recipes has it! Read on to find 20 unique sausage casseroles you're sure to love.
The best breakfast casseroles are the ones that are easiest to make. This dish uses pre-made, tube crescent rolls. Plus, with eggs and jalapeños, this is one protein-packed meal that also packs a punch. It reheats well, and the gooey cheese helps to keep things moist and flavorful.
The perfect Christmas morning dish that the whole family will love: this recipe was designed to be made overnight and popped into the oven the next morning. Your family will be in awe of how quickly you made such a decadent, delicious breakfast! Made with peppers, onions, herbs, eggs, and cheese, it's both substantial and satisfying.
Turkey sausage is leaner than pork, so it's great to swap it in. This easy breakfast dish is made in the slow cooker, so it saves you time as well as calories! With frozen hash browns and a whole dozen eggs in the mix, this meal will give you all the energy you need to face the day ahead.
Another fantastic Christmas morning option, this casserole comes with a crispy crunchy topping that's so addicting! It's cheesy and easy, with chiles and crushed red peppers for added heat. With cream of chicken soup and sour cream, it's oh so creamy and comforting.
Does it get any easier than Bisquick? This quick, easy breakfast is both sweet and savory. It's perfect for those mornings when you just need to get you and the kids out the door! It doesn't need too many ingredients: just a couple of eggs, cheese, sausage, Bisquick, milk… and hot sauce and maple syrup!
Biscuits and gravy in a casserole. Need I say more? With a base layer of fluffy biscuits, covered with savory sausage, melted cheese, and eggs, it's everything you love about breakfast in one pan. For a hearty, heavy breakfast, look no further!
This easy casserole features layers of crispy potatoes, crumbly sausage, and cheesy goodness. The trifecta of a perfect breakfast!
With garlic and onion seasoning and creamy mozzarella, there's no lack of flavor to be found. Plus, it's made with bagged frozen tater tots – it doesn't get easier than that.
Switching from eggs to egg noodles, try this dish on busy weeknights when you just need something filling and easy. Mushrooms add extra earthiness and flavor, and a real comforting note.
If you like classic casseroles with noodles and creamy sauces, then this dish is for you! The whole recipe takes less than an hour from start to finish.
While most sausage casseroles use crumbled or ground meat, this dish features sliced smoked sausage and potatoes for a wholesome meal with bold, rich flavors.
With sour cream for added tang, this recipe caters to the older members of the family who want a meat-filled, savory meal. It makes a whole 8 servings, so there's plenty for everyone!
Low-carb and low stress! Check out this stunning combination of vegetables, smoked sausage, and cheese. It's zesty, with a healthy amount of dijon mustard, and uses produce that you can find year-round. It's the ideal last minute, guilt-free dinner for busy weeknights.
Yes, you read that right: pizza! Pasta, pepperoni, green bell peppers, Italian sausage and marinara make an appearance for one of the most unique sausage casseroles on this list. Like any pizza, it's customizable, and full of flavors that diners of all ages will enjoy.
Short tubed pasta coated with tangy marinara, covered with gooey mozzarella, and mixed with savory mild or hot Italian sausage – a true Italian delight!
This dish freezes for up to 3 months, so it's perfect for busy families or hustling individuals who are always on the go. If you love pasta and cheese, this recipe is for you.
Speaking of Italian, this dish combines sausage casseroles with creamy, cheesy lasagna. Grassy, refreshing spinach and basil accompany four kinds of cheese for layer after layer of flavor. It takes just under 2 hours to make, but is worth every second!
This one-skillet-wonder uses chicken sausage, bell peppers, whole grain brown rice, tomatoes, and a healthy helping of spices for Italian flair. The tender rice is a filling and cost effective way to build a casserole that you can make on a budget.
If you have a home garden, chances are you have more zucchini than you know what to do with. Use it up in this creamy, crunchy casserole! Comforting for cold days that just keep getting colder, savor fall flavors with squash, sausage, and herbs.
This hearty casserole tastes just like Christmas morning. Potatoes and smoked sausage make up the bulk of the dish, with green beans, red onions, and gouda bringing their own bright, vibrant, and rich flavors. And topped with a lemon dressing? There's just nothing like it!
Another low-carb option, this dish is keto friendly – but it has so much flavor, you'd never know it! This mock pasta dish contains Italian sausage, mozzarella, marinara, peppers, and onions. This one takes less than 40 minutes from beginning to end!
Do you ever wish you could have creamy, delicious alfredo on busy weeknights when you don't have a second to spare? Now you can! Try making this dinner sausage casserole by cooking up some penne pasta, sliced Kielbasa, and a handful of cheeses and seasonings in just 30 minutes.
Crockpot casseroles are simply the best, and this is one of those classic casseroles that you'll find yourself craving and making again and again.
Crockpot casseroles are simply the best, and this is one of those classic casseroles that you'll find yourself craving and making again and again.
Like an inside-out stuffed pepper, but so much easier. Here, we have ground Italian sausage flavored with tangy Worcestershire sauce, Italian herbs and seasonings, and a whole lot of bell peppers topped with melted mozzarella cheese. Spice things up, if you wish, or enjoy it as is!
How to store leftover casserole
If you have leftovers, make sure to either cover the baking dish with foil or a silicone cover. You can also transfer casserole to a different airtight container. Keep in the refrigerator for up to 4 days.
Reheat in the oven at 350 degrees F for about 15 minutes or until the internal temperature reaches 160 degrees F.
Did you try one of these delicious sausage recipes? Let me know in the comments.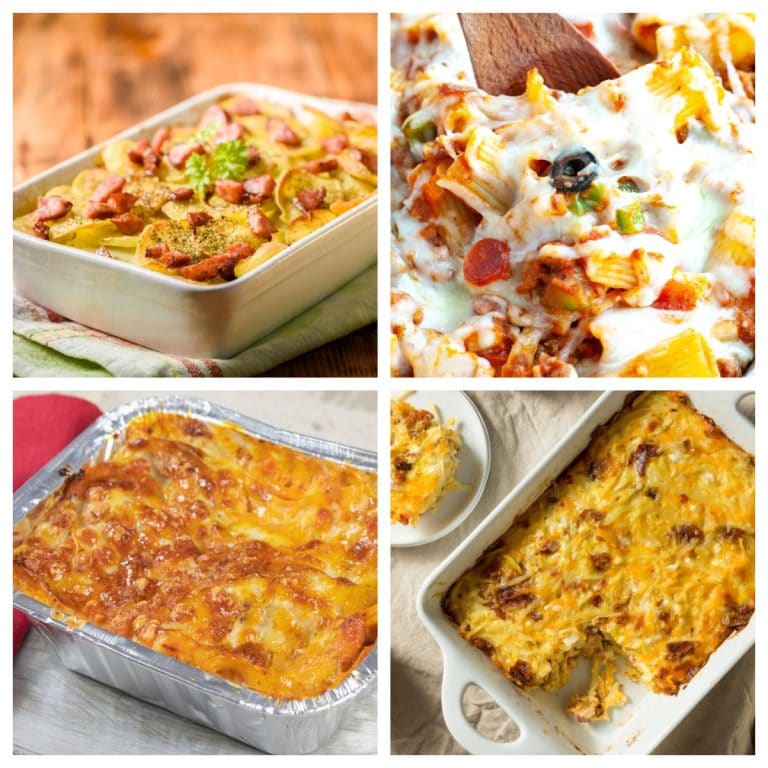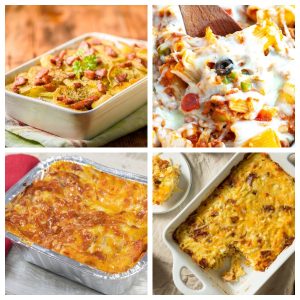 Sausage Casserole Recipes
A collection of delicious sausage casserole recipes and how to store reheat them.
Ingredients
1

leftover sausage casserole
Instructions
Store leftover casseroles covered in the refrigerator for 3-4 days.

Reheat sausage casseroles, covered with foil in the oven at 350 degrees F.

Reheat for 15-30 minutes. The casserole should heat up to at least 160 degrees F.
Nutrition
Nutrition information is automatically calculated, so should only be used as an approximation.
Like this? Leave a comment below!