26 Foods That Start With X
Aug 20, 2021, Updated Jul 28, 2023
X isn't just for xylophone, we have compiled a list of foods that start with X. This list of 26 foods beginning with X is full of interesting foods from around the globe.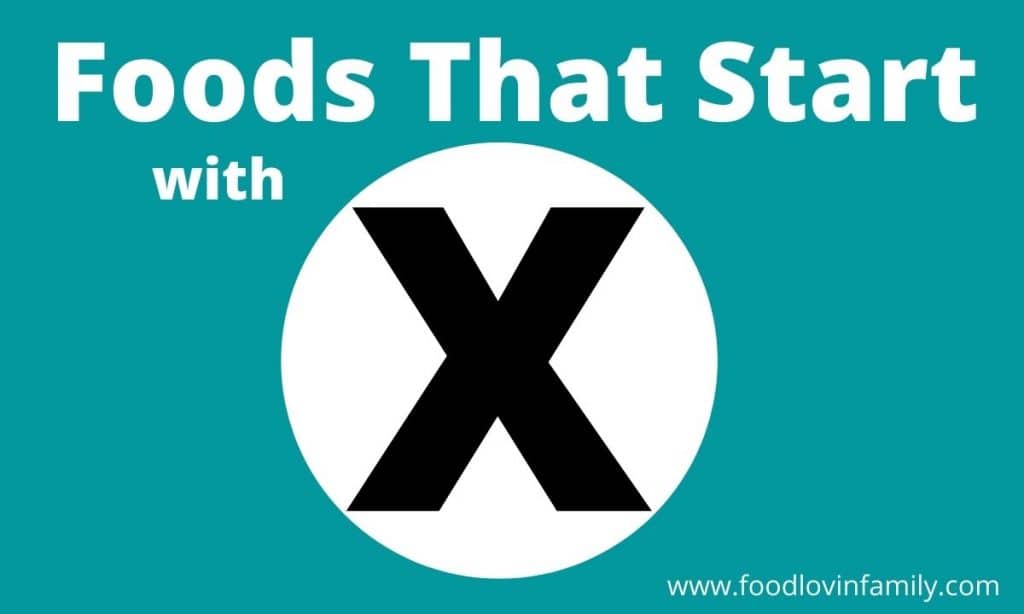 Foods beginning with X
We've made lists of foods that begin with Y and W but today we are exploring foods beginning with X. There are actually more than you probably think, however, most might not sound familiar. Many of them are foods from around the world and there is everything ranging from different kinds of fruit to curry.
So if you are wondering what foods start with X, keep reading to learn all about these interesting things.
1. Xigua
Xigua is a melon that is found in Africa. It's also known as a watermelon in other countries. This melon has either a bright red or orange flesh. It's sweet, delicious and full of nutrients.
2. Xylocarp
Xylocarp is actually a type of fruit with a hard, woody outer shell like a coconut.
3. Xoi
This is a Vietnamese dish that means "sticky rice". It's a popular breakfast and snack dish made of rice and other ingredients. It can be prepared savory with beans and eggs or made sweet for dessert.
4. Xinomavro Grapes
Xinomavro grapes are known to be a wonderful grape to make wine. These grapes originate in Macedonia and are one of our favorite x foods.
5. Xiaolongbao
Xiao long bao are dumplings or steamed buns in Chinese soup. These dumplings are prepared in a steaming basket called a xiaolong which give them their name.
Xiaolongbao typically has a pork filling. They can be filled with other things like crab meat, shrimp, or a vegetarian filling.
6. Xoconostle
Did you know that xoconostles are really prickly pears? This cactus fruit has a sour taste and can be used for jellies, soups, many Mexican dishes and other recipes. This fruit is a must try on the list of foods that start with X.
7. Xavier Steak
Xavier steak is a dish mad of steak that is topped with asparagus and melted Swiss cheese. It was named after Saint Francis Xavier who was a Spanish missionary in the 16th century. Sounds delicious!
8. Xavier Soup
Xavier soup is a traditional Italian soup and like the steak, it's named for Saint Francis Xavier. It's often served on December 3 which is Saint Xavier's day.
This is a simple soup that has a thick, hearty consistency and made with dumplings and a chicken broth.
9. Xiangjiao
Xiangjiao is the Chinese word for banana. Bananas are a popular fruit that is actually considered a berry. It may be surprising to know that most bananas are grown in India, however, most of the bananas we consume are grown in Central and South America.
Xiangjiao are sweet and so tasty. They can be used for things like banana pudding, pies and ice cream.
10. Xiphias
Xiphias is another fish on our list of foods beginning with X. Xiphias is actually the word for swordfish in Greek. It's super tender and a delicious fish to eat.
11. Ximenia
Ximenia are fruit from the Ximenia or tallow wood tree. The fruit can be eaten raw but is also used for juices, jams and more.
12. Xylitol
If you've have had diet sodas or some types of gum, you've probably had Xylitol.
Xylitol is a sugar substitute for many low-calorie, diet foods. It's made from extracted fibers from plants like corn husks, birch tree bark and some berries.
One thing to note is while it's safe for humans to consume, xylitol is deadly for cats and dogs.
13. X-mas cookies
Ok, it's debatable if this is a true food that starts with X but we are going to just go with it.
X-mas cookies or Christmas cookies, are a tradition around the holiday season. There are many different shapes and flavors, like gingerbread cookies, sugar cookies and these fruitcake cookies, that can be baked and served for some holiday cheer.
14. Xanthan Gum
Xanthan gum is actually a stabilizer and thickening agent that is added to some foods to help prevent ingredients from separating. You can find it in things like salad dressings and different types of sauces.
Xanthan gum is also used for gluten-free baking as a natural binder.
15. Xacuti
Xacuti or Xacutti is a curry that's made in India. It's a spicy curry with a little hint of sweetness.
Made with dried red chilis, poppy seeds, and coconut, this curry is often used in chicken recipes.
16. Xanthia
Xanthia is a X food, or in this case drink, that would be worth tasting. It's a cocktail made with cherry brandy, gin, and yellow chartreuse. Xanthia is also happens to be the name of a Greek Goddess.
17. Xouba
Xouba's are small sardines that can be found off the coast of Spain. Young xoubas can be found canned in oil and are used in a variety of European dishes.
18. Xnipec
This hot, chunky salsa is prepared with fresh vegetables and habanero peppers. Perfect served with tortilla chips or use to top fish or chicken.
19. Xia Mi
Xia mi is another X food that we get from China. "Small shrimp" or "rice shrimp" is the translation for Xia mi.
These small dried shrimp are used in many recipes and treated like a topping, or condiment to add umami flavor.
20. Xalapa Punch
Having a party? Why not serve some xalapa punch. This alcoholic punch is made with tea, rum, red wine, and brandy. Serve cold over ice for a flavorful beverage.
21. Xo Sauce
This is a sauce that originated in Hong Kong. It's a very spicy, seafood based sauce that is often served with seafood to add flavor. The sauce itself is a mixture of chili peppers, scallops, ham, and garlic.
22. Xilacayota Squash
Xilacayota squash originates in South America in the Andean region. This small squash is typically used before it's fully ripe. It's a winter squash that's harvested in early August. Xilacayota is used in stews, soups and other dishes.
23. Xampinyons En Salsa
Contrary to the name, this isn't your chips and salsa you are familiar with. This is made up of mushrooms flavored with herbs, seasonings, garlic, sherry, and tomato puree.
24. Xidoufen
Xidoufen is a popular soup dish in the Chinese province of Yunnan. It's made with boiled pea meal with ginger, onion, chili flakes, garlic and pepper oil. Xidoufen is also typically served with a flatbread.
25. Xingren Donfu
Xingren donfu you might find as a dessert in Beijing, China. It's a gelatin type, soft dessert that's made with sugar, gelatin and almond milk.
26. Xigua Popsicles
We are ending this list of x foods with the watermelon we started with. These delicious popsicles are made from frozen xigua fruit. Slices of xigua melon with a popsicle stick inserted are frozen to make a tasty popsicle.
More recipes you will love
Did I miss any foods that start with X? Let me know in the comments below.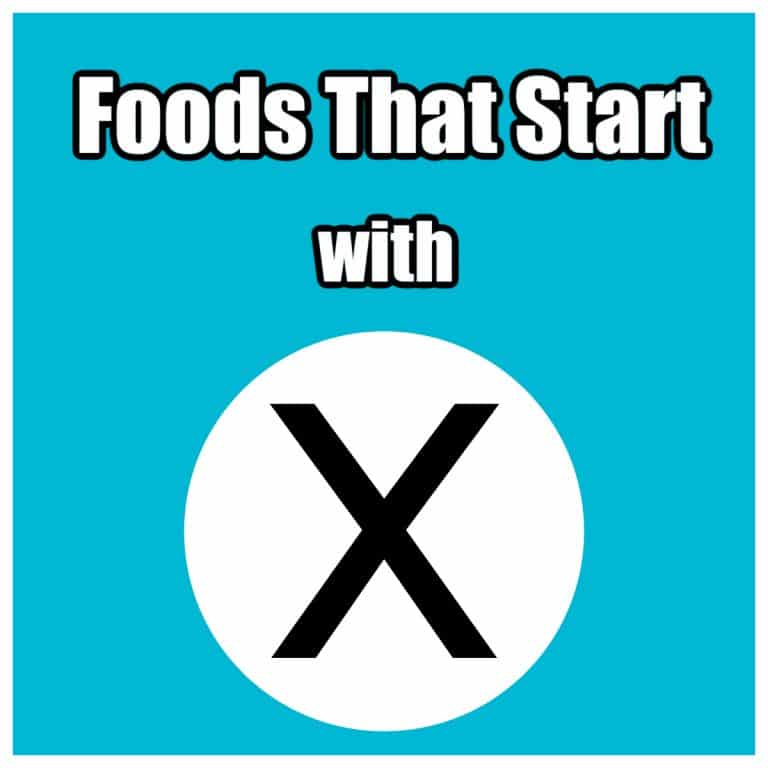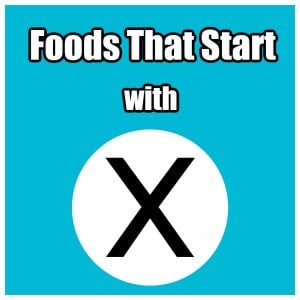 Foods That Start With X
List of foods beginning with X.
Ingredients
Xigua

Xylocarp

Xoi

Xinomavro Grapes

Xia Long Bao

Xoconostle

Xavier Steak

Xavier Soup

Xalapa Punch

Xiangjiao

Xiphias

Ximenia

Xylitol

X-mas Cookies

Xanthan Gum

Xacuti

Xanthia

Xouba

Xnipec

Xia Mi

Xo Sauce

Xilacayota Squash

Xampinyons En Salsa

Xidoufen

Xingren Donfu

Xigua Popsicles
Instructions
Pick your favorite X food to try.
Nutrition
Nutrition information is automatically calculated, so should only be used as an approximation.
Like this? Leave a comment below!