35 Fruits That Start With B
B for boring? No, B for a broad group of delicious fruits.
This collection of fruits that start with B contain fruits from around the world.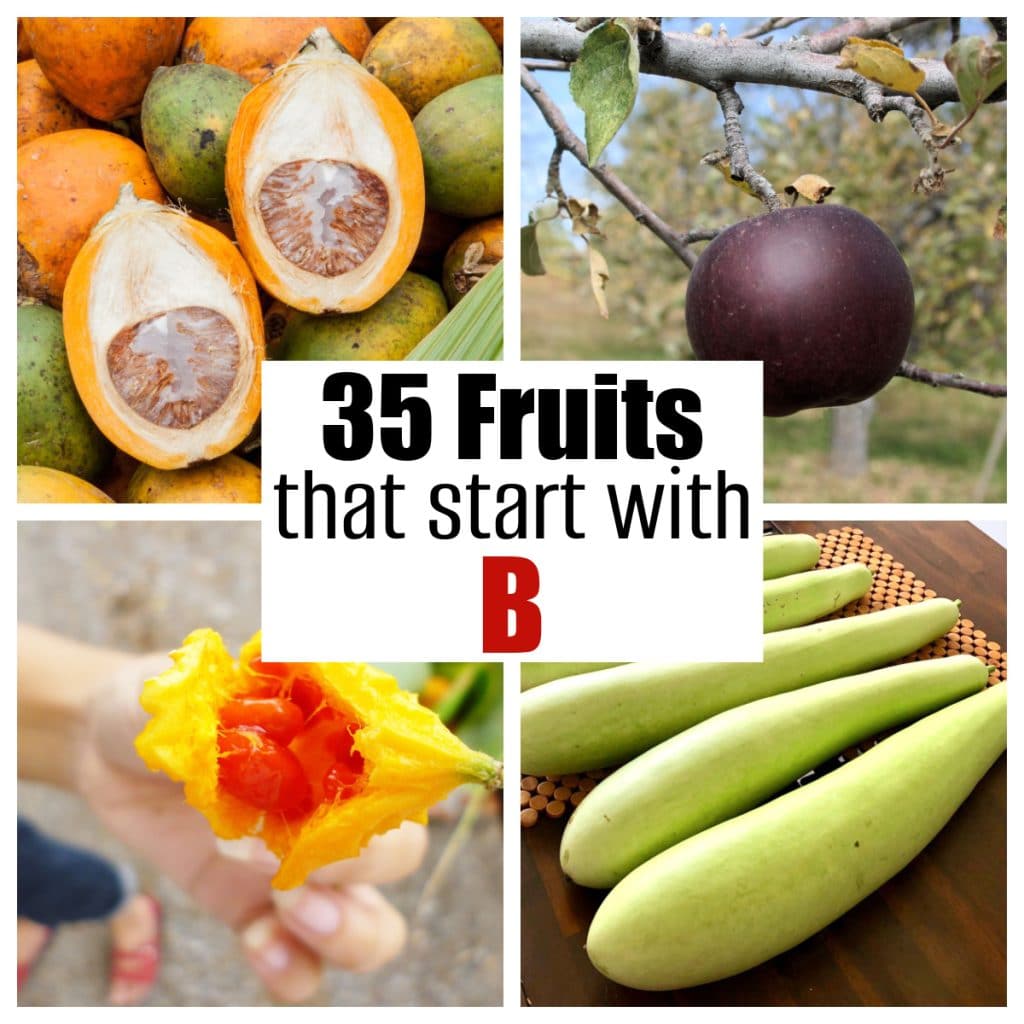 With the letter B, you'd immediately think of banana or blueberries. However, there are numerous edible fruits under the letter B's umbrella. Most are tropical fruits that you've never heard of.
Let's test your best fruit knowledge and see which ones you know on this list of fruits beginning with B.
1. Bael Fruit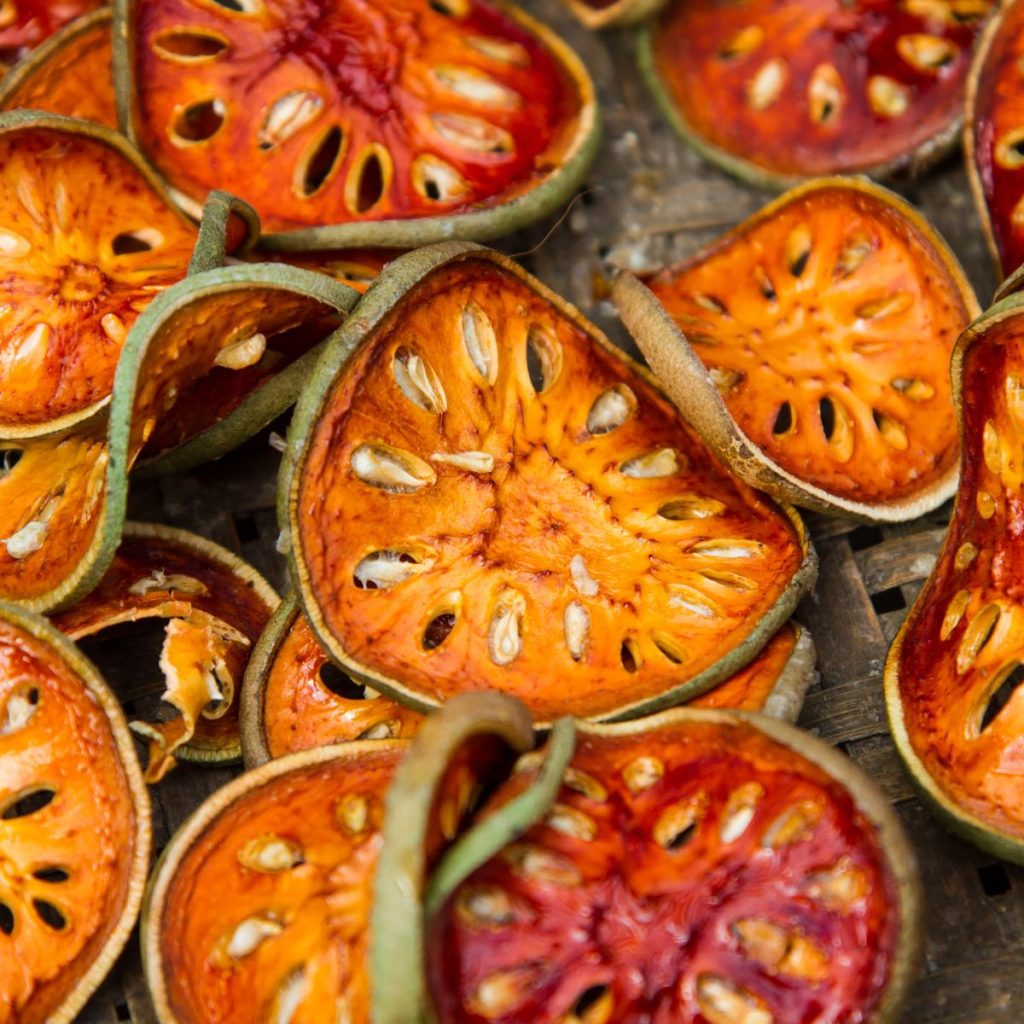 I bet you didn't know this fruit existed! Yes, this hidden gem has a striking taste similar to papaya and tang.
Bael fruit goes by many names and is super popular in Ayurvedic treatment for gastrointestinal issues. You can devour this delicious fruit either fresh, dried, or in a juice form.
You can also make Bael sherbet by mixing it with milk and sugar. The result? A delicious, power-packed drink!
2. Banana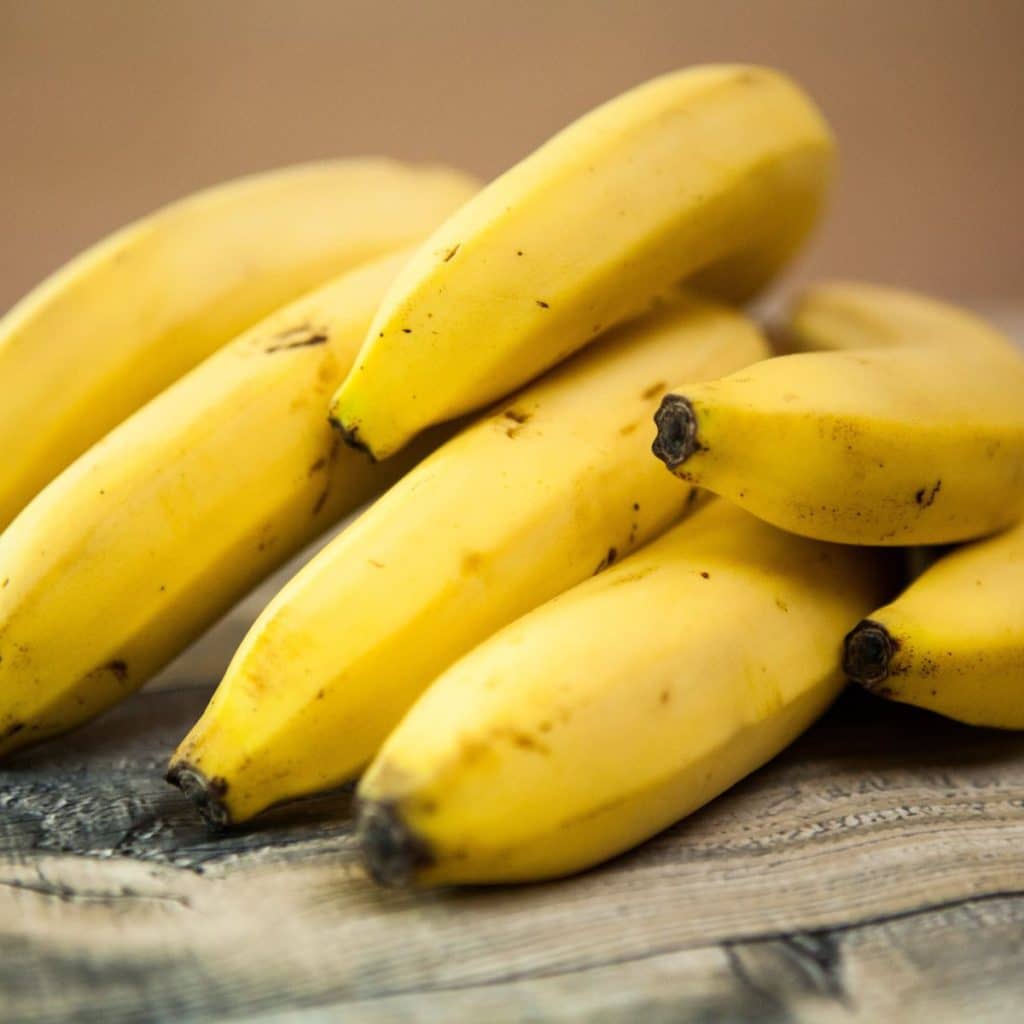 Who isn't familiar with bananas? Full of yummy proteins, carbs, and potassium, this elongated yellow fruit is sweet at every stage of ripeness, with varying intensity.
You can make many mouth-watering, flavorsome desserts with bananas, including the incredibly popular — banana pudding. If you see the bananas turning brown, don't worry. Simply mash them and use them in your smoothie or delicious banana bread.
Fun fact: Bananas are actually a berry.
3. Blood Lime
Blood limes retain the shape of a typical olive-shaped lime but have a gorgeous crimson appearance. They are super acidic and perfect for use in sauces.
Blood limes are a hybrid citrus fruit. It is a cross between Ellendale mandarin and red finger lime. Hence the sophisticated yet balanced flavor between sweet and sour.
They are incredibly popular for their "popping" texture, making them absolutely delicious as a beverage.
4. Batuan Fruit
Batuan fruit is a cute round-shaped fruit that turns yellow from green when ripe.
They measure only 4 cm in diameter. But don't be deceived by their adorable looks. They are sour to taste and are commonly used as a souring agent in many dishes and sauces.
The distinctive taste makes for a great flavor addition to many soups and local native dishes in the Philippines.
5. Bottle Gourds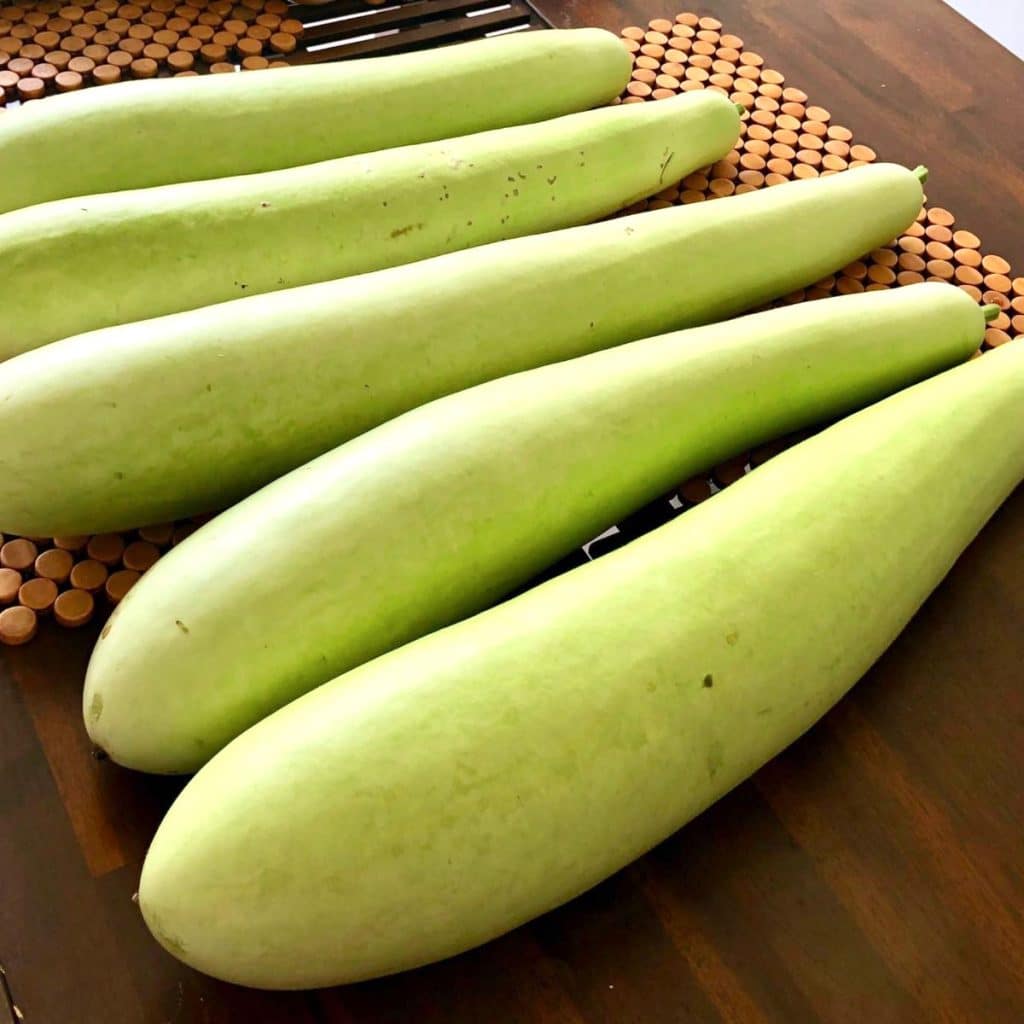 Popularly known as Calabash, Bottle gourd is grown for many purposes. When harvested early, you can consume a bottle gourd as a vegetable.
But if you leave it dry and mature, you can make utensils, musical instruments, bottles, or flasks.
At this stage, they develop a hard water-proof exterior that is perfect for making containers. This fruit is truly versatile!
6. Balsam Apples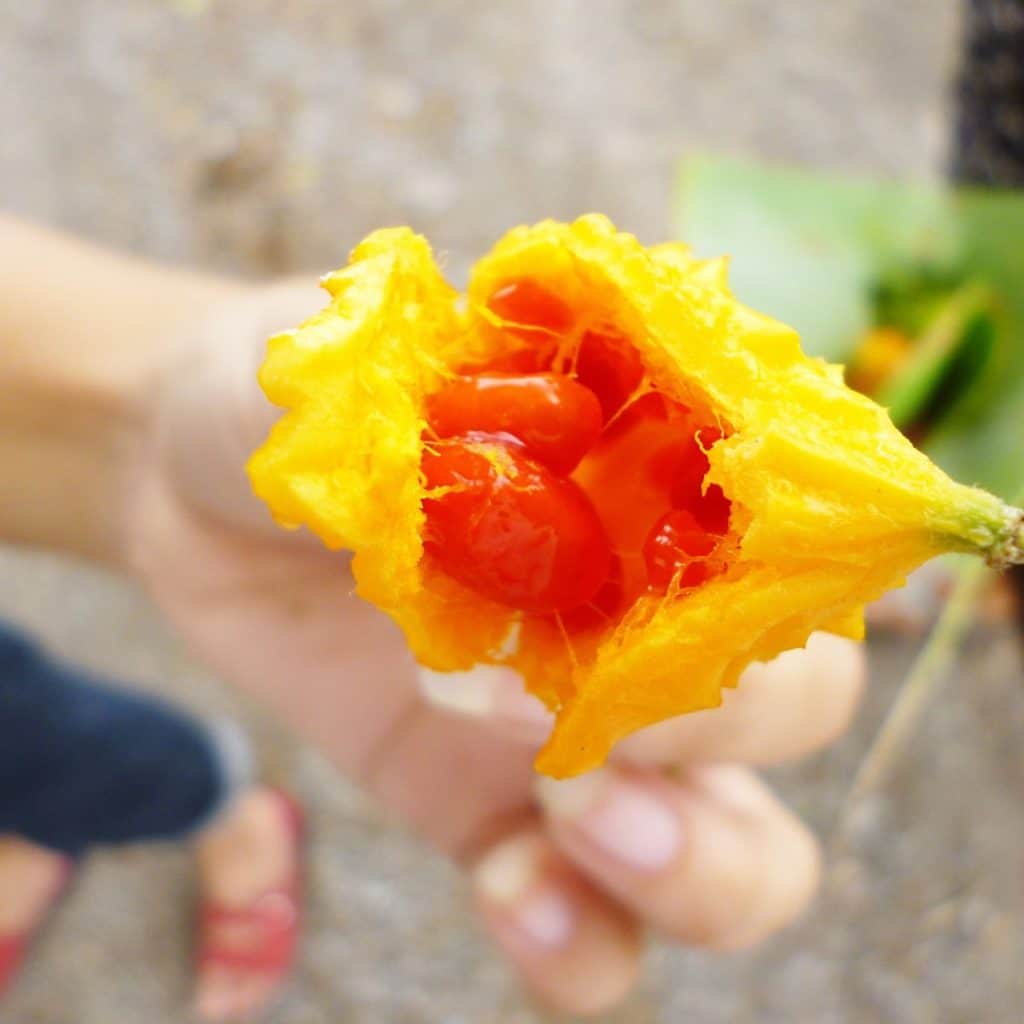 Balsam apples are an attractively weird-looking fruit. They have a yellow-orange appearance that bursts open when ripe to reveal luscious pulp and red seeds.
However, this fruit is only edible when young and is borderline dangerous to consume when ripe. If eaten ripe, they can cause vomiting and diarrhea. An unripe balsam apple has an acidic taste and is commonly used for medicinal purposes.
7. Black Apples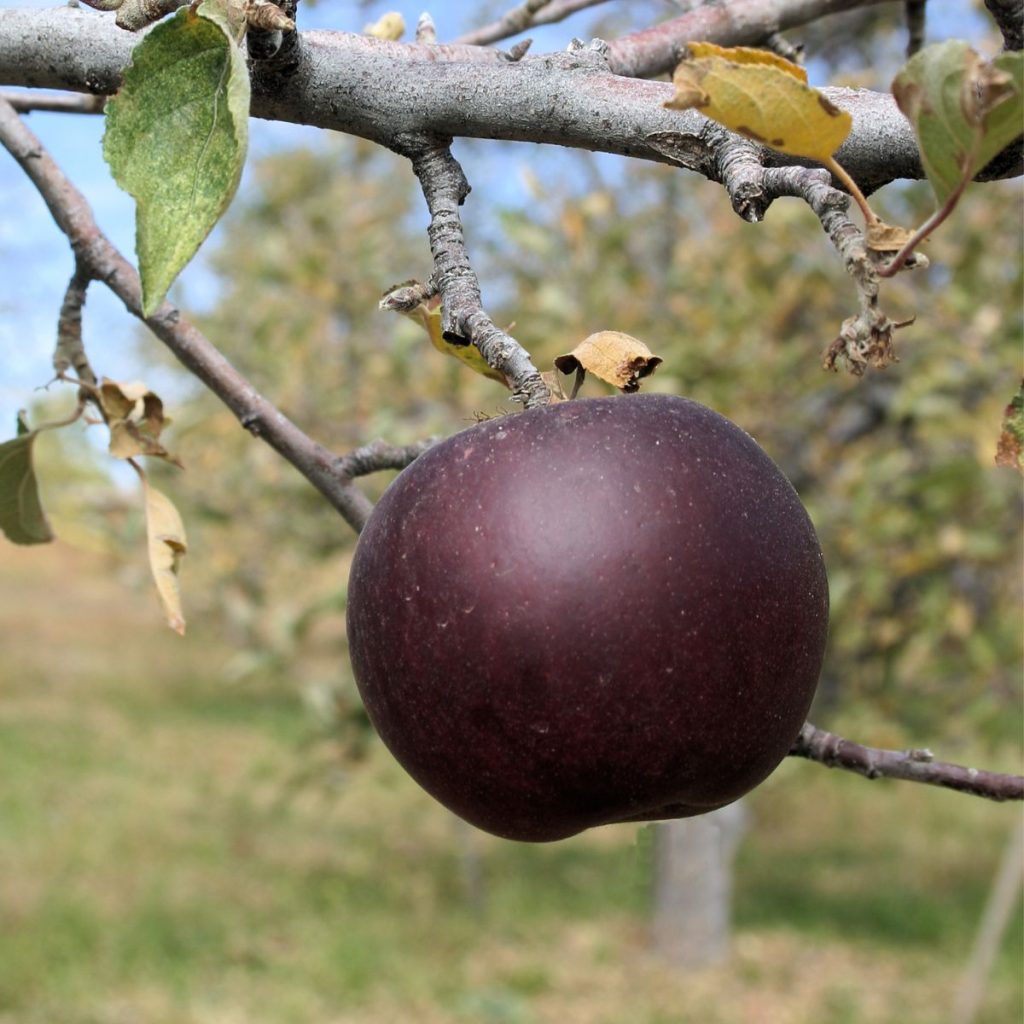 The black diamond apple is one of a kind. Contrary to the name, black apples have a dark purple covering with white pulp on the inside.
If you taste the fruit when you pick it, you'll find it to have a tart flavor. But in storage, the taste gradually develops a sweet tang with distinct honey, vanilla, and almond undertones.
8. Betel Nut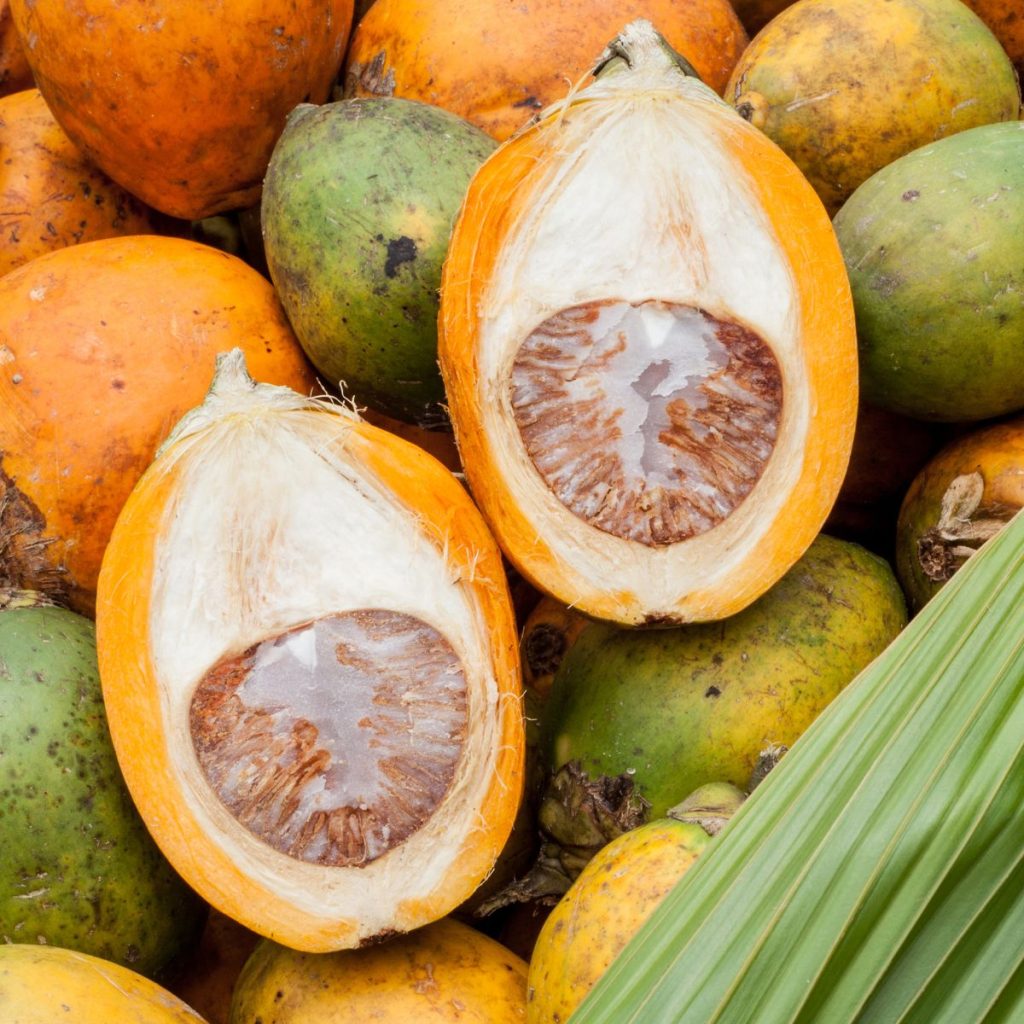 Surprised to find betel nut in the list of fruits? Well, this is because betel nuts are seeds of a fruit called areca catechu.
Betel nut has a spicy flavor, similar to nutmeg. It has ethnobotanical uses because of CNS stimulating effects. However, be warned. Research has shown that chemicals found in betel nuts are associated with oral cancer.
9. Bilimbi Fruit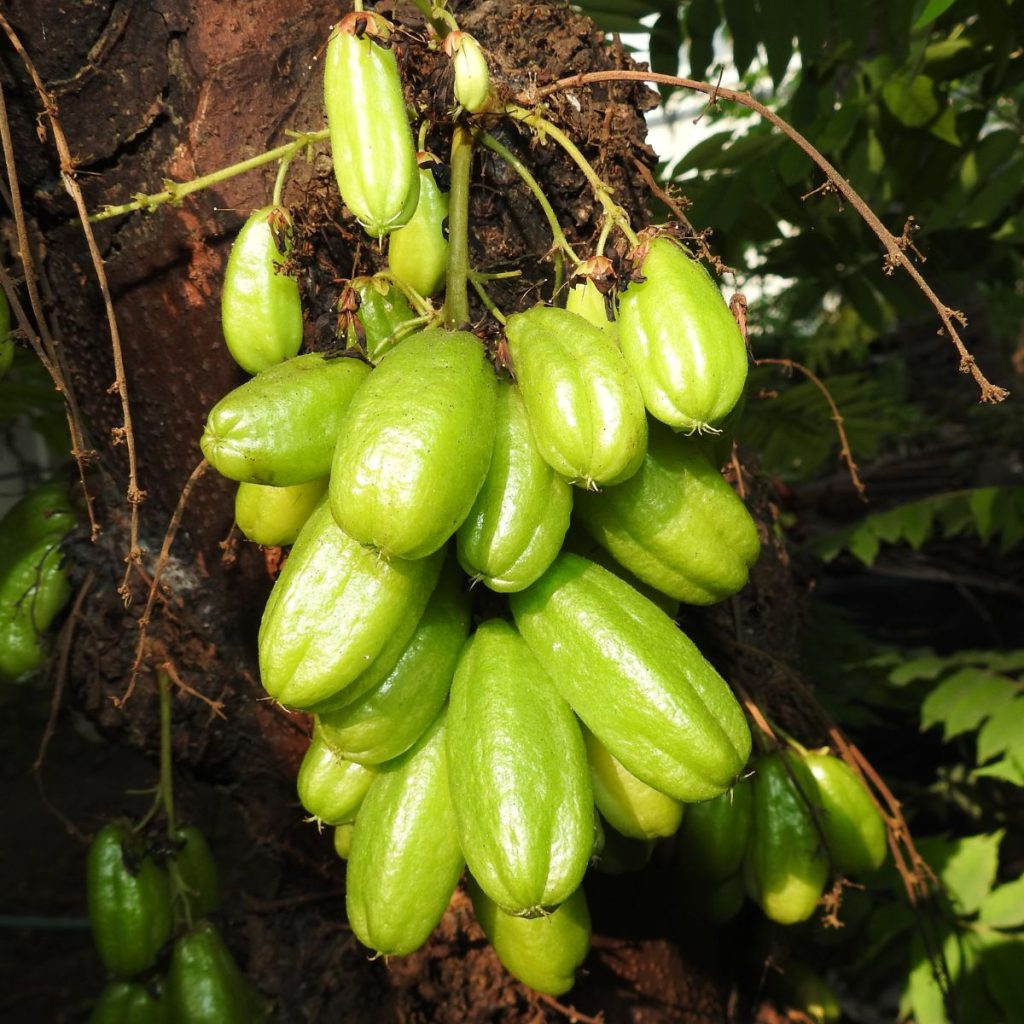 Bilimbi fruit is a green and long tropical fruit found in Malaysia and Indonesia. It is popular for its refreshing aroma and has a uniquely sour taste.
The fruit is rich in oxalic acid, which makes it super tarty. You can pickle, cook, or even eat it raw- if you're brave enough to try!
In English, the name translates to cucumber tree. Consumption of bilimbi is said to aid in managing diabetes and hypertension.
10. Bitter Melons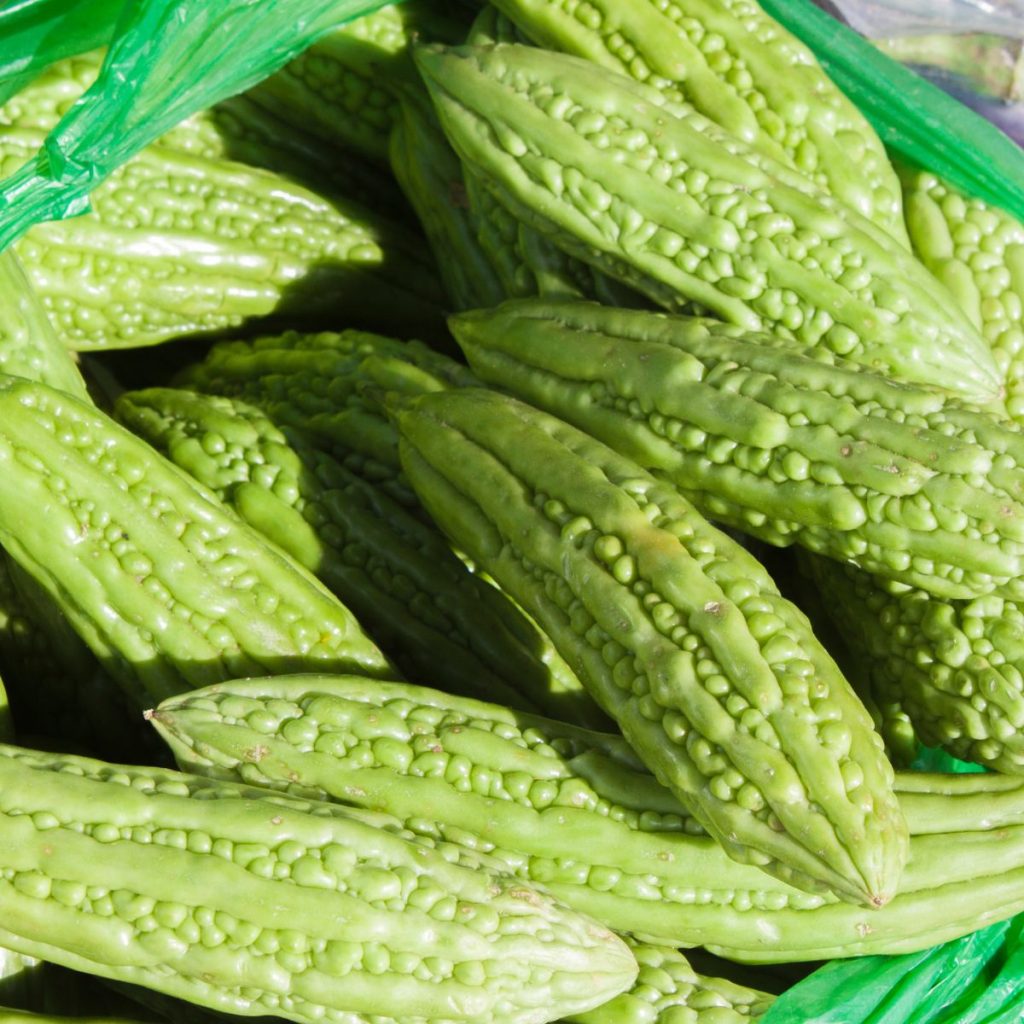 Bitter melon or bitter gourd tastes the same as the name suggests-bitter. The fruit is cultivated worldwide and is particularly popular in Asian countries.
Bitter melon has a distinct taste and a green appearance, with wart-like bumps along its body. Due to its sharp flavor, it can be cooked in various recipes and eaten raw as well.
11. Black Currant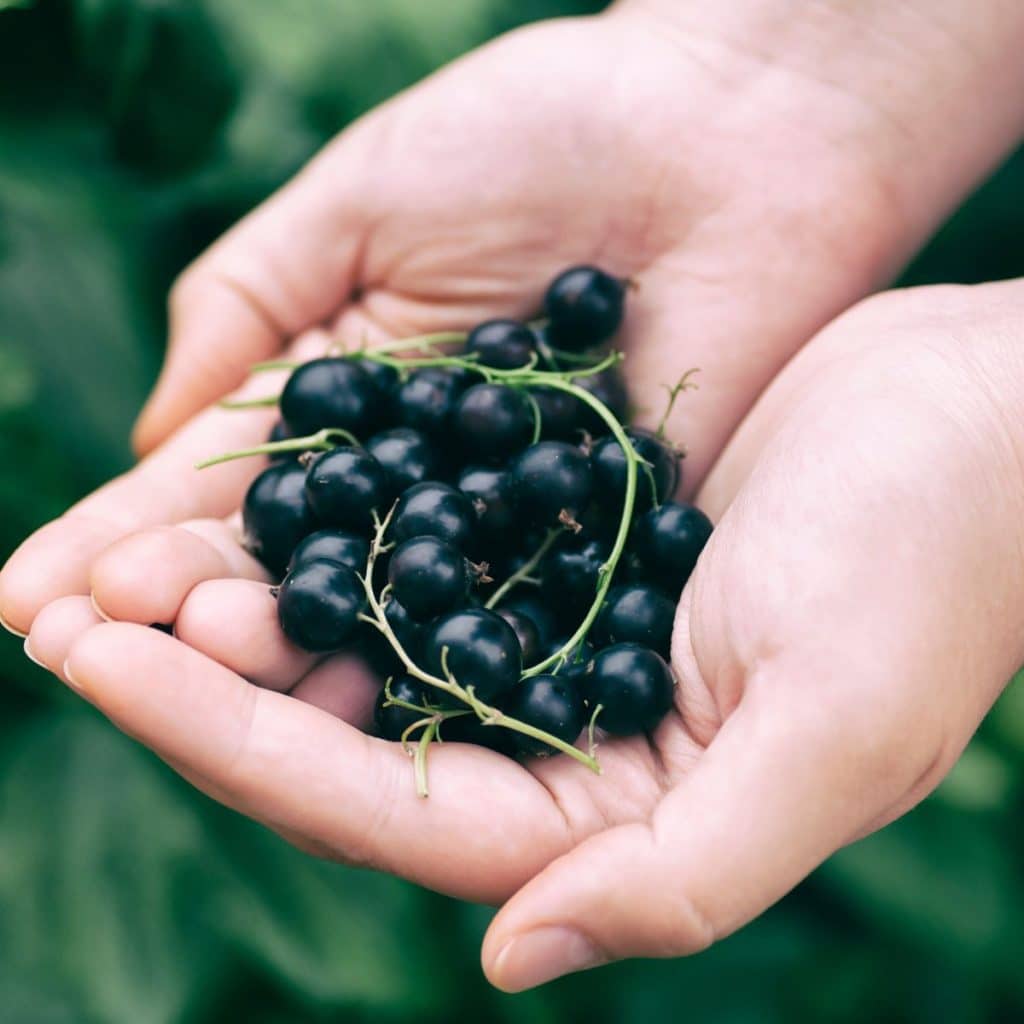 The black currant is a nutritionally dense fruit and is a rich source of antioxidants and Vitamin C. They resemble blueberries, but the similarity ends there.
Black currants have a unique taste with tangy, earthy flavor notes.
The best part about the black currant is its juicy characteristic, making it an essential ingredient for jams, tarts, juices, and syrups.
12. Babaco Fruit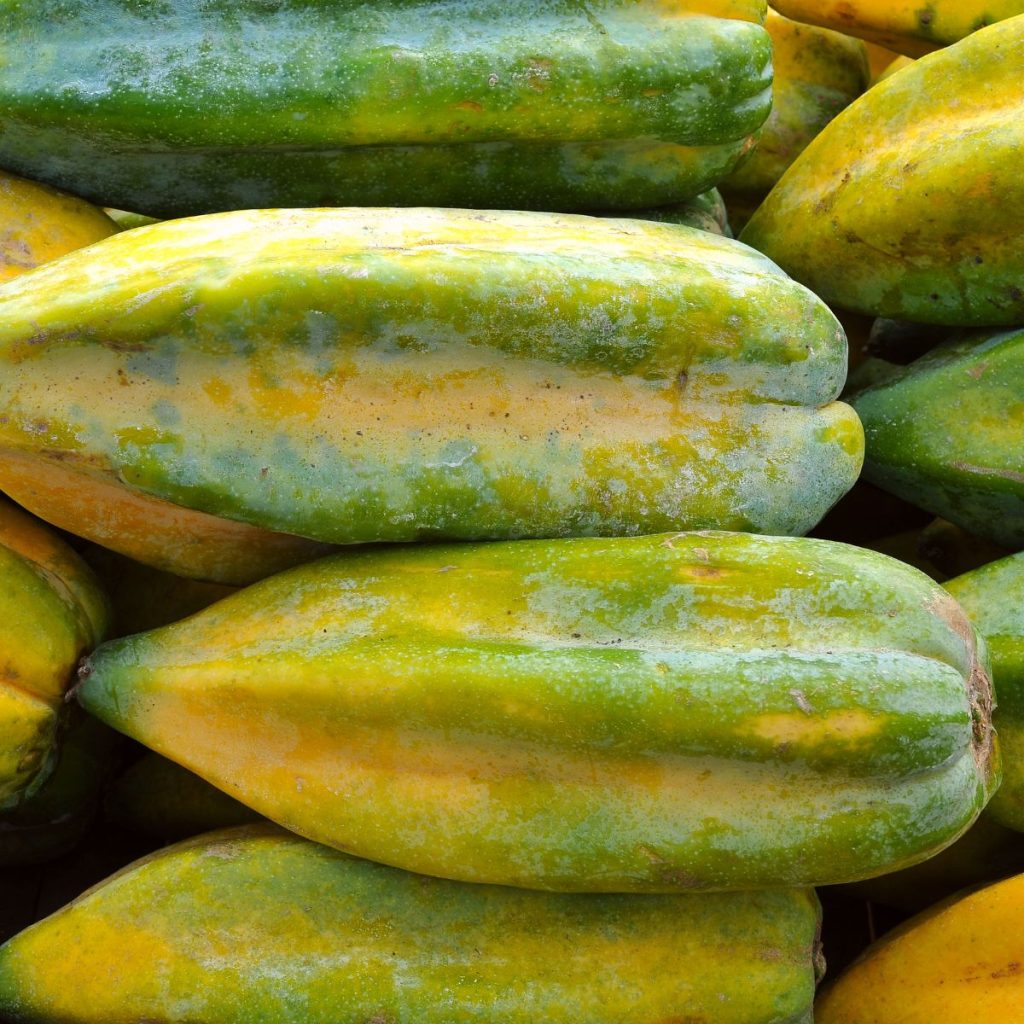 The babaco is a hybrid fruit that is also known as mountain papaya. It features an eye-catching yellow color that makes you want to taste it.
Moreover, the babaco has super-smooth skin that can be eaten and has seedless flesh inside. So, the babaco is an entirely edible fruit! What's special about this fruit is its taste.
It is said that the flavor has hints of strawberry, pineapple, and papaya. Amazing right?
13. Burmese Grapes
This exotic fruit has to be peeled to get to the good stuff. The grapes feature an oval shape, with a yellow-pink exterior and white pulp inside.
The texture of Burmese grapes is more fibrous than juicy, but the flavor is sweet and sour-similar to lychee.
14. Bacuri Fruit
When the bacuri fruit ripens, it falls from the tree to be gathered. The name literally translates to fall-early, but that's not the only interesting thing about it. The sophisticated taste of bacuri ranges from sweet and sour.
Get on a plane if you want a taste because bacuri is only marketed in Brazil, where it is commonly found.
15. Black Raspberry
Black raspberries feature a unique flavor profile and are considered the healthiest of all berries. These delicious fruits are sweet, tangy, and fruity to taste.
Black Raspberries are popular with chefs as they make a wonderful addition to pies and pancakes. Plus, a black raspberry jam is insanely delicious.
16. Bignay Fruit
Native to Southeast Asia, the bignay fruit grows in bunches or clusters, like grapes. These berries are small, round, and red with a delicious sweet taste.
The bignay fruits are rich in antioxidants, minerals, iron, and vitamins. Because of its nutrient-packed feature, this yummy fruit has numerous health benefits as well, including improving immunity and metabolism.
17. Beach Plum
The beach plum is native to America and found in the wild coast dunes. The exotic fruit appears from sweetly-fragrant white blossoms in early May.
The beach plum has a distinct bittersweet flavor. Upon tasting, you'll find hints of cranberry, peach, and strawberries, making it a perfect ingredient for jams, sauce, and cobblers.
18. Black Cherries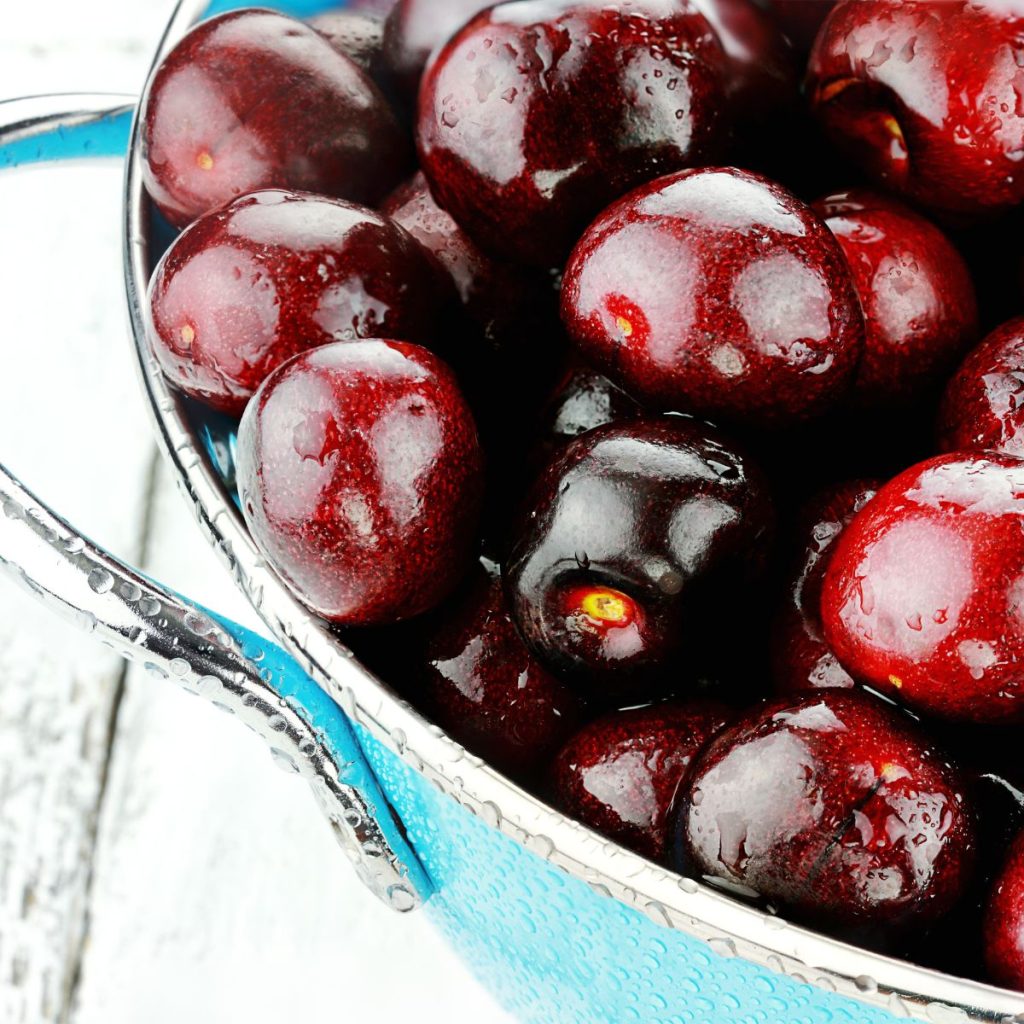 Black cherries, also known as rum cherries, are packed with several nutritional benefits. These cherries burst with a sweet and sour flavor in your mouth.
The flavor profile, however, is pleasant to taste. Hence this delicious fruit makes for a delicious jam and marinade!
19. Barbados Cherries
These brightly colored crimson cherries feature a tart, sweet flavor. They are quite a popular ingredient in jams and wines because of their gorgeous color.
It is a rare exotic fruit used to make appetizing treats.
20. Blood Orange
Blood oranges are a citrus fruit with dark flesh. From the outside, they look like a typical orange, but when you cut it open, you'll find either speck of crimson or an entirely red interior.
Blood oranges taste similar to oranges but are less tangy and contain hints of cranberry and raspberry with a sweet and tart smack of flavor.
21. Button Mangosteen
Quite similar to its cousin, purple mangosteen, the button mangosteen has an interesting taste. This exotic, tropical fruit is native to Malaysia and Thailand.
The button Mangosteen tastes sweet and sour, and yet the tangerine flavor gives it a unique complexity. It has a tissue-like skin with an orange exterior. But the insides have a gorgeous juicy-filled flesh that has a fibrous texture.
22. Burdekin Fruit
Burdekin fruit is a type of plum which is found in Australia. The fruit has different colored flesh, which offers distinct flavors.
The white colored flesh plum has a mildly sweet flavor, while the red plum has a more tart and sharp taste.
23. Breadfruit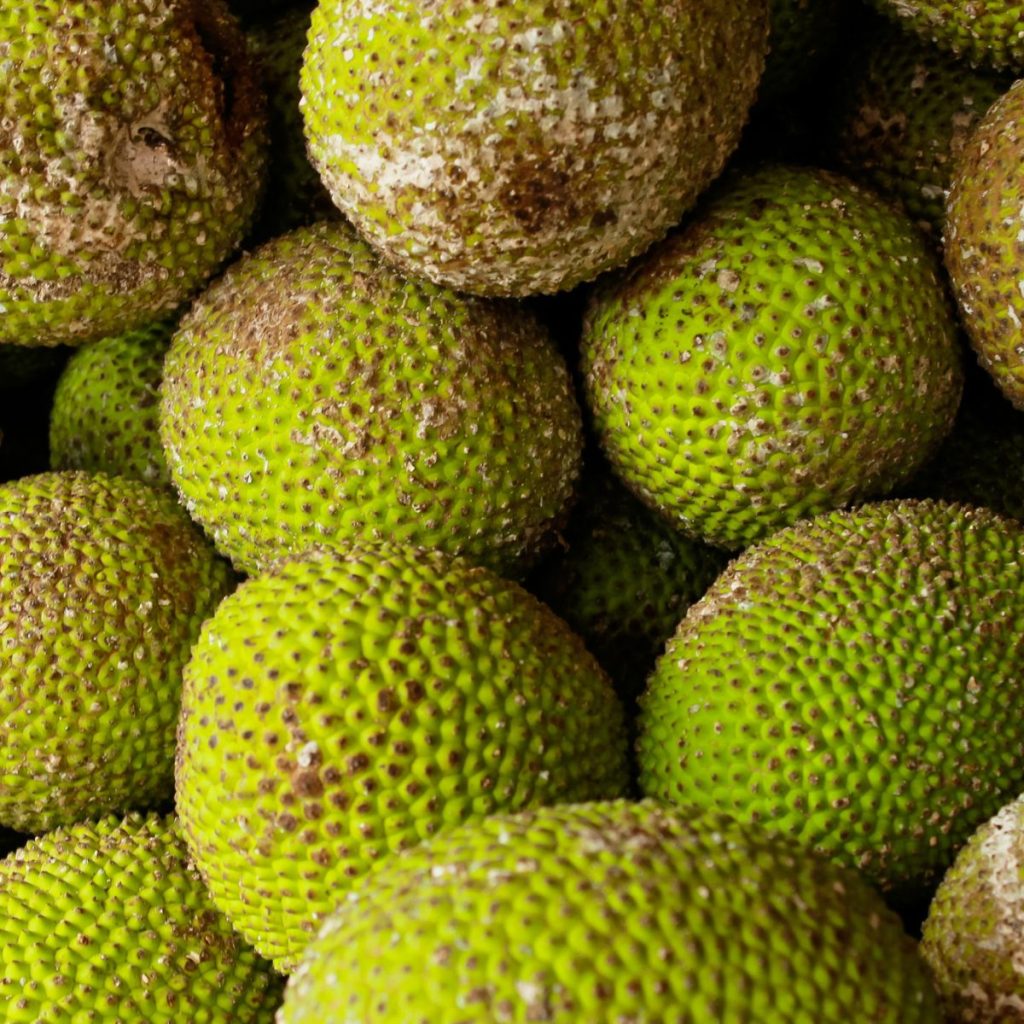 The breadfruit grows on a handsome and fast-growing tree that produces yummy fruit and seeds. The breadfruit is great for your heart health and is loaded with nutritional value.
The breadfruit is green on the outside. On the inside, you'll find white flesh with a bread-like texture and chestnut-like flavor. The appearance of breadfruit bears a striking resemblance to jackfruit since they are part of the same species.
24. Black Mulberry
Black mulberries are small elongated berries that look like a slightly longer version of blackberries. They are juicy and sweet to taste.
Black mulberry is a popular substitute for blackberry and is used in various condiments, including jams and jellies.
25. Bramble
Bramble refers to a group of luscious berries, including raspberries, blackberries, and boysenberries. These tasty berries are used in the making of a variety of foods, including jams, tarts, wines, and cocktails.
26. Bell Peppers
Bell peppers, also known as capsicum, belong to the nightshade family and are closely related to chili peppers.
The gorgeous and rich colors of bell peppers-red yellow, and green, make the dish 'pop'. They taste sweet and hint of "grassiness" to their flavor.
27. Bayberry Fruit
Bayberry fruit is a sight for sore eyes. You can find this fruit in striking colors ranging from white to dark plum. Barberries measure only 2 cm in diameter but have a complex flavor.
Once you pop these brightly colored berries in your mouth, the fruits you'll taste will range from pomegranate and cranberry. In contrast, the texture will feel like that of an orange.
28. Brush Cherries
If you're wondering what they taste like, then look no further. Brush berries taste similar to sour apples, yet they have a distinct and pleasantly sour taste.
These small-sized cherries grow in partial shade and prefer warm climates. They can be found in pink, purple, or black colors. You can eat it fresh from the tree or cook it. The aromatic brush cherry is promised to quench your thirst.
29. Black Sapote Fruit
The black sapote, native to Mexico, belongs to the species of persimmon. It has a custard-like texture and tastes like sweet caramel, with a nutty, pumpkin undertone.
This delectable, delicious fruit can be added to many recipes, including bread, muffins, and brownies.
30. Boysenberry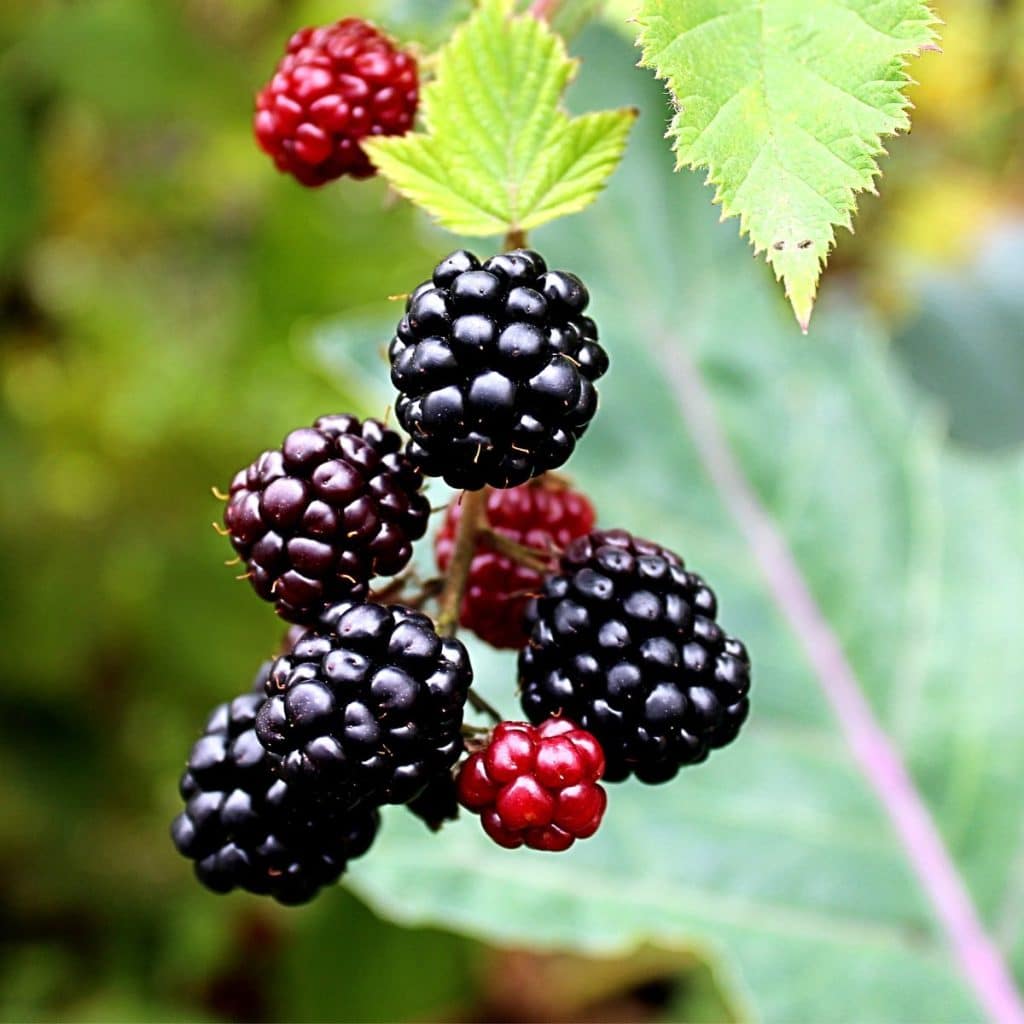 The boysenberry is a cross between Australian raspberry and blackberry. The flavor profile of this fruit is derived from that of its parents. It features the juicy component of blackberry and the sweetness of raspberry.
However, it has more zest and tang than either of the two. Boysenberries make for a mouth-watering pie!
31. Beech Nut
The beechnut fruit hangs in burs from the beech tree. They are found in small triangular shapes with a spiky, husky outer wall.
Upon tasting, you'll find the taste to be bitter and astringent. Yet, they are completely edible. However, they must be cooked before consumption as the raw form contains toxins and should only be eaten in moderate amounts.
32. Barberry
Barberries are crimson colored, small-oblong berries with a sour taste and hints of sweetness. The fusion of sweet and sour makes it a versatile ingredient.
You can make jams, but also cook them with rice. Just add a handful of barberries if you want to make your food pop with flavor.
33. Blueberry
Blueberries are extremely popular. And why won't they be? They are considered to be a superfood associated with several health benefits.
However, they are mildly sweet, and unripe blueberries may taste sour. They are acidic and jam-packed with Vitamin C. Blueberries have the highest amount of antioxidants mentioned on this list of fruits!
34. Brazilian Guava
Brazilian guava has a golden-yellow appearance when ripe and is small in size. The skin is smooth and can easily be bruised.
Inside, you'll find a white-yellow flesh with a grainy and creamy consistency, making you think of bananas!
The fruit bears resemblance in flavor to different fruits, including pineapple, papaya, and a banana.
35. Bearberry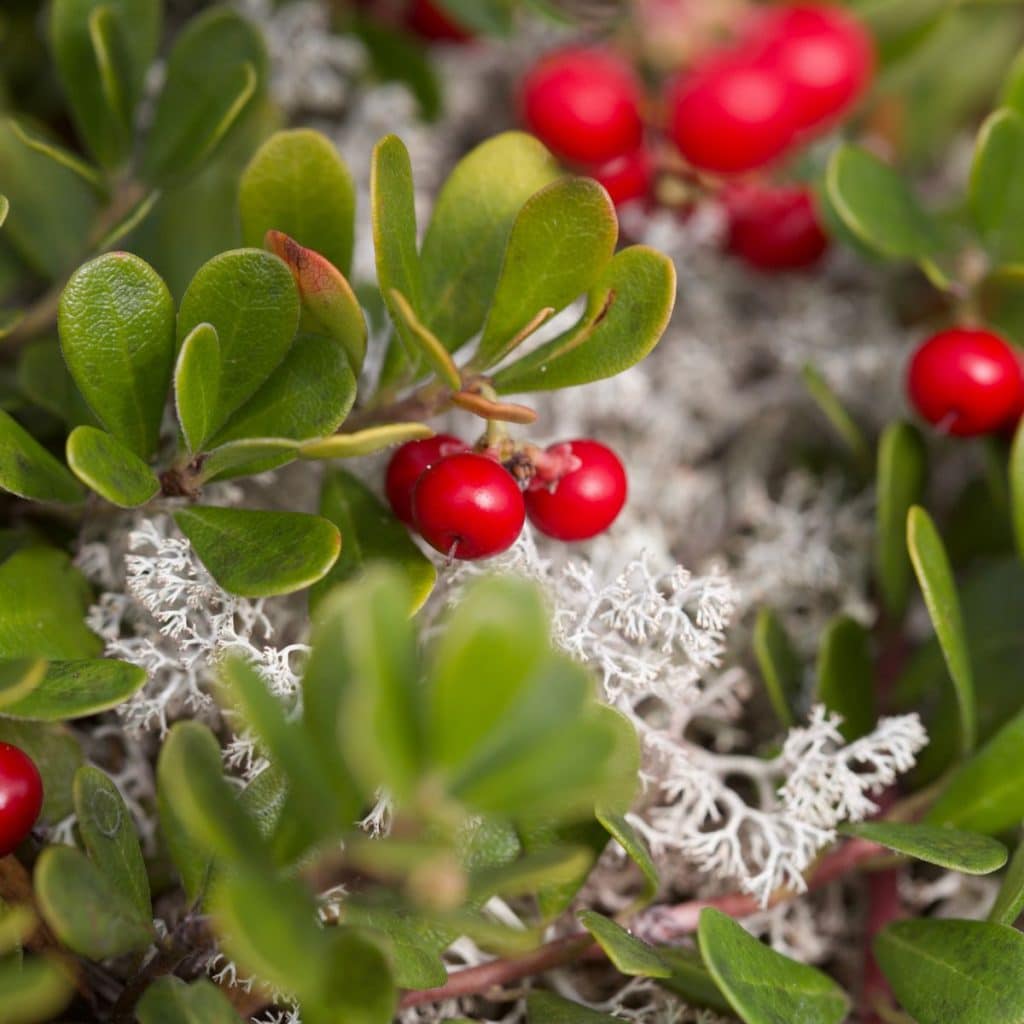 You'll find bearberries lacking in flavor if you eat them raw. However, cooking it brings out its sweetness, whose taste is reminiscent of cranberries.
These small-sized berries make for delicious muffins as well as jams and jellies.
More delicious fruit
Did we miss any fruits that start with B? Let us know in the comments.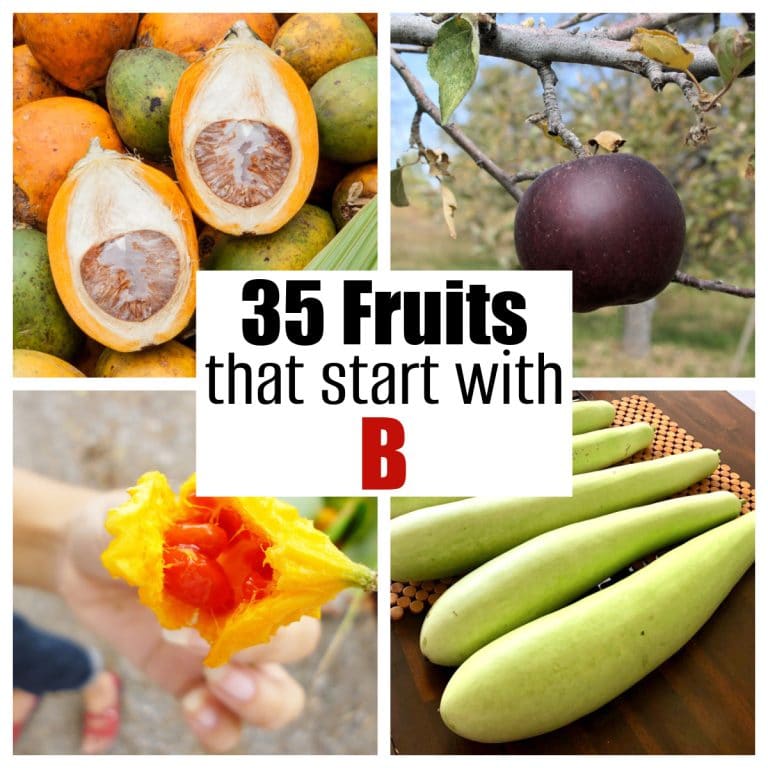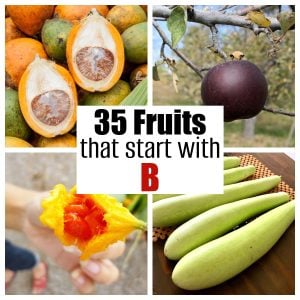 Fruits That Start With B
A collection of fruits that start with the letter B. Try this easy berry salad with some of our favorite b fruits.
Ingredients
6

oz

boysenberries

6

oz

blueberries

6

oz

black cherries

6

oz

black raspberries

1

tablespoon

honey

1

tablespoon

fresh lime juice
Instructions
Pour cleaned berries and cherries into a bowl. Drizzle with honey and lime juice and toss.
Nutrition
Calories:
84
kcal
|
Carbohydrates:
21
g
|
Protein:
1
g
|
Fat:
0.4
g
|
Saturated Fat:
0.05
g
|
Polyunsaturated Fat:
0.2
g
|
Monounsaturated Fat:
0.1
g
|
Sodium:
2
mg
|
Potassium:
173
mg
|
Fiber:
4
g
|
Sugar:
15
g
|
Vitamin A:
599
IU
|
Vitamin C:
11
mg
|
Calcium:
22
mg
|
Iron:
1
mg
Nutrition information is automatically calculated, so should only be used as an approximation.
Like this? Leave a comment below!