17 Fruits That Start With E
There are many fruits that start with E, some might sound familiar, others might not be familiar at all. They come from around the world and in different, shapes and sizes.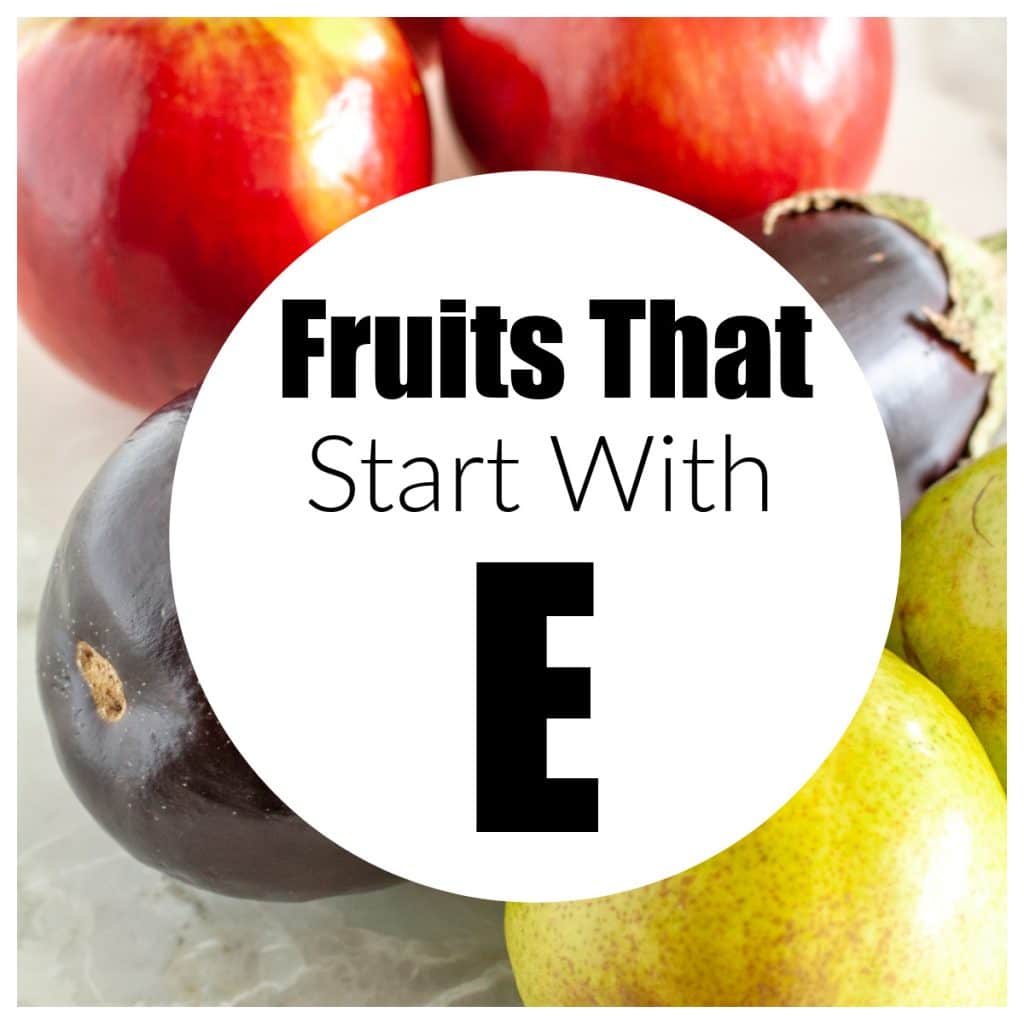 Have you tried an Etrog or Eggplant? Keep reading to learn more about different fruit beginning with the letter E.
1. Eggplant
Yes, eggplants are fruits and they are actually classified as a berry. Eggplants are full of nutrients and low in cholesterol and fat. They are considered a nightshade fruit. When choosing an eggplant to eat, smaller is better. Look for a firm eggplant that has smooth, shiny purple skin.
2. Emblica
Emblica is also known as the Indian gooseberry. This berry is packed with vitamins and antioxidants. They have a green skin and are slightly sour.
3. Etrog
The etrog citron originated in Israel and India. This citrus fruit has the appearance of a large lemon. It has a very thick rind and lots of seeds.
It's thought that the first etrog was first cultivated in the year 4000 BC. Etrog is typically cultivated for the Jewish festival of Sukkot and is now grown in India, Israel, Greece, and Italy.
4. Elephant Apple Fruit
This apple is larger in size but it actually gets it's name because it's a favorite food of the wild elephants that live in Asia where this fruit originated.
Elephant apples actually have a pit rather than seeds that you would typically find in apples you may be familiar with.
5. Eastern Hawthorn Fruit
Like eggplants, this fruit is considered a berry but it looks and tastes more like an apple. This fruit is red in color and ripens in the month of May. They can grow up to 2 cm in diameter and can be found in North America, typically the Southeastern part of the United States.
6. Entawak Fruit
The entawak is a interesting looking fruit that is 3-4 inches round and yellowish-brown in color. The flesh is usually red and has a similar taste to pumpkin. Just like pumpkin, the entawak fruit seeds are edible and can be roasted and eaten for a snack.
This tropical fruit grows on large trees that is native to Malaysia, Sumatra and Borneo. These trees thrive best in tropical climates.
7. Evergreen Huckleberry
The Evergreen huckleberry is also known as a California huckleberry, box blueberry or evergreen blueberry. These berries are related to blueberries and are found in the Western regions of North America.
Huckleberries were something Native Americans on the Pacific coast of North America would collect and eat. They were used in bread, and eaten raw or dried.
Evergreen huckleberries are sweet but mealy in texture. This makes them better to be used for jams or cooked in pies. It's said that evergreen huckleberries taste sweeter after the first frost. They are also rich in nutrients like vitamin C.
8. Edward Mango
Did you know there are several varieties of mangos? The Edward mango ranges from pink to yellow in color and can be oblong or round in shape. It's also fiber-free with a tangy-sweet tastes. If you are looking for ways to prepare your mangos be sure to check out this great list of recipes with mango.
9. Emu Apple Fruit
You can find this fruit growing on trees in Australia. The emu apple fruit is a sour tasting berry that has a purple color when they are ripe.
10. Elderberry
Elderberries are small blueish-black grown on Sambucus trees that are native to Europe but also grown elsewhere in the world. The berries need to be cooked to be eaten.
This amazing fruit is known for it's medicinal properties and health benefits. Elderberry fruit is currently made into supplements to help combat cold symptoms. The berries are full of vitamin C, fiber, flavanols, and antioxidants.
11. European Pear
European pears are a teardrop shaped fruit that vary in size and color. These common pears are a super popular and found at most grocery stores.
This delicious fruit has a sweet taste and the flesh is slightly gritty. Pears are wonderful eaten raw or used for a variety of things like tarts, pies, or even in fruit salads.
12. Emu Berry Fruit
The Emu berry, or the scientific name grewia retusifolia, is native to Australia. The berries ripen between the months of April and September.
The berries are very small fruit and have a sweet taste. Emu berries have calcium, fiber, vitamin C and iron.
13. Egg Fruit
The egg fruit or canistel, gets it's name from the yellow, egg yolk color of it's flesh. When the fruit is ripe, it has a custardy like texture similar to a hard boiled egg. Egg fruit may have 1-6 large seeds. This fruit originates in southern Mexico but cultivated in Africa, Asian and the Americas.
Egg fruit is oval in shape and can get as large as 7 cm in length. The creamy flesh of the egg fruit makes it a wonderful substitute for sugar in certain recipes. It's also wonderful in ice cream, pie fillings, even egg fruit nog.
14. Enterprise Apple
Enterprise apples are a variety of apple that are a glossy, red color and look similar to a McIntosh apple. They have a touch, thick skin with a firm flesh.
This apple variety was just introduced to the public in 1994. These apples have a high resistance to disease and have a late harvest. They can also be stored for up to a month. Enterprise apples are juicy and tart making them a wonderful apple to use in cooking.
15. Early Girl Tomato
Tomatoes are actually fruit. This tomato variety is bright yellow in color and is about as big as a tennis ball. Early girl tomatoes make great addition to sandwiches, salads and more.
16. Egusi
Egusi is from the melon family and found in Africa. The outside looks very similar to a watermelon, however the inside is dry with large white seeds.
The egusi seed is what is typically what is used as the ingredient because it's rich in protein. To harvest the seeds, the egusi is cracked open and left outside to dry. The seeds are then scooped out and removed. The seeds then have to be shelled before they are either eaten raw, roasted or ground into a paste.
17. Ensete
Ensete fruit is part of the banana family and is from Africa. It is cultivated in Ethiopia where it is a staple food. Even though the look similar to a banana they are very different. The fruit is actually not edible. The tender tissue in the heart of the plant is what is cooked and eaten.
Any more E fruits you can think of? Let me know if we missed one in the comments below.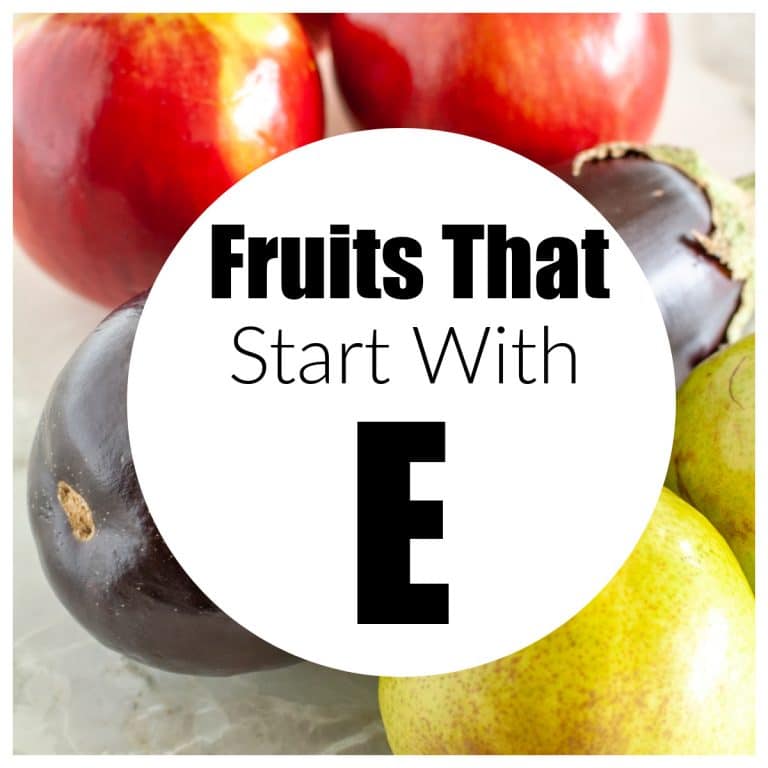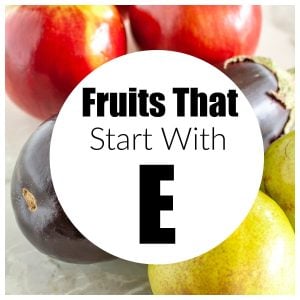 Fruits That Start With E
A list of fruit beginning with E.
Ingredients
Air fryer eggplant
1

eggplant

1

tablespoon

olive oil

1/2

teaspoon

salt

1/2

teaspoon

ground black pepper
Instructions
Clean and cut eggplant cut into small cubes. Spread on a plate and sprinkle with salt. Let sit for 10 minutes and then pat dry with a paper towel.

Place eggplant in a small bowl and pour olive oil over the eggplant. Toss until coated.

Pour eggplant into air fryer basket and spread out into a single layer. Cook at 400 degrees F for 8 minutes. Shake the basket and cook another 7-8 minutes.
Nutrition
Calories:
120
kcal
|
Carbohydrates:
14
g
|
Protein:
2
g
|
Fat:
7
g
|
Saturated Fat:
1
g
|
Polyunsaturated Fat:
1
g
|
Monounsaturated Fat:
5
g
|
Sodium:
586
mg
|
Potassium:
531
mg
|
Fiber:
7
g
|
Sugar:
8
g
|
Vitamin A:
55
IU
|
Vitamin C:
5
mg
|
Calcium:
23
mg
|
Iron:
1
mg
Nutrition information is automatically calculated, so should only be used as an approximation.
Like this? Leave a comment below!