Stick of butter conversion
Apr 30, 2020, Updated Jan 07, 2022
How much butter is in a stick of butter? Even after years of baking, I still find myself asking this question. I'm providing some basics about measuring butter PLUS a free printable butter measurement chart.
Ingredient measurements are important when it comes to making a recipe, especially baking like when you are making bread pudding or these oatmeal fudge bars.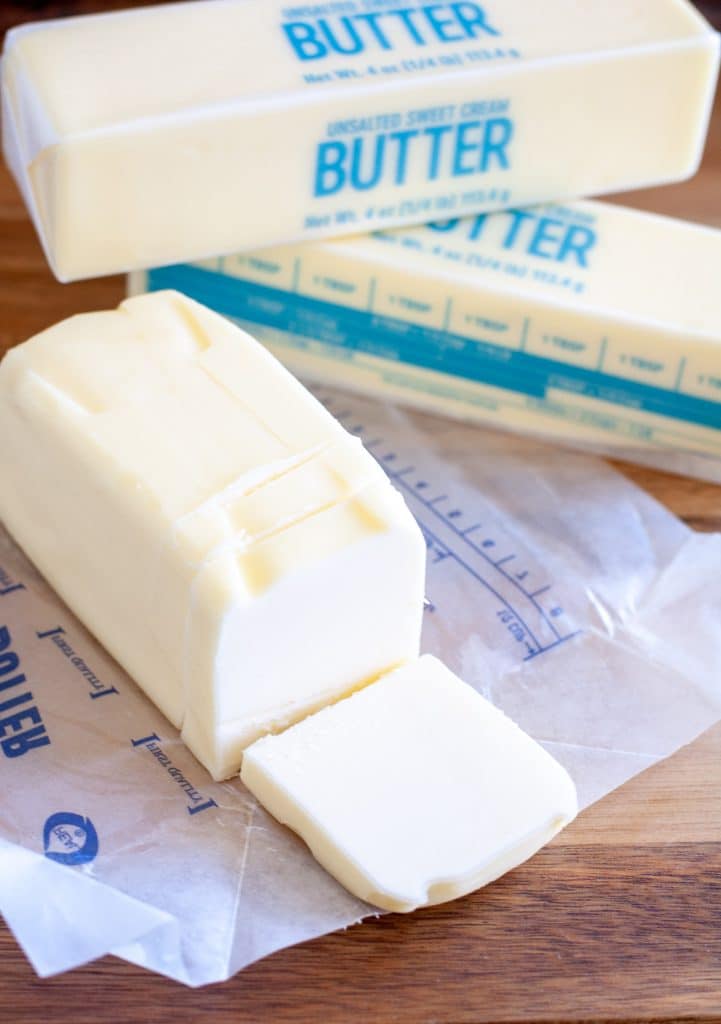 Most countries measure butter by weight. The United States and Canada measure by sticks, cup, tablespoons and more. It can become so confusing!
How many cups in a stick of butter?
One stick equals 1/2 cup. This is a common question when it comes to baking. It's a great measurement to know by memory.
How many tablespoons in a stick?
One stick equals 8 tablespoons. This is another good one to commit to memory.
Below is a printable conversion chart to help you easily convert measurements.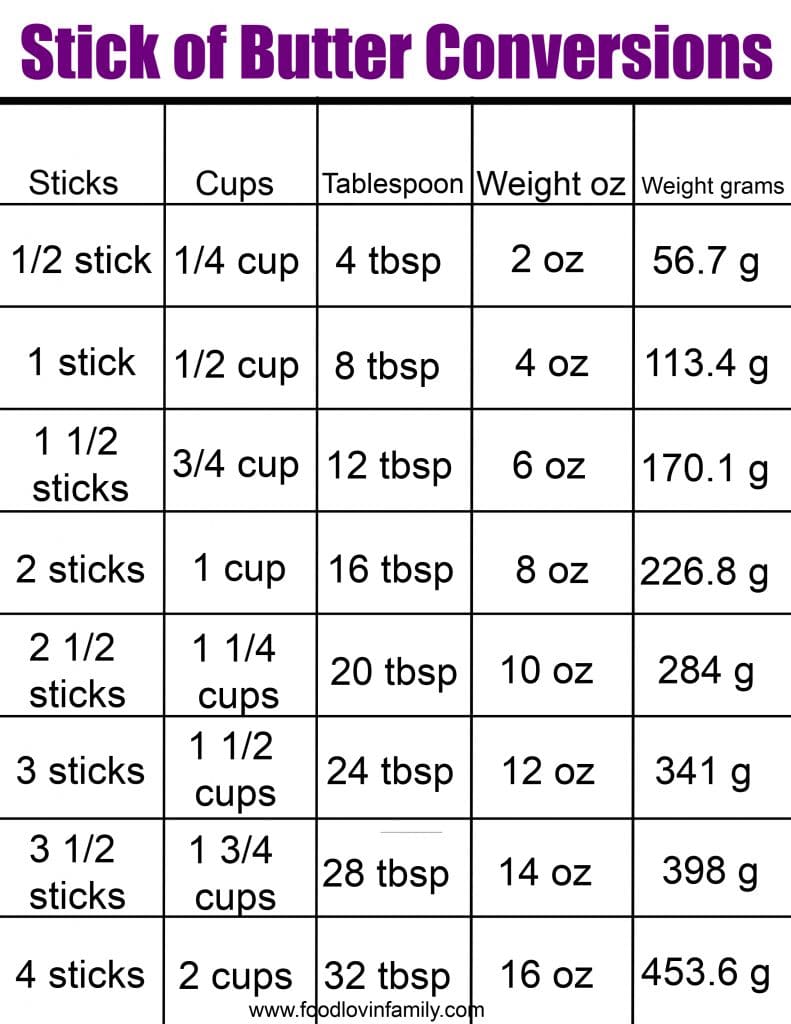 Download Stick Of Butter Conversion Chart
How many sticks in a pound?
| | | |
| --- | --- | --- |
| Volume | Ounces | Pounds |
| 1 stick of butter | 4 oz | 1/4 pound |
| 2 sticks of butter | 8 oz | 1/2 pound |
| 3 sticks of butter | 12 oz | 3/4 pound |
| 4 sticks of butter | 16 oz | 1 pound |
Tips for measuring
In the United States and Canada, most sticks of butter are wrapped in paper with measurements labeled on the outside. They are typically measured out in tablespoons. Cut down the measurement line to get the amount you need.
If the butter is softened or melted, making it hard to cut, you can add it to a measuring spoon or cup and then level it off.
How to measure butter without a scale
To measure without a scale, use the water displacement method. Fill a measuring cup with water equal to the amount of butter you need. For example if you need 1/4 cup butter, fill measuring cup with 1/4 cup water.
Add chunks of butter until the water doubles. So for this example, the water would go to 1/2 cup.
How to melt butter
The best method is to leave out at room temperature for about an hour but sometimes we are in a rush. Here are a few methods to speed up the process.
Cut butter into smaller pieces to help it soften quickly.

Grate the butter with a cheese grater.

Another method is placing butter between two pieces of wax paper and roll with rolling pin.
Try to resist softening in the microwave.
Salted or unsalted
I would always recommend using unsalted butter unless a recipe specifically asks for salted. This allows you to be in control of how much salt you use.
In conclusion, to achieve the most accurate measurement, use a kitchen scale. It's your best bet to get the exact weight.
Be sure to also check out How Many Teaspoons in a Tablespoon and How Many Cups In A Quart for another free printable kitchen measurement conversion chart.