Lemon Desserts are refined sweet treats with a refreshing after bite. They are a bright, happy ending to a delicious meal.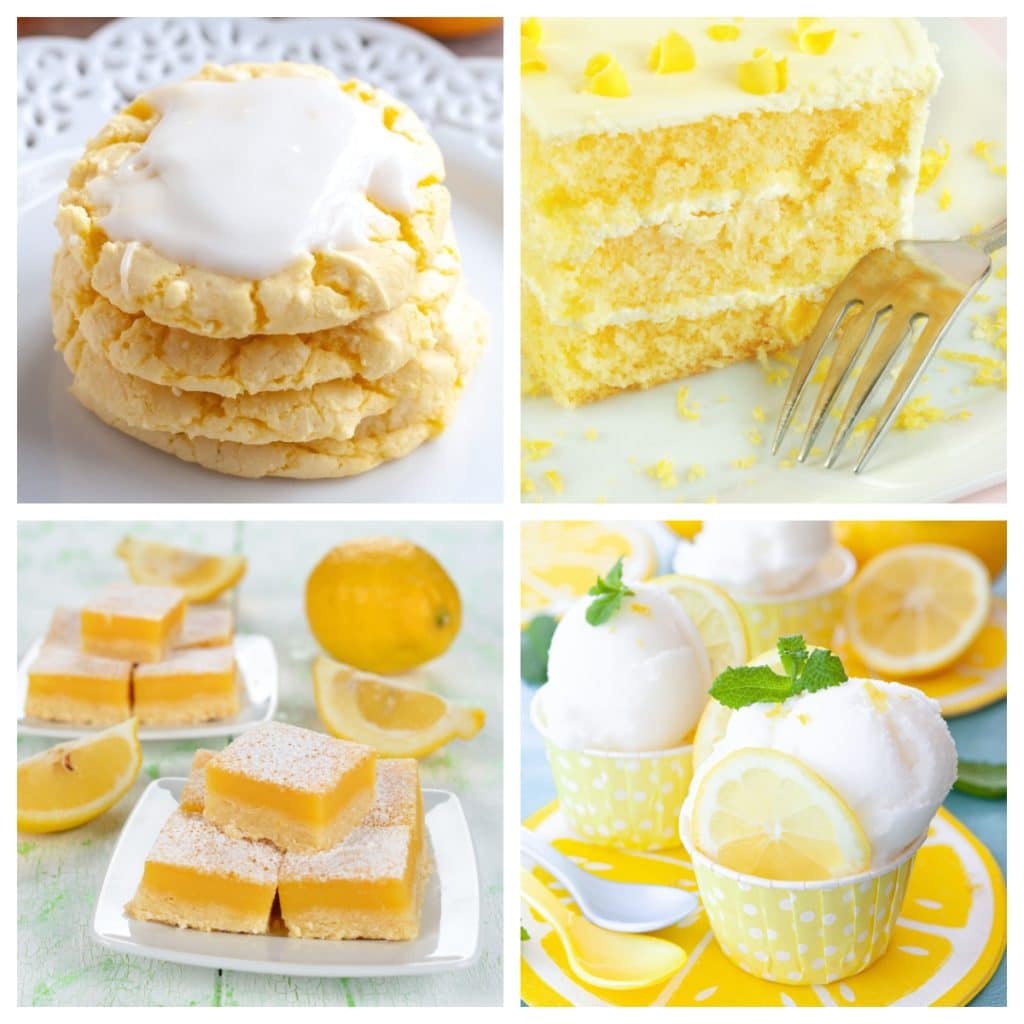 The best lemon desserts are full of tangy flavors without overpowering your senses. They are the perfect addition to a dessert table and for special occasions.
These sweet treats are game-changers in the culinary dessert world. From lemon cakes and pies to lemon brownies and ice cream to lemon loaves and lemon mousse, there is a luscious lemon dessert for everyone.
Lemon is fresh and bursting with tart flavors and when it is combined with sugar is simply divine. The best lemon desserts are light and fresh to warm and cozy. Check out some of our favorite lemon desserts in our comprehensive list below.
Taking a cake mix and turning it into cookies is a brilliant culinary trick. It is easy to do and creates moist, delicious cookies. Using a lemon cake mix, lemon juice, lemon zest, and a few other ingredients makes little bites of sunshine.
Beautifully layered lemon cake with lemon curd and buttercream is a heavenly creation. It is a palate-pleasing sweet treat with a tangy lemon flavor. This cake is perfect for a special occasion or to complete a Sunday dinner with the family.
The most well-known lemon dessert may be the lemon meringue pie. It has a tart and creamy custard made from fresh lemons with an exquisite meringue topping. This impressive dessert is a tantalizing treat to the tastebuds.
Lemon bars are an irresistible sweet treat with their cheery brightness and delightful flavor. They are one of the best lemon desserts and are easy to make. They have a buttery shortbread crust, luscious lemon filling, and an elegant dusting of powdered sugar to top them off.
Pound cake is a classic cake that has a lemon twist in this tangy recipe. The cake is dense, moist, and very satisfying.
It is a delicious sweet treat made with lemon juice, sour cream, butter, lemon zest, and a handful of other ingredients. An enticing powdered sugar glaze finishes this wonderful cake.
Lemon cheesecake bars are a beguiling culinary mashup of lemon bars and cheesecake. The bars have a vanilla wafer crust and a lemon cheesecake layer and then are topped with lemon cookie dough, yum!
These bars are full of lemon flavor without being too much. They are a captivating dessert great for a special occasion.
We don't typically think of lemon when we think about brownies but don't knock it until you try it. Instead of chocolate or cocoa, lemon juice and lemon zest are used. These easy lemon brownies have just the right amount of tangy lemon flavor and sweetness for a light dessert.
Sorbet is a delicious frozen treat that is naturally dairy free. It can be made in many different flavors, but lemon is a refreshing sweet treat.
This homemade version is easy to make with 4 simple ingredients; water, sugar, lemon juice, and lemon zest. Lemon sorbet is the perfect addition to end a splendid meal.
This is the perfect addition to summer BBQs and warm-weather special occasions. Lemon ice cream cake is as refreshing as it sounds. It is full of bright, citrus flavor without being too tart. The cold and tangy lemon flavor is a welcome reprieve on a hot day.
Lemon cupcakes are a fun, easy sweet treat kids and adults equally enjoy. These aren't your ordinary cupcakes, though. They are infused with lemon curd and topped with a lemon buttercream frosting. These cupcakes are a sweet and tangy dessert that is the perfect addition to summer cookouts and pool days.
Lemon tiramisu is a lovely surprise. It is the perfect addition to a special occasion such as Mother's Day or Easter. This delicious dessert is easy to make and one of the best lemon desserts.
It feels like an upscale dessert, but any novice baker can make it. And don't worry, there isn't any coffee like its traditional Italian counterpart. However, the limoncello keeps it in the Italian family.
A trifle is a sophisticated-looking dish that is simple to make. This impressive dessert is great for special occasions with its gorgeous presentation. Crunchy vanilla wafers are layered with creamy lemon pudding and fresh strawberries.
The sweet strawberries balance out the tartness from the lemon pudding for the ultimate summer dessert.
These cookies will literally melt in your mouth. They are one of the best lemon desserts for their taste and simplicity. Use fresh lemons for the lemon juice and lemon zest. They have a sweet lemon glaze for the most refreshing, addicting cookies that are soft and slightly chewy.
Lemon lush is a unique, light, and refreshing dessert with tangy lemon flavors. It is the perfect addition for Spring and Summer events and a palate-pleasing reprieve from heavy BBQ flavors. It's bright, light, and all-around delicious.
Cobblers aren't just for the fall. Fresh lemon flavors shine in this easy recipe. Everyone will love the bold, bright, tart, and sweet flavors in this lemon dessert. This sweet treat will be a new go-to dessert in your recipe repertoire due to its delicious flavor and simple recipe.
A poke cake is a fun and easy way to jazz up a regular cake. By simply poking holes into the cake and adding a filling, additional texture and flavors are added to the cake. With this poke cake, the lemon cake is poked and filled with lemon pie filling. A whipped topping finishes it off for a mouthwatering lemony sweet treat.
It doesn't get any easier than this. Only 3 ingredients and about 2 minutes are all it takes to whip up this sweet treat. It is bursting with tangy lemon flavor and has a silky-smooth texture. This is an easy dessert to impress your family and guests.
It seems like everyone knows, and loves, the Starbucks lemon loaf. Well, now you can make your own at home. The loaf is a moist, delicious lemon cake with fresh lemon juice and an amazing lemon frosting. It is the perfect addition to Sunday brunch or to enjoy as a light snack or zesty dessert.
Creme Brulee always feels like an impressive and elegant dessert. This lemon creme brulee is no different. It is the perfect addition to Summertime dinner parties with its fresh tangy lemon flavors. The creamy lemon custard and crunchy sugar topping are a tasty texture contrast. This sweet treat tastes like sunshine.
These aren't your ordinary marshmallows. This homemade marshmallow recipe is an exciting twist on the traditional marshmallow. Lemon and rosemary flavors combine for a sweet treat that is tart with a touch of savory. These are a must-try to truly appreciate their goodness.
Some of the best lemon desserts are the simplest. The classic sugar cookie gets some zing added to it with lemon zest and lemon juice. The cookies are soft, chewy, and oh-so-good. The lemon frosting adds to the tangy lemon flavor of these delightful cookies.
The lemon tart is a classic, mouthwatering, refined dessert that is wonderful for special occasions. The buttery pastry is filled with lemon custard made from fresh lemons, eggs, cream, and sugar. It is one of the best lemon desserts to include in your recipe files.
This traditional dessert whips up in a snap using a ready-made crust. The filling includes lemon juice, zest, condensed milk, and vanilla. Throw it all together, put it in the freezer until ready to serve, and you've got a tangy, creamy lemon dessert ready to go.
This is a special cake for a special occasion. Fluffy sponge cake layers are brushed with silky limoncello syrup and filled with a thin layer of lemon curd. It is completed with a decadent mascarpone and cream cheese frosting for a show-stopping presentation. This cake is one of the best lemon desserts.
This classic Southern pie is a favorite and a must-try if you've never had it. It is smooth, creamy, and a deliciously tangy lemon dessert. Using fresh lemons for the juice and lemon zest gives it a tart, zesty flavor, while the sugar, butter, and other ingredients help balance the tartness.
Lemon pudding cake is similar to a chocolate lava cake. A delicious lemon cake is topped with lemon pudding and baked. The cake is moist and fluffy, while the lemon pudding is luscious and silky. Together, it is a sweet treat bursting with tangy lemon flavor.
This decadent dessert is full of vibrant flavors. Lemon cheesecake is elevated with colorful and tasty blueberry swirls. The tangy lemon flavors are balanced with the sweet blueberries. It is the perfect addition to summer gatherings or special occasions.
A zesty and delicious dessert, mug cakes are an easy sweet treat to make and fun to enjoy. This homemade cake recipe comes together in under 10 minutes for one of the best lemon desserts. You'll love the individual portion, and you can double or cut the recipe depending on how many of these tasty treats you need. Try topping with whit chocolate chips.
The lemon posset is the perfect addition to a slow summer day. The traditional lemon pudding only has 3 ingredients and is stylishly served in individually sized cups. This elegant dessert is also great to make ahead for special occasions. It will impress your guests with its sophisticated presentation.
This version of lemon cake is a divine creation, unlike the others. The addition of the ricotta cheese adds to the moist, fluffy cake and cuts through the tart lemon flavor. The glaze uses lemon juice and lemon zest, so the lemon flavors complement the cake. It's a simple and delicious recipe great for a special occasion.
This isn't just another cake recipe. Dump cake is a fun alternative to traditional cakes. Lemon curd is on the bottom, while a cream cheese filling is layered over it. Then a dry cake mix is sprinkled over the top, topped with butter, and baked. The entire thing is a sweet treat full of tangy lemon flavor and a delicious way to enjoy lemon cake.
Did you make any of these amazing recipe? Let me know which one you will be making first in the comments.
More recipes with lemon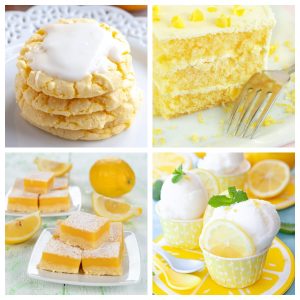 Lemon Desserts
A collection of lemon desserts ranging from lemon pie, lemon bars, lemon cookies, and including this simple lemon pudding.
Ingredients
1

14 ounce

can sweetened condensed milk

1

cup

heavy cream

1/4

cup

fresh squeezed lemon juice
Instructions
In a large bowl whisk together sweetened condensed milk and heavy cream.

Whisk in lemon juice until completely combined.

Cover and chill in the refrigerator for at least 5 hours.
Nutrition
Calories:
406
kcal
|
Carbohydrates:
4
g
|
Protein:
3
g
|
Fat:
43
g
|
Saturated Fat:
27
g
|
Polyunsaturated Fat:
2
g
|
Monounsaturated Fat:
11
g
|
Cholesterol:
135
mg
|
Sodium:
33
mg
|
Potassium:
115
mg
|
Sugar:
4
g
|
Vitamin A:
1751
IU
|
Vitamin C:
1
mg
|
Calcium:
80
mg
|
Iron:
0.1
mg
Nutrition information is automatically calculated, so should only be used as an approximation.
Like this? Leave a comment below!