22 Popular Kool-Aid Flavors
Mar 23, 2022, Updated Apr 15, 2022
Whether you grew up enjoying Kool Aid on a hot summer day or came to appreciate it as a budget beverage loved by kids and adults alike, there are so many reasons to appreciate this powdered drink mix. But with so many Kool Aid flavors out there these days, it might be hard to know which one to try next! That's why we're breaking down over 20 Kool Aid flavors to help you decide which ones to stock up on for summer.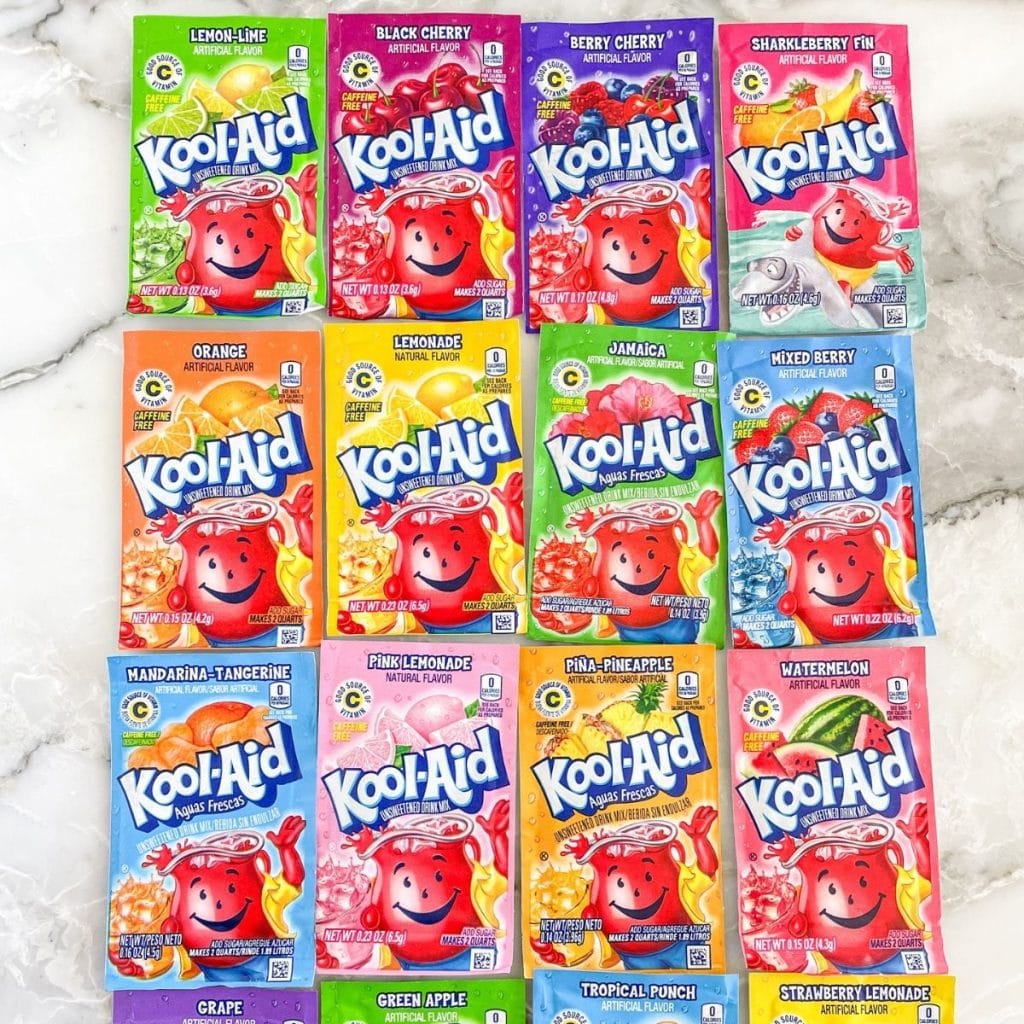 When it comes to tasty drinks beloved by kids and adults alike, it's hard to find a better option than Kool-Aid! This budget beverage is the perfect option to cool you down on a hot summer day. You can drink it in a glass filled with ice, or even make it into a slushie or popsicle.
Plus, who can forget the iconic ads of the Kool-Aid man bursting through a wall to save kids from boring old water or soda? If you grew up in the 90s, those commercials probably hold a special place in your heart. Maybe that's why Kool- Aid has been the official soft drink of Nebraska since 1998!
The original Kool Aid flavors from back then include cherry, orange, strawberry, lemon-lime, raspberry, and grape. But these days, there are so many new different flavors to try! Whether you opt for Kool-Aid Jammers in a Capri-Sun-style pouch or mix it up in a large pitcher like the old days, there are plenty of ways to treat yourself to this classic drink.
What is Kool-Aid
Kool-aid is a powdered drink mix that was created by Edwin Perkins in 1927. He developed it in his mom's kitchen in Nebraska. It became very popular during the Great Depression because it was inexpensive, budget friendly alternative to regular sodas.
1. Tropical Punch
Perhaps one of the best-known Kool Aid flavors, this bright-red beverage is beloved by many! The mix of fruits ranging from cherries to grapes to citruses like orange, lemon, and lime give it a surprising depth. This is the kind of beverage you can drink again and again without ever getting tired of it!
2. Cherry
As one of the original flavors, cherry is still extremely popular amongst Kool Aid fans. The classic taste is perfect for mixing up a big ole pitcher and enjoying with friends and family in the sunshine. When you're looking for a delicious summertime sip, you can't go wrong with this flavor!
3. Blue Raspberry Lemonade
Even if raspberries aren't actually blue, this great flavor is the real deal! Widely considered one of the most popular, the combination of sweet and sour is deliciously drinkable. Plus, who can resist that bright blue color?
4. Strawberry
Another Kool-Aid original, strawberry has just the right amount of sweetness and flavor to make it a fan-favorite since the beginning. It's simple, super-sippable, and has a wonderful pink hue that makes it perfect for mixing up in a big glass pitcher. For a true crowd-pleaser, you can't go wrong with strawberry.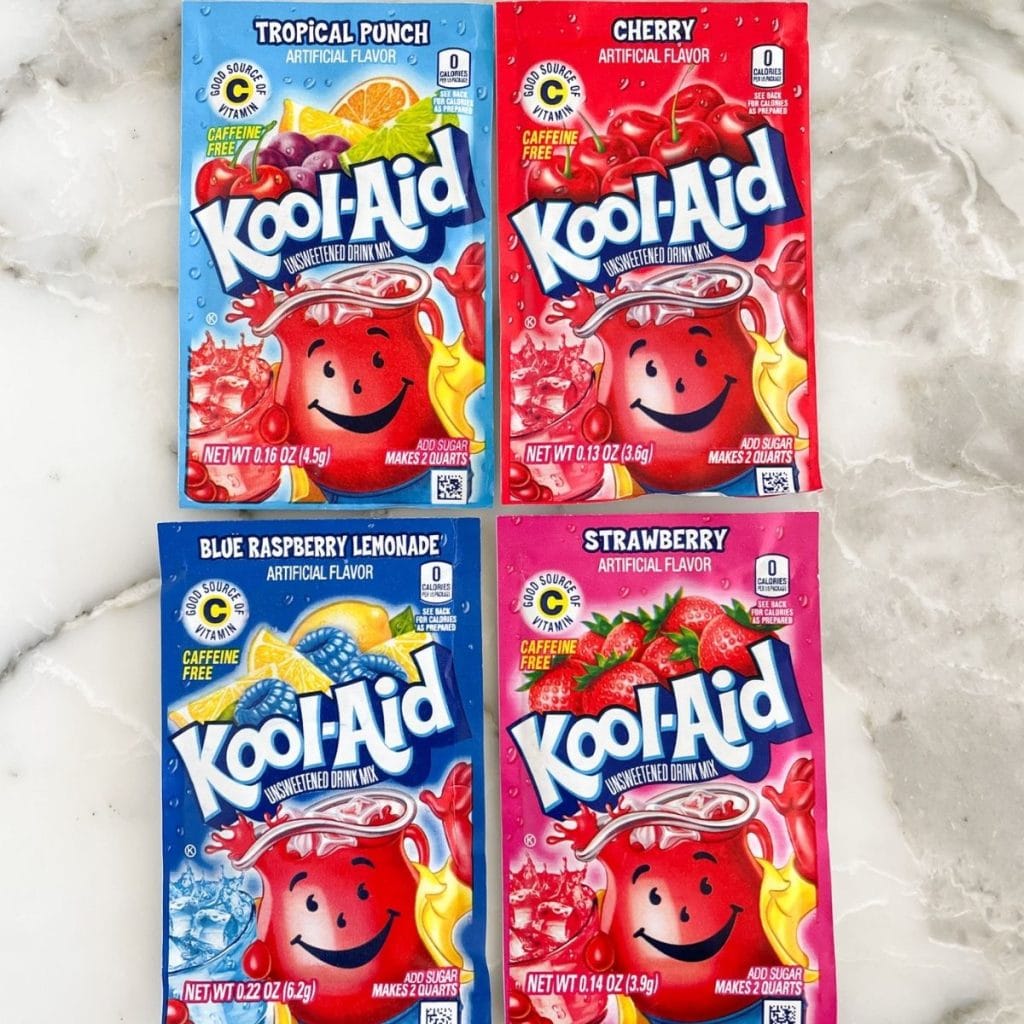 5. Pink Lemonade
Is it just me, or does something about a soft, pink color seem to mellow out sour tastes? One of the several lemonade flavors, it is sweeter than the regular lemonade, but still has just the right amount of tartness that makes you want to go back for sip after sip.
6. Watermelon
This one can be a little tricky to find, but is known for being refreshing with just the right amount of sweetness. Some people even say it tastes like a watermelon Jolly Rancher!
7. Black Cherry
For a deep cherry flavor, some actually prefer this one to plain cherry. The flavor is so nice on its own, many people don't even mix it with sugar! If you're looking for a beverage that tastes amazing and isn't just another soda, black cherry is the flavor for you.
8. Lemonade
Sometimes, you just can't beat a classic. Kool-Aid's lemonade mix is unsweetened, so you can add your desired level of sweetness to balance the tart lemons. The flavor isn't overwhelmingly sour, but instead boasts lovely notes of citrus.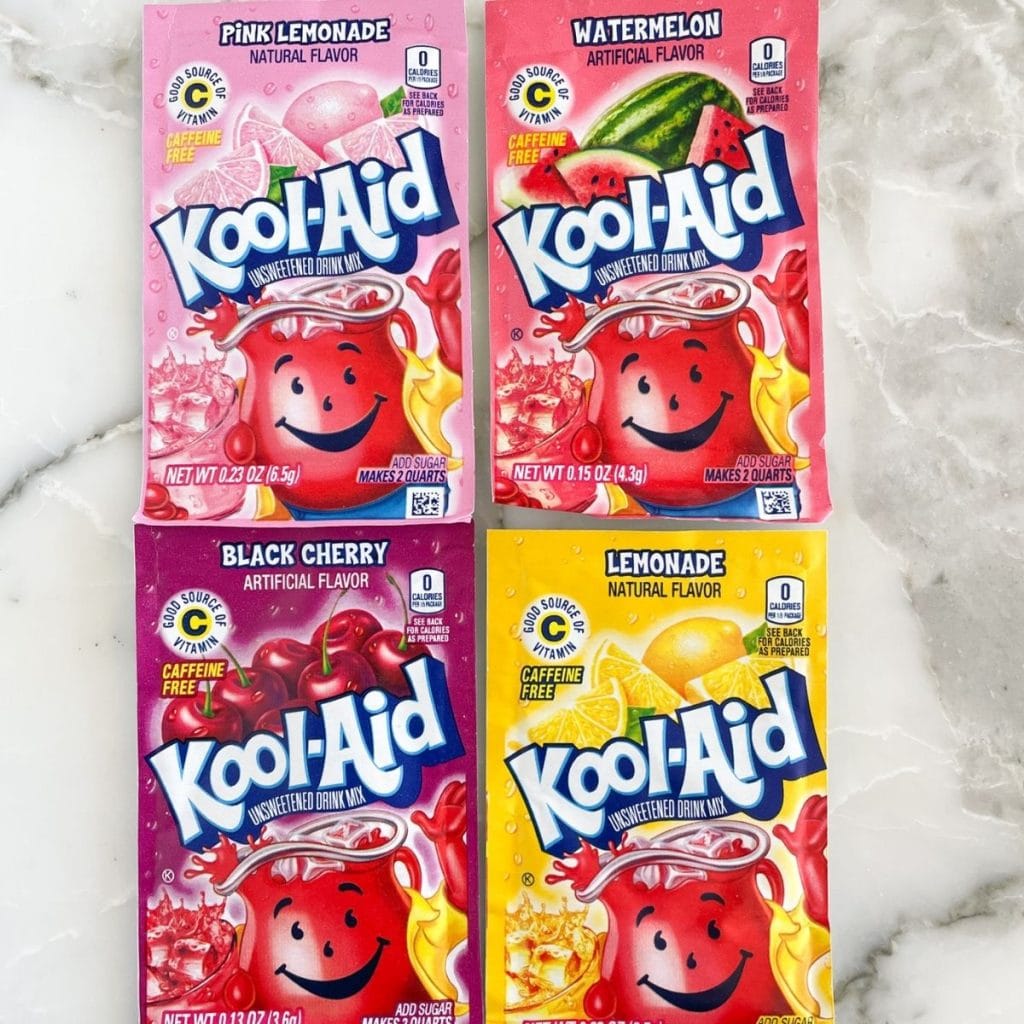 9. Orange
This original flavor packs in plenty of sugar and bright orange color. It's considered an under-rated Kool Aid flavor, and the classic taste may just bring you back to your childhood.
10. Sharkleberry Fin
Despite the name, this mix does not incorporate any huckleberry flavor. Instead, it tastes more like a mix of strawberry and banana, which is delicious for summertime sipping! The box also features a fun graphic of the Kool-Aid man riding a shark that will delight the younger ones.
11. Strawberry Lemonade
The beautiful, bright color is one of the best parts about the strawberry lemonade mix! Unfortunately, of all the lemonade varieties, this one seems to be least favored by Kool-Aid drinkers. It's often described as too sour without any underlying flavor.
12. Aguas Fresca Pina Pineapple
As part of the Aguas Frescas line, you may be surprised that this mix packs in quite a hefty flavor! It's definitely sweet, but you'll love the overt pineapple smell from the moment you open the package. Thanks to the intense taste, it can also be a great mixer for adult cocktails.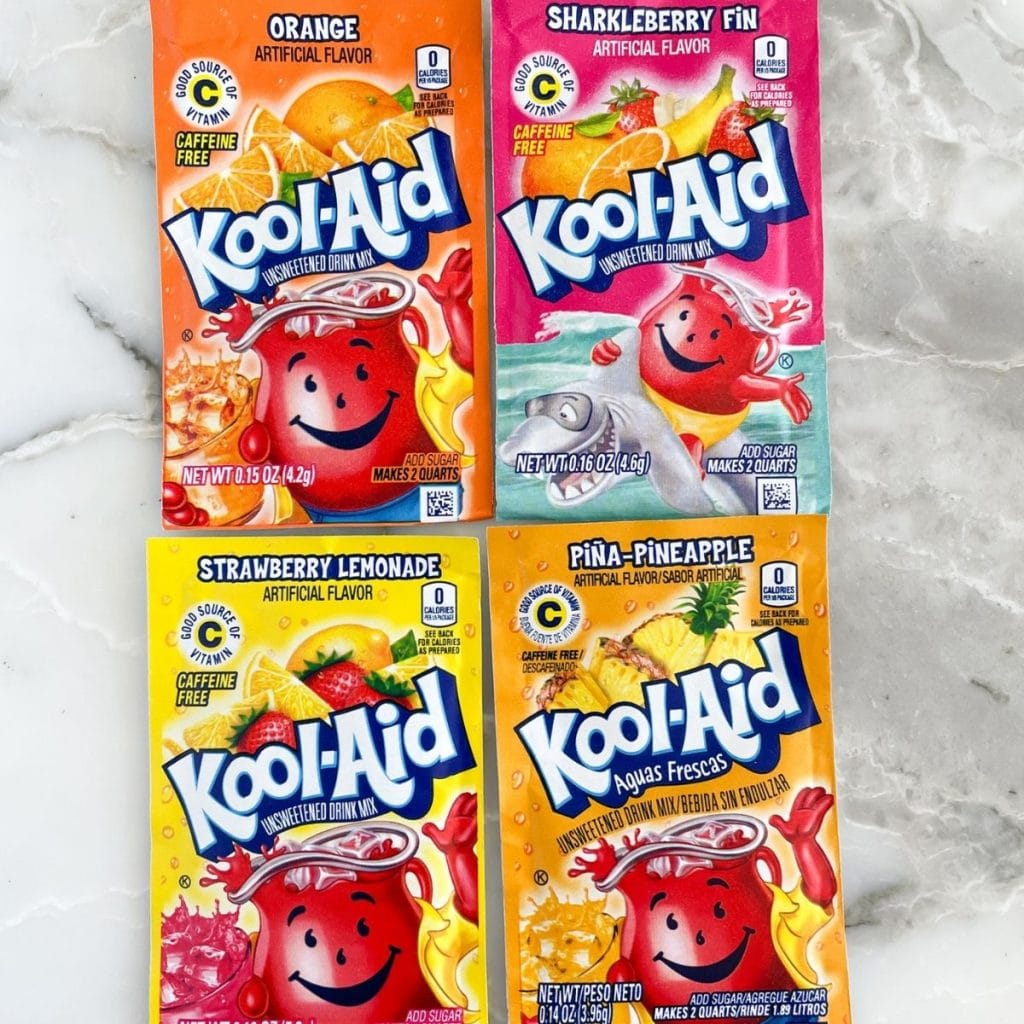 13. Mixed Berry
This flavor tends to be hit-or-miss for Kool-Aid fans. While the packaging shows strawberries and blueberries, it doesn't seem to encapsulate either one very well, verging more into the mysterious "blue raspberry" territory. However, it's still a good back-up if you can't find your usual staple flavor.
14. Berry Cherry
With a lovely pink-red color, this mix definitely has more emphasis on the cherry than the berry. Still, it's a nice blend that looks really pretty in a big pitcher with plenty of ice!
15. Strawberry Kiwi
It's hard to go wrong with this classic fruit pairing! Kool-Aid's version of the most popular Capri-Sun flavor is very refreshing and sweet without being overwhelming. For adults, this is a great one when you want to indulge a little nostalgia.
16. Green Apple
This sour drink will certainly remind you of biting into a granny smith apple! The pucker-inducing flavor has just enough sweetness for a balanced and refreshing drink. It also claims to be a good source of Vitamin C, so you can feel good about enjoying a glass or two!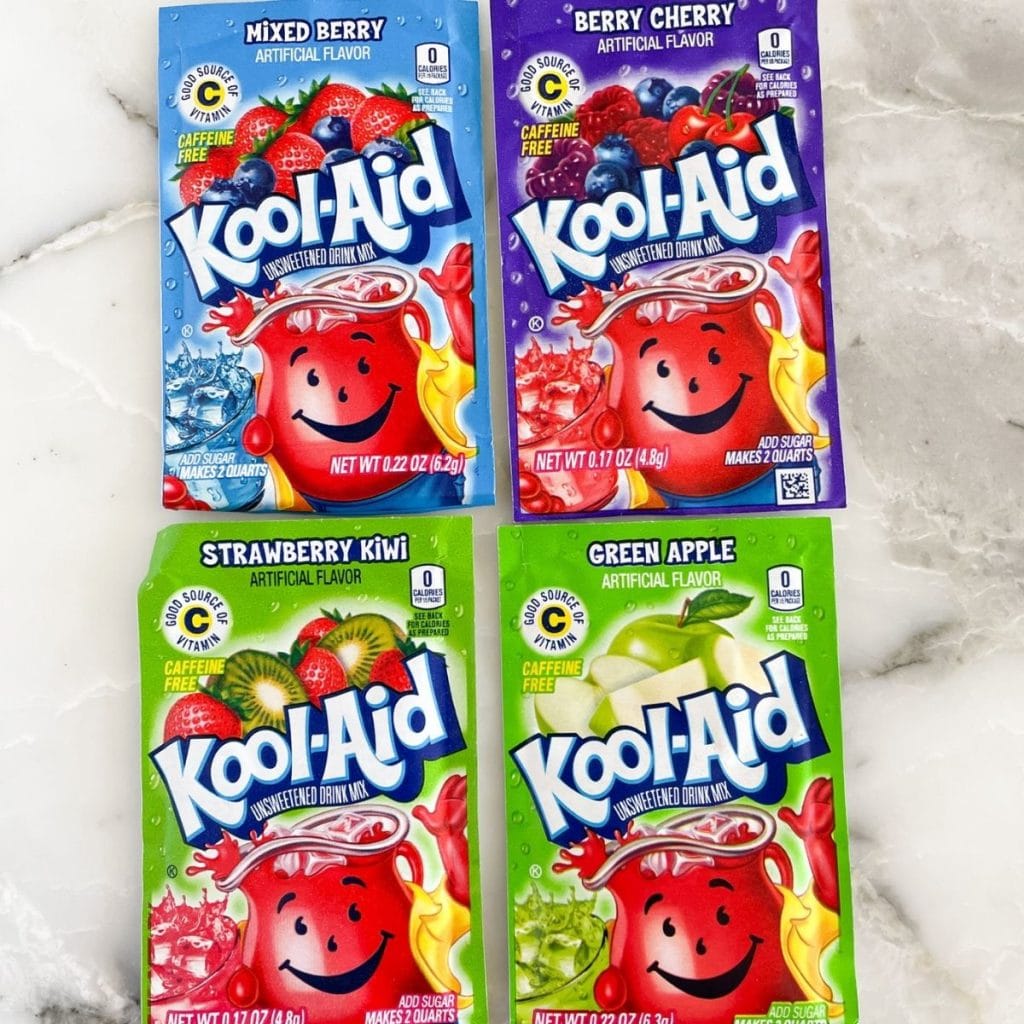 17. Lemon-Lime
From Sprite to Mountain Dew to Squirt and beyond, there's no shortage of lemon-lime drinks on the market. And Kool Aid has done a pretty nice job with their lemon-lime drink mix! It's tart without being overly sour. Some people even say you can use less sugar than the recipe calls for and still enjoy a nice, balanced taste.
18. Peach Mango
What sounds better on a hot day than a ripe, juicy peach or mango? How about mixing them together in the form of this delightful Kool-Aid flavor! This one is not overly-sweet and has a nice orange color when mixed. You'll taste the mango first, followed by a pleasant peach aftertaste. The mango definitely stands out a little more, but all around, this is a pretty universally-liked flavor.
19. Aguas Frescas Mango
If you love mango, you're going to adore this flavor! Some other flavors, while yummy, seem more "inspired by" a fruit than anything else. But the mango Kool-Aid really tastes like the real thing! It's not too sugary and seems to be appreciated by a wide range of Kool-Aid drinkers.
20. Aguas Frescas Mandarina Tangerine
As an Aguas Frescas flavor, this drink mix is intended to be less bold than the original Kool-Aid. However, this leads many people to suggest using two packets instead of one, which kind-of defeats the purpose. It's subtly sweet, a little sour, and is often described as too "watered down" when prepared according to the package directions.
21. Aguas Frescas Jamaica
Another of the Aguas Frescas flavors, this one is intended to taste like hibiscus. While sweet, it has a lighter flavor than a typical punch. Unfortunately, it is not a very popular Kool Aid flavor. It seems Kool Aid really shines when it focuses on full flavors rather than trying to go for subtlety.
22. Grape
The last of the original flavors, this flavor tastes a lot like grape juice. Even though it's one of the common flavors, it's still a favorite.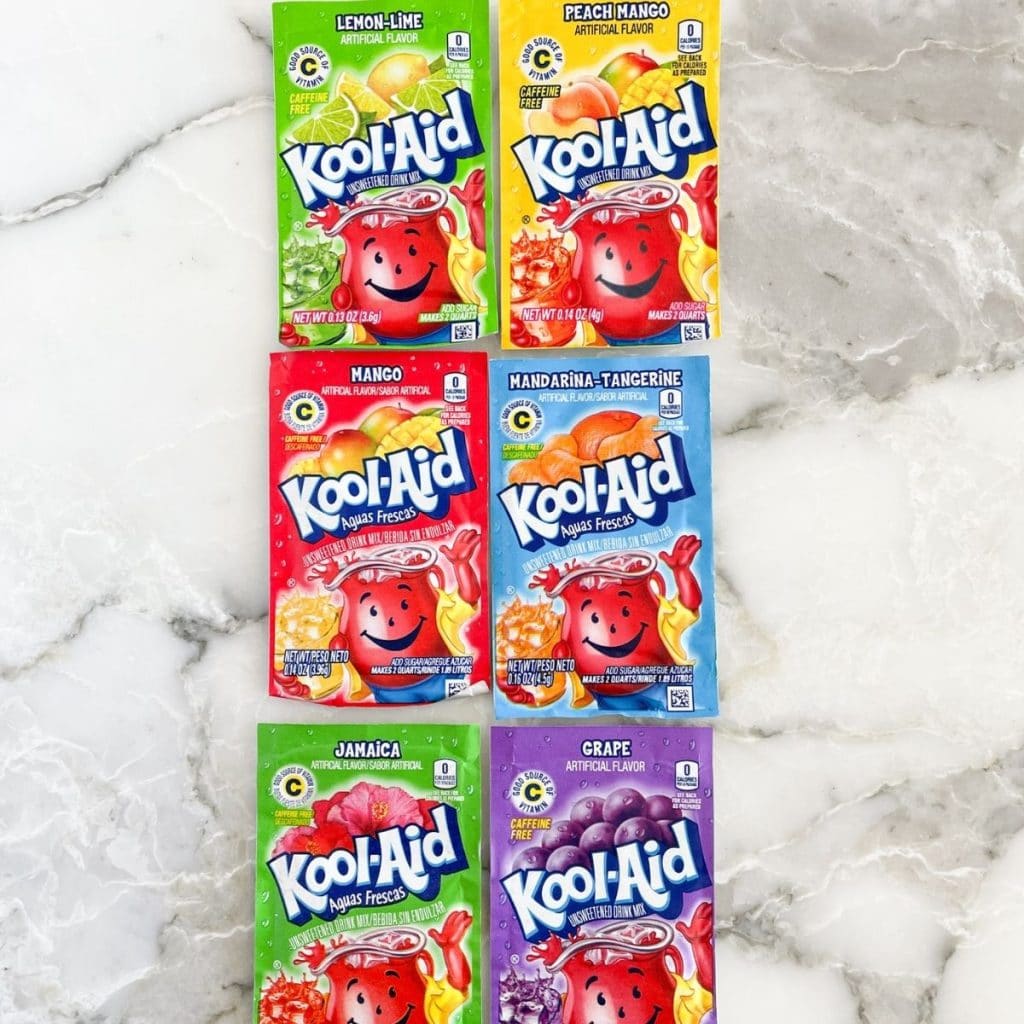 Limited Time Kool-Aid Flavors
Throughout the years Kool-Aid has released special flavors for holidays, promotions, and more. Some of the holiday ones included Scary Black Cherry and Cool Eerie Orange for Halloween.
You might also remember Rock-A-Dile Red, Bedrock Orange, Great Bluedini, Mountain Berry Punch, Ice Blue Raspberry Lemonade and Rainbow Punch as other limited time flavors.