50 Of The Best Appetizers
Sep 06, 2021, Updated Jul 14, 2023
This list of 50 of the best appetizers includes everything from jalapeno poppers, deviled eggs, delicious dip recipes, stuffed mushrooms and so much more. You will find great ideas for delicious finger foods perfect for your next gathering.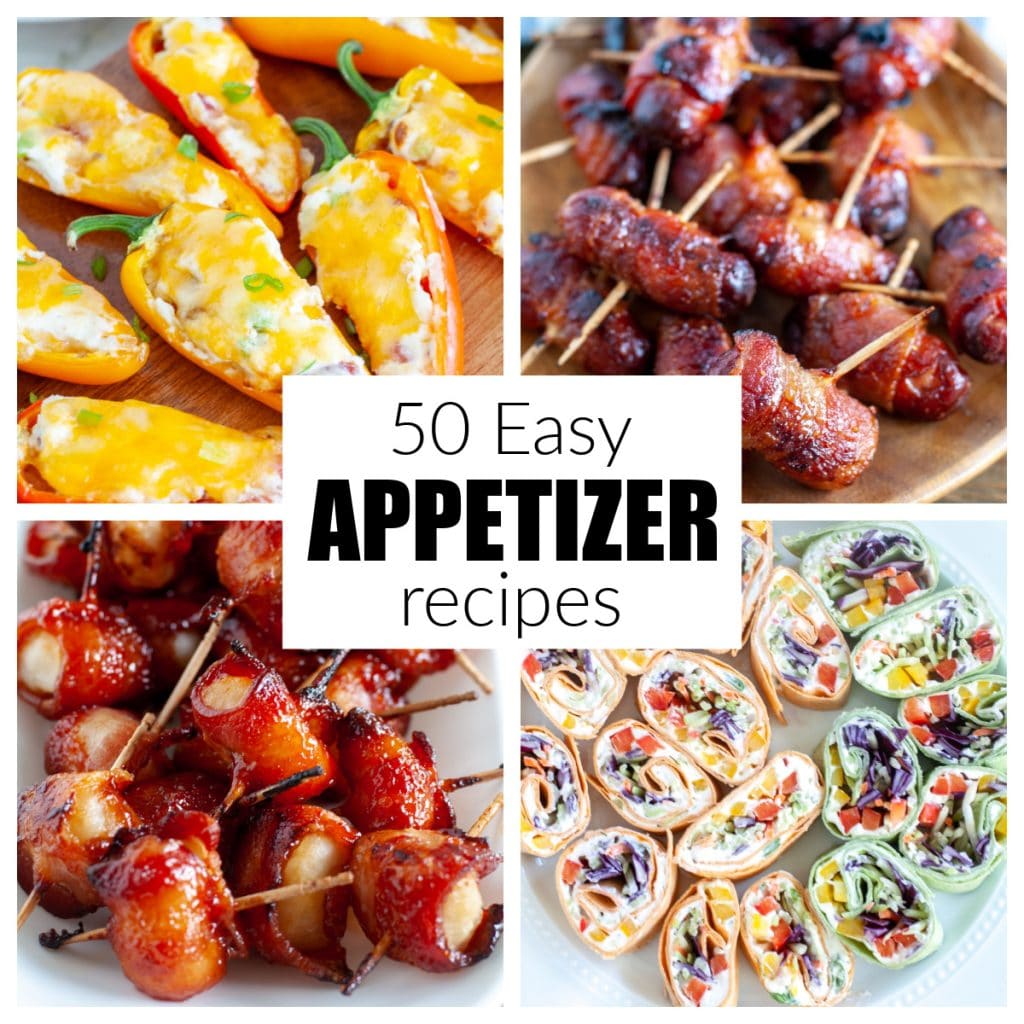 The Best Appetizers
Appetizers are a wonderful way to enjoy many types of tasty party snacks at one time. We often have a dinner of several apps instead of one main meal so that we can try several different recipes at one time.
On this list you will find common appetizers like stuffed mushrooms, deviled eggs and jalapeno poppers to more unique recipes like mini beef wellingtons.
Need some more menu ideas? Check out these other great lists for inspiration.
Let's check out these easy appetizer recipes perfect for your next party or gathering.
This is one appetizer people can't get enough of. Colorful mini peppers are stuffed with a cream cheese, bacon mixture and then topped with melted cheese. Great textures and flavors, this has it all.
Who doesn't love easy appetizers? It doesn't get much easier than these ham and cheese roll-ups. Flour tortillas are filled with ham, cheese and a delicious spread and then rolled to make these fun bites even the kids will love. They are also great to pack for lunch.
Bacon wrapped water chestnuts are one of our all time favorite appetizer recipes. Crunchy water chestnuts are wrapped with bacon and then glazed with a salty sweet sauce and baked until the bacon crisps. These little bites are seriously addicting so you might want to make two batches.
Bacon, cheese, and ranch seasonings make the perfect flavor combination. Add them to a cream cheese dip and you have a winner. Try serving with crackers, chips or cut up vegetables.
This elegant seafood appetizer is something you might expect to order at a restaurant but they are easy to make at home. Mushroom caps are stuffed with an amazing crab mixture and then baked to perfection.
Did you know you can cook little smokies in the air fryer? These mini sausages are wrapped in bacon and then dipped in a little sugar for the perfect combination of sweet and salty. With the help of the air fryer, the cook up fast and the bacon gets nice and crispy.
This is one of the many easy appetizers to make the list. All you need is three ingredients for this simple sausage ball recipe. These are great for a tailgate party on game day or even to serve as breakfast.
Roast beef is combined with cheese and a horseradish spread to make these tasty roll-up appetizer. Next time you are at the deli be sure to pick up some roast beef to try this great recipe.
This is a wonderful holiday appetizer to add to your menu. It can be made in about 15 minutes and is always a huge hit. This easy crostini recipe is topped with apple butter, apple slices, brie, pecans and topped off with honey, yum!
This is another fun holiday appetizer with it's bright red and green colors. Chopped up cranberries are mixed with jalapenos and sugar that is spread on whipped cream cheese to make one of the best dips you have ever tasted.
A rainbow of fresh vegetables are wrapped in tortillas to make this beautiful pinwheel appetizer. This is a veggie lovers dream and can be customized with your favorite vegetables.
If you like a homemade cheese ball you have to try this pineapple pecan cheese ball! This is a savory cream cheese ball that's made with crushed pineapple, onion and pecans.
A mouthful of flavor is how I would describe this shrimp toast recipe. Bite sized toasts are topped with a cheesy shrimp mixture and Cajun spice. These are great to serve for all types of occasions.
These cream cheese wontons or rangoon, are a copycat version of Panda Express. Crispy wontons are folded around a creamy center to make an easy, Asian inspired appetizer. Try serving them with a dipping sauce for extra flavor.
Cocktail meatballs, or party meatballs, make an easy appetizer for a crowd. These can be made in about 30 minutes and can be kept warm in a slow cooker for a party.
Deviled eggs are a classic appetizer served at many holiday and family gatherings. Hard boiled eggs are filled with creamy yolks and topped with a pinch of paprika.
Mac and cheese balls are a delicious restaurant style appetizer. Creamy macaroni and cheese balls are rolled in panko crumbs and fried to crispy perfection.
Have you tried chicken wings in the air fryer? They are so easy to make and turn out with a wonderfully crispy skin and tender meat. Make these into Buffalo wings by tossing in buffalo sauce. Chicken wings are the ultimate gameday snack.
This spanakopita is phyllo dough filled with a cheesy spinach center and then baked to a beautiful golden brown. This is a hearty, filling appetizer that could even be served as a main course.
This is a classic party dip that has been served for years. It's a combination of Knorr vegetable mix, sour cream, mayo, spinach, and crunchy water chestnuts. This dip can be served cold or hot.
A great way to repurpose leftover chicken. This is a creamy, cheesy dip filled with chicken, blue cheese dressing, and buffalo sauce.
Chipped beef dip is a creamy dip that is similar to the chipped beef cheese ball. A tasty appetizer that can be served with chips, crackers, or spread on crostini or toast.
Jalapeno poppers area a fun party appetizer that is popular with guests. Spicy jalapenos are filled with a cream cheese mixture and topped with chopped bacon and crispy panko. You will love these poppers!
Copycat Cheesecake Factory avocado egg rolls taste just like the restaurant version. If you love avocados this is the recipe for you.
Beef Wellington bites are a perfect finger food. Beef tenderloin and chopped mushroom is wrapped in puff pastry and baked until the pastry reaches a golden brown. This recipe is sure to impress!
Need an easy, flavorful snack? Try these ranch flavored pretzels that can be made in the oven or air fryer in about 15 minutes. Great to have on hand for a game night.
Hot sausage beer cheese dip is a delicious, savory dip that is bursting with flavor. Beer cheese is combined with cooked ground sausage to make this yummy dip. Try serving with tortilla chips, corn chips, potato chips or fresh vegetables.
Salty green olives are mixed with cheese and whipped cream cheese to make this easy dip recipe. This is great if you are looking for something a little different that will have your guests asking for the recipe.
This is a seriously easy recipe with just 3 ingredients. Serve with your favorite cut up fresh fruit.
Mini crab cakes are a delicious bite sized version of a meal sized crab cake. Made with lump crab meat and seasonings and lightly fried. Serve these with a simple homemade tartar sauce or cocktail sauce.
These smoked salmon roll-ups with lemon dill spread are such a great appetizer to serve at your next brunch, baby shower, party and more.
Antipasto skewers are a nice cold appetizer that is like a meal on a stick. Use some fresh herbs like basil, tomatoes, cheese, and deli meats to make these simple, yet elegant skewers.
These cucumber bites are a nice, healthier option to serve to guests. A low-carb bite of crunchy cucumber slices topped with a dill cream cheese mixture.
Baked mashed potato bites might just be the perfect finger food. You won't be able to stop at just one of these flavorful small bites.
Is there anything better then hot, gooey cheese? How about fried mozzarella sticks! This fried cheese will remind you of the tasty appetizer that can be ordered at restaurants. Hand breaded mozzarella is deep fried and served with a side of marinara or even ranch.
This goat cheese appetizer is creamy and delicious. The tang of the goat cheese mixed with the sweetness of the fig jam makes for a flavor match made in heaven.
These cranberry brie bites are a great appetizer to serve at the holidays. All you need are 3 simple ingredients to prepare these bite sized snacks.
Everyone loves pizza and these small pizza puffs are no different. Fluffy bites can be easily customized with your favorite pizza toppings. So grab your muffin pan and give these a try.
Crispy fried cheese balls with bits of jalapenos make up these jalapeno popper bites. I recommend making two batches because these always go fast.
Chicken parmesan bites taste just like the classic dinner but in perfect little bites and they are super easy to make. Fried popcorn chicken is covered in a little tomato sauce, melted cheese and that's it.
Honey garlic wings are full of flavor and make a wonderful appetizer.
You might think of these as fancy hors d'oeuvres but they are actually very simple to make. Little pieces of steak top creamy burrata and served on crostini. Beautiful and delicious!
Italian sandwich roll-ups bring all the flavors of a favorite Italian sub to a pinwheel appetizer. Layered with deli meats, cheese and toppings, these are a great snack or can be packed for a delicious lunch option.
These pretzel bites can be cooked up in no time with the help of an air fryer and premade pizza dough. Perfectly poppable, these bites are great served with a cheese sauce or some mustard.
Want to have a low-carb option for your party guests? These Keto pizza cups are just the thing. Crispy pepperoni cups are filled with melted cheese and toppings for a hand-held, low-carb pizza bite.
Cheese logs are an easy, elegant appetizer that work well for many gatherings. Try serving them on a charcuterie board or for a simple wine and cheese night. This garlic and herb cheese log looks gourmet but can be made fast and easy.
Little bites of fried pasta are up next on the list of 50 of the best appetizers. Tortellini are coated in bread crumbs and fried to make the crispy on the outside, soft and cheesy on the inside app.
A super easy, 3 ingredient copycat appetizer. Nacho cheese sauce is perfect for dipping your favorite chips or drizzling over tacos, nachos and more.
Homemade hummus is so amazing and easier to make than you might think. Serve with warm pita bread, pita chips, crackers, even potato chips.
These rattlesnake bites are a copycat of a favorite restaurant appetizer. If you've visited Texas Roadhouse, you might have noticed these bites on the menu. Crispy on the outside with gooey, melted cheese and jalapeno on the inside.
Did you make any of these tasty appetizers? Let me know in the comments.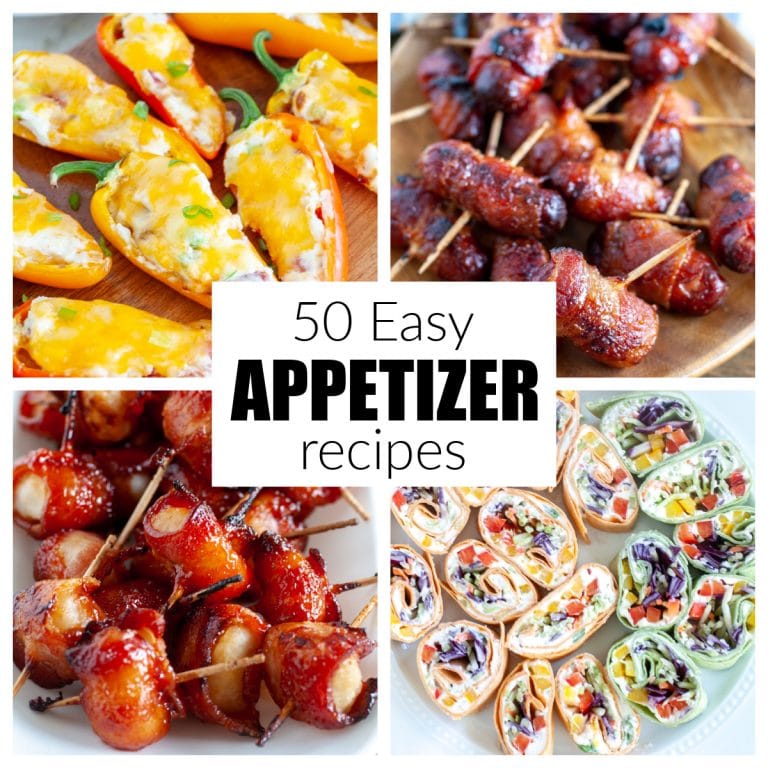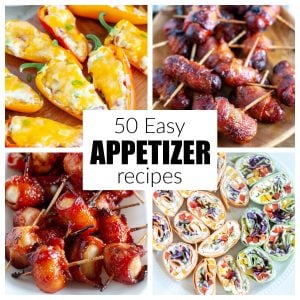 Best Appetizers
Some of the best appetizers to serve at your next gathering. These appetizer recipes range from delicious bites, dips, and more including this easy baked brie.
Ingredients
1

12 ounce

wheel of brie

3

tablespoons

honey

pinch of sea salt
Instructions
Preheat oven to 350 degrees F. Remove brie cheese from wrapping.

Place brie in a baking dish. Bake for 15-20 minutes. Tope with honey and sea salt.
Nutrition
Calories:
32
kcal
|
Carbohydrates:
9
g
|
Protein:
0.1
g
|
Fat:
0.05
g
|
Saturated Fat:
0.03
g
|
Polyunsaturated Fat:
0.002
g
|
Monounsaturated Fat:
0.01
g
|
Cholesterol:
0.2
mg
|
Sodium:
1
mg
|
Potassium:
6
mg
|
Fiber:
0.02
g
|
Sugar:
9
g
|
Vitamin A:
1
IU
|
Vitamin C:
0.1
mg
|
Calcium:
1
mg
|
Iron:
0.04
mg
Nutrition information is automatically calculated, so should only be used as an approximation.
Like this? Leave a comment below!