Easy Substitutes For Thyme
Whether fresh or dried, thyme can add a lot of herbal depth to your cooking. If you've run out right when you need it for a recipe, never fear! We have plenty of substitutes for thyme that you probably already have in your kitchen cupboards.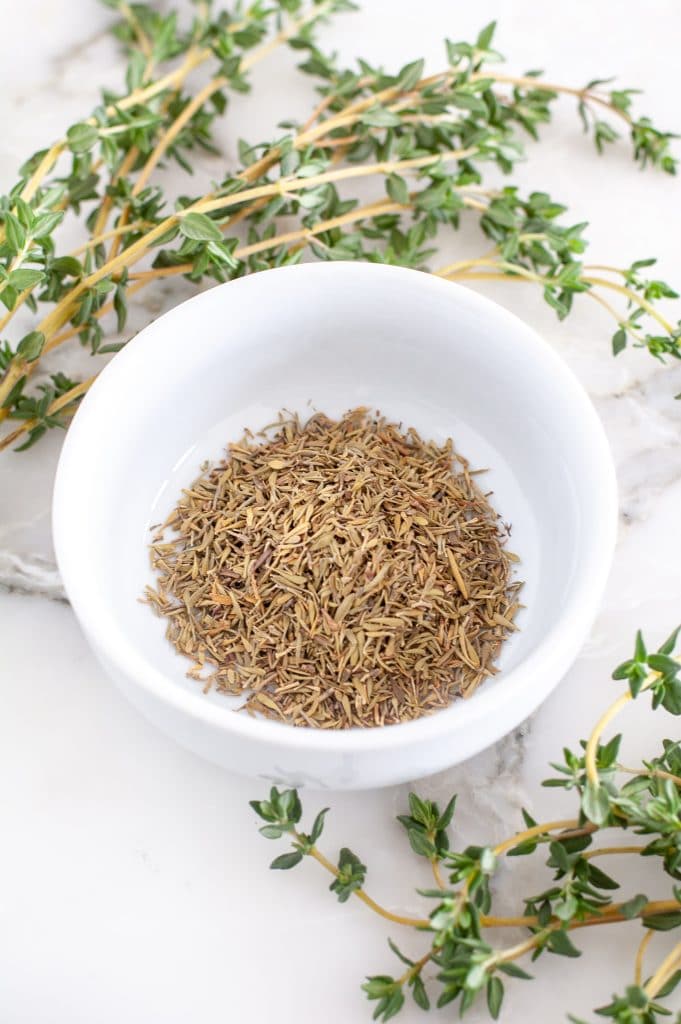 Best substitutes for thyme
Thyme is a delicious, earthy tasting herb used to season many dishes like this bread dipping oil, but there are occasions when it might not be readily available.
Switching out one herb for another works, as long as you choose two that have closely matching flavors. In our experience, these herbs are the best substitutes for thyme: Rosemary, Marjoram, Oregano, Basil, Herbs De Provence and Savory.
Rosemary
In many parts of the country, Rosemary bushes grow year-round in urban neighborhoods. You might be able to take a walk and snag a sprig to substitute for thyme! Rosemary has a more pungent flavor than thyme when fresh, so use a little bit less than the recipe calls for. Dried rosemary can be substituted 1 for 1.
Marjoram
With its lovely piney and citrus scent, marjoram can fill many of the same roles as thyme. It's not quite as savory as thyme, but it will add a bright hint to soups, stews, salad dressings, or herb marinades. Dried marjoram keeps well, and is great to have on hand.
Oregano
Dried oregano is often more pungent and delicious than fresh oregano, so it's one of our staple kitchen herbs. It's featured heavily in Italian cuisine, and lends its strongly savory herbal flavor to pizzas, pastas, and sauces. Compared to thyme, it has a very similar — but more concentrated — flavor and aroma.
Basil
Keeping a basil plant in your kitchen windowsill can give you delicious aromatic leaves all year round. When dried, basil will take on a darker, woodsier tone that matches well with dried thyme. Our favorite is the common sweet basil, because it has an agreeable flavor and aroma that works well in most cuisines.
Herbs de Provence
Why substitute just one herb, when you could use a whole handful? Herbs de Provence is a blend that contains everything from savory, to marjoram, rosemary, thyme, oregano, and lavender. Individual blends will vary depending on the producer, but they make an excellent substitute for thyme in any grilled foods, stews, or marinades.
Savory
Also known as savoury, this plant can come from either annual or perennial plants from the same species. Summer savory is the most commonly used version, and is used across Canada for the same purposes as sage is in the United States. Substituted for thyme, it will give a sweet, delicate flavor that blends well with French dishes.
What does thyme taste like?
As you might expect from one of the kitchen's most famous culinary herbs, thyme's primary flavor is intensely herbal. These green, woody, and grassy tones make up a large portion of the aroma and flavor, but they're also accented by citrus and floral notes. To really amp up the citrus flavor, you can also choose a cultivar called lemon thyme, named for its powerful lemon peel aroma.
Can you substitute fresh thyme for dried?
Yes, you can substitute fresh for dried thyme in a recipe. Dried herbs have a more concentrated flavor than fresh, so you will want to use about one-third to one-fourth the amount. Example, if your recipe calls for a tablespoon of freshy thyme you will replace it with one teaspoon of dried thyme.
Recipes using thyme