50 Best Dinner Ideas For Tonight
Jun 21, 2022, Updated Jul 28, 2023
Feel like you're stuck in a meal rut? Not anymore! We've got 50 dinner ideas for tonight to put some fun back into your weekly menu. Enjoy classics like meatloaf and burgers, treat yourself to comfort foods with buffalo chicken pasta and southern fried chicken, or try something totally new with taco mac and cheese or a pizza bowl! No matter what you're in the mood for, you're sure to find a dish or two (or ten) on this list that will make you look forward to dinner again.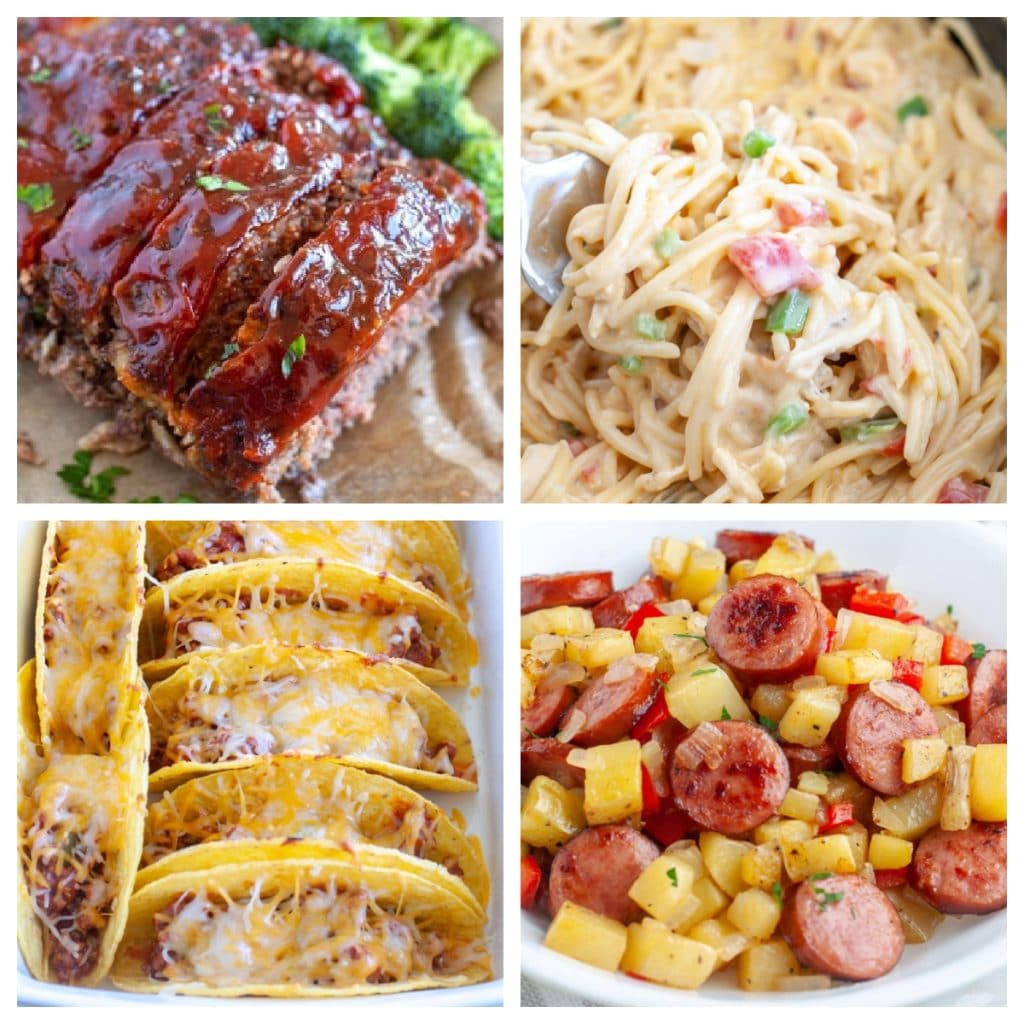 We all know what it's like to get stuck in a meal rut. No matter how tasty the dishes are, if you make them too many times, they start to lose their appeal. That's why we put together 50 dinner ideas for tonight to bring some excitement back to your table!
Craving comfort food? Try the meatloaf, French bread pizza, or chicken nuggets. Looking for something on the classier side? Lemon baked fish or one pot coconut chicken curry will do the trick. In the mood for big flavor? Taco mac and cheese or orange chicken are sure to satisfy!
Whether you're looking for easy dinners to make on busy weeknights, simple meals that even picky eaters will enjoy, or a creative dish the whole family can share, we've got you covered. This collection of easy dinner recipes has something for everyone!
If you've never tried making meatloaf in the air fryer, you're never going to want to have it any other way again! Perfectly moist on the inside with an amazing crust on the outside and a crave worthy sauce to top it all off.
Easy baked meatballs use common ingredients for a tasty weeknight dinner that's simple to prep. They're juicy, full of flavor, and perfect to enjoy on their own, over your favorite noodles, or stuffed in a hoagie!
Would you believe this mouth-watering meal can be ready in under an hour? Pork tenderloin is a family-friendly meal and an easy weeknight dinner that roasts in the oven for delicious, tender meat. It also makes fantastic leftovers!
Not only is this a super fast way to make pork chops, but it also might be one of the best! By baking pork chops at 375 degrees F, you can keep them tender and juicy and be ready to serve in under half an hour.
Get all the flavors you crave in the crustless convenience of a bowl! This is the kind of easy dinner the whole family is sure to love, and it's ready in just 15 minutes. That's definitely faster than delivery!
Treat the whole family to a simple dish that's bursting with flavor. Hearty sausage, tender potatoes, and earthy veggies come together for a delicious skillet dinner that's sure to satisfy a crowd.
Bring a little bit of Louisiana to the dinner table tonight! This copycat Popeye's recipe includes creamy, smoky red beans topped with fluffy white rice that can be a tasty side or filling main dish.
A quick meal, even picky eaters will go crazy for this recipe! Let everyone make their own pie for family pizza night with these customizable French bread pizzas. Pile on the toppings, throw it all in the oven, and dig in!
Did you say comfort food? This one gets the job done! Beef, potatoes, and veggies cooked in a savory beef broth makes for a big bowl of cozy. It's one of the best ways to warm up when the temperatures drop outside!
This casserole is the kind of mouthwatering meal that will keep you coming back again and again. A mixture of sour cream and cottage cheese, ground beef, and egg noodles is sure to satisfy even the biggest of appetites.
Ditch the grill and whip up these tasty patties right in the oven! Roast them at 400 degrees F for juicy burgers that are ready in just 15 minutes. The secret behind the flavor is just the right mixture of seasonings.
You're going to love this Texas Roadhouse Chili copycat recipe! Treat the whole family to a big, cozy bowl of beef chili with plenty of shredded cheese and a generous dollop of whipped cream on top.
As long as you have tortillas, chicken, cheese, and some Taco Bell quesadilla sauce, you have everything you need to make this Taco Bell chicken quesadilla copycat recipe without even needing to go through the drive-thru!
Have you ever used the CrockPot to make spaghetti? It's super easy and turns out so creamy and flavorful! If you're looking for an easy chicken recipe, it doesn't get much better than a set-it-and-forget-it slow cooker dish!
Tubular pasta mixed with Italian sausage and creamy cheese is a warm, delicious meal that's packed with comfort. It's great to make ahead of time, and the leftovers taste even better the next day!
Does it get any more classic than grilled cheese? This one is so simple, even the kids can make it! The bread is toasted to crispy, golden perfection and topped with your favorite kind of melted cheese.
What a fun family meal! The easy sloppy Joe filling is baked right into the taco shells and covered with melted cheese. Top with sour cream, avocados, shredded lettuce, or even some pickled jalapeños!
This creative twist on lasagna is easy, cheesy, and always a crowd-pleaser. Use refrigerated or frozen ravioli and jarred sauce for an easy dinner that's perfect for feeding the family on busy weeknights!
Who wouldn't crave a delicious casserole stuffed with chicken, pasta, cheese, and buffalo sauce? This is a great recipe if you have some leftover shredded or rotisserie chicken you don't want to go to waste!
Treat the family to this hearty combination of cheese, ground beef, carrots, broccoli, and rice. Don't let the veggies scare you, this one is loved by even picky eaters. My kids actually call it hamburger casserole!
Seasoned ground beef and tender macaroni noodles in a creamy sauce topped with plenty of melted cheese is a necessary addition to any dinner rotation! Enjoy all the flavors of a philly cheesesteak in pasta form.
When it comes to comfort, nothing beats fried chicken. The crunchy exterior and moist chicken on the inside is simply divine. Of course, good fried chicken takes time, so save this one for when you're not in a rush. It's worth it!
This 30-minute easy recipe features a mouthwatering creamy sauce made with white wine, lemon juice, and plenty of garlic. Mushrooms and pasta make it a hearty, satisfying vegetarian meal.
Can you believe this delicious dish can be ready in just 15 minutes? Toss together the cilantro lime slaw while the fish is in the air fryer, assemble your tacos, add any desired toppings, and you're ready to serve!
This creamy tomato sauce is so good, you won't believe how easy it is to make from scratch! Toss with seafood, spices, and pasta for an Italian-inspired meal bursting with wonderfully bold flavors.
Thanks to shortcut ingredients like a gravy packet and cream of mushroom soup, this classic comfort food comes together with minimal prep. This recipe is especially good for anyone that likes the flavor of mushrooms but doesn't want to eat big chunks of them!
The kicker behind this recipe is the tantalizing homemade sweet and sticky sauce. Tossed with juicy chicken, broccoli, red peppers, and onions, it's perfect to serve with noodles or over some rice!
Making homemade ground beef enchiladas has never been so easy! You only need 5 ingredients for a budget-friendly meal that's packed with flavor. Who can resist all that melty cheese on top?
Get all the flavor and texture of slow-cooked pork in a fraction of the time thanks to the electric pressure cooker. This Instant Pot recipe can be served on a bun with coleslaw and pickles, stuff it into some shells for Taco Tuesday, or enjoy it as-is! This pulled pork also makes great leftovers.
If you look up "crowd-pleasing" in the dictionary, you'll find a picture of chicken nuggets. And these homemade bites are tender, juicy, and so easy to make! The secret behind the flavor is the pickle juice marinade.
Oven-baked fish sticks are covered in breadcrumbs and baked to crispy, tender, flaky perfection. This easy dinner recipe is kid-approved and also makes a great appetizer or game day snack!
Shredded chicken and bacon tossed in a creamy ranch mixture and served over a bed of penne noodles is going to be an instant family favorite! Best of all, this entire dish comes together in one pot.
Get all the flavors you crave from a Shrimp Po' Boy sandwich in the form of pasta salad with cream remoulade dressing! This dish is downright addicting and sure to be the hit of every summer picnic or backyard cookout.
This recipe tastes just like the homemade soup Grandma used to make when you were sick, but only takes a fraction of the time! It makes a big batch, so you can store half in the freezer for a rainy day.
Who could say no to Italian meats, cheese, and vegetables all rolled up in a crispy cheesy crust? It's basically a deluxe pizza in burrito form! Use store bought pizza dough for a quick weeknight meal.
White fish cooked in a delicious lemon garlic butter sauce until perfectly tender and flaky is a 20-minute dinner recipe you'll want to make all the time! It's impressive enough to serve to guests but easy enough to whip up on a weeknight.
A mixture of ground beef, tomato sauce, and rice is stuffed into bell peppers, topped with plenty of cheese, and baked until hot and melty! It's a hearty meal that's fun to assemble and even more fun to eat.
Ditch the hoagie roll and enjoy all the cozy comfort you crave in the form of this easy, cheesy bake! Not only is this hearty meal ready in 30 minutes, but it's also gluten-free, low-carb, and keto-friendly.
If you've always assumed curry takes a long time to make, this recipe will change your mind in absolutely delicious fashion! Pair with rice or naan bread for a wonderful Indian-inspired meal.
This mashup of cozy comfort foods is guaranteed to become an instant family favorite. The perfect mixture of seasoned ground beef, cheese, pasta, and all your favorite toppings is ready in less than 30 minutes.
The Italian-seasoned baby potatoes, colorful veggies, and juicy chicken sausage roast together on one pan for the ultimate no-fuss healthy dinner! It's also a fantastic recipe to use for meal prep.
These juicy bites cook to absolute perfection thanks to the magic of the air fryer! Salt and soy sauce help tenderize the meat while the air fryer gives the outside a caramelized crust that makes them irresistible.
Did you know you can make tender, fall-off-the-bone, delicious baby back ribs right in the oven? They're so easy and turn out beautifully every time! And unlike grilling, you don't have to babysit them. Just toss them in the oven until they're done!
There's no need for takeout when you can whip up this healthy yet oh-so-tasty orange chicken right at home! Tender, juicy, and bursting with flavor, this copycat orange chicken recipe can be ready in under 10 minutes.
Tender, juicy chicken breasts roast in a mouthwatering parmesan cream sauce made with sun dried tomatoes and fresh basil for a dish that lives up to its name! For how rich it is, it's hard to believe it's so easy to make.
Love lasagna but don't want to spend hours making it? All you need are lasagna noodles, ground beef, marinara sauce, ricotta, and parmesan for a shortcut recipe that tastes every bit as amazing as the authentic version!
This dish just screams comfort food. Ground beef, cream of mushroom soup, frozen veggies, cheese, and tater tots come together for an easy dinner recipe your family will go absolutely crazy for!
For an easy, creamy, utterly delicious meal that can be made fast and will be devoured even faster, this pasta dish is one you have to try! How can you go wrong with noodles, chicken, and plenty of cheese?
When you need to get dinner on the table fast, this one-pot recipe is here to save the day! Chicken and rice casserole is loaded with broccoli and enough cheese to convince anyone to eat their veggies.
Cook the chuck roast in the slow cooker with butter, a package of ranch dressing mix, "au jus" gravy mix, and pepperoncini peppers for a fork-tender, melt-in-your-mouth pot roast you'll come back to again and again!
More Easy Recipes
Which one of these amazing recipes are you going to try for dinner tonight? Let me know in the comments.
More Recipes You Will Love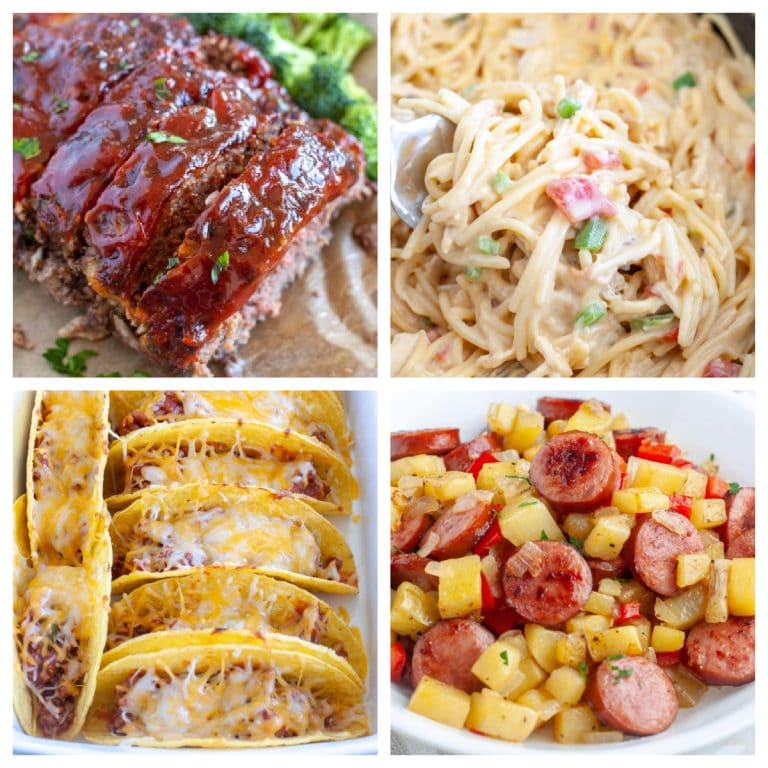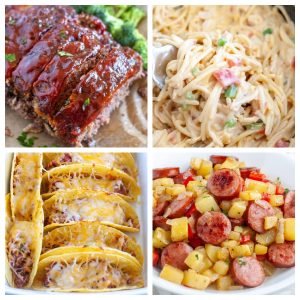 Dinner Ideas For Tonight
A group of 50 amazing dinner recipes to try tonight. This list includes a wide variety of delicious meals including this super simple gnocchi with sausage.
Ingredients
1

lb

ground Italian sausage

1

lb

potato gnocchi

2

cups

marinara sauce

1/4

cup

grated parmesan cheese
Instructions
Cook Italian sausage in a large skillet over medium heat. Make sure to break sausage apart and cook until browned.

Pour in marinara sauce and simmer for 5 minutes.

While sausage is cooking, boil a pot of water and cook gnocchi according to package directions.

Drain gnocchi, pour into sauce mixture and toss to coat. Top with parmesan cheese.
Nutrition
Calories:
632
kcal
|
Carbohydrates:
48
g
|
Protein:
24
g
|
Fat:
39
g
|
Saturated Fat:
14
g
|
Polyunsaturated Fat:
5
g
|
Monounsaturated Fat:
17
g
|
Cholesterol:
92
mg
|
Sodium:
1903
mg
|
Potassium:
662
mg
|
Fiber:
4
g
|
Sugar:
4
g
|
Vitamin A:
584
IU
|
Vitamin C:
11
mg
|
Calcium:
115
mg
|
Iron:
7
mg
Nutrition information is automatically calculated, so should only be used as an approximation.
Like this? Leave a comment below!