20 Easy Leftover Chili Recipes
Aug 14, 2021, Updated Oct 31, 2023
Have leftover chili? This list of 20 leftover chili recipes will help you take your chili to the next level.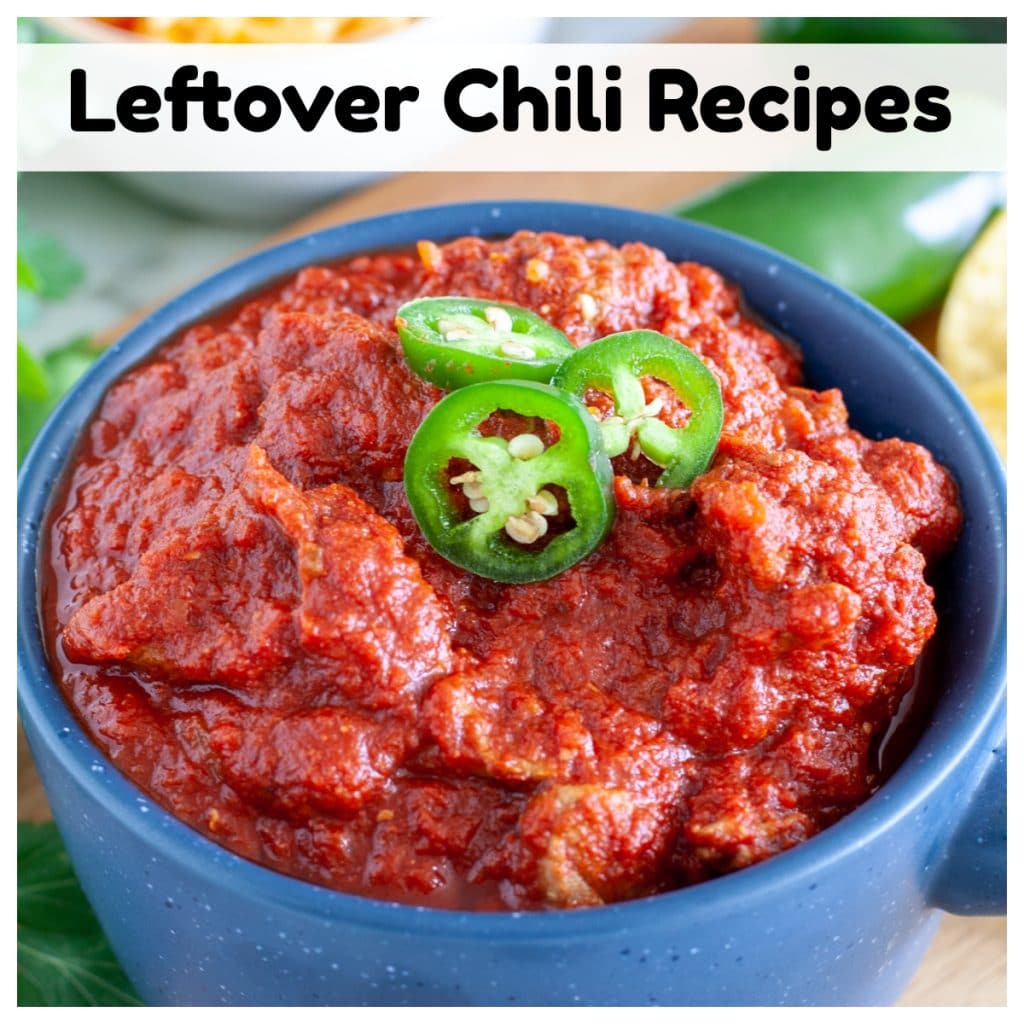 Hearty chili is the ultimate comfort food. It's so warm, delicious and a great meal for a crowd, especially if you make it in the crockpot. Even though I feel like I could eat the whole pot myself, there seems to always be leftovers.
If you don't feel like freezing what you have left, these recipe are sure to inspire ways you can transform your chili into a whole new meal.
So what can you do with leftover chili? Chili eggs to chili stuffed zucchini, keep reading for these incredible 20 ways to use leftover chili.
Chili stuffed sweet potatoes is one of our favorite meals. Warm chili over a baked sweet potato and topped with sour cream.
Chili mac is a popular and delicious way to use leftover chili. Mix up chili, elbow macaroni and cheese for a meal that everyone will love. And if you're feeling really adventurous, add a few sliced jalapenos for extra heat.
This dish is made of spaghetti pasta topped with chili leftovers, smothered in cheddar cheese and onions. Meaty and delicious, this is a some serious comfort food.
Hearty red potatoes are combine with leftover chili, cheddar cheese and green onions and baked in a casserole dish for this dinner recipe.
These burritos are made with a warm flour tortilla wrapped around chili, rice, cheese and some other favorites like guacamole, sour cream and salsa. Serve these burritos with a side of tortilla chips for better than take out meal.
What's the best way to make a hot dog better? Chili of course! Top hot dogs with leftover chili, cheese and onions for a tasty meal.
Bell peppers stuffed with chili and topped with melted Monterey Jack cheese is an easy meal to make.
Cornbread is layered with chili and cheese to make this savory pie. This recipe can be made in a cast iron skillet or casserole dish. Poke holes in the cornbread to let the chili goodness mix into the bread.
Having a tailgate party or just want a fun and easy dinner, chili cheese bean dip is a great option. Grab your tortilla chips or corn chips for this amazing, filling dip recipe.
Chili replaces a classic lasagna meat sauce in this tasty pasta dish. Add a side salad to make this a complete meal. This Tex-Mex take on lasagna is a recipe you will want to make again and again.
You could make this recipe with tater tots or french fries, either way this is a fun way to use leftovers. These could be made in the oven or air fryer for a fun, dinner the whole family will love.
Leftover over chili for breakfast, yes please. Baked eggs are paired with chili leftovers for a filling, hearty breakfast. You could also make this into a delicious breakfast bowl using scrambled eggs.
Similar to the baked sweet potato, this recipe uses a fluffy baked potato that's stuffed with chili and topped with some melted cheese, green onion and sour cream.
Crispy potato skins are filled with chili to make a fun, filling appetizer or meal. Serve these at your next party to wow your guests or as a simple meal at home.
Forget chicken and waffles, chili and waffles is what's for dinner. Cornbread batter is cooked in a waffle iron to make the perfect base for some leftover chili.
These Tex-Mex enchiladas are so good and an easy way to incorporate leftover chili. Cheese enchiladas are topped with chili and extra cheese and baked to perfection.
There is something about a sloppy joe that really hits the spot. Chili is sandwiched between a toasted bun for a classic, crave-worthy dish.
Next time you roast a spaghetti squash, try stuffing it with chili and topping with jalapenos and corn chips. Make it with a meaty chili or a vegetarian version depending on your taste.
Looking for a low-carb option? These zucchini boats are the recipe for you. Hollowed out zucchini is stuffed with chili leftovers and topped with melted cheese.
Sweet cornbread chili casserole is baked together in a casserole dish for one tasty combination. This casserole is so easy to make and can be ready to go in under an hour.
Do you have any other ways you like to use leftovers? Let me know in the comments.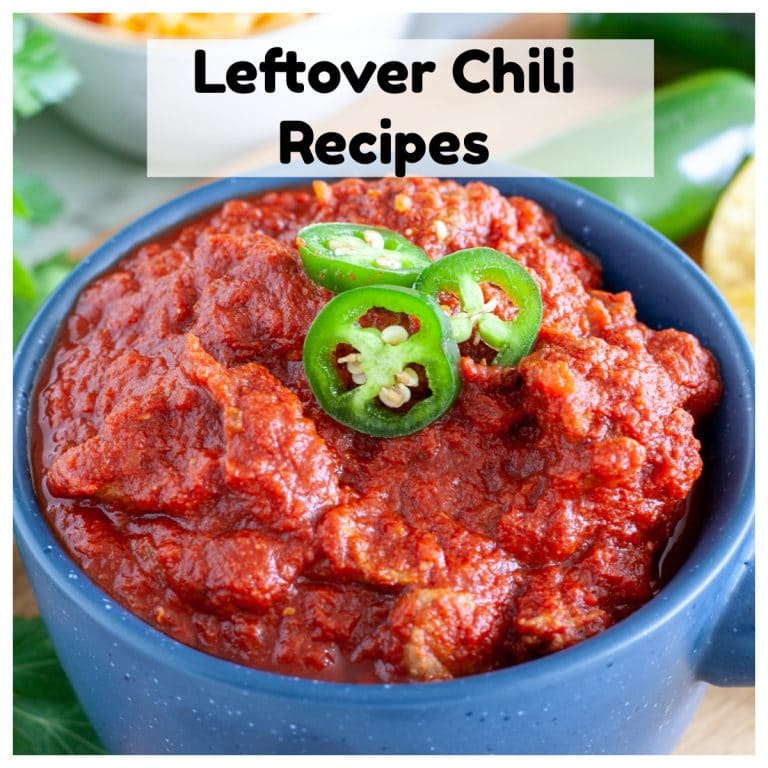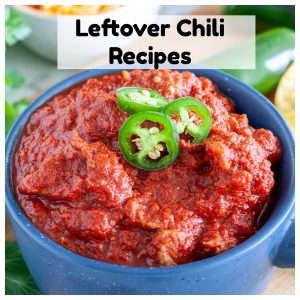 Leftover Chili Recipes
A collection of 20 leftover chili recipes that will help you transform your leftovers into a new meal.
Instructions
Reheat Chili
You can reheat chili in the microwave in a microwave safe dish for 2-3 minutes. You can also reheat it on the stove over medium heat for about 5 minutes or until heated through.
Nutrition
Calories:
143
kcal
|
Carbohydrates:
15
g
|
Protein:
7
g
|
Fat:
7
g
|
Saturated Fat:
3
g
|
Polyunsaturated Fat:
1
g
|
Monounsaturated Fat:
3
g
|
Cholesterol:
22
mg
|
Sodium:
668
mg
|
Potassium:
467
mg
|
Fiber:
6
g
|
Sugar:
2
g
|
Vitamin A:
431
IU
|
Vitamin C:
2
mg
|
Calcium:
60
mg
|
Iron:
4
mg
Nutrition information is automatically calculated, so should only be used as an approximation.
Like this? Leave a comment below!