36 Leftover Chicken Recipes
Sep 02, 2021, Updated Sep 09, 2022
This list of leftover chicken recipes will help turn last night's chicken into another amazing meal. Everything from chicken pasta recipes, chicken and rice, casseroles and much more, there is sure to be a recipe on this list that will get you excited to use leftovers.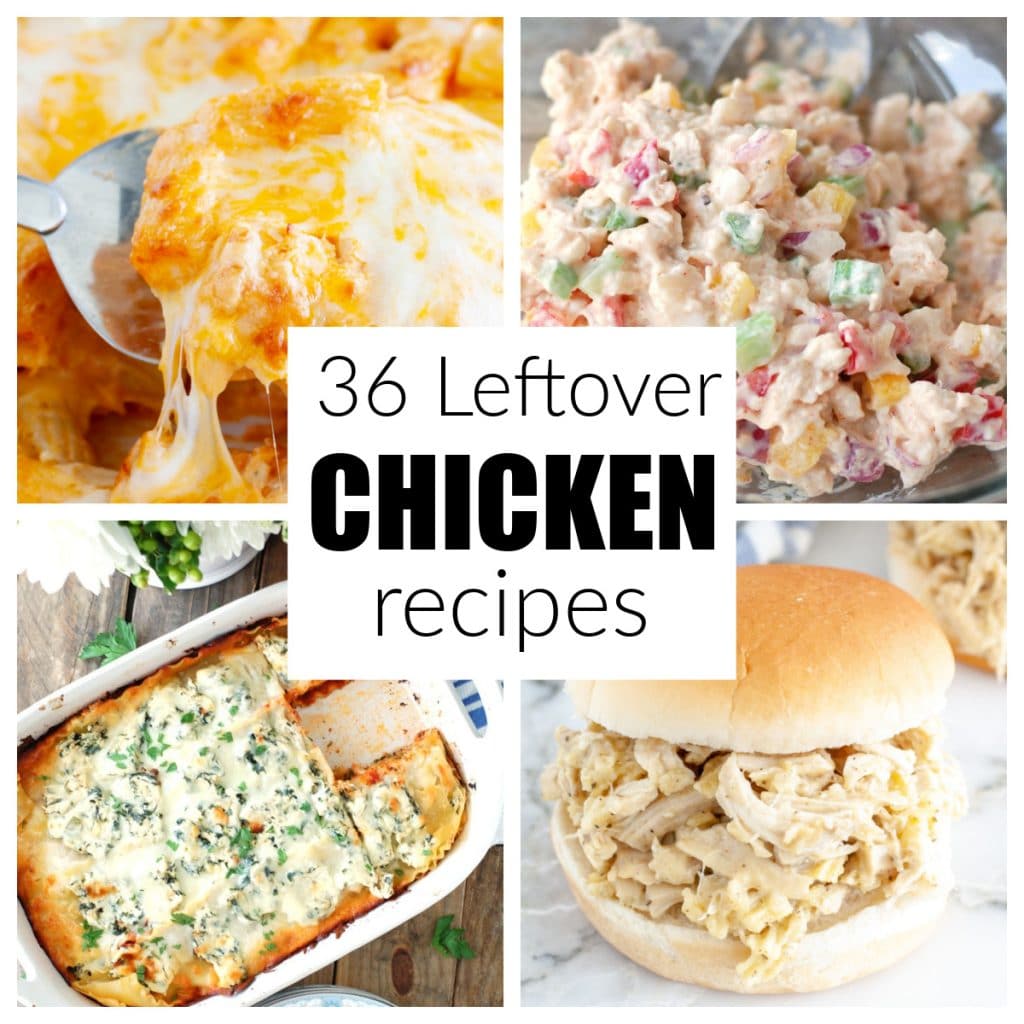 Asking yourself what to do with leftover chicken? These easy leftover chicken recipes show many different ways to use leftover meat and are all full of flavor and most can be made in about 30 minutes.
If you are using leftover rotisserie chicken, be sure not to throw out the bones, use them for homemade leftover rotisserie chicken broth. So much better than the broth you get in the cans!
Surprise your family with a fresh, new chicken dish on busy weeknights or as a delicious weekend meal. Check out these 36 easy recipes that use leftover cooked chicken.
Move over Italian sausage, this lasagna is made with shredded leftover chicken. This recipe calls for traditional, hearty tomato sauce, spinach and cheese for this twist on classic lasagna.
This is a tasty copycat Taco Bell chicken quesadilla recipe. Quesadilla sauce is spread on a flour tortilla and topped with leftover rotisserie chicken or roast chicken and cheese for a simple, restaurant style meal. You can have this dinner ready to serve in about 15 minutes.
These classic shredded chicken sandwiches are a traditional recipe from Ohio. They are popular at family gatherings, drive-in's and local restaurants. Made with shredded chicken, crushed crackers or chips and a creamy soup base, these warm sandwiches are a must try. You can't get much easier than this simple recipe.
Comfort food at it's best! Crockpot chicken spaghetti combines chicken, lots of cheese, tomatoes with chilis and of course spaghetti for a crockpot meal that is sure to put a smile on everyone's face.
Chicken empanadas are a great semi-homemade dish and are so much better than the frozen ones at the grocery store. Made with leftover chicken, a refrigerated pie crust and a few more simple ingredients, these empanadas come together in no time. Serve them as an appetizer or a main dish. They pair well with homemade guacamole and salsa.
This chicken pot pie soup is so creamy and delicious. It's a classic meal in soup form. Shredded chicken with a mixture of vegetables, potatoes and that unforgettable creamy chicken pot pie base. This soup is wonderful to serve on a cold evening. Try pairing with crusty bread or biscuits and a salad.
Tetrazzini is another classic recipe made with leftover meat, peas, mushrooms, pasta and a delicious, creamy homemade sauce. The perfect way to repurpose leftovers and makes a wonderful meal. Try serving with a side salad for a complete dinner. Everyone will enjoy this family favorite.
A chicken and rice recipe you will want to make over and over. An easy and comforting dinner made with simple ingredients like rice, chicken, cheese and veggies.
A cozy and hearty dish that is an easy weeknight meal.
Normally stroganoff is made with strips of beef but this recipes swaps the beef for chicken. Mushrooms, shredded chicken and a creamy sauce come together to make this flavorful stroganoff. So simple to make, it's perfect for a quick weeknight meal.
Try using leftover rotisserie chicken to make this amazing, Asian inspired Thai salad. A fresh, crunchy salad made with chicken, coleslaw mix, peppers, nuts, cilantro and topped with a delicious peanut dressing, this salad can be made in about 20 minutes.
Chicken and broccoli casserole is a budget friendly recipe that the whole family will enjoy. A great way to sneak in those green vegetables, not to mention it's really easy to make especially with the help of leftover chicken.
If you enjoy buffalo sauce this recipe is for you! This cheesy baked pasta takes flavor to the next level with buffalo chicken. It can be made ahead of time and cooked later if you are short on time. This really is so simple to make. You will be coming back for seconds of this chicken pasta dish.
Here is another wonderful leftover chicken with pasta recipe that's sure to impress. Chicken, black beans and corn are mixed together with pasta, cheese and Rotel to form this Tex-Mex inspired pasta casserole. Try topping with a little pico de gallo for added fiesta flavor. This casserole is great to serve to a hungry crowd.
Use refrigerated pie crusts and shredded chicken to make this ultimate comfort food, classic chicken pot pie. A flakey crust is filled with peas, carrots, corn and chicken, this pot pie can be made fast and easy. There won't be anything left of this delicious chicken dinner recipe.
Say goodbye to a boring, cold sandwich. These warm slider sandwiches are filled with chicken, pesto sauce and melted mozzarella cheese. Bake them together in a casserole dish and then pull them apart to serve.
When you picture chili you might think of the ground beef version but this white chicken chili has a creamy base and is filled with delicious seasonings, chicken, white beans and more. Try adding topping with extra cheddar cheese, crunchy chips and diced avocado.
An easy, fast meal that's great for a busy weeknight.
Want a fun family dinner, or something to snack on while watching a game? Try these easy totchos! These recipe is so simple to make with cooked tator tots that are covered with buffalo chicken, cheese, ranch dressing, and toppings. A great cooked chicken recipe!
A fun and tasty twist on mac and cheese. Need a change from your average cheese and pasta? Try this chicken, bacon, ranch mac and cheese recipe. A delicious casserole that everyone will enjoy.
Tex-Mex inspired chicken and cheese enchiladas with a homemade sauce are always a hit with the family. Roasted chicken is mixed with black beans and shredded cheese to make the incredible center of the enchiladas. After the mixture is rolled in flour tortillas, the enchiladas are then covered with more cheese, sauce and baked to perfection. Try serving with seasoned rice, refried beans, a simple salad or a corn salad.
One of the most simple things to make with leftovers is chicken salad. This spicy version includes a hint of cayenne to add a little heat to the cold salad. Filled with lots of vegetables, chicken and a creamy dressing, this is great to make for lunch for the week. Serve this chicken salad on sandwich bread, a flakey croissant or on a bed of lettuce for a low-carb option.
Think crab cakes but with chicken. Chicken croquettes are lightly fried so they are perfectly crunchy on the outside while staying hot and tender on the inside. This is a kid friendly recipe that is sure to be a success. Serve this with a dipping sauce and side dish for a great dinner.
Reinvent your leftover chicken with this one pot biryani rice dish. Filled with fragrant curry spices, rice and chicken, this Indian meal is a must try.
If you love pizza you will love this great meal. Get dinner on the table in no time with this flatbread pizza. This is a super simple meal that is easily customizable with so many possibilities.
Creamy chicken gnocchi soup is an Olive Garden copycat recipe. Soft gnocchi, veggies and chicken make up this creamy soup. Bring the restaurant to your home in about 30 minutes.
Forget calling for take-out, you can make delicious chicken fried rice easily at home. A wonderful way to use leftover chicken and leftover white rice, this recipe incorporates fresh veggies, soy sauce and spices.
Try serving with a soup or egg rolls for a better than restaurant meal.
Chicken Caesar pasta salad highlights an easy and oh so delicious, Caesar dressing. Use leftover chicken with pasta and lettuce as a base for this amazing dressing.
Tacos are one of my favorite ways to use leftovers! This no stress recipe is easy enough for a weeknight and fun enough for a weekend. Great for a crowd, this recipe has been pinned more than 2 million times! It's a must try!
It will feel like Thanksgiving with this stuffing bake. A yummy baked casserole with tender chicken, stuffing mix, broccoli and cheese. Perfect for a cold night, this casserole has it all.
Transform leftovers with this yummy leftover chicken pasta dinner. This recipe uses simple ingredients you probably already have. Cheesy pasta and chicken combine for this easy meal.
Creamy alfredo sauce is paired with cheese, chicken and rolled up in lasagna noodles. These rich roll-ups are topped off with more cheese and baked for a dish that is sure to make it on your menu more than once.
No need for frozen, you can whip up these chicken taquitos in no time. Chicken, spices, and cream cheese is combined to make the perfect filling for these baked taquitos. Serve them with salsa, guacamole and sour cream for dipping.
Roast chicken curry is such a great way to use leftovers. Packed with amazing curry flavor and chicken, this is a surprisingly easy dish to make.
Another easy one pot chicken dinner. This creamy orzo dish has similar flavors to chicken noodle soup and has diced carrots, onions, celery. A warm, tasty dish that's always a hit.
A hearty casserole filled with chicken, cubed hash brown potatoes, vegetables and top with french onions. This meal is filling and also makes great leftovers for the next day.
Dinner doesn't get much easier than these burrito bowls. Fill a bowl with rice and add your leftover chicken and burrito toppings like guacamole and crunchy tortilla strips. They are easy to customize with all of your favorites.
Top with an easy, creamy salsa ranch dressing for added deliciousness.
Shredded chicken is coated with buffalo sauce to make these amazing wraps. Fill them with your favorite ranch dressing, lettuce, cheese and tomato for a filling meal. These are great to pack for lunch or make for an easy dinner.
Remember, don't throw away any extra chicken from the night before. There are so many ways to use it for another lunch or dinner.
Did you try any of these chicken recipes? Let me know in the comments.
If you love leftovers, be sure to check out this list of leftover recipes: leftover pulled pork recipes and leftover chili recipes.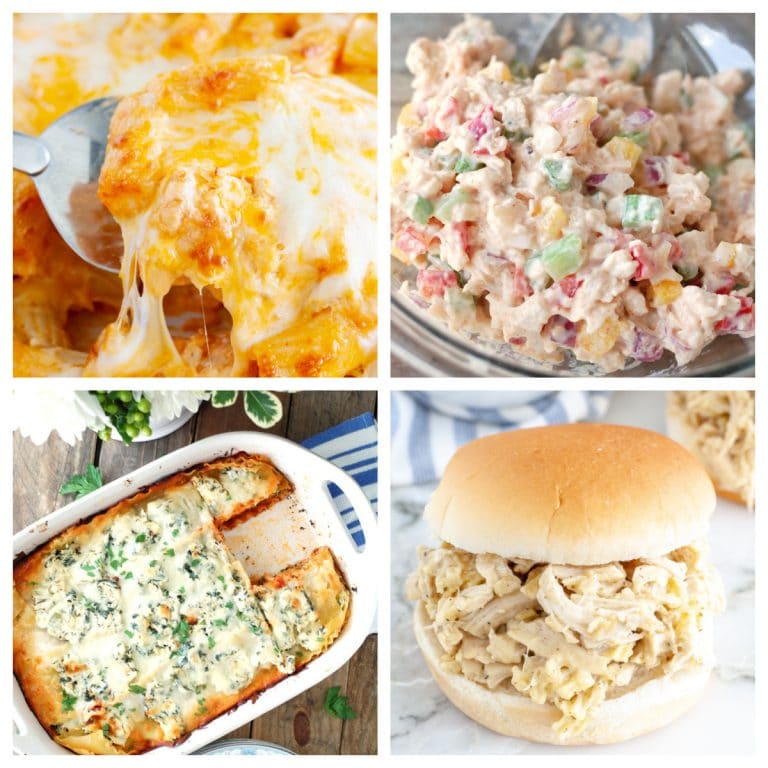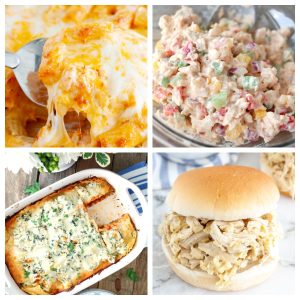 Leftover Chicken Recipes
Have leftover chicken? Try one of these simple and delicious chicken recipes that use leftover chicken.
Ingredients
1-2

cups

leftover chicken
Instructions
Choose one of the chicken recipes.

Gather ingredients and prepare recipe according to instructions.
Nutrition
Calories:
61
kcal
|
Protein:
5
g
|
Fat:
4
g
|
Saturated Fat:
1
g
|
Polyunsaturated Fat:
1
g
|
Monounsaturated Fat:
2
g
|
Trans Fat:
0.03
g
|
Cholesterol:
21
mg
|
Sodium:
20
mg
|
Potassium:
53
mg
|
Vitamin A:
40
IU
|
Vitamin C:
0.5
mg
|
Calcium:
3
mg
|
Iron:
0.3
mg
Nutrition information is automatically calculated, so should only be used as an approximation.
Like this? Leave a comment below!