36 Best BBQ Recipes For Your Cookout
Grilling season is upon us, and it's time to make the most of it with these delicious BBQ recipes.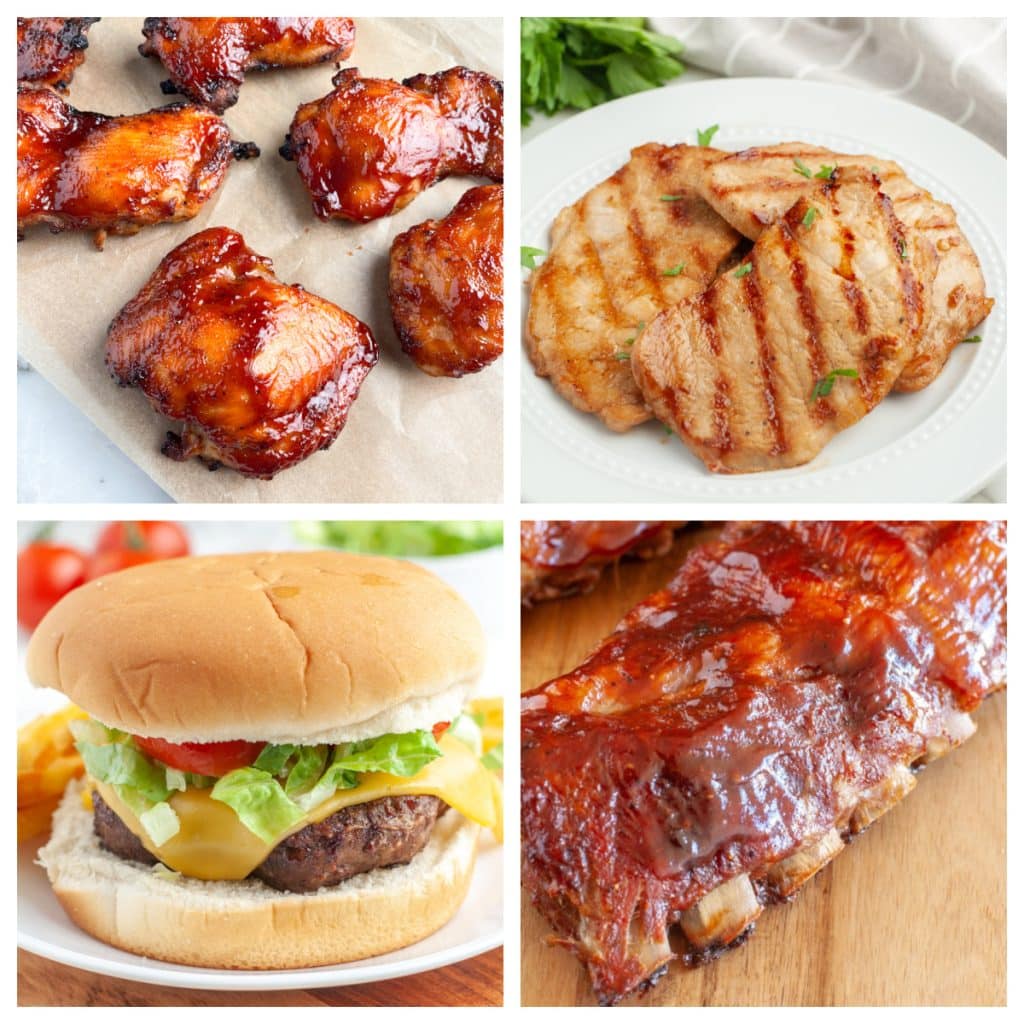 Cooking over an open flame is in our DNA and produces some of the best foods. The smoky flavors and crunchy char from the grill create irresistible tastiness in many ways.
It's time to put on your grilling cap and invite your friends and family over because you are about to wow them with your culinary prowess. The next backyard BBQ will be the best yet with these tantalizing BBQ food ideas.
Be sure to check out these BBQ side dishes to serve with your main course.
When it comes to barbecue recipes, marinades are just as vital as meats, veggies, and sides. A quality marinade can turn a boring piece of meat into a spectacular explosion of flavor. That is exactly what this enchanting marinade does for juicy grilled pork chops.
The flavors of BBQ sauce are an enticing blend unique to the culinary world. They are a mouthwatering fusion of flavor that elevates everything it is used on. BBQ chicken thighs are juicy, tender, and a sublime dish. The sauce is combined with a dry rub to create a delicious dish for any backyard BBQ.
Nothing says backyard BBQ quite like grilled chicken. The succulent chicken takes a brine bath before being grilled. It is finished with tangy BBQ sauce for a crowd-pleasing, finger-licking, awe-inspiring culinary delight. This is a must-have BBQ recipe.
These grilled flank steaks are next-level delicious due to the intoxicating marinade. This is such an easy recipe that yields incredibly flavorful, juicy steak. Grilled meat is the best meat, and this steak is so good you may not want any side dishes.
Is it even a backyard BBQ if there aren't baked beans? As far as barbecue recipes go, baked beans are as classic as they come. This easy recipe takes it up a notch and creates a meal unto itself. It is packed with ground beef, vegetables, beans, and those savory hickory flavors. This Southern recipe is sure to be a new family favorite and a must for your next cookout.
Just as a marinade can transform meats and vegetables, so does a quality dry rub. This BBQ dry rub is easy to make with your pantry spices. It creates a dynamic flavor profile to take your meal to the next level simply and cost-effectively.
Grilled pork chops are an easy barbeque recipe to execute and are delicious. A quality marinade gives them wonderful flavors that please the taste buds. Then grilling them cooks them quickly, making this a fabulous recipe for busy summer nights.
Throwing a rack of ribs on the BBQ is grilling at its best. One of the quintessential backyard BBQ main dishes, this recipe will knock your socks off. Seasoned baby back ribs are grilled and covered in a delectable boom sauce. These ribs are a finger-licking delicious treat.
There is nothing quite like a homemade BBQ hamburger. One of summertime's favorite meals, this barbecue recipe is a gourmet burger at its finest. It has everything: sweet, smokey, tangy, crispy, and juicy. Forget takeout and make this exceptional burger today.
A backyard BBQ isn't complete without fresh corn. When corn is grilled, it brings out its natural flavors and gives it that tasty chargrilled flavor. This barbecue recipe slathers the corn in tantalizing garlic butter before grilling it to perfection. It's the perfect side to any grilled meat.
Give your backyard BBQ an Asian flare with these grilled short ribs. The short ribs are marinated in a flavor-packed Asian sauce before hitting the grill. These ribs are juicy, savory, and downright delightful.
This is a fabulous barbeque recipe for vegetarians and tofu lovers. They are easy to throw together and have an incredible flavor profile. The sweetness from the pineapple and the savory flavor from the marinated tofu complement each other. A tangy coconut sauce is made for dipping these delectable skewers in.
If you have not tried a beer can chicken on the grill yet, take this as your sign it's time. The chicken comes out so succulent, juicy, and tender. The skin is covered in a magical spice blend and gets nice and crispy on the grill. This is a must-try barbeque recipe.
Make taco night extra special with this barbecue recipe. Flank steak is marinated and grilled for the juiciest steak tacos. Throw some tortillas on the grill and top with avocado, cilantro, and salsa for the ultimate steak taco. Whether it's taco Tuesday or the weekend, this recipe never disappoints.
These burgers are next-level delicious. A unique and tasty barbecue recipe will wow your guests and turn your next backyard BBQ into a burger mania. From the burger mixture to the spiced rub to the BBQ sauce, this delicious burger will become everyone's favorite.
This recipe is the beautiful mashup of a traditional Cantonese sweet and savory barbecue pork and traditional grilled chicken. The marinade for the pork is used on chicken thighs and legs and grilled. The result is juicy, tender, flavorful BBQ chicken unlike any you have ever had.
These aren't the good old plain hot dogs the kids love. This barbecue recipe is an up-leveled version with a dynamite sauce and a secret way to grill the dogs. I don't think you can have a backyard BBQ without hot dogs, and this is an impressive dish everyone will relish.
Make your next backyard BBQ a little extra impressive with perfectly grilled salmon. This is a wonderful summertime dish, and this recipe will help you get it just right. Pair with grilled vegetables for a complete, stylish meal.
Simple, elegant, healthy, and delightful all sum up this barbeque recipe. Succulent shrimp are grilled and basted with a divine BBQ sauce and honey mixture. The result is incredibly irresistible shrimp that are tender and juicy.
Kabobs are such a fun way to enjoy a backyard BBQ. These steak kabobs have a seductive rosemary and garlic marinade for a heavenly taste. With cherry tomatoes and baby potatoes, these steak kabobs are a big hit with the whole family.
Low and slow is the name of the game for out-of-this-world, juicy brisket. This barbecue recipe gives step-by-step instructions for juicy, tender, and delicious Texas-style brisket. This is what backyard BBQ dreams are made of.
Cooking pork tenderloin on the grill is a great way to get exquisitely cooked pork. This recipe will blow you away with its amazing flavors. The pork is dry-rubbed and then marinated in BBQ sauce before being grilled. The result is a flavorful, juicy, and tender pork tenderloin.
There are a lot of different BBQ sauce recipes out there, and they are not all created equally. This one is a favorite with its dynamite flavors and thick, sticky texture. It takes your favorite grilled foods from good to amazing.
Move over hot wings, BBQ wings are here. If you are a wing lover, you must try these amazing wings. Covered in a homemade BBQ sauce, this is a barbecue recipe worth saving. The wings are perfectly crispy and tangy for a magical wing-eating experience.
Say Aloha to this inspiring barbecue recipe. Huli Huli is a Hawaiian sweet and savory teriyaki-style sauce known for its pure deliciousness. Chicken is marinated in the alluring sauce and grilled for a spectacular addition to a backyard BBQ.
Cooking carrots on the grill is an ingenious culinary play. The carrots get a nice char on them like other veggies. Once done, they are tossed in a delectable honey and brown sugar glaze. These are a fabulous side dish to any backyard BBQ party and one the kids will gobble up.
Chicken burgers are a great alternative to beef hamburgers due to their low fat, high protein content. Chicken can be bland, but not with this barbecue recipe. Ground chicken is transformed into a juicy, decadent burger stuffed with cheddar cheese and basted with tangy BBQ sauce. Topped with coleslaw, this is a backyard BBQ burger at its finest.
Grilled burnt ends are little nuggets of BBQ gold. This barbecue recipe uses a chuck roast instead of the traditional brisket, but the result is the same, making it great for smaller backyard BBQs. It has the same great smoky goodness with classic BBQ flavors without the time and money it takes to do a brisket.
We all know roasting veggies on the grill is an amazing way to enjoy them. This irresistible homemade veggie burger turns veggies into a dynamite burger sans meat. These burgers won't fall apart on you and are full of flavor, juicy, and downright delicious. Feed your veggie lovers one of these at your next backyard BBQ, and they will love you for it.
These grilled vegetables are a simple barbecue recipe that has big flavors. A colorful array of veggies are bathed in a heavenly garlic and herb marinade before being grilled to perfection. They are the perfect match for any protein to complete your meal.
Pizza night just got a whole lot more fun and delicious. A BBQ chicken pizza cooked on the grill is a genius way to enjoy leftover chicken. The grill creates an alluring flavor on the pizza crust, while the pizza is a savory blend of BBQ flavors. These are fun to make with the whole family.
These just might become your new favorite summertime dessert. Grilled peaches are a delightful, delicious dessert. They are easy to make, naturally sweet, and pair perfectly with whipped cream or vanilla ice cream. This tasty treat is what summertime dreams are made of.
This barbecue recipe is a versatile addition to any backyard BBQ. Grilled pineapple is a divine dish on its own but can also serve as an addition to your main dishes. It pairs well with teriyaki chicken or a Hawaiian burger. It also makes a wonderful dessert when it's drizzled with cinnamon and honey glaze. However it is enjoyed, grilled pineapple is sweet and delicious.
A simple recipe for the perfect, juicy grilled chicken breast. Made with a simple marinade, this chicken can served on it's own or used for other chicken recipes like grilled chicken salad, chicken sandwich, and more.
Flavorful grilled chicken is used to make the ultimate gryos with tzatziki sauce. This is one of our favorite grilling recipes.
Cajun grilled salmon has a sweet and spicy flavor. You can grill up this dish in less than 20 minutes. Try serving it with honey butter to really amp up the flavor.
More delicious BBQ recipes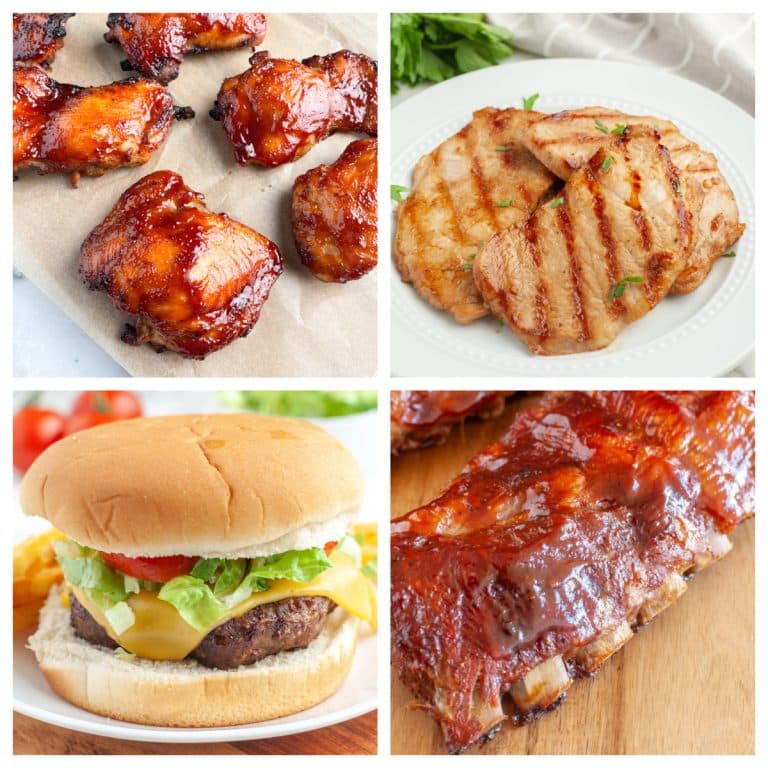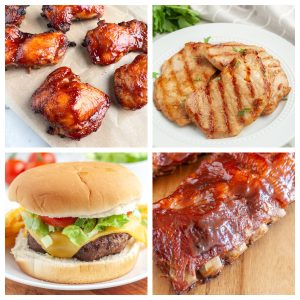 BBQ Recipes
Fire up the grill. These bbq recipes are sure to impress your crowd. From smokey BBQ ribs, juicy burgers, and even grilled fruit, these are some of the best bbq recipes to try including these grilled vegetable kabobs.
Ingredients
18

large

mushrooms

2

red bell peppers

2

yellow squash

2

zucchini

1

large

red onion

3

tablespoons

olive oil

1/2

teaspoon

salt

1

teaspoon

Italian seasoning
Instructions
Stir together the olive oil, salt, and Italian seasoning.

Slice the squash and zucchini into 1/2-inch slices. Clean and remove the stems from mushrooms. Cut onion and peppers into 1-inch pieces.

Thread the vegetables onto metal skewers. Brush the vegetables with olive oil mixture making sure to coat all sides of the vegetables.

Grill on medium heat for about 10 minutes.
Nutrition
Calories:
117
kcal
|
Carbohydrates:
11
g
|
Protein:
4
g
|
Fat:
8
g
|
Saturated Fat:
1
g
|
Polyunsaturated Fat:
1
g
|
Monounsaturated Fat:
5
g
|
Sodium:
206
mg
|
Potassium:
676
mg
|
Fiber:
3
g
|
Sugar:
7
g
|
Vitamin A:
1509
IU
|
Vitamin C:
76
mg
|
Calcium:
35
mg
|
Iron:
1
mg
Nutrition information is automatically calculated, so should only be used as an approximation.
Like this? Leave a comment below!