25 Best Sides For Grilled Cheese
Jan 31, 2022, Updated Aug 22, 2023
Need some easy and delicious sides for grilled cheese? From salads, soups, fries, and more, we have gathered a list of 25 of the best sides to serve with grilled cheese.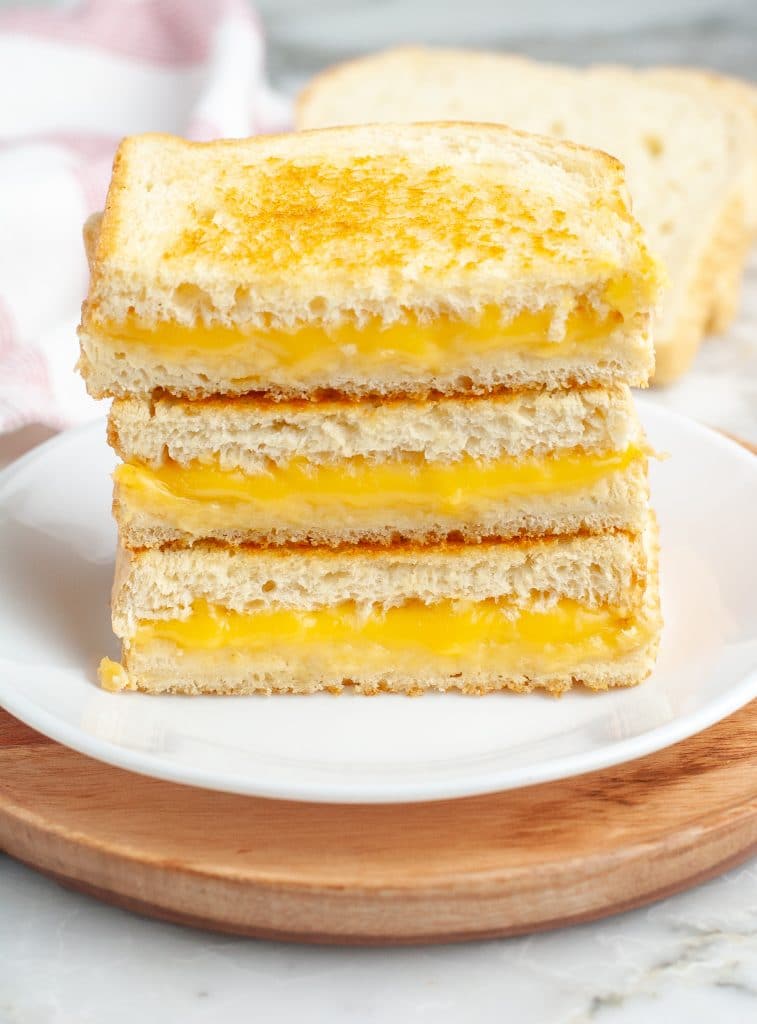 There is nothing quite like the cheesy goodness of a perfectly made grilled cheese sandwich for a quick and easy meal. They are warm, toasty, and it's hard to beat that melted cheese center.
Making a grilled cheese in the air fryer is my new favorite way to cook up enough sandwiches for the whole family at one time. There are also many variations you can easily make by switching up the type or combination of cheese or using different bread like whole wheat or sourdough grilled cheese.
If you would like to make a full meal, we have made a list of 25 amazing sides for grilled cheese to serve with your sandwich. You will find recipes like salads, soups, potatoes, vegetables, and more. Enjoy!
Creamy tomato soup is a classic grilled cheese side. This recipe is simple to make with a few ingredients. Try dunking your sandwich in the soup for the ultimate meal.
Slow cooker vegetable soup is a great set it and forget it meal. Combine all of your ingredients in a crockpot for a hearty meal that's ready when you get home in the evening.
Creamy corn chowder is filled with diced potatoes, sweet corn, and crumbled bacon. This is a thicker soup but can be thinned out with stock to your liking. A wonderful recipe to use fresh summer corn.
4. Potato Soup
Potato soup is a classic comfort food perfect for a cold evening. Loaded with diced potatoes, cheese, and topped with crispy bacon, it's a soup that pairs well with grilled cheese. It's also a great creamy soup to dip your sandwich into.
You can't go wrong with a big bowl of chicken noodle soup. This noodle soup is a great pairing with a grilled cheese sandwich. Use leftover rotisserie chicken to make this a fast meal.
A simple but flavorful soup. Butternut squash is roasted with onions and bell pepper and then blended together with smokey bacon.
This cucumber salad adds colorful crunch to your plate. Made with chopped cucumber, tomatoes, peppers, onion and tossed with a refreshing lemon dressing. It adds a great balance to a good grilled cheese sandwich.
If you would like to add a little protein and vegetables to your meal, try this delicious chopped Brussels sprout salad. It's loaded with chick peas, salami, pepperoni, shredded Brussels sprouts and cheese.
A great way to eat some leafy greens, this spinach and strawberry salad is a great mix of sweet and savory.
A simple green salad is a great side dish to serve with almost any meal. This Ceasar salad from Foodie Crush has an amazing homemade dressing that can be made with or without anchovies.
Orzo salad is a delicious Mediterranean twist on pasta salad. Loaded with veggies, chickpeas, orzo pasta and tossed in a lemon dressing. This is a fresh, light side dish option.
Waldorf salad is a classic. Fruit, nuts, and celery and mixed together in a creamy dressing.
Frozen sweet potato fries are a super fast and easy side dish. They can be made in the oven but I love cooking sweet potato fries in the air fryer.
French fries are always a hit as a side dish, especially with the kids. Make them homemade or from frozen and serve with some veggies for a complete meal.
Have you tried frozen gnocchi yet? These can be made in a pan or an air fryer for a tasty snack or side dish. Crispy on the outside, warm and soft of the inside.
Broccoli salad is the perfect pairing for a warm grilled cheese. Broccoli florets are tossed with dried cranberries, bacon, cheese, sunflower seeds and mixed with a tangy dressing. This filling salad has everything you need for a great side dish.
Carrots are a simple side that can be made in minutes. Serve them raw or roasted with a little garlic and Parmesan cheese for extra flavor.
Sliced, marinated tomatoes is another great option for an easy side. Fresh tomatoes are marinated in olive oil, red wine vinegar, onion, garlic, and fresh herbs for a home run side dish.
If you have never tried Brussel sprouts, be sure to give this easy air fryer Brussel sprouts recipe a try. Roasting them cuts out the bitterness of Brussels sprouts and makes them super tasty.
Dill pickle spears or slices are perfect for sandwiches. These homemade pickles can be made in about 30 minutes and last up to 6 weeks in the refrigerator.
20. Potato Chips
Try serving chips with your grilled cheese. These easy to make oven potato chips go great with grilled cheese. You could also serve sour cream and onion, or even BBQ chips.
If you are looking for an easy recipe, this pasta salad is just the one. Made with a few simple ingredients, this macaroni salad goes great with a grilled cheese and can be made a day ahead of time.
Fresh fruit salad with honey lime dressing adds some beautiful sweet color to your sandwich plate. Choose your favorite fruit to make this easy side.
A few tips to make this delicious fresh salad include making sure the fruit is dry before making and adding the dressing right before serving.
Simple and delicious, this Caprese salad is made with tomato slices, sliced fresh mozzarella cheese, fresh basil and balsamic vinegar. A wonderful grilled cheese side dish that is fresh and so tasty.
There is something about cheese and apples that just works. Apples, cinnamon, and brown sugar, cook together to make a yummy applesauce. This homemade crockpot applesauce is another great side for grilled cheese.
Copycat Chick-Fil-A coleslaw is cool and crunchy. This slaw is a great balance to a hot, creamy sandwich.
Frequently Asked Questions
What meat goes with grilled cheese?
There are several proteins you could add to a grilled cheese sandwich. Some favorites are ham, turkey, bacon, and pepperoni.
What condiments go with grilled cheese sandwich?
Condiments can be used to dip or even spread on the inside of the sandwich. Try spreading spicy or honey mustard, jelly, or even a little ranch dressing.

We like to dip our in things like marinara sauce, chutney, pepper jelly, garlic butter sauce, zesty sauce, Campfire sauce, and even Horsey sauce.
What are some no cook grilled cheese sides?
There are many great grilled cheese side dishes that don't require any recipe.

A few favorites are: carrot sticks, celery sticks, apple slices, sliced bell peppers, oranges, and strawberries.
Did you try any of these recipes? Let me know in the comments.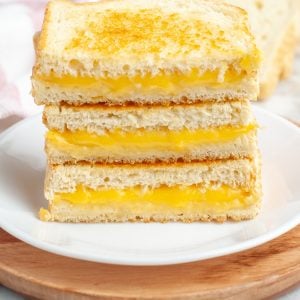 Sides for Grilled Cheese
A list of delicious and easy sides for grilled cheese sandwich including this apple salad.
Ingredients
2

apples

diced into cubes

1/2

cup

chopped pecans

1/2

cup

celery, diced

1/2

cup

mayonnaise

1

tablespoon

sugar
Instructions
Place mayonnaise and sugar in a bowl. Stir together to combine.

Pour over bowl with diced apples, celery, and pecans. Toss to combine.

Cover the bowl and refrigerate for at least 1 hour before serving.
Nutrition
Calories:
346
kcal
|
Carbohydrates:
18
g
|
Protein:
2
g
|
Fat:
31
g
|
Saturated Fat:
4
g
|
Polyunsaturated Fat:
16
g
|
Monounsaturated Fat:
10
g
|
Trans Fat:
1
g
|
Cholesterol:
12
mg
|
Sodium:
189
mg
|
Potassium:
192
mg
|
Fiber:
4
g
|
Sugar:
14
g
|
Vitamin A:
132
IU
|
Vitamin C:
5
mg
|
Calcium:
22
mg
|
Iron:
1
mg
Nutrition information is automatically calculated, so should only be used as an approximation.
Like this? Leave a comment below!