Have a new air fryer or looking for some new ways to cut back on meat? This list of vegetarian air fryer recipes is sure to inspire, even if you aren't a vegetarian. Everything from easy baked potatoes to black bean burgers, these recipes are all simple and delicious.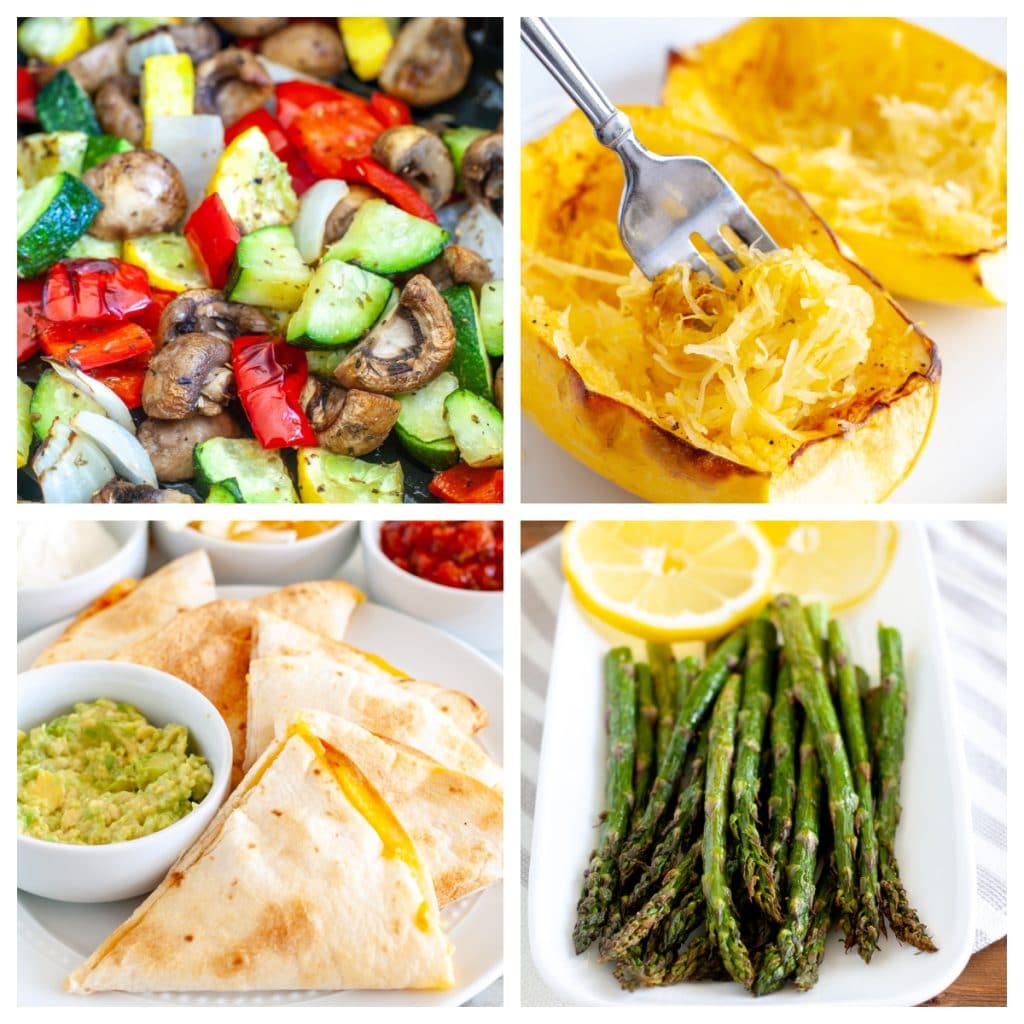 The air fryer is a wonderful way to roast, cook, and even give the flavor of fried food without the need for deep frying. It's not just for cooking meat, the air fryer is a great way to cook up vegetarian and vegan recipes.
Most of these recipes use little, to no oil but still have amazing flavor and texture.
Hungry for more veggies? Be sure to check out this list of 36 recipes with roasted vegetables.
So if you need an easy appetizer, side dish or main meal, look through this list of some of our favorite vegetarian air fryer recipes.
1. Air Fryer Roasted Vegetables
Roasting vegetables in the air fryer is one of my favorite ways to use the appliance. The circulating hot air does a wonderful job of roasting them evenly with a crispness on the outside while keeping the tender on the inside.
This colorful mix of veggies can be used as a side dish for many things or even as a main dish on top of rice or pasta.
2. Crispy Air Fryer Tofu
You are sure to love this crispy air fryer tofu. This protein is a tasty vegetarian meal that is full of flavor and great texture. Try serving with your favorite dipping sauce.
3. Air Fryer Hasselback Potatoes
Hasselback potatoes can be made in less time than making them in the oven. Easy enough for the weeknight but fancy enough for a formal dinner. Buttery Hasselback potatoes have crispy, seasoned edges with a fluffy potato center.
4. Air Fryer Spaghetti Squash
Spaghetti squash can be used in a variety of ways like as a substitute for pasta, stuffed, and as a side dish. Roasting spaghetti squash in the air fryer is a faster method than in the oven. It can be made ahead of time for meal prep throughout the week and even frozen.
5. Air Fryer Buffalo Cauliflower
Need a vegetarian recipe for game day? Try these easy to make buffalo cauliflower bites. Roasted cauliflower is coated in buffalo sauce for a spicy appetizer or snack. Serve with a dipping sauce or even wrapped in a tortilla for a meal.
6. Air Fryer Butternut Squash
Butternut squash has a delicious sweet and earthy flavor when roasted. It can be eaten on it's own as a healthy side dish or used for sauces and soups. This cooking method makes it easy to roast butternut squash in a fraction of the time as the oven.
7. Air Fryer French Fries
Probably one of my favorite things to make in the air fryer, french fries can be made homemade or frozen. This tasty homemade recipe is easier than you might think. Season with your favorite french fry seasoning for the perfect snack.
8. Air Fryer Baked Potato
Crispy skin and fluffy inside, once you bake potatoes in the air fryer, you won't do it any other way. Bake potatoes are great as a side or a main meal. You can cook 3-4 potatoes at a time depending on the size. Top with your favorite toppings.
9. Air Fryer Chickpeas
Crunchy chickpeas can be made in the air fryer. There is a variety of ways to season these chickpeas that can be cooked in about 10 minutes. A crunchy, delicious, and healthy snack that everyone will enjoy.
10. Air Fryer Potato Chips
Forget the additives that can be found in store-bought potato chips. These air fryer potato chips are crunchy, flavorful, and the perfect bite!
11. Air Fryer Cabbage Steaks
Crispy cabbage steaks can be served on their own or topped with a variety of things like cheese, seasonings, and more. Roasting the cabbage brings out a wonderful flavor and makes a great addition to any meal.
12. Air Fryer Carrots
Roasting carrots brings out the sweetness of this vegetable. Lightly coated with olive oil and seasoning, this is easy recipe adds color and flavor to any plate.
13. Air Fryer Brussels Sprouts
These brussels sprouts are cooked until crispy and golden brown. Made Italian style with balsamic vinegar, maple syrup, and seasonings to add tons of flavor to this vegetable.
14. Air Fryer Sweet Potato Fries
Frozen sweet potato fries in the air fryer are perfect for a busy weeknight meal. They can be cooking in about 10 minutes to serve alongside a main dish or as a snack. Sweet potatoes in the air fryer are also a must try.
15. Air Fryer Kale Chips
This green, leafy vegetable is transformed into a delicious, crispy snack. Be sure to check out this recipe for all of the different ways to season the kale chips.
16. Air Fryer Artichoke Hearts
Crispy artichoke hearts with cheese is a simple appetizer that is sure to please. This is a wonderful recipe for people looking for low-carb recipes.
17. Air Fryer Eggplant Parmesan
This restaurant favorite can be cooked in the air fryer without having to deep fry. You can achieve the same crispy crust around the slices of eggplant while keeping a tender center. Try topping with melted cheese and marinara sauce for a meal that everyone will enjoy.
18. Air Fryer Quesadilla
This base recipe for air fryer quesadillas can be made with your favorite ingredients. Try adding vegetables like peppers and onions and even refried beans to the center of these quesadillas for a delicious vegetarian meal.
19. Air Fryer Sweet Potato Wedges
Sweet potato wedges can be cooked nice and crispy without deep frying in oil. With the help of the hot air in the air fryer, these wedges are crispy on the outside and tender on the inside.
20. Air Fryer Corn on the Cob
Fresh corn on the cob in the air fryer is a great way to cook corn without firing up the grill.
Spritz the corn cobs with a little oil and add some seasoning before adding to the air fryer basket. They cook up delicious and juicy.
21. Air Fryer Acorn Squash
Acorn squash are super versatile and can be served mashed, cubed, or stuffed. This recipe shares how to roast acorn squash in the air fryer in minutes and can be seasoned to be sweet or savory.
22. Air Fryer Portobello Mushrooms
These Portobello mushrooms cook up fast in the air fryer and are a delicious side or main course. These mushrooms need just a few simple ingredients. They are lightly coated with olive oil and seasoned to perfection.
23. Air Fryer Asparagus
Roasted asparagus can be prepared in the air fryer in minutes. This tender crisp vegetable is lightly seasoned. Try sprinkling with a grated parmesan cheese for a little something extra.
24. Air Fryer Apple Chips
Air fryer apple chips are the perfect snack to make in the air fryer. Thinly cut apple slices are toasted and seasoned with a pinch of cinnamon.
25. Air Fryer Black Bean Burgers
These air fryer black bean burgers are a hearty dish that can be made fresh and are also easy to freeze for later. These burgers have a blend of Southwestern flavors and include black beans, peppers, and onions.
Serve with your favorite toppings like pickles, tomatoes, lettuce, and more for a recipe that is sure to be a favorite meal.
More air fryer vegetarian recipes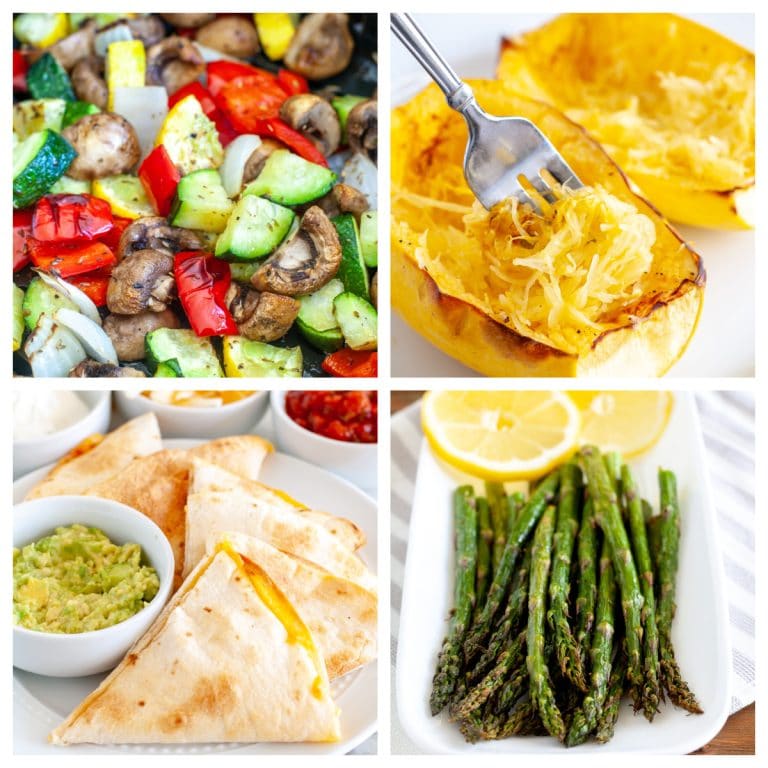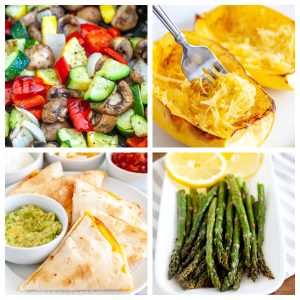 Vegetarian Air Fryer Recipes
A variety of vegetarian air fryer recipes including these easy to make air fryer green beans.
Ingredients
1

tablespoon

olive oil

1

pound

green beans, fresh

1

teaspoon

seasoned salt
Instructions
Trim green beans and place them in a large bowl.

Drizzle with oil and seasoned salt. Toss to coat.

Pour green beans in air fryer basket. Cook at 380 degrees for 8 minutes.

Check to see the doneness.
Nutrition
Calories:
66
kcal
|
Carbohydrates:
8
g
|
Protein:
2
g
|
Fat:
4
g
|
Saturated Fat:
1
g
|
Polyunsaturated Fat:
1
g
|
Monounsaturated Fat:
3
g
|
Sodium:
588
mg
|
Potassium:
239
mg
|
Fiber:
3
g
|
Sugar:
4
g
|
Vitamin A:
782
IU
|
Vitamin C:
14
mg
|
Calcium:
42
mg
|
Iron:
1
mg
Nutrition information is automatically calculated, so should only be used as an approximation.
Like this? Leave a comment below!