Looking to get more veggies in your meals? We have gathered 36 recipes with roasted vegetables that are sure to add color, taste, and nutrients to your menu.
This amazing list of vegetable recipes has everything from simple side dishes to full meals that are made with roasted vegetables. Keep reading to find recipes like enchiladas, ratatouille, pasta dishes and more.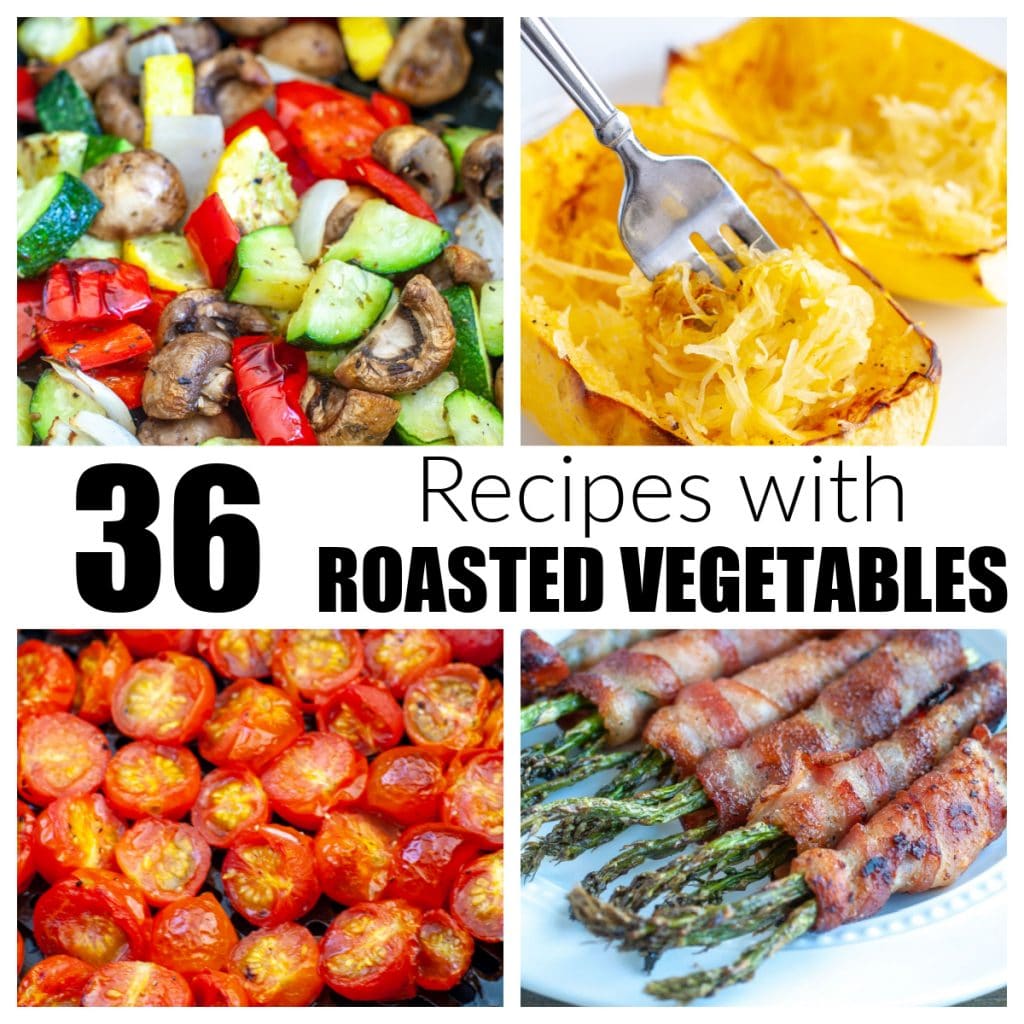 Vegetables don't have to be cold and plain. Roasting them brings out so much flavor and makes them a wonderful addition to any meal.
Vegetables are super easy to roast in the air fryer. You can choose your favorite combination of vegetables like yellow squash, red bell peppers, and mushrooms. Toss with olive oil and a simple seasoning before cooking.
These colorful roasted vegetables makes the perfect side dish.
This salad is a colorful mix of oven roasted vegetables like sweet potatoes and zucchini, chickpeas, and tossed with an easy Mediterranean dressing. Add a few fresh greens for added freshness and crunch.
This traditional Greek dish is made by roasting eggplant, zucchini, potato, red onion, and tomato with a variety of spices.
It's usually served with feta cheese, olives and crusty bread, yum!
A hearty pasta dish that uses a sheet pan to roast red onion, zucchini, bell pepper, tomatoes, and feta cheese.
Toss the veggies with pasta and and arugula for a meal that's packed with flavor and nutrients.
Add some roasted vegetables to your weekly menu with these quinoa bowls. Filled with sweet potatoes, brussels sprouts, broccoli, cauliflower and quinoa.
Drizzle a little lemon tahini dressing for a meal that's great for meal prep through the week. Eat as is or add some protein like grilled chicken or fish.
Have you made farro before? This ancient grain is super easy to make and has a delicious, chewy texture.
Farro combined with root veggies like butternut squash, this warm salad is satisfying.
A medley of green beans, corn and potatoes are roasted with garlic and fresh herbs. All you need is a rimmed sheet pan and a few simple ingredients.
This is a wonderful side dish that pairs perfectly with chicken, beef, and fish.
Keto bacon butter! Yes, please! These vegetables, including brussels sprouts and cauliflower are cooked with an amazing bacon butter for added flavor.
A great recipe for everyone but especially for low-carb and Keto focused meals.
This is a delicious sheet pan dinner. Soft gnocchi is roasted with chopped eggplant, mushroom, squash, tomatoes and seasonings on a large baking sheet.
Dinner can be on the table in about 30 minutes with this easy, flavorful meal.
Colorful roasted vegetable flatbread makes a great dinner or appetizer. Pizza dough is topped with a variety of roasted veggies and cheese.
Warm lentils are served with baked vegetables to make this warm salad. Choose between green or brown lentils to fill your bowl.
Spaghetti squash can be used for a variety of dishes. Try stuffing with your favorite chili or use the squash "noodles" for a low-carb pasta dish. This recipe shows how to roast spaghetti squash easily in the air fryer but it can also be roasted in the oven.
This is a family favorite! Seasoned veggies are cooked with turkey sausage and cheese for the easiest dinner.
Sometimes trying to get dinner together on a busy night can be exhausting but this simple meal is so easy and budget friendly.
Similar to turkey sausage meal, this chicken sausage dinner is another take on a simple, fast sheet pan dinner.
Similar to a low-country boil, this easy air fryer meal combines roasted vegetables with shrimp and sliced sausage. Seasoned with Old Bay, this meal cooks up fast and can be enjoyed all year.
Serve this meal on it's own or with crusty bread or on top of rice.
One of the most popular recipes on this site, roasted asparagus spears are wrapped with crispy bacon and lightly seasoned. This is an elegant but simple side dish that's perfect for the holidays.
Fall flavors are bursting in this delicious Oktoberfest recipe. Brats are roasted with onions, brussels sprouts, carrots, potatoes, and dark beer.
Parmesan cheese and garlic come together to add lots of savory flavors to these roast vegetables.
Add a little heat to your vegetables with this spicy version. Chili flakes or crushed red pepper flakes add a hint of spicy flavor to veggies like cauliflower, sweet potatoes and peppers.
Another amazing one pan, sheet pan dinner full of shrimp and vegetables. This recipe couldn't be easier. All you need to do is chop the veggies and combine the ingredients on a pan.
This is delicious on it's own but can also be served over rice, pasta, or on a salad.
Just a few ingredients are needed for this hearty, comfort food recipe. Beef roasts together with vegetables for an unbelievable flavor.
Roasted tomatoes literally burst with sweet flavor. They are wonderful served on top of pasta, rice, or as a side dish to many meals. Tomatoes are tossed with oil, salt, and pepper and roasted.
This beautiful meal is surprisingly easy to make. A full chicken is roasted on top of large chunks of vegetables and red potatoes for a complete, delicious dinner.
Roasted chicken and vegetable dinner that can be on the table in 15 minutes. This sheet pan meal is simple to make and easy clean-up.
Use a bottled sweet chili sauce to add sweet heat to this recipe.
How to get the best roasted veggies. This post shares tips and tricks for making vegetables in the oven.
Classic baked ziti is given a vegetable twist. Choose softer vegetables and cut into smaller pieces for this meal so that they roast quickly and blend well with the pasta.
Need a quick and easy meal prep for the week? This vegan prep has roasted butternut squash, broccoli, cauliflower, chickpeas and a flavorful turmeric tahini sauce. This recipe makes enough for 4 meals.
This gourmet grilled cheese sandwich is overflowing with melty cheese and a yummy mix of roasted vegetables. Roast your favorite mix of veggies in the oven and then add to a mixture of cream cheese, goat cheese sandwiches between bread.
Crispy Italian roasted cabbage makes a quick and easy side dish. Italian seasonings, Parmesan, and a little olive oil really add a lot of flavor to this simple dish.
Add a little spice to your veggies with this recipe. Taco seasoning is used to add flavor to roasted veggies in the oven.
These are perfect to add in a fajita, taco, quesadilla, on nachos, and as a side dish.
Healthy soup is packed with roasted vegetables and can be made in less than one hour.
This hearty soup is easy to make and a great way to use leftover roasted vegetables. Try topping with a dollop of yogurt or sour cream for a little added creaminess.
Dijon mustard is used to make a tangy sauce that gives these vegetables an amazing flavor. Root vegetables and a variety of other vegetables are mixed with the mustard sauce and roasted to perfection.
This recipe is a hearty, Tex-Mex style veggie casserole. Filled with roasted sweet potatoes, peppers, cauliflower and seasoned with some cumin for a slightly smoky flavor.
The veggies are mixed with salsa, cheese, beans and then layered with tortillas for a casserole that also makes wonderful leftovers.
Warm, creamy, cheesy polenta, already sounds amazing, but topped with vegetables that have been roasted in balsamic vinegar takes this dish to a new level.
This is the perfect dish for a meatless Monday and is sure to satisfy even picky palettes.
A delicious pizza with a simple homemade whole wheat crust is topped with a variety of roasted vegetables.
If you are in the mood for comfort food that you don't have to feel guilty about eating, this is a great recipe to try. Making the crust is simple and the whole wheat flavor pairs perfectly with the veggies.
Thinly sliced vegetables and combined with marinara sauce, dried herbs, and cheese and roasted in the oven for a fun take on ratatouille.
This is a great side dish to serve alongside a protein like steak or chicken. You could also keep it vegetarian and serve it over creamy risotto or pasta.
How to store leftover roasted vegetables
The best way to store leftover roasted vegetables is to let them completely cool to room temperature. Don't put them in while still hot because the steam could cause them to get soggy.
Store: Place them in an airtight container. They will last about 3 days in the refrigerator.
Freeze: They can also be frozen. Store them in a freezer safe bag or container for up to 3 months. You can actually reheat roasted vegetables straight from frozen.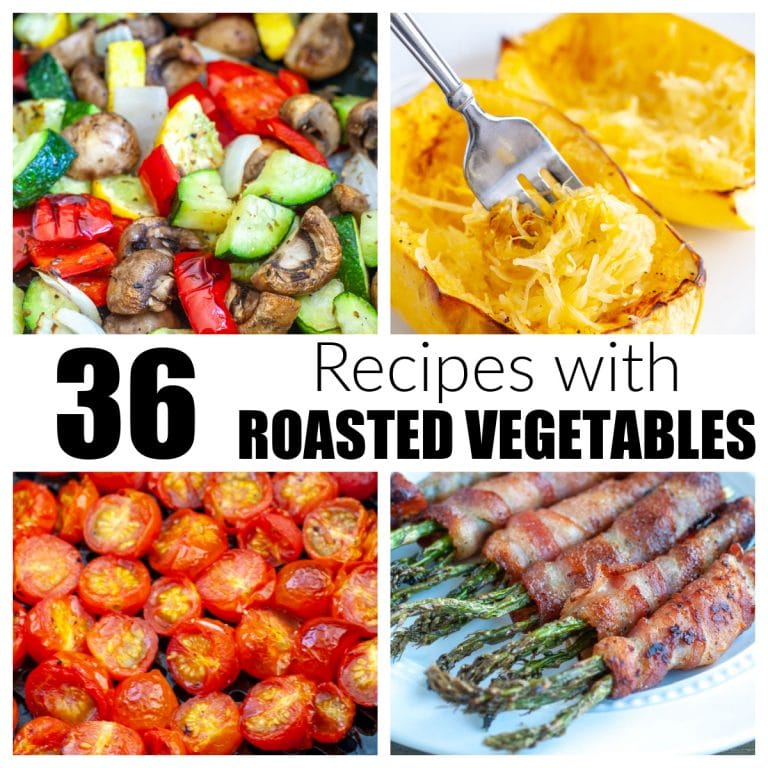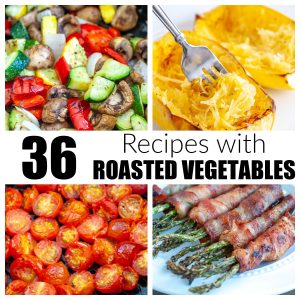 Recipes with Roasted Vegetables
Roasted vegetables can be used in a variety of meals.
Ingredients
1

red

bell pepper

sliced in strips

1

green

bell pepper

sliced in strips

1

onion

sliced into strips

1

teaspoon

olive oil

1

teaspoon

fajita seasoning mix
Instructions
Preheat oven to 400 degrees F.

Line baking sheet with foil. Toss vegetables with oil and seasonings.

Spread vegetables in single layer on baking sheet.
Nutrition
Calories:
20
kcal
|
Carbohydrates:
3
g
|
Protein:
1
g
|
Fat:
1
g
|
Saturated Fat:
1
g
|
Polyunsaturated Fat:
1
g
|
Monounsaturated Fat:
1
g
|
Sodium:
1
mg
|
Potassium:
41
mg
|
Fiber:
1
g
|
Sugar:
1
g
|
Vitamin A:
16
IU
|
Vitamin C:
3
mg
|
Calcium:
6
mg
|
Iron:
1
mg
Nutrition information is automatically calculated, so should only be used as an approximation.
Like this? Leave a comment below!