25 Best Fondue Recipes
Feb 01, 2023, Updated Oct 29, 2023
Is there anything better than gathering around a bubbling pot of fondue? Well, with 23 of the best fondue recipes at your disposal, you will have no shortage of ideas for your next party or family dinner. Pick one recipe for a smaller gathering or whip up a few recipes up to serve a fondue buffet for a crowd.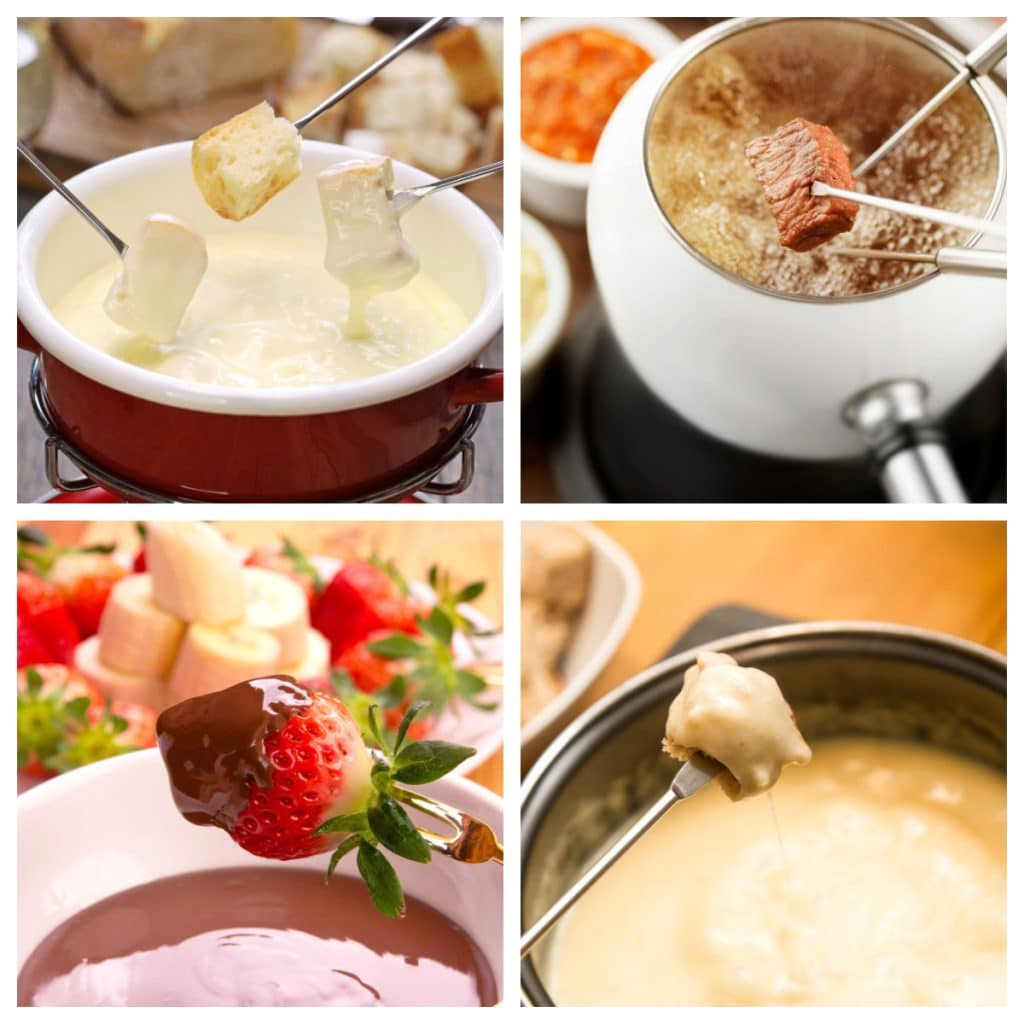 Whether you're craving something sweet, savory, salty, or all of the above, these fondue ideas are the perfect place to start. Whip these recipes up using your slow cooker, electric fondue pot, or on the stovetop. There really is something for everyone!
This cheesy concoction will get everybody's mouth watering. It's simple, fast, and full of flavor!
This delectable dip comes together in only 15 minutes, and it will be gone even quicker. Made with gruyere cheeses, dry white wine, and warm seasonings. Pair it with your favorite meats, breads, or veggies, and enjoy!
Swiss cheese and cheddar cheese – a perfect pair! This fondue recipe has only a few basic ingredients; ones you probably already have in your kitchen. It's so easy to whip up and Perfect for any occasion.
This fondue pot is a delightful party favorite that everyone will love!
Beer and cheese? What more could you want? This is a great option for large or small gatherings! It's made with a combination of your favorite beer (or chicken broth for a non-alcoholic option) and cheese.
This dip is cheesy goodness and a delicious flavor that will satisfy the crowd's hunger in no time! Serve with crusty french bread, sourdough bread, pretzels, vegetables, or all of the above!
Although it's most popular for game days, this pizza fondue recipe is delicious for any occasion. The recipe calls for quality ingredients such as flavorful pasta sauce, tangy cream cheese, creamy mozzarella, and all your favorite pizza toppings.
This hearty dip tastes just as good as pizza, but it's so much easier to put together!
This recipe is perfect for all you cheddar lovers out there. While cheddar is a classic flavor, the onion, garlic, mustard, and cilantro in this homemade cheesy dip spice it up to a whole new level!
This creamy sauce will have everyone begging for more. Enjoy it with bread, apples, veggies, or your favorite meats!
For your fancier parties, try this creamy pot of fondue made with a classic white wine, swiss, and gouda (or any cheese of your choosing)!
With sautéed garlic and white wine in the mixture, this recipe will have your mouth watering and will definitely keep you wanting more. It's best served with a delicious rye bread, but can be eaten with any of your favorite dipping foods.
Spice up your appetizer spread with this mouth watering fondue that can be easily made in just 20 minutes on the stovetop!
Mixed with crispy bacon, and served with a warm soft pretzel, this fondue recipe will be the talk of the town! It's perfect for any type of party and everyone will go crazy for it!
Craving a restaurant-quality cheese fondue, but don't want to leave your house? This simple recipe will make you feel like you're right at The Melting Pot, but you can whip it up in your own kitchen.
One of our favorite cheese fondue recipes, this cheddar-y dip is so good you can eat it in one sitting! It's made with cheddar, swiss, beer, and garlic, and is perfect for any occasion!
A unique take on the classic cheese fondue is this delicious creamy blue cheese fondue. This fun take on fondue is a rich, creamy, perfectly tangy dip that everyone will love. And it takes just 10 minutes to prep!
Enjoy this blue cheese dip with wings, sausage, bread, carrots, celery, or anything you think sounds delicious!
For the seafood lovers of the world, this crab fondue is perfect. It's seasoned perfectly with a blend of mustard, garlic powder, and lemon, then sweetened with a dusting of powdered sugar.
Garnish with chopped green onions for a pop of freshness and slather it over your favorite crusty bread. This dip is definitely a crowd favorite!
This fondue combines creamy brie cheese with chives and grapefruit for a beautiful, complex, and perfect flavor.
This brie fondue has a buttery flavor, creamy texture, and all the flavor you could want cooked up in one pot. Try this for your next party. It's a guaranteed hit!
When you're in the mood for something warm and cozy this fall, try this apple cider cheese fondue. It has the perfect amount of sweetness to satisfy your autumn cravings.
This cozy dip is best enjoyed with pears or apples, pretzels, smoked sausage, and bread for ultimate satisfaction!
What can you do to make your favorite dip even better? Make it into a fondue!
This recipe combines the flavor of garlic, spinach, artichoke, and an array of cheeses to bring out an immense flavor! It's everyone's favorite appetizer made cheesier, creamier, and even more delicious!
Use the ingredients for Coq au Vin to make a broth fondue dip for meat. Wine, chicken broth, and seasonings come together to make a flavorful hot broth to cook a variety of meats like pork, steak, tuna, and more.
This is a great fondue broth to make for cooking raw meat. Made with spices and chopped vegetables, this works well with steak, chicken, shrimp, and more.
Who doesn't love to recreate the luxurious, summery flavor of a s'more without having to build a fire!
When there's no time for a campfire, get out your marshmallows, chocolate, and graham crackers, and whip up this sweet and delicious treat. This decadent dip requires just a few quick minutes to prep!
This recipe is every chocolate lover's dream. It combines chocolate, cream, milk, and butter to achieve the richest flavor and creamiest texture.
You won't regret getting your hands on this warm pot of chocolate fondue. Just whip it up in 15 minutes and serve with all of your favorite sweet dipping ingredients. Perfect to make for a date night or even Valentine's day.
Everybody will go nuts for this creamy pot of Nutella fondue. Not only will the chocolate-y flavor get your mouth watering, but the subtle nutty undertones of hazelnut will have you eating this dip with a spoon.
Serve this dip as the centerpiece of a sweet snack board loaded with biscotti, berries, cookies, pretzels, donuts, you name it!
This salted caramel fondue is perfect for those nights when you just can't decide between sweet or salty. Why not both?!
This dip is delicious, so easy to make, and perfect for sharing with all of your friends…or keeping to yourself. No judgment here.
When candy bars just aren't enough to satisfy that sweet tooth, try this recipe for the ultimate candy bar fondue.
This slow cooker recipe requires just 10 minutes to prep. Simply throw everything in the crockpot, then come back in a few hours to the sweetest, meltiest, most delicious dessert. To make your experience even sweeter, serve it with pound cake, cookies, crackers, apple slices or other crispy treats.
A delicious dessert with only four ingredients? Sign me up! This white chocolate fondue recipe is perfect for those special occasions when you need something sweet but don't have a lot of time to spend making it.
With creamy white chocolate and cream combined with your favorite champagne, this tasty treat will have you feeling fancy and satisfied in under 15 minutes!
There is no better combination than peanut butter and chocolate. So why not satisfy that classic craving with this recipe with this chocolate peanut butter fondue recipe!
This dip is perfect for any sweet occasion, delicious served with anything sweet or salty, and will have you licking the pot clean!
This easy fondue recipe is equal parts fun and flavorful! Simple ingredients, and an immaculate taste, this recipe has everything you're looking for in a dessert.
Prepare it in only 15 minutes, and share with all your hungry friends!
This fondue recipe is perfect for when you're in the mood for something light and fruity! It uses just a few super simple ingredients and comes together in a total of 15 minutes.
This dip is sweet, chocolate-y, refined sugar free, and perfect paired with fresh fruit skewers or individual pieces of fruit. Enjoy as a lightened up dessert or serve it as a tasty snack!
This party favorite is a pot of cheesy, creamy goodness, and is always a hit! With sugar, spice, and everything nice, this simple recipe will soon become your favorite dessert.
In only 20 minutes, and with just 7 ingredients, you'll have the treat that holds the key to everyone's heart.
Fondue supplies
Throwing a fondue party or dinner party? Along with some of these delicious, easy recipes, here are a few items that might be useful:
More cheese dips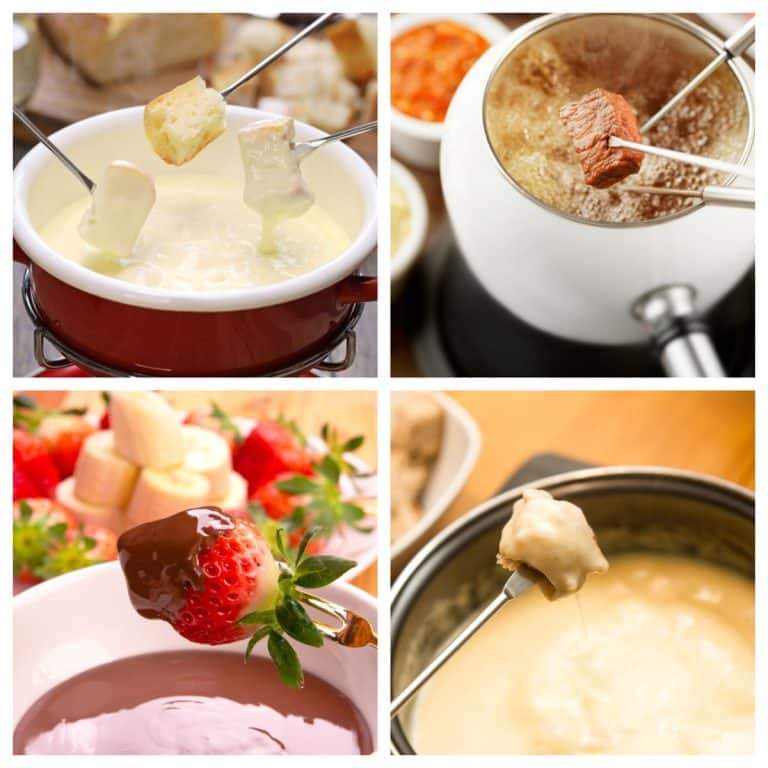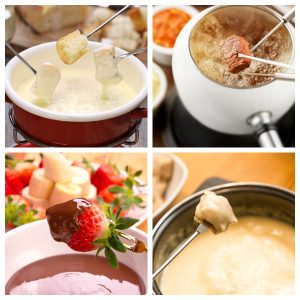 Best Fondue Recipes
A group of 25 delicious and easy fondue recipes. These fondue recipes are perfect for a fondue party or a family fondue night. Try this dipping sauce for your fondue steak.
Ingredients
1

cup

sour cream

4

tablespoons

prepared horseradish

1

teaspoon

Worcestershire sauce

1/4

teaspoon

salt

1/4

teaspoon

ground black pepper
Instructions
Combine all the ingredient in a bowl. Cover and store in the refrigerator until ready to serve with fondue.
Nutrition
Calories:
61
kcal
|
Carbohydrates:
2
g
|
Protein:
1
g
|
Fat:
6
g
|
Saturated Fat:
3
g
|
Polyunsaturated Fat:
0.3
g
|
Monounsaturated Fat:
1
g
|
Cholesterol:
17
mg
|
Sodium:
123
mg
|
Potassium:
61
mg
|
Fiber:
0.3
g
|
Sugar:
2
g
|
Vitamin A:
180
IU
|
Vitamin C:
2
mg
|
Calcium:
34
mg
|
Iron:
0.1
mg
Nutrition information is automatically calculated, so should only be used as an approximation.
Like this? Leave a comment below!