31 Side Dishes For Salmon
Apr 11, 2023, Updated May 03, 2023
These side dishes for salmon are sure to impress your guests and elevate your dinner game! From a simple salad or air fryer asparagus to mashed rutabaga or delicata squash, there's something for every taste. Whether you're cooking for a crowd or a cozy dinner at home, these sides will add flavor and flair to your salmon dinner!
Salmon is a rich, versatile fish that's just as great for weeknight dinners as it is for entertaining dinner guests. And in case you're wondering what to serve with this tasty entree, we've put together 30 of the best side dishes for salmon!
For backyard BBQs and summer picnics, a simple slaw, potato salad, or corn on the cob might be just right. For more elegant occasions, asparagus with Hollandaise or honey glazed carrots will always do the trick. There are so many tasty options to try!
Whether you want a simple side dish of fresh vegetables to complement your salmon dinner or you want to try something entirely new, you'll find a recipe for every occasion. Let's take a look at the best side dishes to serve with salmon.
These air fryer roasted potatoes are a quick and easy side dish the whole family will love! With just a few simple ingredients, you can have crispy and golden potatoes ready in under 15 minutes.
Looking for a healthy veggie side? These crispy air fryer Brussels sprouts are the answer! Even though they're made from frozen, the crispy texture will have even the pickiest eaters asking for seconds.
Get ready for a flavor explosion with this copycat Texas Roadhouse seasoned rice! The blend of spices will tantalize your taste buds, and the fluffy texture of the rice gives it that true restaurant quality.
Air fryer carrots will be your new favorite side dish! They turn out perfectly roasted and caramelized with just the right amount of tenderness, and you can easily customize the seasoning to your taste.
Want a simple and delicious way to prepare sweet potatoes? Bake them to perfection for a sweet and savory side dish that will complement your salmon dinner and be a hit with the whole family!
Upgrade your pasta game with this vibrant and flavorful green pasta sauce! Made with fresh spinach, this sauce is not only delicious but also a great way to sneak some greens into your diet.
With only four ingredients, buttered noodles are easy to make and perfect for those busy weeknights. You can also add in your favorite seasonings and herbs to give the dish a unique flavor twist!
Ready in just minutes, these crispy asparagus spears are seasoned to perfection and make the perfect accompaniment to your salmon. And cooking them in the air fryer means they're low in fat and calories!
Bursting with flavor and a blend of fresh veggies, herbs, and a tangy dressing, corn salad is perfect for any summer gathering! Whether you serve it as a side dish or a light meal, this dish is sure to delight.
This lemon pasta recipe is the perfect combination of tangy and savory that comes together in just 20 minutes! With fresh lemon juice, lemon zest, Parmesan cheese, and a touch of garlic, this side is both light and satisfying.
Treat yourself to a fresh and flavorful take on rice that will make a great side dish to a salmon meal. The cilantro and lime give it a zesty kick for a versatile side dish that pairs well with a rich and hearty salmon main course!
The combination of crisp cucumbers, juicy tomatoes, tangy feta cheese, and Kalamata olives, all dressed with a zesty lemon vinaigrette, creates a burst of flavor in every bite. Cucumber salad is light, refreshing, and great for any occasion!
Looking for a delicious and healthy way to enjoy baked potatoes? Look no further! These potatoes are crispy on the outside, fluffy on the inside, and cook in less time than traditional oven-baked potatoes.
Blanched to perfection and then sautéed with garlic and butter, these Haricots Verts will melt in your mouth! A delicious addition to any meal, this dish can be made in under 20 minutes and is sure to impress your guests.
Air fryer roasted vegetables are a game changer! This versatile recipe is a fun way to switch up your usual routine, plus it's a quick, easy, and delicious method for getting your daily dose of veggies.
Whether you're serving it with your favorite protein or using it as a base for a grain bowl, low-carb and flavorful cauliflower rice is sure to impress your taste buds and leave you feeling satisfied!
The combination of chicken broth, butter, and aromatic vegetables means this rice pilaf is packed with flavor! It's just as easy as the boxed version but tastes so much better, perfect for busy weeknights.
Bacon, slivered almonds, crunchy croutons, and plenty of cheese mean the textures and tastes of this salad are sure to satisfy! Everything comes together with a tangy yet simple dressing for a delightful side.
Rutabaga is mashed to a creamy texture and seasoned with butter and salt for a side that's sure to be a hit with the whole family! It's a great alternative to traditional mashed potatoes that will have everyone asking for seconds.
Learn how to boil potatoes to perfection in just 15 minutes. The result is tender and creamy potatoes that will make a delicious base to your potato salad! Simply add the rest of your ingredients and enjoy.
Looking for a new summer salad recipe? This tasty pea salad is easy to make and features crispy bacon, cheddar cheese, onion, and a creamy dressing that will keep you coming back for more.
This copycat Costco Quinoa Salad means you can enjoy a quick and healthy lunch or side without having to fight the crowds! Plus, the quinoa makes it a protein-packed option that's sure to satisfy.
In just a few simple steps, you can have deliciously-seasoned and crispy air fryer mushrooms that are sure to be a hit with your guests. Serve them up with your favorite dipping sauce and enjoy!
24. Sweet Potato Fries
Get ready for a crispy and delicious side dish with these air fryer sweet potato fries! With the help of the air fryer, these fries come together quickly and easily for a perfect addition to any meal.
For a vibrant and delicious veggie side, simple oven roasted asparagus prepared with olive oil, salt, garlic, and pepper is just the thing! The luscious Hollandaise sauce really elevates the entire recipe.
The perfect blend of tender and crispy, these potatoes are easy to make and absolutely craveworthy! They're great for any occasion, whether you're cooking up a quick weeknight meal or entertaining guests.
With just a few simple ingredients and less than 30 minutes, these honey glazed roasted baby carrots are a great addition to any meal. The sweetness of the honey perfectly balances out the savory flavors of the carrots!
The crunchy texture of red cabbage slaw combined with the sweet and tangy flavors of the dressing make it the perfect side dish. This dish can be prepared ahead of time, perfect for BBQs, potlucks, or as a topping for sandwiches and tacos!
Roasted delicata squash is sweet, savory, and oh-so-satisfying. The tender and buttery squash is roasted to perfection, and you don't even need to remove the skin, so prep is an absolute breeze!
This air fryer recipe takes less than 10 minutes and produces perfectly cooked corn on the cob every time. You don't even need to boil water or heat up your oven! Just season the corn, place in the air fryer, and let the appliance work its magic.
This beautiful fruit salad is a simple dish that is a light and refreshing side dish for salmon. Made with fresh fruit and a tasty honey lime dressing.
Which one of these side dishes for salmon will you be trying? Let me know in the comments.
More easy side dishes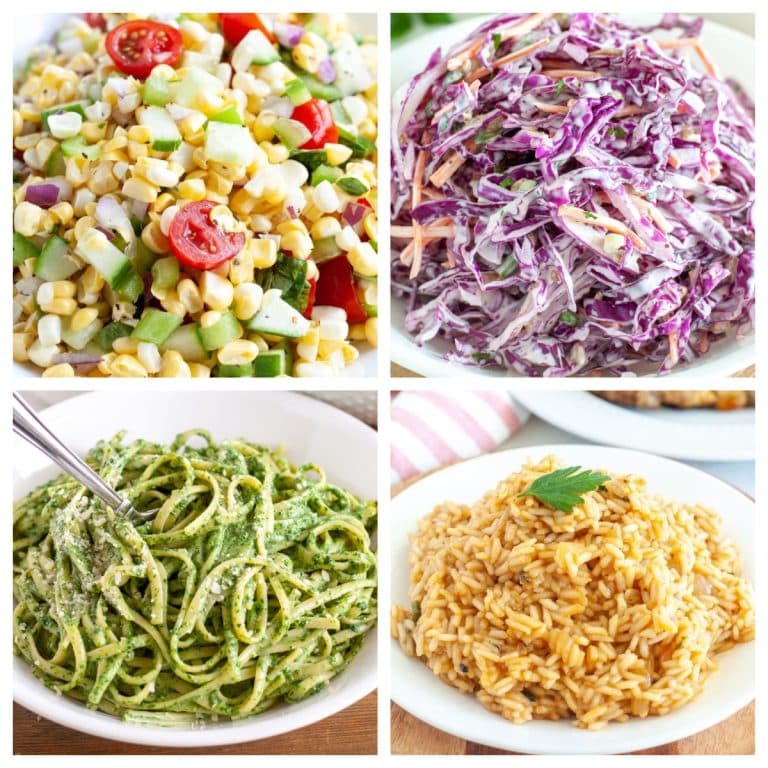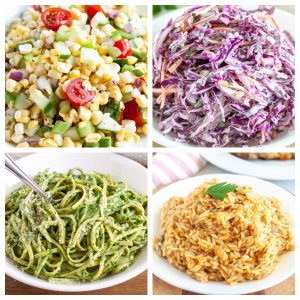 Salmon Side Dishes
Some of the best side dishes for salmon. From pasta, potatoes, to salad, and roasted veggies including this easy broccoli slaw.
Ingredients
1

12 ounce

broccoli slaw

1

carrot

shredded

1/2

cup

mayonnaise

1

tablespoon

white vinegar

1/4

teaspoon

salt

1/4

teaspoon

ground black pepper
Instructions
In a large bowl, stir together mayonnaise, vinegar, salt, and pepper.

Stir in broccoli slaw ans carrots. Toss to coat.
Nutrition
Calories:
198
kcal
|
Carbohydrates:
2
g
|
Protein:
0.4
g
|
Fat:
21
g
|
Saturated Fat:
3
g
|
Polyunsaturated Fat:
13
g
|
Monounsaturated Fat:
5
g
|
Trans Fat:
0.1
g
|
Cholesterol:
12
mg
|
Sodium:
334
mg
|
Potassium:
57
mg
|
Fiber:
0.5
g
|
Sugar:
1
g
|
Vitamin A:
2568
IU
|
Vitamin C:
1
mg
|
Calcium:
8
mg
|
Iron:
0.1
mg
Nutrition information is automatically calculated, so should only be used as an approximation.
Like this? Leave a comment below!