21 Easy Breakfast Sides
Apr 21, 2022, Updated Aug 18, 2022
Kickstart your day with high levels of energy and enthusiasm! Check out these amazing, heavenly-smelling, breakfast sides that are hearty, delicious, and will actually make you look forward to waking up early!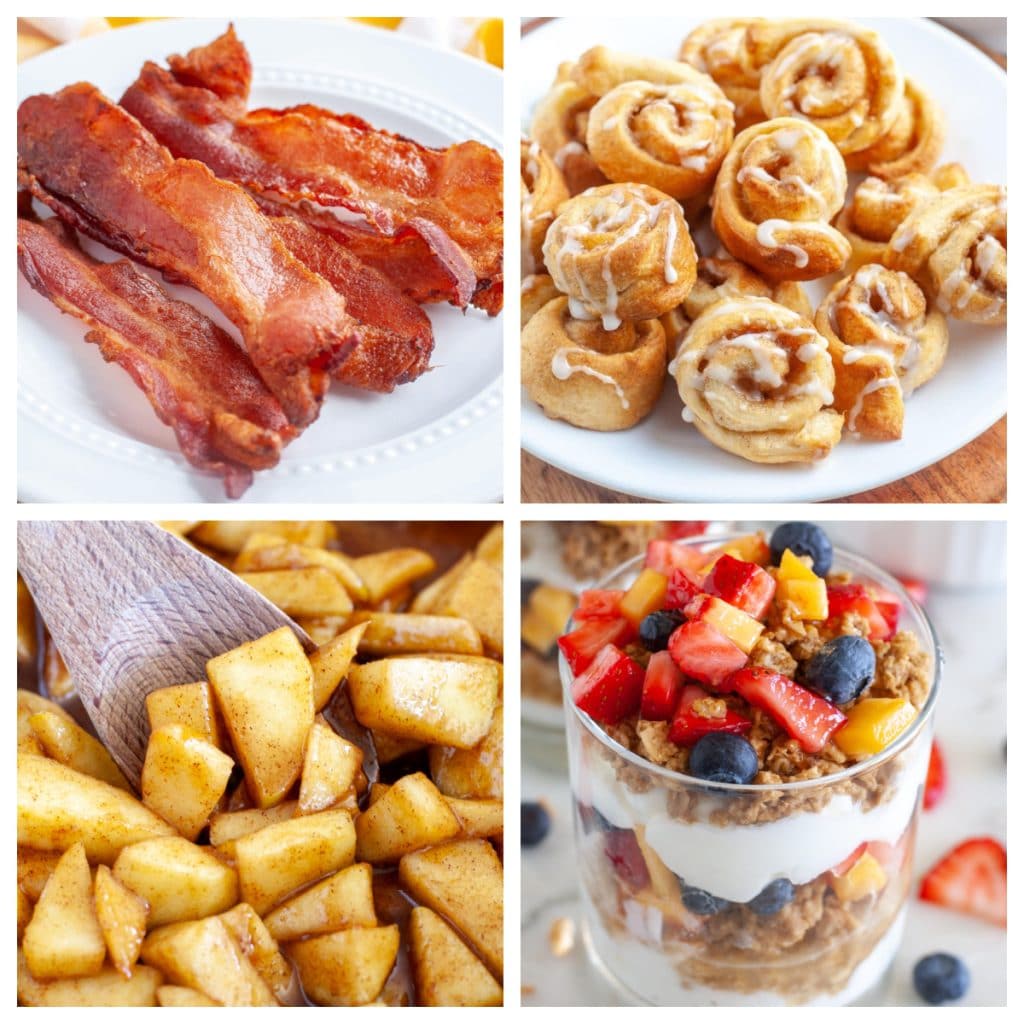 Breakfast is the most important meal of the day. You need to fuel your body with tons of energy to get you going. And of course, you want to eat something delicious, and nutritious.
For those of us who are cooking for a crowd or who just love starting the day with a well-rounded breakfast, a small bowl of cereal isn't going to be enough. We need something that's more filling and appealing. The answer? Breakfast sides that will complement our breakfast meal!
The best breakfast side dishes can get you all pumped up in the morning, so here are 21 delicious, easy breakfast sides that will do just that! From bacon and sausage, to cinnamon rolls, fresh fruit salad, and potatoes of all kinds—this collection of breakfast recipes offers a little something for everyone.
1. Air Fryer Bacon
Bacon, a breakfast favorite, can be cooked many ways. The air-fryer method is a hands-off, easy way of getting crisp and juicy bacon every time. Cook at 390 degrees for 8-10 minutes. Each air fryer cooks a little differently so you might want to start with 8 minutes to test.
Similar to pork bacon, turkey bacon cooks up wonderful in the air fryer. Serve it as a side for eggs, pancakes, or french toast for a tasty breakfast meal.
Air-frying frozen sausage patties is fast and easy! Simply insert frozen sausage patties in the fryer rack and allow them to cook in the air fryer at 380 degrees for 4 minutes. Flip the patties over and cook for another 3-4 minutes.
Inspired by Burger King Cini Minis, these little breakfast sides will have you swooning. Made with a crescent roll dough layered with cinnamon and sugar topped with a simple icing, these bite-sized cinnamon rolls are a quick, delightful way to start the day.
How about easy-peasy cinnamon twists with puff pastry today? This recipe features a light, flaky twist filled with cinnamon sugar. Four ingredients, 15 minutes, and you can have these sweet treats on the table! You can also top them with icing made from powdered sugar, milk, and vanilla extract.
If you like cinnamon toast, this is the best breakfast side dish! You can make it three ways: in the oven, on the stove, or in an air fryer. The key to the deliciousness is the spread. Use a ratio of 1 part cinnamon to 3 parts sugar.
Homemade biscuits make one of the best breakfast side dishes you'll love. These homemade buttermilk biscuits are a lovely accompaniment to various breakfast meals like eggs, bacon, and country ham or paired with a dollop of honey or preserves.
The flaky, buttery taste of a true Parisian-style croissant is yours for the baking. Whether you're feeling indulgent or looking for a sweet, warm breakfast, this recipe is sure to brighten your morning. Bon appetit!
Scones are traditional British baked goods made of wheat or oatmeal and raised with baking powder. They are similar to biscuits but have heavy cream and eggs instead of milk. For the most important meal of the day, you can never go wrong with golden brown scones glazed with butter.
Perfect as your main meal or breakfast side dish, these hash brown patties cook quickly, and are great for a rushing-off-to-work morning. Just set the air fryer temperature to 390 degrees. Cook the frozen hash brown patties for 8-10 minutes, flipping halfway through cooking. Serve warm and enjoy your meal!
The easiest part about Hash Brown Casserole is that everything gets thrown into one bowl, popped into the oven, and baked to perfection. The shredded potatoes take on cheesy flavors that will wake up your senses. If you want to add a little kick, top your casserole with sour cream, pickled jalapenos, and salsa.
You can whip up a skillet's worth of these diner-style Breakfast Potatoes the night before. Then all you have to do in the morning is cook them in a skillet. They'll have a deliciously crispy crust that's dusted with garlic powder, onion powder, smoked paprika and just a hint of cayenne.
With breakfast potato cakes, you'll feel that breakfast indeed is the most important meal of the day. They are quite filling, and help you to make it until lunch without snacking. Made with simple ingredients, they can be served with a dash of sour cream in 20 minutes or less.
Sweet Potato Hash makes one of the best breakfast or brunch side dishes. Cinnamon and maple syrup give it a delicious taste, and the addition of onion and apple can add a completely different savory flavor to your meal!
Fried apples are an amazing breakfast side! Tender slices of apple, slathered in butter, brown sugar and cinnamon makes a delicious combination. The secret is letting the apples get tender, but not so soft so they turn to mush. Add as a topping for waffles, pancakes, french toast and oatmeal.
A sweet, simple treat made with ripe bananas, cinnamon and brown sugar, fried bananas are a delicious way to perk up your mornings. Like fried apples, they're great served over ice cream or pancakes and as a topping over other dishes, but they're also good on their own.
Fruit salad is a classic breakfast dish that we can't get enough of. This fruit salad with honey lime dressing is sweet, refreshing, and bright. It is especially good when prepared with fruit that has been allowed to dry well after washing it.
This beautiful, healthy fruit and yogurt parfait is great for an easy grab-and-go, healthy, breakfast side dish during the week. It's super fast to assemble and can be made in 5 minutes. You can even make it your own by choosing your favorite fruits and granola.
Here's an easy recipe: Banana Bread Muffins. It's made with pantry staples you probably have on hand, plus ripe bananas and cinnamon. A butter, brown sugar, and cinnamon crumble tops it off. Yum!
Need something other than an alarm clock that'll wake you up? Get a big batch of these fluffy, rich and flavorful blueberry muffins with a hint of lemon and a delicious streusel topping.
These Bisquick Sausage Balls are a simple, hassle-free breakfast. They only take about 30 minutes to make, and for easy recall you will need 3 cups Bisquick, 2 cups cheese, 1 sausage roll.
More breakfast recipes
Did you make one of these great recipes? Let me know in the comments below.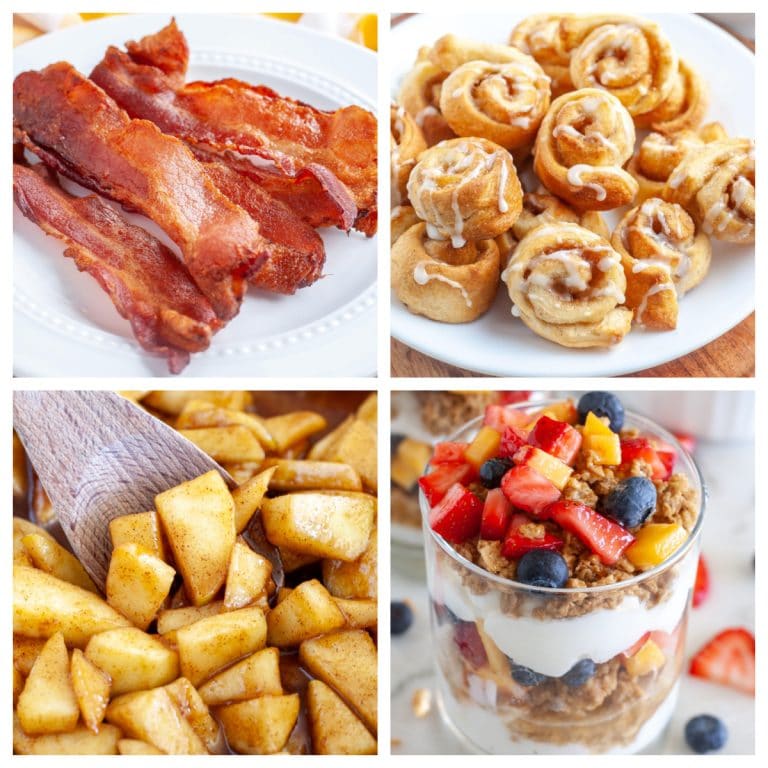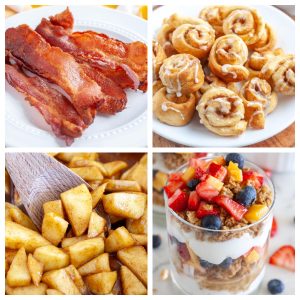 Breakfast Sides
A collection of delicious and easy breakfast sides plus this simple cantaloupe fruit salad. Everything from bacon to parfaits, these breakfast side dishes can be enjoyed by everyone.
Ingredients
2

cups

cantaloupe, cubed

1

cup

strawberries, sliced

1/2

cup

blueberries

1 1/2

tablespoons

lime juice
Instructions
Place diced cantaloupe, strawberries, and blueberries in a bowl. Drizzle with lime juice.

Cover and refrigerate until ready to serve.
Nutrition
Calories:
203
kcal
|
Carbohydrates:
50
g
|
Protein:
4
g
|
Fat:
1
g
|
Saturated Fat:
1
g
|
Polyunsaturated Fat:
1
g
|
Monounsaturated Fat:
1
g
|
Sodium:
99
mg
|
Potassium:
806
mg
|
Fiber:
7
g
|
Sugar:
40
g
|
Vitamin A:
10891
IU
|
Vitamin C:
133
mg
|
Calcium:
59
mg
|
Iron:
2
mg
Nutrition information is automatically calculated, so should only be used as an approximation.
Like this? Leave a comment below!