31 Best Side Dishes For Steak
May 02, 2023, Updated May 10, 2023
Everybody loves a classic steak dinner, but sometimes it's hard to know what to serve with steak. That's why I love this list of recipes. It gives me so many ideas for the perfect side dish.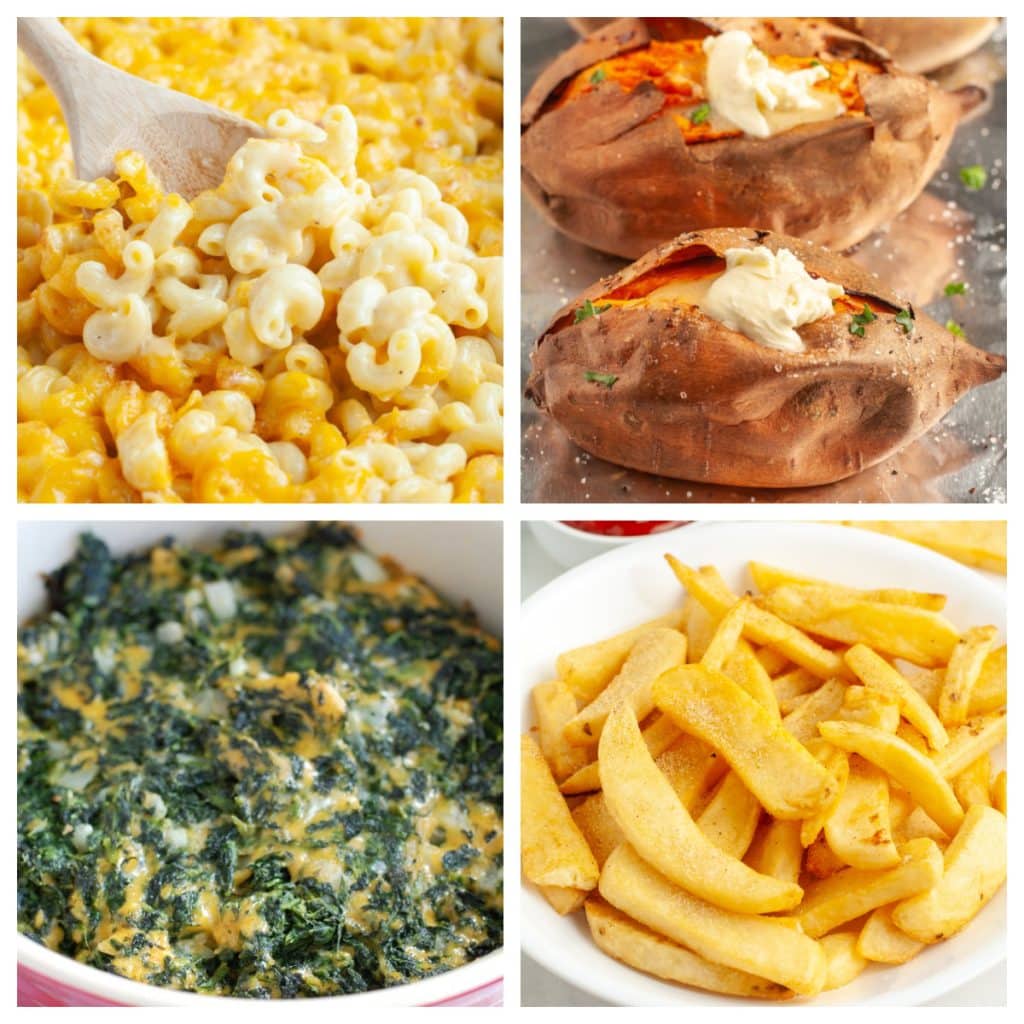 The options are endless and with any of these 31 side dishes to serve with steak in your back pocket, you can't go wrong. So, pick your favorite side dish recipe and get cookin'!
Pull out that air fryer and get rolling with this steak fries recipe! These french fries make for a perfect side dish and go easily with any dinner. Crispy on the outside and soft on the inside, you won't be able to put these steak fries down! In only 15 minutes, you'll have a delicious side for any occasion.
For my sweet potato lovers, this side is perfect. It's another easy air-fryer recipe, coming together in only 10 minutes! This is a great recipe for your next family dinner, cookout, or party. It's a simple and delicious dish that everyone will love! Serve hot with a delicious, juicy steak, and enjoy!
These onion rings are crispy, tasty, and easy to make! This recipe uses simple ingredients like flour, cornstarch, milk, and bread crumbs for a delicious, crispy finish! This crunchy appetizer comes together in an air fryer in only 20 minutes, and goes perfectly with your next steak dinner. You don't want to miss out on this recipe!
Add a delicious vegetable side dish to your steak dinner with these crispy brussels sprouts! This is my favorite side dish to eat with any meal, but it goes especially well with steak. This recipe is made in the air-fryer for the ultimate crispy and tender texture. Everyone will love this dish (even the kiddos!)
You can't go wrong with garlic bread, but you can make it 1000 times better by making it in an air-fryer! Air frying your garlic bread makes a crispy but soft side dish that tastes absolutely amazing. Make it homemade, or use frozen garlic bread for a more convenient, faster appetizer. Both taste great!
These light and tender potato wedges are a great side dish option for your next steak dinner. They're so easy and incredibly delicious! Seasoned with paprika, onion salt, parsley, garlic powder, oregano, and more, these wedges taste like they came straight from heaven!
This side salad is not only simple, but also so versatile! It tastes great, and can be served with just about any meal. This recipe uses fresh ingredients such as romaine lettuce, toasted pecans, cucumber, tomato, and dried cranberries! These flavors and textures blend so well together to create the perfect summer side dish!
Boil your potatoes to perfection and throw together this easy potato salad to go with a delicious juicy steak! This potato salad uses vinegar, mayo, mustard, celery seeds, and other yummy ingredients that will have your mouth watering. Just 10 minutes to prep!
Caesar salad is a classic side dish and the perfect accompaniment for steak dinner. The crispy green lettuce is topped with a creamy homemade Caesar dressing that tastes heavenly! Top with crunchy garlic croutons and enjoy!
Get your veggies in with this delicious recipe for garlic green beans! I love pairing this dish with steak because the flavors go so well with each other…and it's super simple! Just sauté with onion, garlic, mustard, and lemon juice, and you'll have the juiciest, tastiest green beans ever!
This creamy risotto recipe makes the creamiest side dish full of rich flavors! When I tried this recipe, it quickly became one of my favorites. With lemon, dill, parsley, chives, and more, this has the best homemade lemon and herb flavor you could possibly imagine. Finish with butter and parmesan, and serve!
Buttery, garlicky, and juicy; it couldn't get any better! That's why I love this recipe for sauteed mushrooms. It is a great side dish option for steak, and holds a delightful umami flavor that just bursts with every bite! I love these mushrooms, and I know you will, too!
Potatoes au gratin is made with delicious potatoes drenched in a creamy cheese sauce. Do side dishes get better than that? These buttery potatoes are seasoned to perfection with salt, pepper, onion, garlic, and nutmeg. They're so simple to put together and they're absolutely divine!
This recipe shows you how to create the perfect baked potato with ease! With crispy skin and a soft inside, these potatoes are baked to perfection in only 50-60 minutes. Just bake, cut, finish up with your favorite toppings, and dig in!
We all know and love the heavenly flavor of Texas Roadhouse rolls, so why not recreate that same flavor right at home? This Texas Roadhouse roll copycat recipe creates buttery, fluffy, and delicious rolls, prepared in only 15 minutes. This recipe is guaranteed to have everyone full and happy when paired with a juicy steak dinner!
Baked macaroni and cheese is crispy, creamy, and always a hit! This recipe is made with tender pasta smothered in melty, gooey velveeta and sharp cheddar cheese seasoned with nutmeg, paprika, salt, and pepper. Homemade mac and cheese doesn't get better than this!
This wedge salad is a nice and easy light side dish that goes great with steak. It uses the perfect combination of ingredients including iceberg lettuce, tomato, hard boiled eggs, blue cheese, and bacon. When drizzled with a homemade blue cheese dressing and balsamic reduction, it quickly turns into the most flavorful salad you will ever make!
Mediterranean couscous salad is a delicious dish that makes for an inviting and delectable appetizer. The garbanzo beans, diced cucumber, tomato, and feta cheese are tossed in a bright lemon olive oil dressing for the perfect healthy, simple, and tasty side dish.
If you're looking for a creamy and tasty side dish, this crunchy red cabbage slaw is the thing for you! Coated in a smooth, velvety dressing, this slaw goes perfectly well with a steak dinner. Full of fresh veggies and bright flavor, this recipe is always a hit!
Mashed rutabaga is a great alternative to mashed potatoes, and holds that same great flavor and texture! The half and half and butter makes for a velvety texture and rich flavor in every bite. This side dish will soon be one of your go-to recipes!
This low-carb alternative to mashed potatoes is a great option to pair with steak. Mashed cauliflower is super simple to make, and tastes even better than it looks! This recipe comes together in a total of 30 minutes and requires just 5 simple ingredients.
With a short list of only 6 ingredients, you'll have crispy oven roasted broccoli to pair with a juicy steak dinner in a total of 20 minutes! These crispy veggies have the perfect amount of crunch and juiciness, and are seasoned to perfection. This dish will even have your kids loving vegetables. They're that good!
Crack open a box of Jiffy Corn Mix and throw together this amazing corn pudding recipe! It uses creamed corn and sour cream for a beautiful smooth texture, and the sugar brings out a delectable sweetness you can't replicate in any other dish! This recipe is a favorite in my house—we practically lick the pan clean!
Make a restaurant-worthy stuffing right on your stovetop using this simple and delicious recipe! This stuffing is a great addition to the dinner table and it's always a hit. This classic side dish is packed full of the best ingredients and so much flavor.
I'm always looking for a healthy option for a side dish that actually tastes great, so when I found this recipe, I knew I hit the jackpot! These air fryer vegetables are crispy, juicy, and out of this world. This recipe calls for zucchini, bell peppers, squash, onion, and mushrooms, but you can use any veggies you want; they'll all taste great!
This corn salad is colorful, flavorful, and healthy! It has bright flavors of corn, onions, tomatoes, cucumber, green peppers, and basil, and is topped with a light lemon olive oil dressing. This is a great option for a summer side dish and perfect for your next cookout!
Spinach casserole holds some of the best flavor in a side dish you could possibly imagine. It's made with frozen spinach baked with butter, milk, onion, the perfect blend of spices, and sharp cheddar cheese for a gooey finish. This recipe takes just 15 minutes to prep and has the perfect flavor!
This air fryer recipe for roasted asparagus is super simple, and comes together in just minutes! Just top your asparagus with olive oil and lemon pepper, pop in the air fryer, and serve! These go great with steak dinners or any meal your heart desires.
Carrots are so good for you, and this recipe makes them taste even better than they already do! The carrots are smothered in a honey garlic butter sauce and roasted until deliciously caramelized. These carrots are sweet, tender, and make for the perfect side dish. Not to mention they come together in under 30 minutes.
Whipped sweet potatoes are pleasing, light, fluffy, and mouthwateringly sweet! This recipe is ready in a quick 10 minutes and takes sweet potatoes to a whole new level with heavy cream, brown sugar, and cinnamon.
They don't call these party potatoes for nothing! They're creamy and cheesy in the middle, and topped with corn flakes for a nice crunch. This recipe is a huge hit at large gatherings, and they're super fun to make!
Which one of these delicious sides will you be making with your steak recipe?
More side dish recipes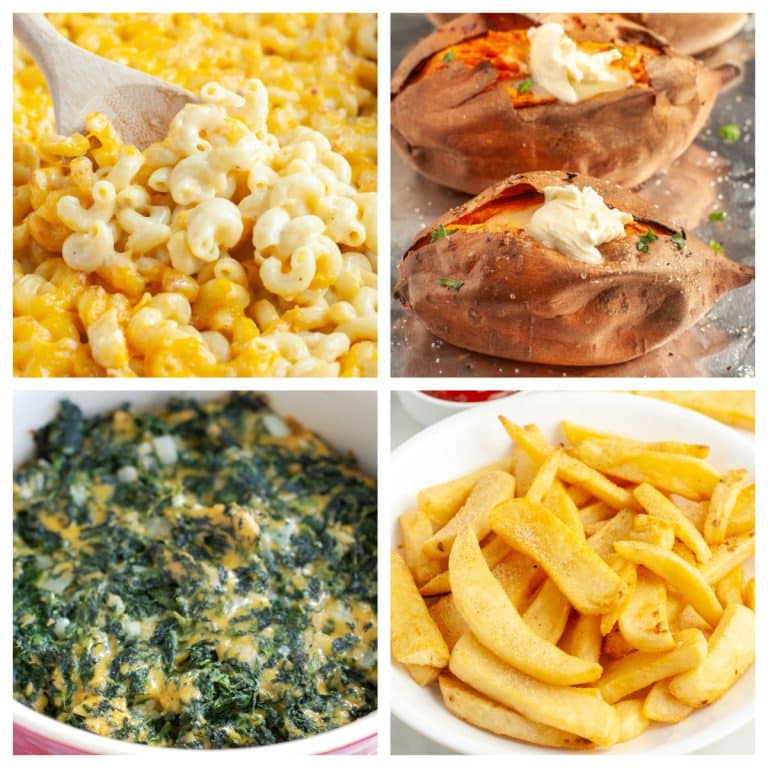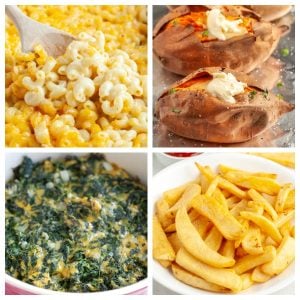 What To Serve With Steak
Wondering what to serve with steak? This group of delicious steak side dishes range from potatoes, vegetables, and more including this easy mashed cauliflower.
Ingredients
1

head of cauliflower

cut into florets

2

tablespoons

unsalted butter

3

tablespoons

sour cream

2

cloves

garlic

minced

1/2

teaspoon

salt

1/4

teaspoon

ground black pepper
Instructions
Place cauliflower in a large pot filled with water. Bring to a boil and boil for 10 minutes.

Carefully drain the water. Transfer cauliflower into a food processor and blend until smooth.

In a saucepan, melt butter and cook minced garlic for 1-2 minutes being careful not to burn the garlic.

Pour the butter and garlic into food processor with cauliflower and pulse to blend and combine.

Transfer to large bowl and stir in sour cream, salt, and pepper. Serve warm.
Nutrition
Calories:
106
kcal
|
Carbohydrates:
8
g
|
Protein:
3
g
|
Fat:
8
g
|
Saturated Fat:
5
g
|
Polyunsaturated Fat:
0.3
g
|
Monounsaturated Fat:
2
g
|
Trans Fat:
0.2
g
|
Cholesterol:
20
mg
|
Sodium:
47
mg
|
Potassium:
449
mg
|
Fiber:
3
g
|
Sugar:
3
g
|
Vitamin A:
231
IU
|
Vitamin C:
70
mg
|
Calcium:
45
mg
|
Iron:
1
mg
Nutrition information is automatically calculated, so should only be used as an approximation.
Like this? Leave a comment below!