25 Best Fried Shrimp Sides
Apr 27, 2022, Updated Aug 15, 2022
Love fried shrimp but not sure what to serve with it? Fear not as we've got you covered with our greatest fried shrimp side dishes.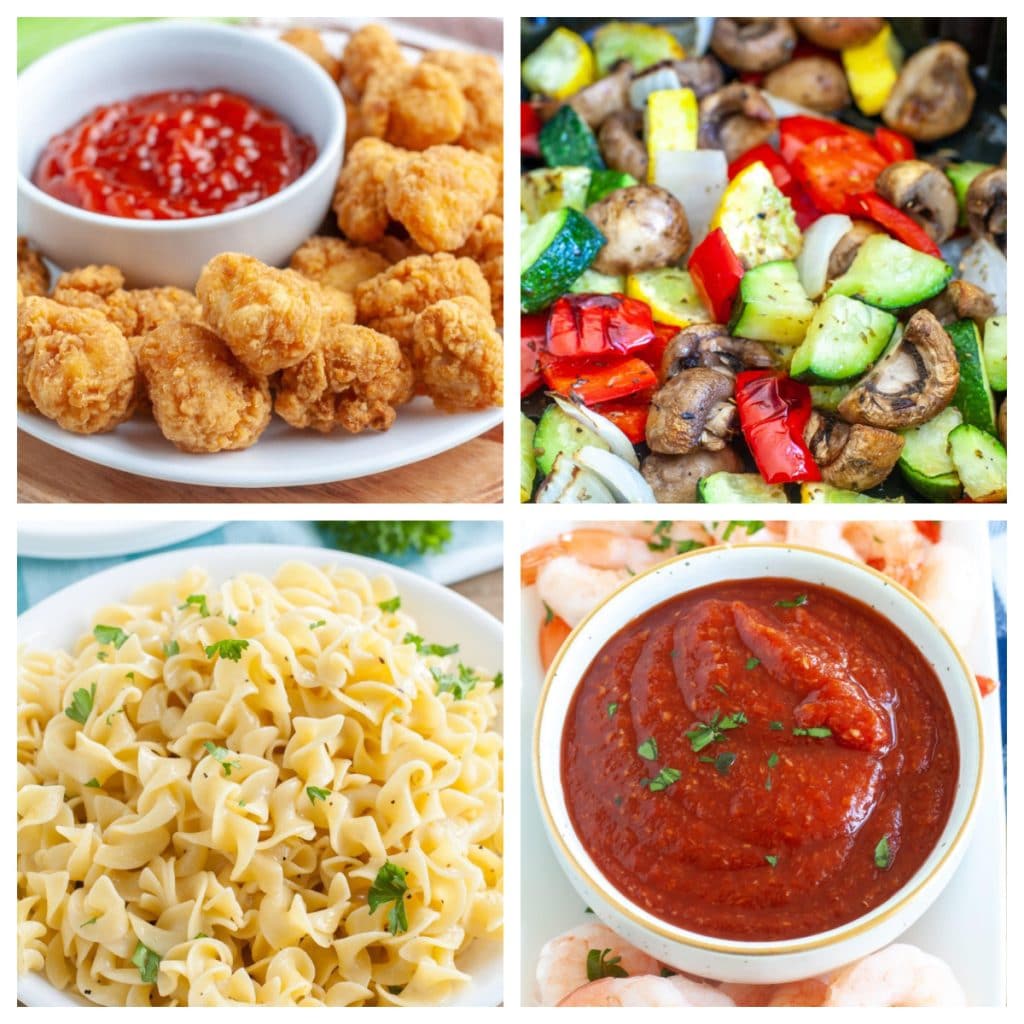 While this group of side dishes is perfect for fried shrimp, they also work for coconut shrimp, tempura shrimp, shrimp scampi and more.
From buttered noodles, to roasted veggies, to fries, there's something for everyone in this roundup of delicious shrimp side dishes. We have a diverse mix of delectable options for every palate. Read on below and find your new favorite.
Move over fish and chips, there's a new dish in town. These french fries pair perfectly with fried shrimp. They are a copycat recipe of the infamous Wingstop fries. The key is the seasoning on them. Full of flavor and crunch, they are a flawless side to enjoy with your fried shrimp.
Cocktail Sauce and shrimp go together like peanut butter and jelly and not just for shrimp cocktail, it's perfect for fried shrimp too. This homemade sauce is so easy to make, has only four ingredients, and is better than any store-bought sauce you can buy.
You can make it spicier too if that's your preference. Once you make this recipe, you'll never buy cocktail sauce at the store again.
This tartar sauce gets it right. The perfect balance of flavor and texture. It's creamy, a little crunchy, and perfect to dip your fried shrimp in.
This mayonnaise-based sauce packs a delicious punch and complements many foods including your homemade fries.
This fried squash is a tasty summertime favorite and one of the best side dishes as it pairs well with many recipes. It's easy to make in under 30 minutes and a family favorite.
While this recipe calls for yellow squash, you can easily use zucchini too. It's also perfect to dip in the tartar sauce or cocktail sauce noted above.
These roasted vegetables are a wonderful and healthy side dish to go with your fried shrimp. We take our favorite veggies with a similar cook time, toss them in olive oil, Italian seasonings, and salt and pepper, and throw them in the air fryer for 10 minutes. Voila, a wonderful side dish that is quick, easy, and healthy.
A 3-ingredient, easy recipe, and one of the best, simple side dishes for any meal. Asparagus is a quintessential vegetable loved by many and you'll love making this effortless recipe. It's healthy, low-carb, and appetizing making it great to eat with your fried shrimp.
Macaroni salad is a classic summertime salad and staple picnic, BBQ, and cookout side dish. This recipe is a delicious blend of macaroni pasta, onion, red bell pepper, and other ingredients.
What really brings it together is the creamy dressing. An inviting texture juxtaposition to your fried shrimp.
This Greek-inspired pasta salad is a tasty treat to complement your fried shrimp. It's packed full of flavor with cucumber, cherry tomato, feta cheese, red onion, and fresh basil.
The salad is tossed in red wine vinegar and lemon vinaigrette dressing adding to its burst of flavors. This is one of the best side dishes you'll have on repeat.
Although potato salad originated in Germany, it has become as all-American as the classic cheeseburger. This classic salad is the ultimate side dish and this recipe is as vintage as they come. With hard-boiled eggs, onion, and a creamy mayonnaise dressing, it's a dish everyone loves.
This corn salad is a fun and simple recipe. A favorite in the summertime, it's a fresh salad that compliments the fried shrimp. Fresh sweet corn, cucumber, cherry tomatoes, green peppers, and red onion are all mixed in a tangy olive oil and lemon dressing. Fresh, light, and oh-so-good.
Elote style corn is another name for Mexican street corn and is a mouthwatering recipe you'll be making all year long. It's packed with flavor and only takes 15 minutes to make. Grill your corn, cover in a mayonnaise and sour cream mixture with delectable seasonings then topped with Cotija cheese and fresh lime. Make this today and wow your friends and family with its goodness.
This chopped green salad takes on the classic wedge salad and elevates it to new heights. A sublime blend of chopped iceberg lettuce, spinach, bacon, blue cheese crumbles, purple onion, cherry tomatoes, and a balsamic glaze drizzled over all of it create this masterpiece.
It is full of fresh vegetables and flavor and comes together in just 20 minutes making it a favorite side dish to serve with your fried shrimp or any other main dish.
Greek Salads tend to have similar ingredients but what can make it or break it is the dressing. This dressing definitely makes it! This delicious salad dressing is a blend of olive oil, red wine vinegar, honey, and spices blend together to add a zesty flavor to this outstanding salad. The dressing is tossed with romaine lettuce, red onion, cucumber, tomato, olives, and feta cheese creating a classic favorite and perfect side dish.
Looking to mix things up? Then this salad is for you. It's a fresh and healthy twist on a traditional salad and comes together in only 15 minutes. Mango, avocado, green onion, red bell peppers, and sunflower seeds are tossed in olive oil and lemon dressing mixed with fresh cilantro or parsley. It's great as a side dish or to throw your fried shrimp in the bowl and enjoy a one-pot meal.
Zoodles are a fresh, low-carb, and healthy alternative to traditional pasta noodles. These pesto zoodles are zucchini noodles combined with a homemade pesto sauce. Homemade pesto is easy to make and so good. Fresh basil, olive oil, garlic, parmesan cheese, and a touch of lemon juice blend together to make this delicious Italian favorite. These are great as a side dish or to top with your fried shrimp and enjoy.
Chili sauce is a staple in Asian cooking and this homemade sauce is perfect for adding extra flavor to any dish and dipping your fried shrimp in. It's quick and easy to prepare in only 10 minutes and adds superb flavor. As this is a sweet version, you can always up the ante with the heat by adding more dried red chili flakes. Whatever your heat preference is, it's a delicious sauce you'll have on repeat.
This copycat recipe from Red Lobster is a light, sweet, creamy, dreamy dipping sauce so good you'll be dipping everything in it. Perfect for your fried shrimp or coconut shrimp, it's a unique blend of coconut cream, pineapple, Malibu rum (optional), sour cream, lime juice, and a touch of sugar.
A light and fresh rice dish, this cilantro jasmine rice is packed full of flavor. It's a natural and simple recipe to make that pairs great with fried shrimp. It's one of the best side dishes as it is versatile, healthy, and light yet filling.
This homemade Spanish rice is a restaurant-quality dish you'll want to make repeatedly. It comes together in 35 minutes for a quick side dish. Want to make it a meal? Throw your fried shrimp or other protein in with it. You can adjust the heat to your preference and not sacrifice flavor.
Sweet potato fries are a delightful alternative to traditional fries. They are healthier too as sweet potatoes are packed full of vitamins, more so than their white potato counterpart! These sweet potato fries cook in just 8 minutes in the air fryer and use the Alexia frozen fries. Easy peasy and oh so tasty!
Buttered noodles are a simple yet flavorful quick side dish to throw together. The noodles are cooked in chicken broth and butter. Once cooked add in more butter, garlic, salt and pepper, and top with parsley if desired. This dish is done in under 15 minutes and is a great side dish to pair with any protein, especially that fried shrimp.
This wonderfully seasoned rice is a copycat recipe of the Texas Roadhouse seasoned rice. It is full of flavor and easy to make. It's ready in about 30 minutes and pairs perfectly with many main dishes.
Red cabbage slaw is a crunchy, tasty side dish or delicious sandwich topping. The red cabbage, carrots, green onion, sunflower seeds, and parsley are tossed in a creamy mayonnaise-based dressing. It is easily customizable and quick to make.
Au gratin potatoes are an easy, cheesy, delicious side dish for any meal. Parboiling the potatoes first makes this recipe come together much quicker than the traditional recipe of baking them raw. These potatoes are layered in a creamy cheese sauce, seasoned with salt and pepper, and baked to perfection.
These incredible vegetable kabobs with fajita butter are your next veggie obsession. You can easily customize this recipe with your favorite veggies although this recipe uses corn on the cob, zucchini, onion, bell pepper, mushroom, and Brussel sprouts. The secret sauce is fajita butter. Melted butter, fajita seasoning mix, and lemon juice coat the grilled veggies giving them a kick of flavor. A satisfying side dish for any meal.
Did you try one of these popular side dishes? Let me know in the comments below.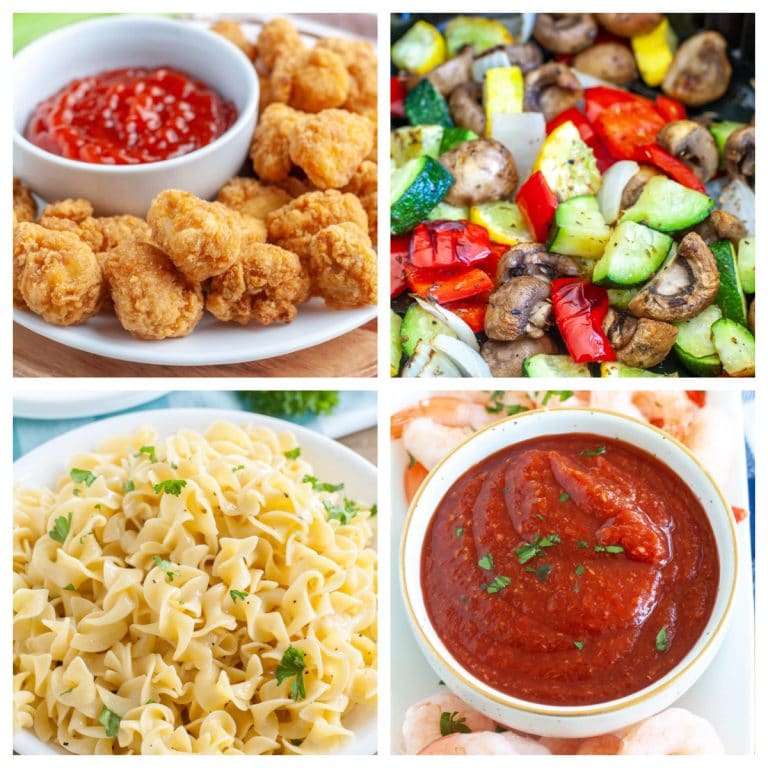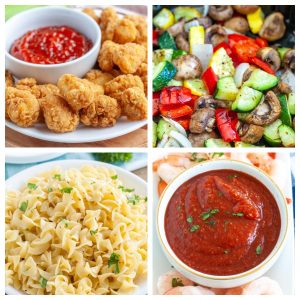 Fried Shrimp Sides
A collection of 25 tasty side dishes for fried shrimp including this simple pineapple salsa.
Ingredients
1

cup

diced pineapple

1/4

cup

diced red onion

1/4

cup

chopped fresh cilantro
Instructions
Place all of the ingredients in a bowl and toss.

Serve as a side with shrimp.
Nutrition
Calories:
25
kcal
|
Carbohydrates:
6
g
|
Protein:
1
g
|
Fat:
1
g
|
Saturated Fat:
1
g
|
Polyunsaturated Fat:
1
g
|
Monounsaturated Fat:
1
g
|
Sodium:
1
mg
|
Potassium:
65
mg
|
Fiber:
1
g
|
Sugar:
4
g
|
Vitamin A:
92
IU
|
Vitamin C:
21
mg
|
Calcium:
8
mg
|
Iron:
1
mg
Nutrition information is automatically calculated, so should only be used as an approximation.
Like this? Leave a comment below!