What To Serve With Crab Cakes – 25 Sides
Looking for the best side dishes to serve with a scrumptious seafood feast? Once you take a peek at this collection, you'll never wonder what to serve with crab cakes again! From casual classics like potato salad or slaw to tasty bites like sweet potato fries to exciting twists like ramen salad or mango salsa, the hardest part will be narrowing down which ones you want to make first!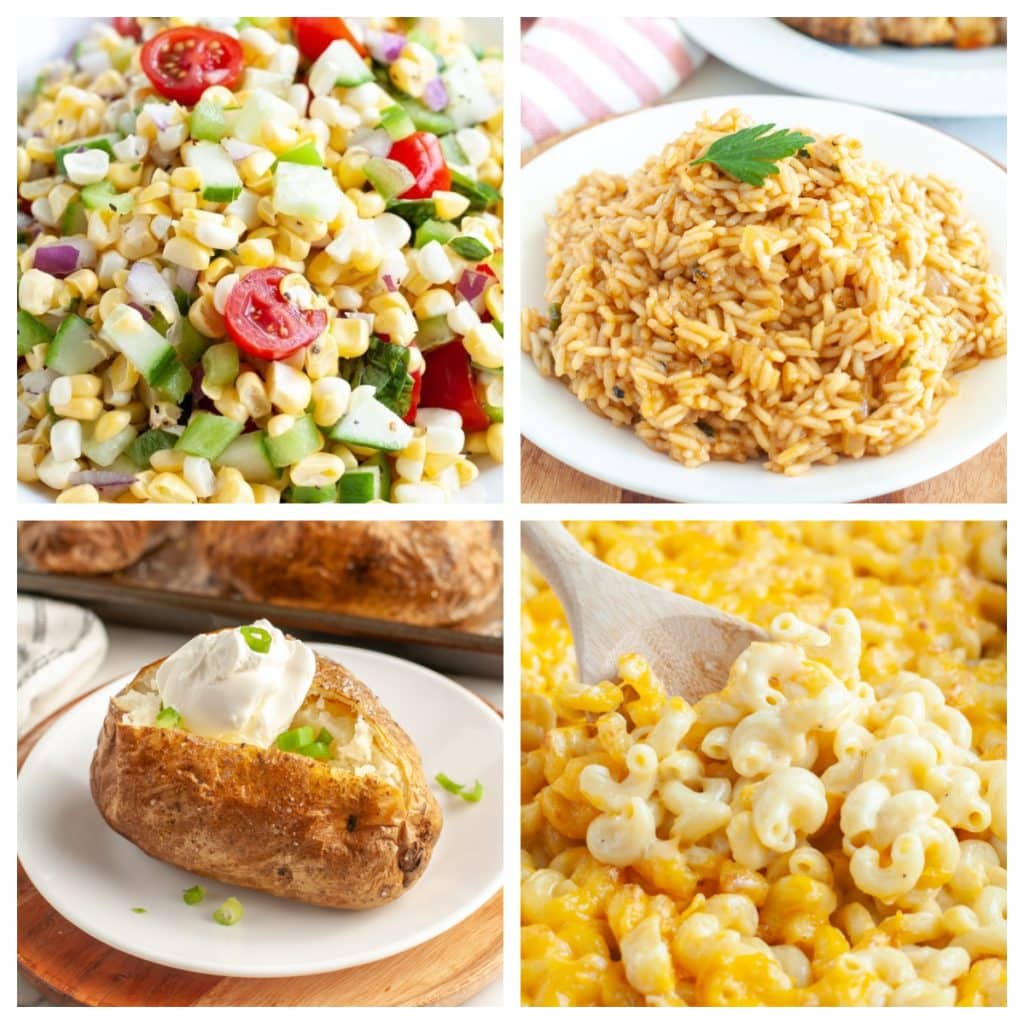 Is there anything better than sinking your fork into a patty of fresh lump crab meat that's been fried to crispy, golden perfection? It's hard to beat! So you may be wondering what to serve with crab cakes that could complement such an irresistibly delicious dish.
That's why we've gathered all the best side dishes to round out your savory seafood experience. Indulge in casual classics like potato salad and slaw, whip up a few crowd-pleasers like Texas Roadhouse copycat rolls and sweet potato fries, or take your tastebuds to new heights with ramen salad, mango salsa, and more!
The beauty of crab cakes is that they're just as great for a casual lunch on the deck as they are for an upscale dinner party. And thanks to this collection of complementary sides, you'll be able to whip up the perfect spread for any dining occasion!
The secret to the easiest, most delicious potato salad you've ever had is knowing exactly how long to boil your potatoes! Add your mayo, mustard, vinegar, green onions, hard boiled eggs, and seasonings for a classic side.
This summertime staple features corn off the cob mixed with chopped basil, tomatoes, cucumbers, bell pepper, and red onion all tossed in a vibrant lemon dressing for a delightful jumble of fresh flavors! The perfect dish to serve with crab cakes.
Is there anything as versatile as red cabbage slaw? You'll love the vibrant color of the cabbage with the satisfying crunch of the carrots and sunflower seeds topped in a creamy dressing that brings it all together.
You can't go wrong with a fresh salad. Find out why this dish has been nicknamed "that GOOD salad." Hint: it might have something to do with all the bacon, Parmesan, crunchy nuts, and croutons finished off with that oh-so-tasty lemon-garlic dressing.
This healthy method for roasting veggies can be dressed up or down and adapted to fit any veggies you have on hand! Best of all, it's ready in just 20 minutes and can also be made ahead of time.
If you love the cozy comfort of clam chowder or potato soup, you're going to fall head over heels for this summery twist! It's made with pantry staples, but the addition of tender corn and bacon makes this soup one you'll come back to again and again.
The fresh flavors in this summer salad are absolutely crave worthy! With tomatoes, creamy avocados, red onion, and a few seasonings, it's like a cross between a salsa and a salad. The lime and cilantro really make the flavors pop!
Unbelievably easy air fryer asparagus only requires 3 ingredients and cooks in about half the time it would take in the oven! This versatile veggie can be served on an elegant platter or eaten with your fingers for a more casual gathering.
Who can resist fresh corn on the cob in the middle of summer? And while boiling or grilling gets the job done, making corn on the cob in the air fryer means it's cooked to perfection in just 15 minutes.
Copycat Texas Roadhouse seasoned rice is even easier to make than you think. This rice pilaf is toasted in butter and then cooked with broth and spices for a simple side that's bursting with flavor.
It's hard to know what's brighter: the colors or the flavor of this vibrant salsa! The combination of mango, avocado, red bell pepper, jalapeño, red onion, cilantro, and fresh lime is ultra-scoopable.
Have a bag of sweet potato fries hanging out in the back of your freezer? Ditch the hit-or-miss oven method and try making them in the air fryer instead! They're hot and crispy in just 8 minutes with no extra oil needed.
Crisp and delicious seasoned potatoes are a classic. Simply toss with oil and spices, then roast until they're golden on the outside and perfectly soft on the inside. Don't be surprised when this side disappears FAST!
Want to learn how to get that wonderful, crispy skin on your baked potato every time while keeping the center tender and fluffy? The trick is to brush them with oil and then bake at 400 degrees F.
Treat your tastebuds to a refreshing and tangy side! A simple 4-ingredient apple cider vinaigrette really brings out the flavors of the cucumber and red onion. Top with fresh parsley or dill if desired!
You'll love the refreshing zest this marinated three-pepper salad adds to your meal! Best of all, it's super easy to throw together and packed with nutritious ingredients. Just be sure to leave a little time for everything to marinate!
For a speedy side dish that can be ready in about 10 minutes, try this delightful jumble of cherry tomatoes, onion, and fresh parsley tossed in oil and red wine vinegar. Bonus points if you add a little cucumber and some feta on top!
Everyone loves a soft dinner roll, but absolutely no one will be able to resist these fluffy and sweet copycat Texas Roadhouse rolls! They're so light and buttery, they practically melt in your mouth.
Craving Wingstop's tasty seasoned French fries? Now you don't have to leave your house to get your hands on them! The secret is to add a pinch of sugar with the other spices for that incredible combination of smoky, salty, and sweet.
The best part of this recipe is that it works with either fresh or frozen green beans. Talk about convenient! The trick to the best taste and texture is to blanch the beans first, then saute, then finish with butter mustard and lemon juice.
This combination of Mediterranean flavors is an absolute treat for your tastebuds! Hearty chickpeas, fresh cucumbers, juicy tomatoes, and sharp red onion tossed in a simple dressing is sure to be a hit.
If you've never tried crunchy ramen noodles, cabbage, carrots, and seeds tossed together in a simple Asian dressing, then one bite of this salad will have you wondering where it's been all your life!
Creamy lemon pasta is a simple yet elegant dish that's perfectly suited for any occasion. The zesty sauce and touch of Parmesan cheese make it the kind of savory, tangy side you won't be able to stop eating!
Have you ever tried cooking egg noodles in broth and butter? There's no draining required, and the noodles absorb all that amazing flavor as they cook! This one-pot dish is the perfect combination of simplicity, comfort, and a great side dish.
Creamy, cheesy, easy baked macaroni and cheese is the perfect crab cake side dish. Made with Velveeta cheese, this is a delicious mac and cheese recipe.
Sauces for crab cakes
Need a delicious sauce to use for a crispy crab cakes dip? Try one of these sauces:
Remoulade Sauce – recipe below
Which side dish will you be making?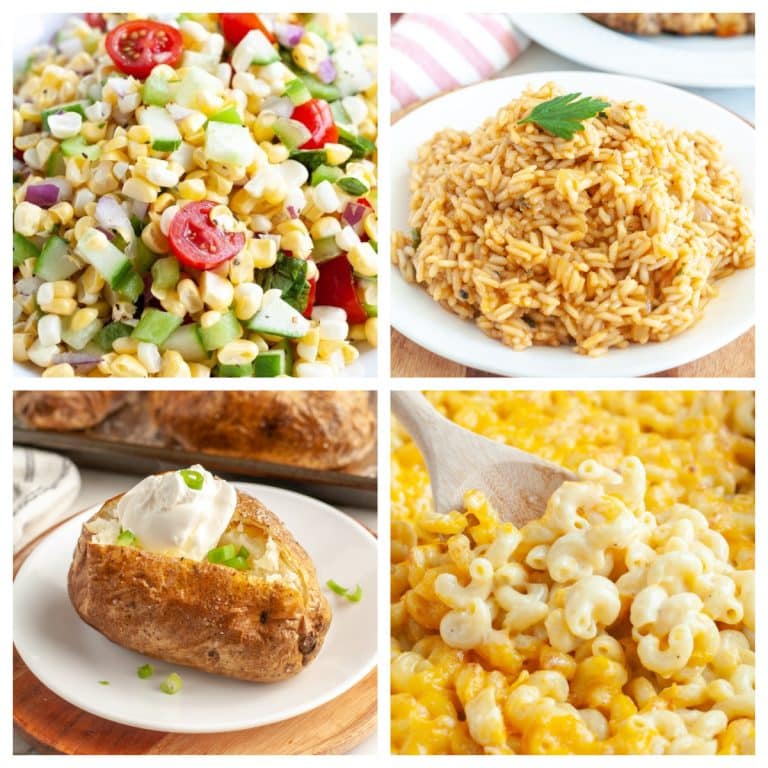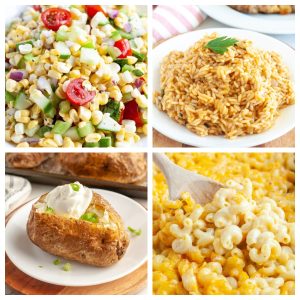 What To Serve With Crab Cakes
These delicious side dishes pair well with crab cakes. From a simple salad to lemon pasta, try one of these best crab cake side dishes.
Ingredients
1

cup

mayonnaise

2

tablespoons

whole grain mustard

1

teaspoon

Cajun seasoning

1

teaspoon

hot sauce

1

teaspoon

pickle juice

1/4

teaspoon

garlic powder

1/4

teaspoon

salt
Instructions
Mix all of the ingredients in a bowl until combined.

Cover and store in the refrigerator until ready to serve.
Nutrition
Calories:
388
kcal
|
Carbohydrates:
1
g
|
Protein:
1
g
|
Fat:
42
g
|
Saturated Fat:
7
g
|
Polyunsaturated Fat:
25
g
|
Monounsaturated Fat:
10
g
|
Trans Fat:
0.1
g
|
Cholesterol:
24
mg
|
Sodium:
629
mg
|
Potassium:
38
mg
|
Fiber:
1
g
|
Sugar:
0.5
g
|
Vitamin A:
290
IU
|
Vitamin C:
1
mg
|
Calcium:
11
mg
|
Iron:
0.4
mg
Nutrition information is automatically calculated, so should only be used as an approximation.
Like this? Leave a comment below!