Want a fun, easy meal? Try frozen dino nuggets in the air fryer. A fast, simple meal or snack that kids will go crazy for.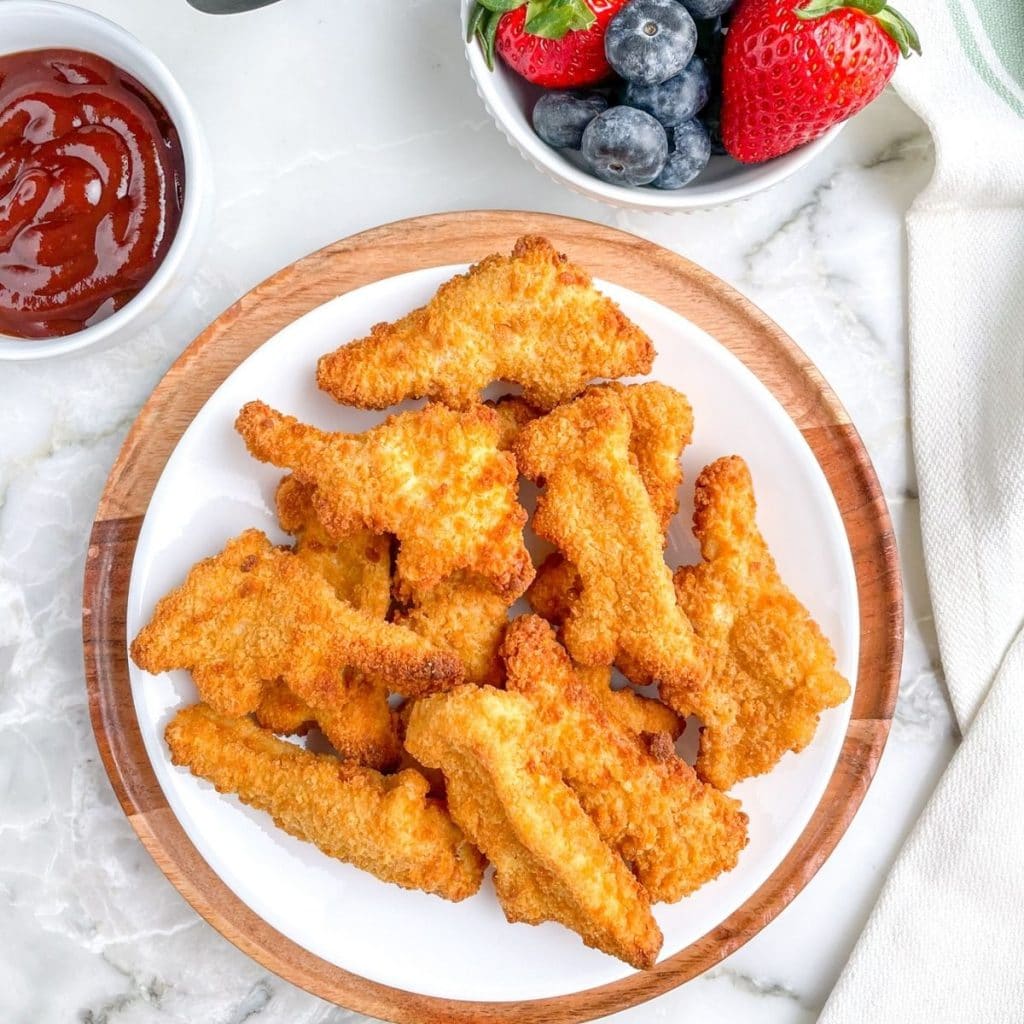 Regular chicken nuggets are great in the air fryer but dinosaur nuggets in the air fryer take meal time to a whole new, fun level.
Why this method works
There are several cooking methods for reheating dino nuggets like in the oven, microwave, or even deep frying. But once you try making them in the air fryer, you won't want to make them any other way.
Crispy: Cooking nuggets in the air fryer gets them nice and crispy on the outside because of the hot air circulating around them. Forget the sogginess you get when warming them up in the microwave, these crispy nuggets are just what you need on a busy weeknight.
No oil: No need for any extra oil. Because these nuggets have been precooked, you don't need to add extra oil.
Fast: Dinner can be on the table in 10 minutes with the help of the air fryer. No need to preheat, these are cooked straight from frozen.
Fun: Even picky eaters will love these dinosaur chicken nuggets. Who says you can't play with your food!
Don't forget to try these air fryer chicken patties, air fryer chicken tenders, and air fryer popcorn chicken.
What you need
Dino chicken nuggets – There are several different brands of these dinosaur shaped nuggets. A few favorites are:
Tyson Fun Nuggets
John Soules Dino Nuggets
Yummy Dino Buddies
Perdue Chicken Plus Dino Nuggets
Kirkwood Dino Nuggets
Air fryer – The size of your air fryer will determine how many nuggets you can fit in the cooking basket. We are using a Cosori 5.8 quart.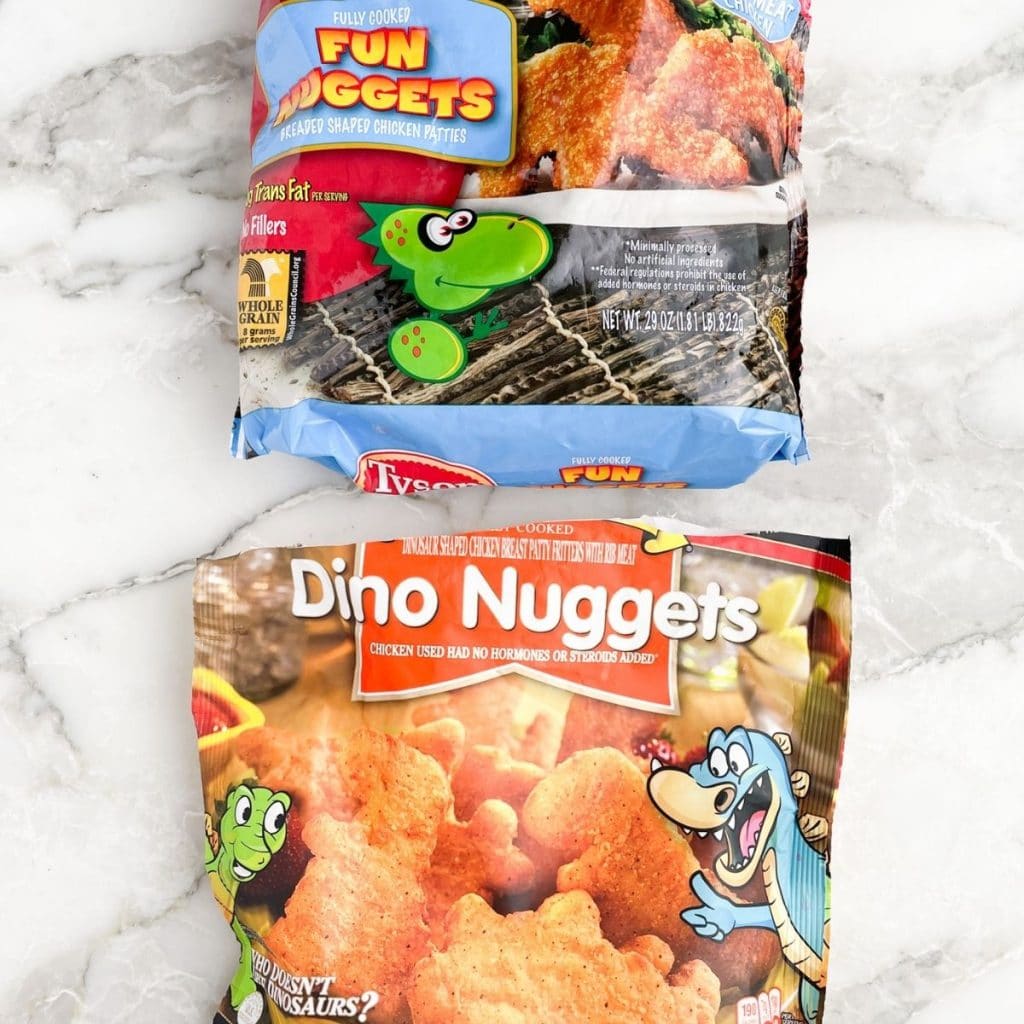 How to make dino nuggets in the air fryer
Step one: Place the frozen nuggets in the air fryer basket. Make sure to arrange them in a single layer.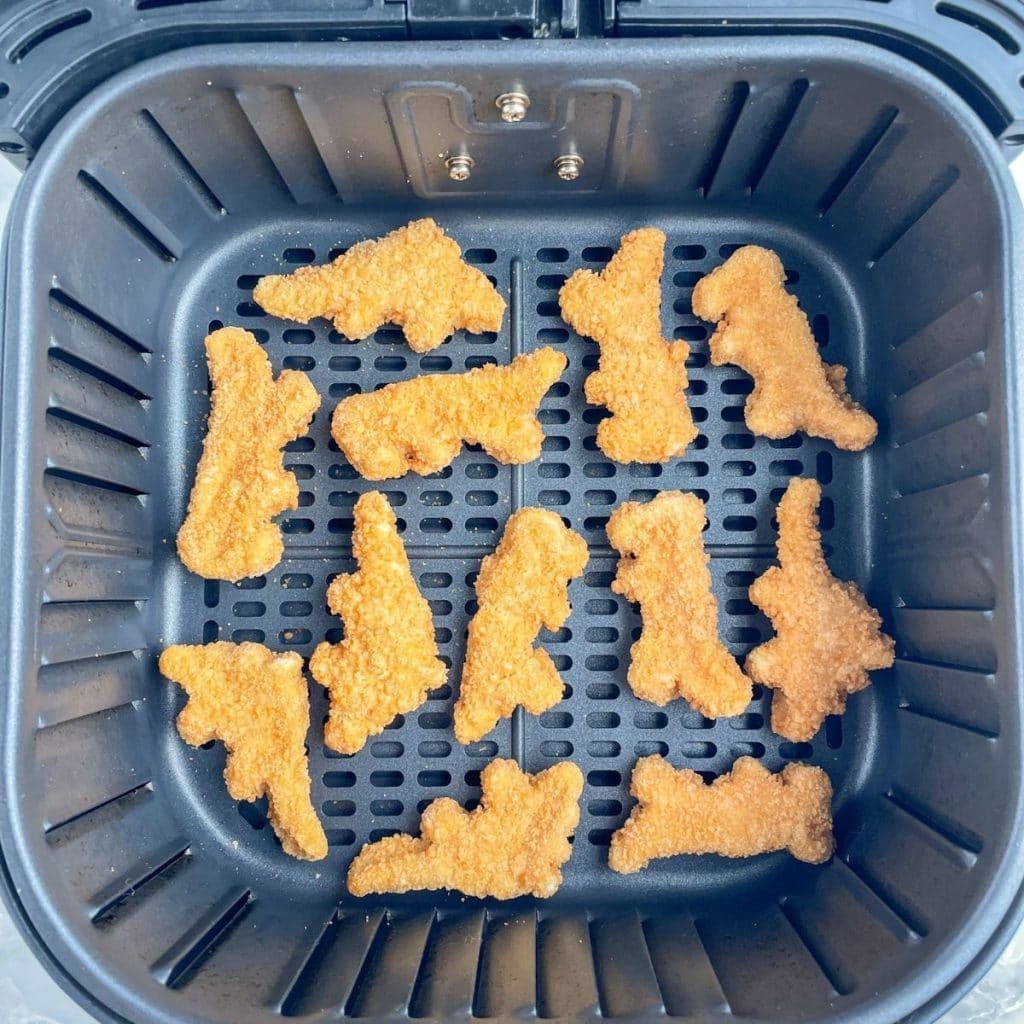 Step two: Cook at 400 degrees F for 5 minutes. Shake or flip the nuggets and continue cooking at 400 degrees F for another 3-5 minutes.
Step three: Carefully remove from the basket and serve warm.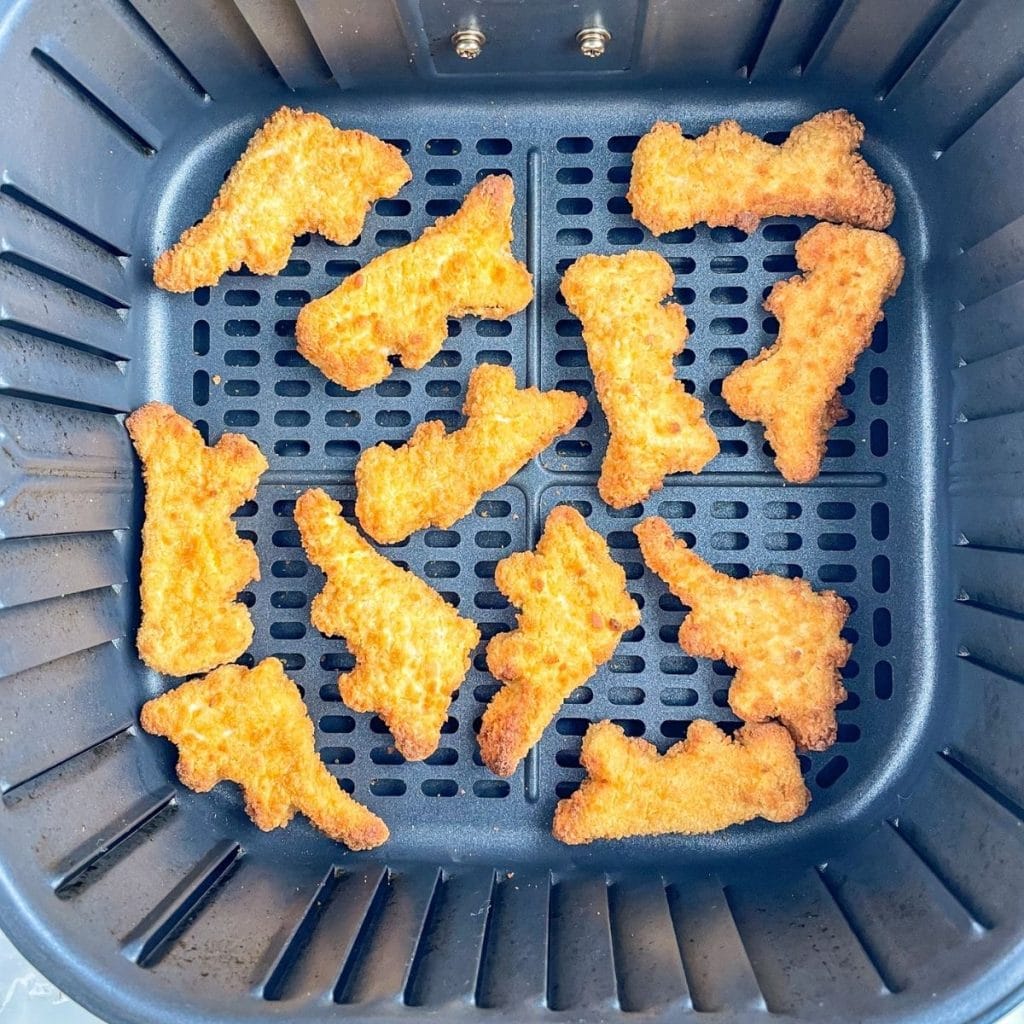 Sides for dino chicken nuggets
While these nuggets are great on their own you can serve them with a delicious dipping sauce and your favorite side dish for a complete meal.
Dipping sauce: There are so many great sauces to dip your air fryer dino nuggets into like BBQ sauce, ketchup, fry sauce, Campfire sauce, ranch sauce, and Zesty sauce.
Potatoes: Air fryer waffle fries, air fryer crispy crowns, air fryer curly fries, air fryer sweet potato fries, and french fries.
Vegetables: Try serving with a few cut up veggies like carrots, celery, bell peppers, and cucumber.
Recipe tips
No need to preheat the air fryer before cooking. They can also cook straight from frozen.
Cooking time may vary depending on the air fryer you are using. I recommend checking them after 8 minutes of total cook time and then add extra time if needed.
Spread them out in a single layer. You want to be sure the nuggets have some space so the hot air can circulate around them to make sure they get nice and crispy.
Don't forget to flip or shake the basket halfway through cooking. This ensures that the cook evenly.
How to store and reheat
Have leftovers? Let them cool to room temperature and then store them in an airtight container in the refrigerator for up to 5 days.
You can reheat them in the air fryer at 350 degrees F for 5 minutes or until warmed through.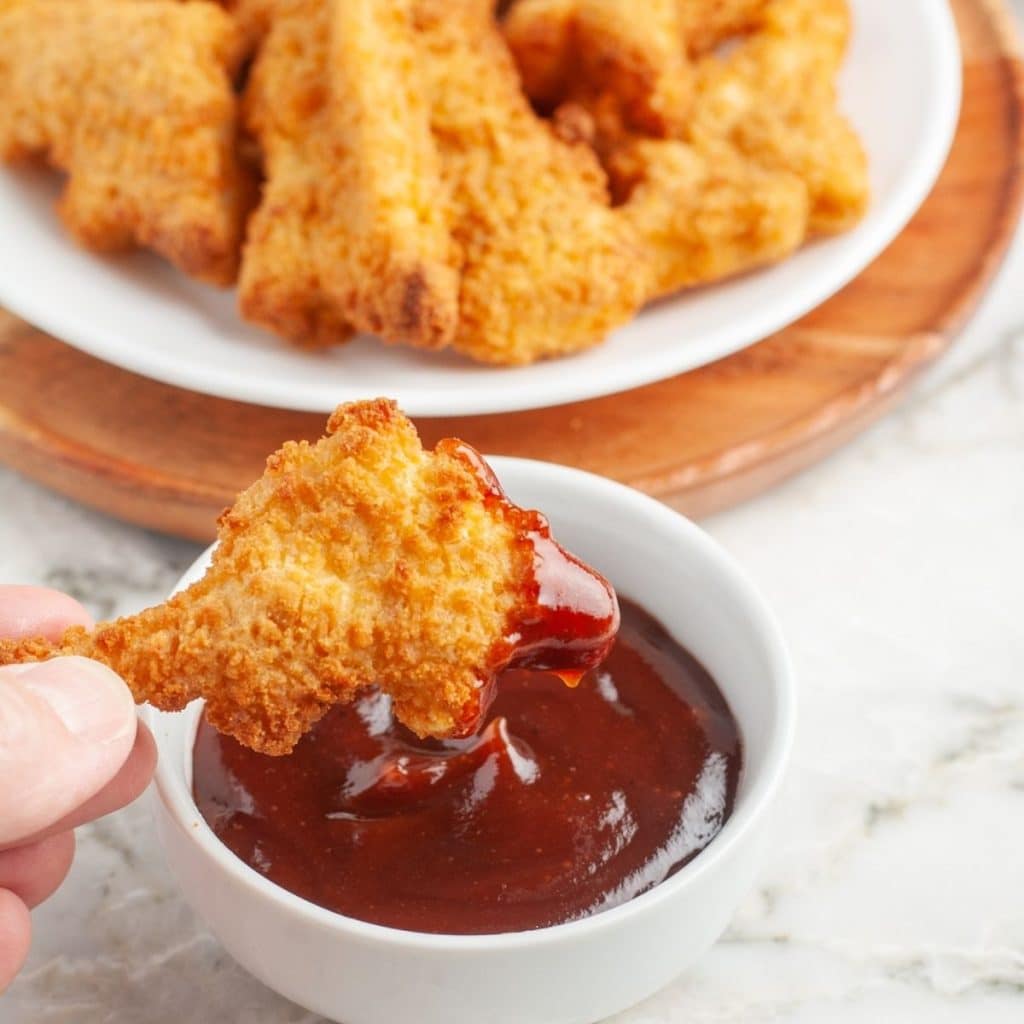 How long to cook dino nuggets in air fryer?
The size of the chicken nuggets and your air fryer can determine how long they will need to cook. The average cooking time for dino nuggets is 8-10 minutes at 400 degrees Fahrenheit.
Are dino nuggets made with real chicken?
Always consult the package, but in most cases they are made from boneless chicken breast and rib meat.
More easy air fryer recipes
If you made this easy air fryer recipe let me know in the comment section below.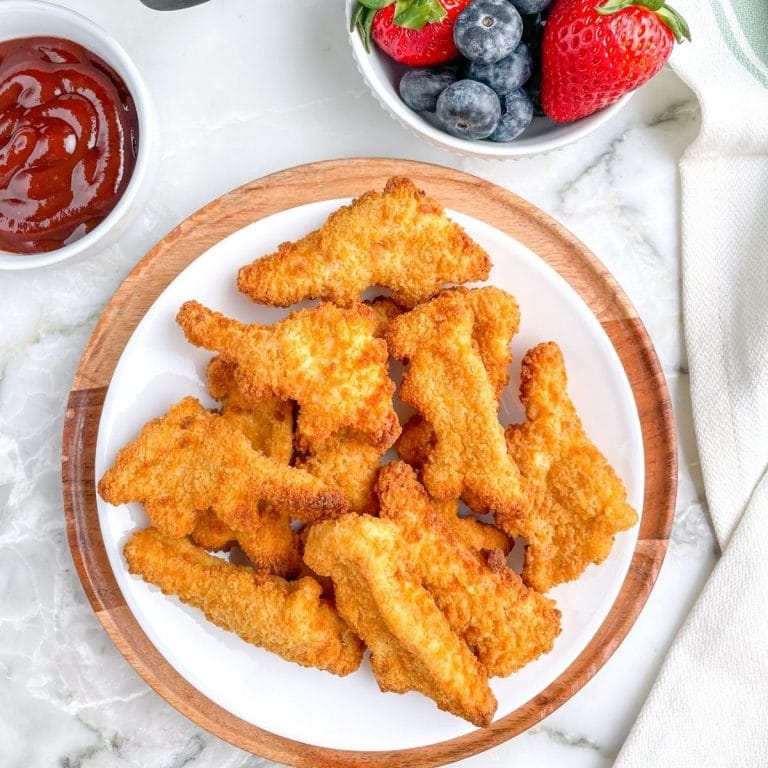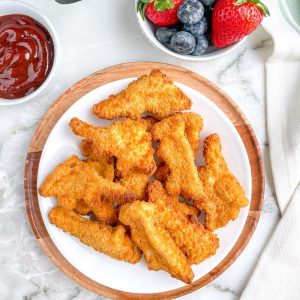 Dino Nuggets Air Fryer
How to make frozen dino nuggets in the air fryer.
Ingredients
10-14

Dino chicken nuggets

any brand
Instructions
Place nuggets in the air fryer basket in a single layer.

Cook at 400 degrees F for 5 minutes.

Flip the nuggets over and cook another 3-5 minutes at 400 degrees F.
Nutrition
Serving:
2
g
|
Calories:
560
kcal
|
Carbohydrates:
20
g
|
Fat:
22
g
Nutrition information is automatically calculated, so should only be used as an approximation.
Like this? Leave a comment below!