Bacon has a way of making everything better. Crispy, salty, and savory –– it will surely add flavor to any dish that it's in. The best thing about bacon is that it's incredibly easy to use in a variety of dishes and appetizers. Here are our favorite bacon appetizers that you can serve at your next party.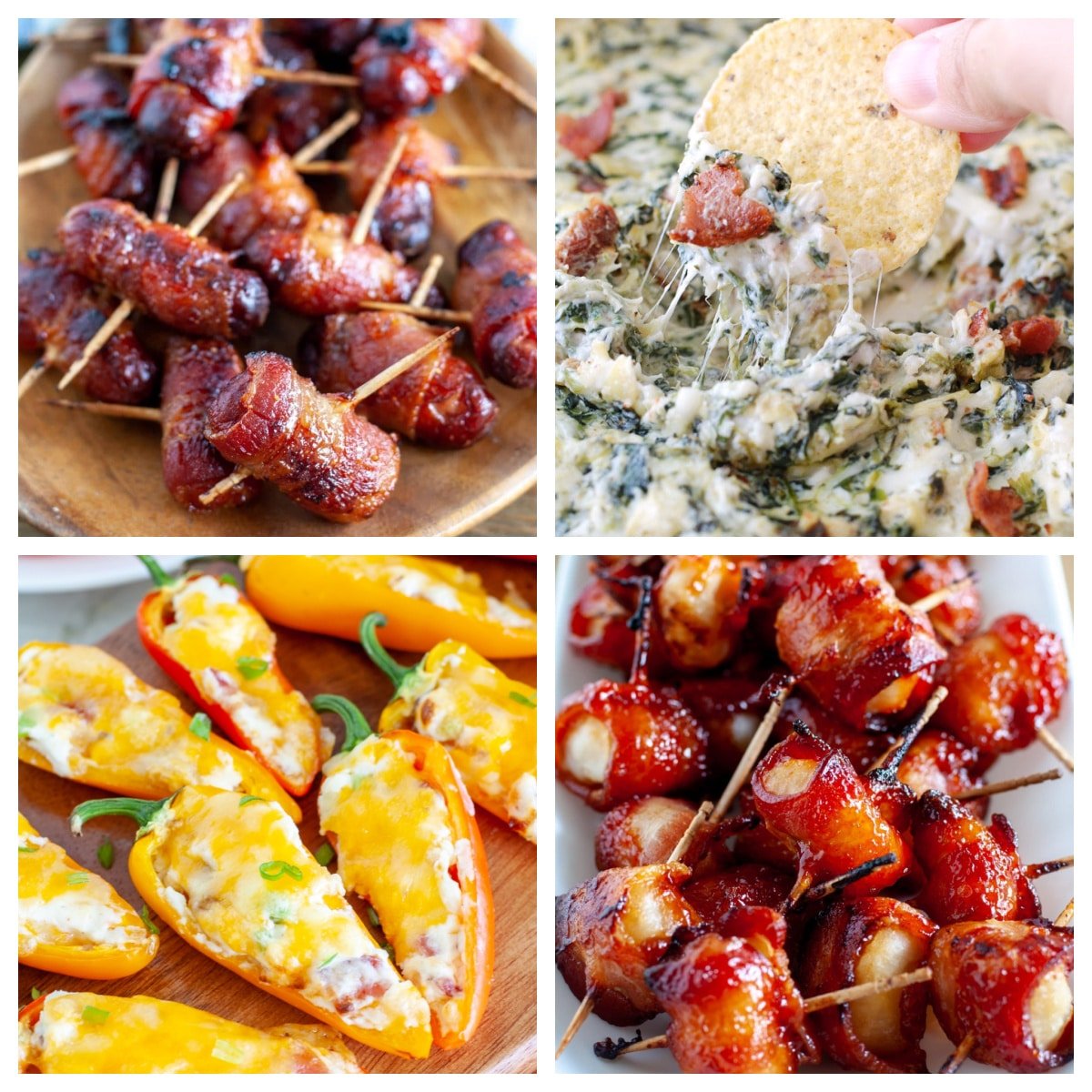 Easy appetizer recipes with bacon
Our list of ideas for bacon appetizers includes plenty of savory recipes that you can make at home with simple ingredients.
We love that bacon is so versatile and that it can be used in so many different ways! Use it as a wrapper, crumble it into a topping, or repurpose the drippings to unlock a new level of flavor.
Whether you add bacon to a recipe that's sweet, savory, or spicy, there's no doubt that these appetizers with bacon will be a hit with your party guests.
The perfect balance between sweet and salty, these bite-sized appetizers are full of flavor and are great for parties.
Water chestnuts are vegetables with a unique texture: slightly soft but slightly crunchy. You can find a can of water chestnuts in the international aisle of most grocery stores.
Wrapping little smokies in bacon will take them to the next level! This quick and easy air fryer recipe is made with only 5 ingredients. You'll have crispy bacon wrapped cocktail sausages ready to go in almost no time at all.
We love how the brown sugar coating complements the smoky flavor of the sausage and the saltiness of the bacon.
Air-fried bacon-wrapped pineapple is sweet, salty, and so easy to make in just 20 minutes. All you need for this easy recipe is four simple ingredients: bacon, pineapple, brown sugar, and black pepper.
The combination of crispy bacon and tender pineapple is incredible. For best results, be sure to flip your wrapped pineapple pieces over halfway through cooking.
One of the easiest classy bacon appetizers is bacon-wrapped asparagus. This delightful dish brings salty and sweet flavors together perfectly. Once you've tried asparagus wrapped in bacon, you won't want it any other way!
Crack dip is creamy and so addicting! Made from a combination of cream cheese, sour cream, cheddar cheese, ranch seasoning, and bacon, this simple but tasty dip comes together in just 10 minutes.
We love how easy it is to personalize this recipe with different ingredients. Best of all, it's versatile in how you can eat it –– enjoy it warm or cold!
A classic party appetizer, artichoke dip is creamy, savory, and absolutely heavenly with chips, veggies, and more. The addition of bacon bits gives the dip even more flavor and texture.
You can make this easy recipe in just a few simple steps: combine your ingredients together, pop in the oven, and bake until warm and bubbly.
Made with 3 simple ingredients, these stuffing and bacon appetizers are a must-have at your Thanksgiving dinner gathering.
Bacon, butter, and your favorite stove-top stuffing are all that you need to create this easy recipe. Each stuffing bite is loaded with buttery flavor and is so soft that it will practically melt in your mouth.
Seasoned with cayenne pepper, these bacon-wrapped chicken bites are sure to bring the heat! We love how the spice in this recipe is balanced with other sweet and savory flavors.
Whether you make them in the air fryer or oven, these chicken bites will be crisped and caramelized to absolute perfection.
Buttery crackers with bacon are a delicious easy recipe, requiring minimal effort to prepare. Brown sugar adds a rich sweetness in contrast to the salty flavor of bacon. Want to add a kick of spice? Sprinkle on some cayenne pepper!
Seven simple ingredients are all you need to whip up this tasty bacon dip. The combination of mayonnaise, cream cheese, sour cream, and cheddar cheese makes this dip so melty and gooey.
Pop this dip into the oven, and it will be bubbling and ready to serve in under half an hour. This is the perfect dip for parties as it's easy to make and adjust to your liking. Try adding ranch seasoning or red pepper flakes!
These impressive bacon-wrapped dates are sure to be a hit at your next party. Stuffed with goat cheese, wrapped in bacon, and glazed with maple syrup, these bite-sized treats strike the perfect balance between tangy, salty, and sweet.
Thin-cut bacon is best for this recipe as it will cook faster and crisp up a bit.
Smoky bacon, soft shrimp, and tangy barbecue are the ultimate combination! Every bite of this dish is juicy and satisfying.
The drippings from the bacon will baste the shrimp, adding so much flavor as everything cooks.
One of our all-time favorite appetizers with bacon is bacon-wrapped jalapeño poppers! These poppers are creamy and cheesy with a little bit of spice to heat things up.
We love how the bacon adds a smoky and salty flavor to tie it all together. Pair your poppers with ranch dressing for dipping.
Homemade potato skins are just as tasty as the restaurant version! We love how these potatoes are crispy on the inside but tender and melty on the inside, topped with bacon, green onions, and sour cream to make the appetizer complete.
The combination of tangy cream cheese and crispy, salty bacon is unmatched. Made with just 4 ingredients, these simple bacon appetizers are easy to make and even easier to enjoy.
Cream cheese, ranch seasoning, cheddar, and crispy bacon bits can be combined to make the best cheese balls for snacking. This simple 4-ingredient recipe tastes delicious served with pretzel crisps.
Crockpot bacon jam has a unique and distinct taste, flavored with apple cider vinegar, brown sugar, maple syrup, brewed coffee –– and of course, bacon.
Start by browning your bacon, then tossing some bacon grease and all of your ingredients into the slow cooker. The final step is running it through the food processor. Bacon jam will last up to 4 weeks when stored properly.
Ready in under 20 minutes, these jalapeño popper bites are among our favorite appetizers with bacon. Making them is simple: load up tortilla scoop chips with a mixture of cream cheese, shredded cheese, diced jalapeños, and bacon, and enjoy!
Add a splash of color to your appetizer table with bacon-stuffed peppers. These mini-stuffed peppers get their incredible flavor from cream cheese and ranch seasoning. Each bite is creamy with a little bit of a crunch.
This BLT-inspired recipe takes everything there is to love about the popular sandwich and puts it into a creamy, flavorful dip. Requiring only 10 minutes of prep time before chilling, this dip is one of our favorite easy appetizer recipes.
Take mozzarella sticks to the next level by wrapping them in bacon and frying them to crispy golden perfection. These bacon-wrapped cheese sticks will taste amazing paired with marinara sauce, ranch, or your favorite dipping sauce.
Pro tip: chill your cheese sticks before frying them. This will help them keep their shape when cooking.
Candied bacon breadsticks are among the most eye-catching bacon appetizers. These thin and crispy breadsticks are wrapped in bacon and coated in a delightful mixture of brown sugar and chipotle pepper.
Not only are these breadsticks delicious, but they're also aesthetically fun!
BBQ meatballs are a beloved party appetizer. These BBQ meatballs are tangy and sweet, with bacon adding the perfect amount of saltiness to balance out all of the flavors.
Evaporated milk is the secret ingredient that keeps these meatballs moist and juicy. You can recreate this easy recipe in just 40 minutes. For best results, add the BBQ sauce when there's 15 minutes left of cooking time.
Sweet, salty, and savory all at once, these bacon brie bites are sure to impress your party guests. This tasty appetizer is deliciously creamy because of the brie cheese, but also crispy with the addition of bacon and chopped pecans.
Adding bacon bits to your favorite guacamole recipe will enhance your dipping experience. Crispy bacon will add a nice crunch to complement your creamy avocado mixture.
Serve this irresistible guacamole with tortilla chips. Once you've started dipping, you won't be able to stop!
Smoked cheddar cheese and sweet cranberry bacon jam are absolutely scrumptious on top of a toasted baguette. We love how this recipe brings together smoky, sweet, and savory flavors.
This appetizer looks fancy and elegant but will surprise you with how easy it is to make!
Fresh cherry tomatoes taste delicious stuffed with a mixture of bacon, green onions, and mayonnaise. This is one of the best easy appetizer recipes because the tomatoes can be scooped out up to 1 day in advance.
You can keep your party prep simple by preparing them in advance and stuffing the tomatoes a few hours before the event.
With bacon and cheddar mixed into its filling, this twist on traditional deviled eggs is packed with plenty of savory flavor!
Use a food processor to combine your cheddar and bacon and make the pieces as small as possible. Sprinkle on some smoky paprika to add extra flavor as well as color.
Here's a recipe that's perfect for game day or your next party. Beer is the special ingredient that makes this one of the most unique-tasting bacon appetizers.
Baked in a cast iron skillet until golden brown and bubbling, this savory dip is creamy, melty, and wonderfully cheesy. Try dipping your favorite chips, pretzels, or veggies!
Crescent roll-ups are so easy to make and are extra fun because of their pinwheel shape! Once you've layered your ingredients on top of the crescent dough, simply slice, roll, and bake until golden and fluffy.
After your rolls have cooled slightly, brush some honey mustard on top to add another level of flavor.
These bacon cheddar roll-ups can be made in just 10 minutes with a few simple ingredients. Loaded with cheddar cheese and ranch dressing, these appetizers with bacon are creamy, savory, and satisfying.
Warm up your tortillas before assembling these tortilla roll-ups! This will ensure that they don't fall apart as you roll them up.
Which one of these appetizers will you be making first?
More easy appetizer ideas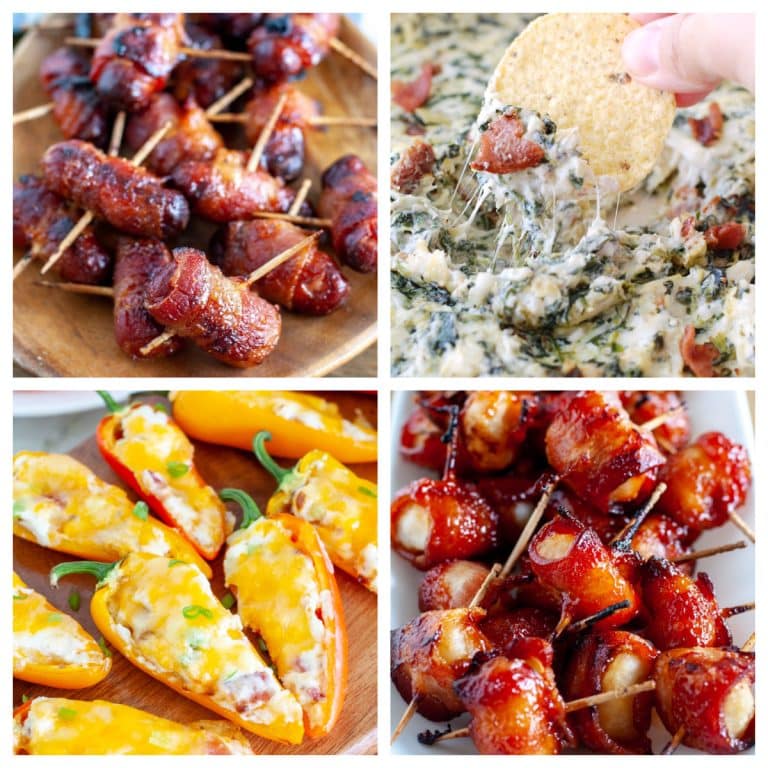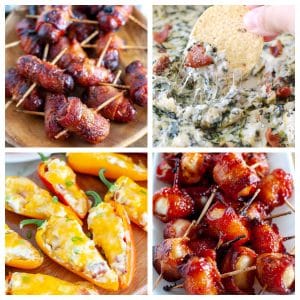 Best Bacon Appetizers
Some of the best bacon appetizer recipes for your next party or holiday. All of these bacon appetizer recipes are easy to make and so delicious.
Ingredients
10

slices

bacon

1/2

cup

brown sugar

1/2

cup

maple syrup
Instructions
Preheat the oven to 350 degrees F.

Line a cookie sheet with aluminum foil. Place a cooling rack on top of the foil.

Lay the bacon out on the cooling rack.

Mix maple syrup and brown sugar. Brush the sugar mixture on top of each piece of bacon.
Nutrition
Calories:
177
kcal
|
Carbohydrates:
22
g
|
Protein:
3
g
|
Fat:
9
g
|
Saturated Fat:
3
g
|
Polyunsaturated Fat:
1
g
|
Monounsaturated Fat:
4
g
|
Trans Fat:
0.03
g
|
Cholesterol:
15
mg
|
Sodium:
150
mg
|
Potassium:
94
mg
|
Sugar:
20
g
|
Vitamin A:
8
IU
|
Calcium:
28
mg
|
Iron:
0.2
mg
Nutrition information is automatically calculated, so should only be used as an approximation.
Like this? Leave a comment below!