30 Tortilla Wrap Recipes
Jun 17, 2022, Updated Aug 31, 2023
What I love about tortilla wraps is how fun and versatile they are. The flour tortillas are a blank canvas yearning to be painted with a culinary masterpiece. The masterful creations are limitless. No wonder there has been a viral tortilla wrap recipes trend lately.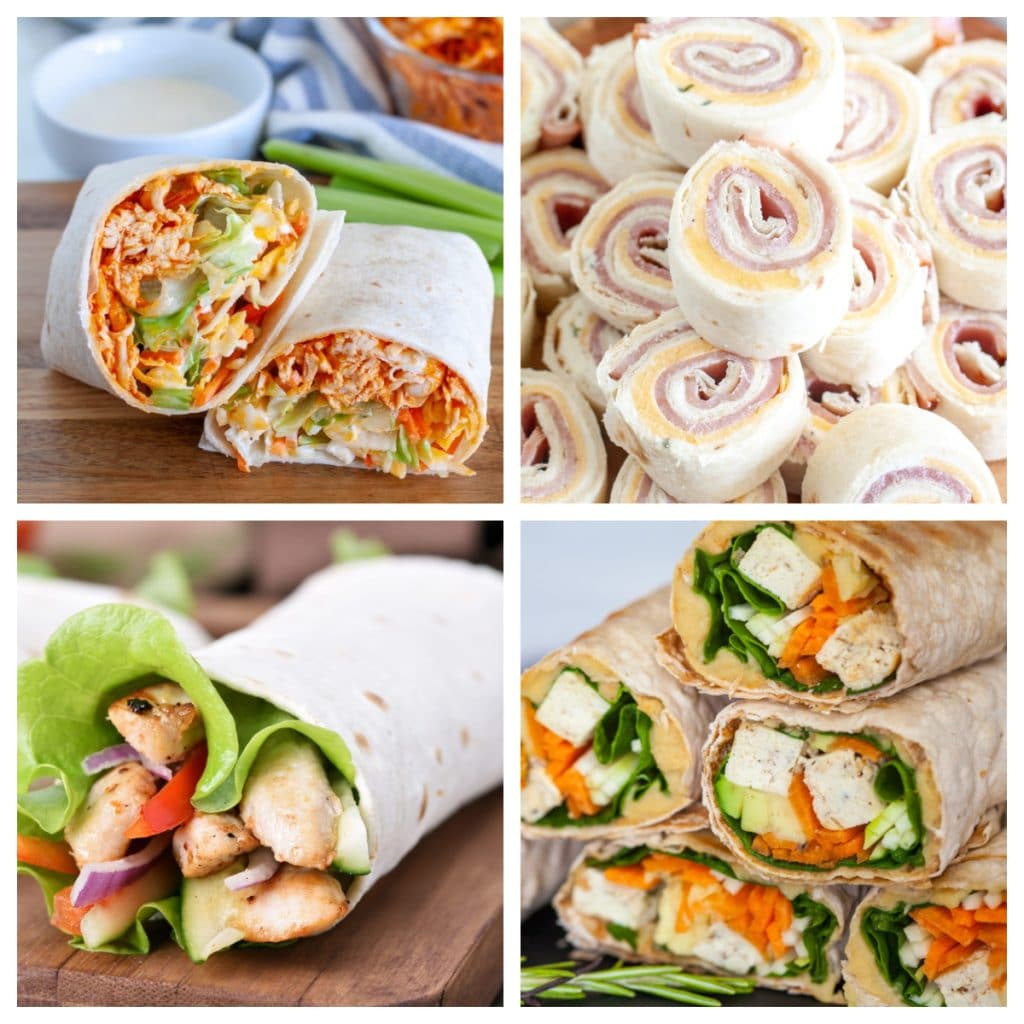 We decided to round up the best tortilla wrap recipes out there. There are a wide variety of recipes great for picnics, potlucks, meal prep options, decadent desserts, and party favorites.
From sandwich wraps to roll-ups to the viral TikTok tortilla folding trend and everything between. So read on to find your new favorite tortilla recipe.
These tasty tortilla roll-ups are a superb alternative to a sandwich. They make a great lunch, party appetizer, and are easy to transport to picnics and potlucks. The flour tortilla holds all of the delectable ingredients together in a dainty, delicious roll-up.
This recipe is another great traditional sandwich wrapped up into fun bite-sized roll-ups. Roast beef, horseradish, Colby jack cheese, sour cream, and other delicious ingredients create one of the best tortilla wrap recipes. Tasty and oh-so-satisfying!
Veggie lovers rejoice with these mouthwatering pinwheels. Fresh veggies and dill cream cheese get cozy together in large tortillas and create these inviting roll-ups. Enjoy a refreshing bite every time that's packed with fresh flavors.
Buffalo chicken wraps are a great way to utilize your leftover chicken and enjoy another flavorful meal. Whether it's lunch or dinner, these sandwich wraps never disappoint. The spicy chicken is an appetizing contrast to the creamy ranch. The fresh lettuce and shredded carrots add a delicious crunch bringing it all together for a luscious meal.
These wraps are bursting with fresh, vibrant vegetables that pack a beautiful flavor punch. The quick and easy Thai peanut sauce whips up in a jiffy and adds a wonderful depth of flavor. While this recipe is vegetarian if you eat meat you can throw in your leftover chicken for a heartier wrap.
A delicious, flavorful wrap the whole family will love. It has a sauce with a kick that pairs well with the cool crispiness of the lettuce and cold chicken. The secret ingredient in this recipe is the Fritos! They had a fun crunch and texture to the wrap while also adding flavor.
French dip tortilla wraps are a wonderful, quick alternative to the classic sandwich. Using flour tortillas, deli roast beef, provolone cheese, and crunchy fried onions they are wrapped and baked briefly. They pair with a savory homemade au jus sauce for a fabulous light and tasty meal.
Think club sandwich turned on its head into a deliciously addicting ranch wrap. Perfect for a quick, light, and easy lunch or dinner, this sandwich wrap never disappoints. The flour tortilla is the perfect vessel to load all the fixin's in and drizzle with mouthwatering ranch dressing.
This is a light and refreshing tuna wrap with a kick. The spicy tuna salad is wrapped up in a flour tortilla with lettuce, tomato, and spinach. A healthy, light and tasty wrap your tastebuds will thank you for.
You don't need to be vegan to enjoy this appetizing plant-based wrap. It comes together in under 30-minutes and is great for meal prepping. It's full of fresh veggies, crispy tofu, and fresh lemon juice adding acidity and freshness to this inviting wrap.
This wrap is a spin on a traditional BLT that turns it into a deliciously beautiful sandwich wrap. It incorporates shredded chicken, parmesan cheese, and a homemade cream sauce to bring it all together. This wrap is great to utilize leftover chicken and is a refreshing alternative to the traditional sandwich.
You'll never know this didn't come from a restaurant. It is so tasty, full of spice and flavor, and crispy! The chicken is first fried, then baked in the spicy, savory, delectable firecracker sauce. Wrap the chicken up in a warm flour tortilla with a little ranch for a nice flavor juxtaposition and to help balance out the spice and enjoy!
One of the best tortilla wrap recipes is this incredibly luscious Mediterranean wrap. It is packed full of wonderful flavors. Fresh basil pesto, feta cheese, sun-dried tomatoes, shredded rotisserie chicken, fresh spinach, and laughing cow cheese wrap up in a spinach flour tortilla. It's a mouthwatering culinary delight in every bite.
Wraps aren't just for lunch or dinner! These protein breakfast wraps are great for meal prep and perfect for an on-the-go breakfast when you're short on time. Turkey sausage, scrambled eggs, and cheese are wrapped up in a flour tortilla for a tasty protein-packed meal that will have you satisfied all morning.
Another great breakfast wrap is these tasty loaded burrito wraps. Packed full of flavor with veggies, hash browns, bacon, sausage, cheese, and eggs make them fully loaded! They are great to batch cook, throw in your freezer, and pull out when you need to feed a crowd, the family, or yourself.
This is a refreshing recipe that doesn't skimp on flavor. These crunchy turkey wraps are delicious, light, and perfect for your next picnic or outdoor lunch. Turkey is wrapped up in fresh dill, celery, spinach, cream cheese, onion flakes, and sour cream creating a masterful flavor profile and palate-pleasing texture.
Get ready for a tasty flavor explosion because these wraps are filled to the brim with inviting ingredients. They've got an avocado crema layer, followed by fresh veggies, bacon, and cheese then topped with crispy chicken and wrapped up for a delicious bite every time.
This is a breakfast tortilla wrap using the viral tortilla trend seen on TikTok. The breakfast wrap itself is a yummy wrap with eggs, avocado, bacon, and cheese. The trick here is the fold of the tortilla to create a triangle with your wrap. It's easy to fold and fun to eat but more importantly, it's delicious! There are many different ways to make these fun wraps with different fillings.
Who doesn't love a classic chicken Caesar salad? This recipe takes that delightful salad and turns it into a wonderfully tasty wrap. This is another great way to use up your leftover chicken. This wrap is refreshing, light, and full of flavor.
When you need a healthy snack for your kids or yourself, this is a go-to recipe. It's great to pack on planes, to work, or on long car rides. It's a simple recipe that yields tons of flavor and is healthy for you!
If you love the classic chicken cobb salad then you'll love this wrap. All of your favorite cobb salad ingredients including bacon, tomato, hard boiled-egg, and blue cheese are rolled up into an inviting wrap. Tasty, easy to make, and a summertime favorite.
If you're a shrimp lover then you have to try these savory shrimp wraps. They are bursting with flavor and make a fabulous lunch or dinner. Not your ordinary wrap, they are full of shrimp and spinach that have been sauteed in butter and garlic. When the shrimp and spinach are added to the wrap they are topped with bacon. A mouthwatering wrap bursting with flavor.
Wraps aren't just for meals, they're great for dessert too! This recipe also utilizes the viral tortilla trend from TikTok. This decadent dessert has peanut butter, Nutella, strawberries, banana, and Oreos among other ingredients. It's a sweet, rich, and unique dessert that will please all of your dessert-loving taste buds.
This wrap has a beautiful blend of toothsome flavors. A little bit of sweet and a little bit of savory. Strawberries, chicken, spinach, feta cheese, and bacon are all drizzled with a flavorful poppyseed dressing. It's fresh, filling, and fantastic!
This is an Italian wrap that is exploding with tasty flavors that will satisfy any sub sandwich craving. It's a sandwich wrap brimming with meats, cheeses, veggies, and flavorful Italian seasoning. A magnificent delicious meal great for lunch, dinner, parties, picnics, and sunny days.
This recipe is a great way to use up leftover chicken and repurpose it into a succulent meal. Bar-B-Que sauce is mixed with chicken, cheese, onion, and cilantro then scooped onto tortillas. Once rolled up, they are cooked in a skillet until the flour tortilla is golden brown. These make great weeknight dinners any time of the year, but especially in the summer to enjoy those wonderful Bar-B-Que flavors.
This sandwich wrap takes the classic Reuben and turns it into a savory wrap. All of the quintessential flavors are there without the heaviness of the bread. It's an appetizing wrap great to make for St. Patrick's Day or any time you're in the mood for these mouthwatering flavors.
This is the healthy wrap you want to make after your holiday meal to eat up that delicious turkey breast! This wrap has a lot of mouthwatering sweet and savory flavors. Grapes, pecans, dried cranberries, Greek yogurt, and celery are included in the ingredients. It's a scrumptious wrap full of delightful flavor.
This lovely Hawaiian wrap will have you feeling the island breeze. It's an easy wrap to throw together quickly with succulent flavors of ham, pineapple, and cream cheese. Great for a light dinner on hot summer nights, lunches, or picnics.
Get ready for your new summer obsession. These fruit salad dessert wraps are an absolute treat. Sweet, fresh fruit is combined with a cheesecake filling and layered onto the tortillas. The tortillas are then brushed with melted butter and rolled in cinnamon sugar. These wraps are a fun, kid-approved dessert everyone will be raving about.
Did you try any of these tasty wraps? Let me know in the comments.
More easy recipe ideas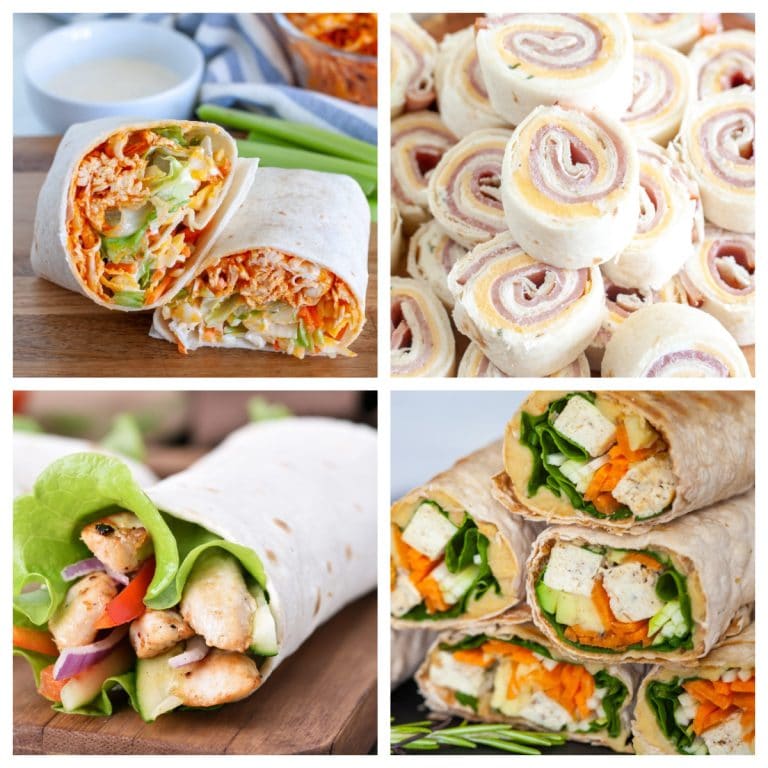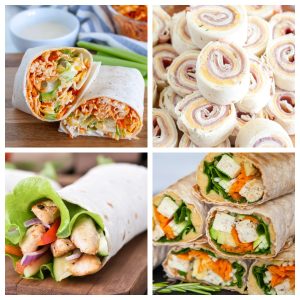 Tortilla Wrap Recipes
A group of tasty tortilla wrap recipes from breakfast wraps to dessert wraps plus these easy Nutella tortilla wrap.
Ingredients
1

flour tortilla

or whole wheat tortilla

2

tablespoons

Nutella spread

1/2

cup

sliced fresh strawberries

1/4

cup

mini marshmallows
Instructions
Spread Nutella over one side of the tortilla.

Top with sliced strawberries and mini marshmallows. Roll the tortilla and serve.
Nutrition
Calories:
354
kcal
|
Carbohydrates:
54
g
|
Protein:
5
g
|
Fat:
14
g
|
Saturated Fat:
11
g
|
Polyunsaturated Fat:
1
g
|
Monounsaturated Fat:
1
g
|
Sodium:
247
mg
|
Potassium:
299
mg
|
Fiber:
5
g
|
Sugar:
32
g
|
Vitamin A:
10
IU
|
Vitamin C:
42
mg
|
Calcium:
96
mg
|
Iron:
3
mg
Nutrition information is automatically calculated, so should only be used as an approximation.
Like this? Leave a comment below!