32 Ripe Banana Recipes
Dec 01, 2021, Updated Sep 08, 2022
Have a bunch of bananas about to turn brown? Don't throw them away. They have a wonderful natural sweetness that make them the perfect ingredient to use for this delicious list of ripe banana recipes.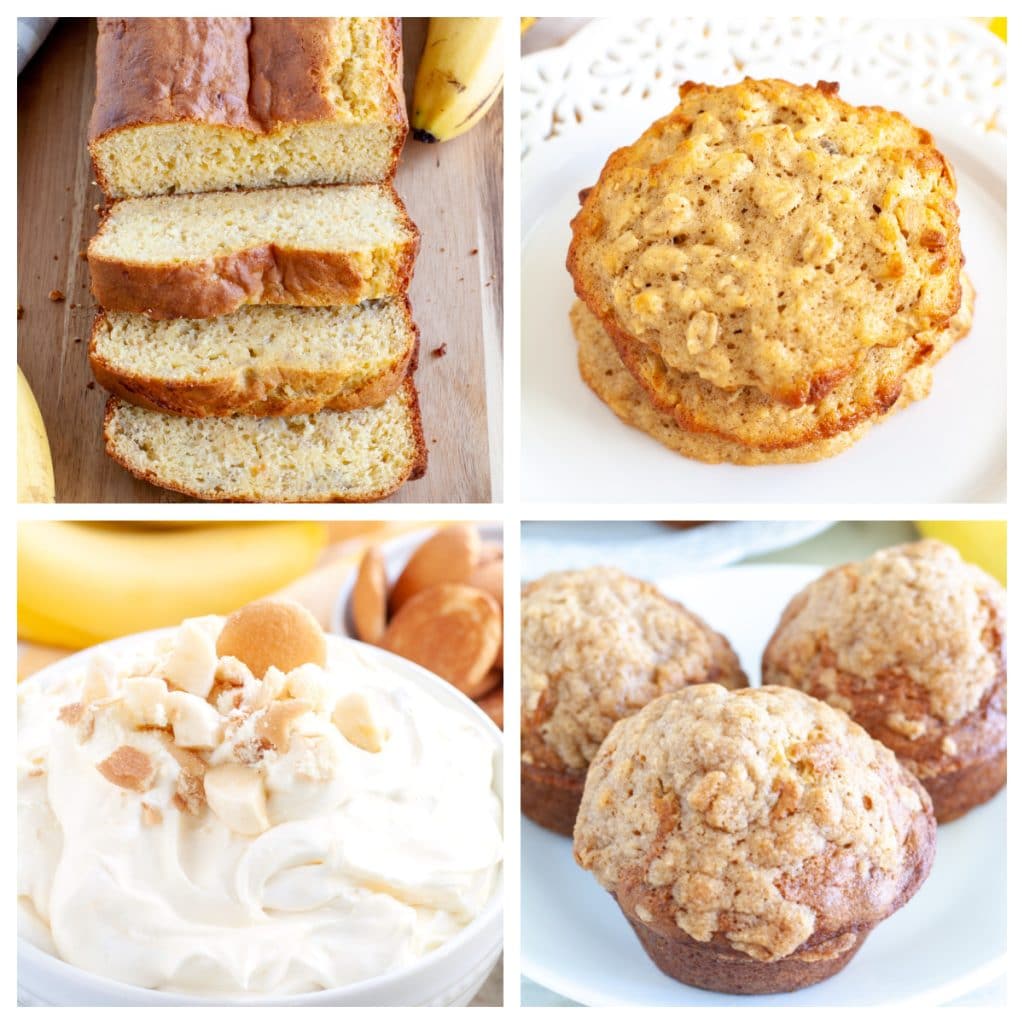 Bananas are a popular fruit that many people have in their kitchens. When you cook bananas the sugars caramelize and highlight their sweetness which makes them great to use in different recipes. Ripe bananas will typically have a bright yellow peel along with a few brown spots. Check out these methods for how to ripen bananas quickly.
If you are like me and tend to have a bunch overripe bananas on your kitchen counter at some point during the week, it's nice to have some go-to recipes to use them up so they don't end up in the garbage.
So if you have some extra bananas that are just ripe or covered in brown spots, check out this list of tasty recipes that includes everything from muffins, smoothies, ice cream, and so much more.
This simple, 5 ingredient banana bread recipe uses yellow cake mix to make this amazing quick bread. Feel free to experiment and add in extras like cinnamon, chopped nuts, even mini chocolate chips.
Oatmeal banana cookies are chewy, yummy cookies made with oatmeal and mashed bananas. These maybe cookies but they could definitely pass for an on-the-go breakfast.
Banana pudding has to be one of the best banana recipes around. This family favorite recipe is perfect for potlucks and holidays. Pudding layered with vanilla wafers and bananas make a creamy dessert you will love.
Be sure to use just ripe, not overripe, so that they don't fall apart. You can also substitute golden OREOS or shortbread cookies if you don't have the wafers.
Banana bars with chocolate chips have a cake like texture and are topped with a brown butter frosting infused with brandy. Overripe bananas add so much sweetness and banana flavor to this dessert. Your friends will be asking for this recipe.
Have you tried hummingbird cake? Loaded with pineapple and banana and topped with a caramel cream cheese frosting. This sheet cake version is super easy to make and is full of flavor and texture.
There are many recipes for banana smoothies but this peanut butter version is a favorite. This healthy drink is great for anytime of day.
Made by blending Greek yogurt, peanut butter, frozen bananas, and a little milk and honey. You can easily adjust the ingredients to taste. We have even substituted with almond butter or a nut-free butter.
Looking for a hearty, warm breakfast? This baked oatmeal is full of hearty oats and sweet banana. Perfect for a make-ahead breakfast for a crowd, it's even freezer friendly.
Try adding a few chocolate chips for a twist or top with warm maple syrup for the ultimate breakfast.
Guests go crazy for this banana cream pie! Crushed vanilla wafer crust is topped with sliced ripe bananas and topped with a luscious, pudding filling and creamy topping. This dessert is worthy of serving at any BBQ or holiday meal.
These bite sized truffles are made banana bread mixed with cream cheese frosting and covered in white chocolate. Great to make for a delicious gift, breakfast or dessert.
Another version of banana pudding, this creamy, fluffy dip is made with cream cheese, Cool Whip, and a few other simple ingredients. Try serving with cut up fruit or cookies.
The natural sweetness of frozen bananas works perfectly to make ice cream. If you have bananas that are about to turn, pop them in the freezer to use for ice cream later.
This recipe will show you how to make vanilla, strawberry, chocolate and mint chip but could easily be altered for other flavors.
This banana cake recipe is topped with a whipped cream cheese frosting that will have you licking the bowl. A snack cake that doesn't contain cinnamon, just pure banana flavor.
One of our favorite ripe banana recipes, Jamaican banana fritters are bananas covered in a light coating and fried to perfection. Try serving with powdered sugar or maple syrup for a little extra sweetness.
Banana donuts are a wonderful way to use up those ripe bananas. The donuts do not have any yeast and don't require any rising time which makes this recipe super easy.
Two ripe bananas are used for this recipe along with cornstarch, baking powder, sugar, eggs, and butter. This recipes uses a chocolate frosting but a vanilla glaze would also taste great.
A no-bake dessert that tastes just like a sundae! Layers of graham cracker crust topped with a creamy center and fruit, this icebox cake is perfect for a hot summer day.
This bundt cake couldn't be easier to make! With the help of cake mix and some ripe bananas, this cake is perfect for an easy dessert or even breakfast.
Banana muffins are topped with a sugar coating for an extra touch of sweetness. These cinnamon banana bread muffins can be made with a regular or mini muffin tin.
Great for breakfast or a snack. Also easy to freeze for later.
A great recipe for a busy morning bite or healthy snack. These bites are full of banana, chocolate chips, oats, flaxseed, chia seeds, and coconut. All the good stuff to start your day off right.
Mashed bananas are mixed into light and fluffy pancakes for the perfect breakfast. They even freeze well so try making a double batch so you have more for later.
This might be one of the best banana breads out there. Moist chocolate banana bread is loaded with chocolate chips and overripe bananas. It's a rich, chocolatey bread that works well for a brunch or party.
The perfect recipe to use ripe bananas, carrot bread tastes similar to a carrot cake. We love making this recipe for Spring holidays. You won't believe how well carrots and bananas go together.
Grab a cup of hot coffee or tea and enjoy a piece of this delicious banana crumb coffee cake. The cinnamon-brown sugar crumb layers and topping really set the cake apart. This recipe is a keeper!
Sweet bananas add great flavor to this easy to make smoothie. Bananas act as a binder for smoothies and can be paired with a variety of fruit. Try using frozen, ripe bananas for a cool, smoothie consistency.
This easy recipe can be made in minutes with just a few simple ingredients. Banana slices are sprinkled with brown sugar and cinnamon and lightly "fried" in a pan.
Eat them on their own or spoon them over ice cream, a warm bowl of oatmeal, a slice of cake and more.
Ooey gooey banana monkey bread topped with banana slices. Pull-apart monkey bread is always a favorite. This is a great recipe to serve at a brunch or holiday gathering.
Granola bars make a great snack or breakfast. These banana chocolate chip bars are sweetened with honey and banana for an on the go snack that is sure to satisfy your sweet tooth.
Bananas don't just have to be for us, dogs love them too! Only 3 ingredients needed, peanut butter, coconut oil, and banana. Blend them up, spoon in a mold and freeze for a tasty treat for your pup.
There is something about the combination of peanut butter, banana, and chocolate that just works. This simple dessert recipe can be made with just 4 ingredients and is a great way to satisfy your sweet tooth.
If you like bananas foster, you will LOVE this cobber recipe. Ripe bananas are placed in a baking dish and then topped with sugar, rum, cinnamon, and pecan topping. Everything is baked until bubbling and piping hot.
I highly recommend serving this dish with a scoop of vanilla ice cream.
Sliced bananas, rum, and butter extract are wrapped up in a warm cinnamon roll. This twist on a classic breakfast roll is full of amazing flavor.
No mixer is needed for this simple recipe. Banana flavored muffins are dipped in a cinnamon sugar topping for an irresistible bite.
This recipe works best with really ripe bananas to get that a punch of banana flavor.
These fun, creamy, handheld mini banana pudding cheesecakes are a great sweet treat for any occasion. The crust is made with Golden OREO cookies and topped with a creamy banana cheesecake.
More delicious recipe ideas
Did you try anything from this list of ripe banana recipes? Let me know in the comments below.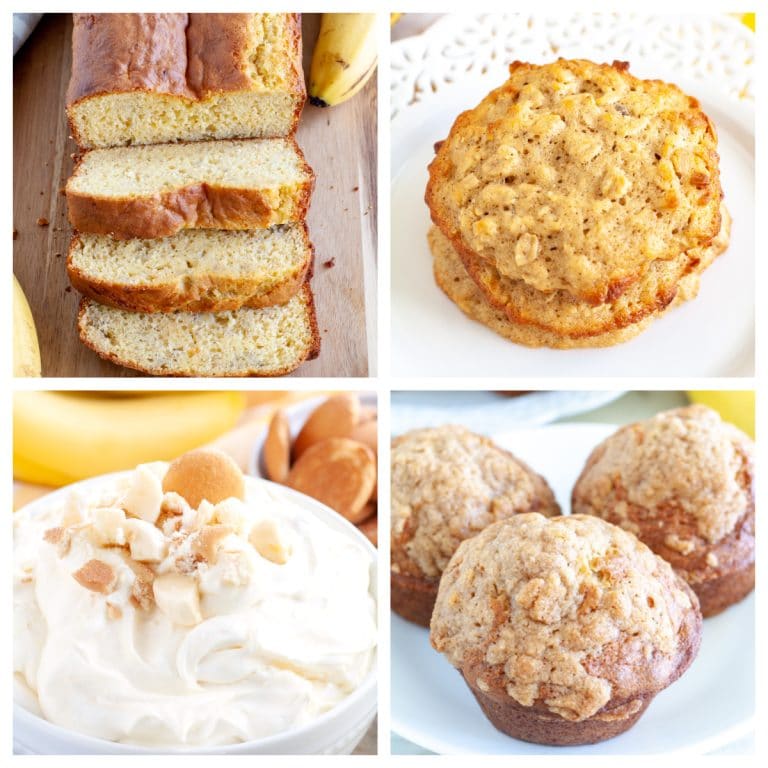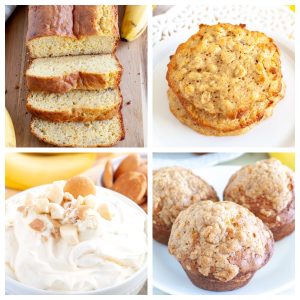 Ripe Banana Recipes
Recipes using ripe bananas including this easy banana smoothie.
Ingredients
1

ripe banana

1/4

cup

milk

1/4

cup

Greek vanilla yogurt

1

teaspoon

honey
Instructions
Place ingredients in blender.

Blend until smooth. Serve cold.
Nutrition
Calories:
209
kcal
|
Carbohydrates:
43
g
|
Protein:
8
g
|
Fat:
2
g
|
Saturated Fat:
1
g
|
Polyunsaturated Fat:
1
g
|
Monounsaturated Fat:
1
g
|
Cholesterol:
8
mg
|
Sodium:
45
mg
|
Potassium:
558
mg
|
Fiber:
3
g
|
Sugar:
30
g
|
Vitamin A:
174
IU
|
Vitamin C:
10
mg
|
Calcium:
76
mg
|
Iron:
1
mg
Nutrition information is automatically calculated, so should only be used as an approximation.
Like this? Leave a comment below!