27 Delicious Turkey Tenderloin Recipes
Turkey tenderloin is a boneless, skinless section of meat found under the turkey breast. Known to be smaller and leaner than other parts of the whole turkey, turkey tenderloin is one of the healthiest cuts of meat and can often be cooked quickly. Here are some of our favorite turkey tenderloin recipes that will make any holiday or regular weeknight dinner feel like a special occasion.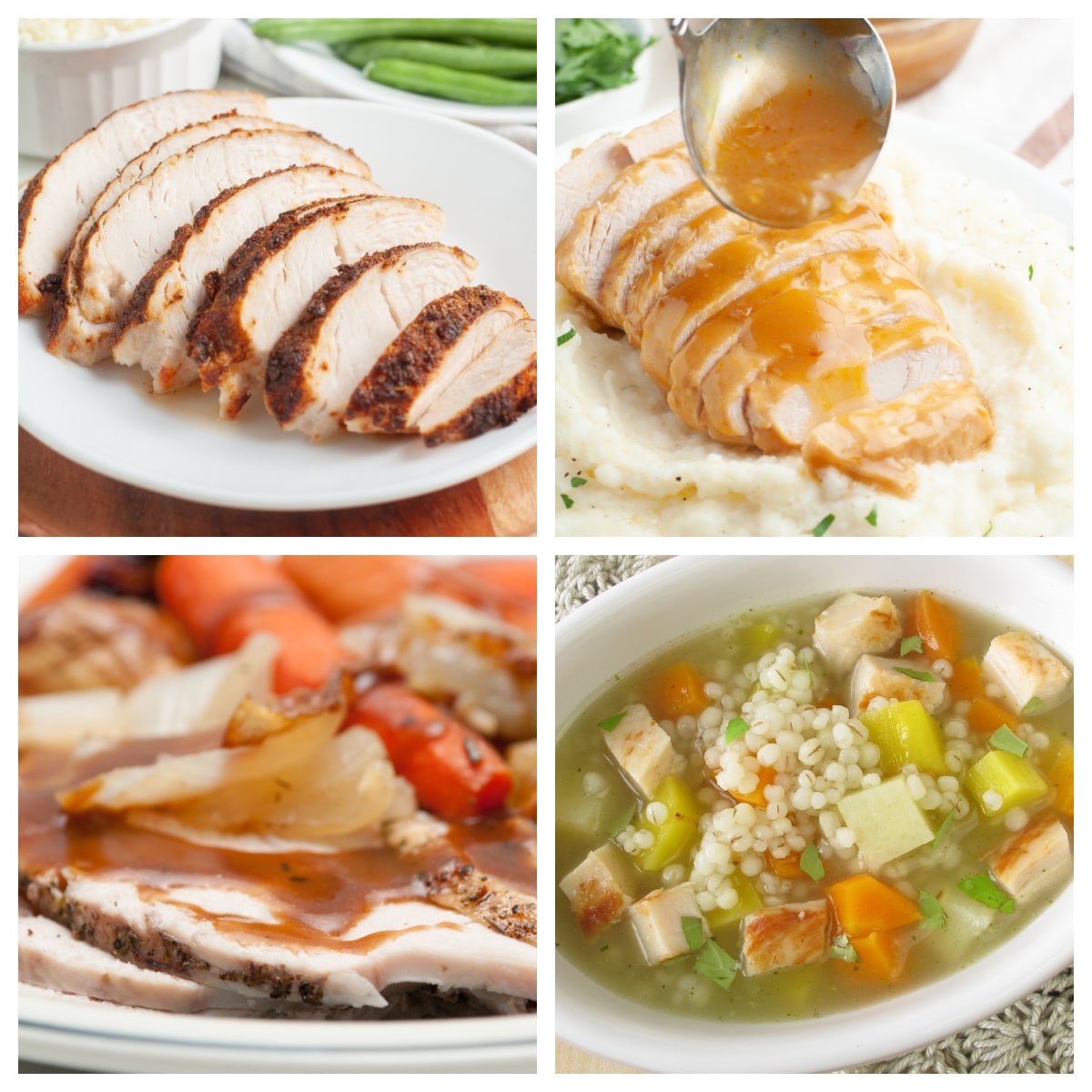 This collection of some of the best turkey tenderloin recipes includes plenty of quick and simple recipes that you can pull out when you need an easy weeknight meal.
One thing that we love about turkey tenderloin is that there are so many ways to cook it. You can bake it, grill it, or even toss it in the crockpot or air fryer! Just be sure to not overcook it, as turkey tenderloin is a leaner meat that can become dry if cooked too long.
Regardless of how you cook your turkey, it's important to cook it to a safe internal temperature. We recommend using an instant-read thermometer to make sure your tenderloins reach at least 165°F.
No need to wait until Thanksgiving to satisfy your turkey craving! These recipes will make it easy to enjoy everything that you love about turkey without the hassle of cooking a whole turkey in the oven.
Best turkey tenderloin recipes
Making turkey tenderloin is easy with the help of a crockpot. Since crockpot recipes just need to sit for a few hours, this cooking method is great for Thanksgiving day. Simply turn your crockpot on and let the turkey cook to perfection while you prepare other dishes and sides!
The addition of onion soup mix give this recipe an incredible taste and makes a delicious gravy right in the slow cooker.
Here's an easy turkey tenderloin recipe that's simple enough for busy weeknight dinners, but also tasty enough to serve for holiday dinner! Ready in under half an hour, this meal requires minimal preparation and baking time.
Unlike other turkey tenderloin recipes that are marinated, this recipe gets its savory flavor from a spice rub that features thyme, garlic powder, onion powder, and paprika.
Each bite of this melt-in-your-mouth turkey is moist, juicy, and loaded with flavor. Marinated in a mixture of apple cider vinegar, soy sauce, lime juice, garlic, sugar, and spices, this turkey has a little bit of everything. It's simultaneously sweet, savory, and salty, along with just the right amount of spice.
It only takes 1 hour to make the best garlic butter turkey paired with sweet potatoes and caramelized onions! We love how simple this recipe is, made on a single sheet pan. Not only is this meal so easy to prepare, it's also so easy to clean up.
Pro tip: try browning the meat before you cook it. This will help its appearance while also bringing out the best flavor and texture.
No need to roast a whole bird, this roasted tenderloin is juicy, flavorful, and easy to make. Combining turkey brine and a homemade turkey seasoning will enhance both the texture and taste!
You can find two different sets of instructions for turkey tenderloin recipes based on the temperature you prefer to cook your meat.
Air fryer recipes often make cooking so simple, and this turkey recipe is no exception! After coating your turkey tenderloins in a savory spice rub, toss them in the air fryer for about 25 minutes.
The seasonings in this recipe make this turkey super flavorful.
Anyone who loves a classic Thanksgiving spread will not be able to resist this glorious stuffing-topped tenderloin. Roasted to perfection and topped with a crisp homemade stuffing, this entree is incredibly satisfying and comforting.
Best of all, this is one of those recipes that is just as good leftover as it is on the day it's prepared. You can enjoy this mini Thanksgiving feast for multiple meals!
Grilled turkey tenderloin is a must-have at your next summer BBQ. The delicious marinade used here includes the flavors of spicy brown mustard and balsamic vinegar, along with sugar, lime, and a variety of seasonings. Cook it up on the grill to tenderize the meat and bring out the best taste.
Ten minutes and ten ingredients are all you need to whip up an incredible teriyaki turkey dinner. This easy weeknight meal is not only delicious but also healthy, featuring lean protein and a mixture of colorful nutrient-packed veggies.
Better yet, this recipe is baked on a single sheet pan, making both the prep and clean-up so simple.
You can take your favorite turkey tenderloin recipes to the next level by wrapping them in bacon. We love how salty, crispy bacon adds a whole new dimension of flavor to the juicy tenderloin. This 20-minute air fryer recipe is so easy to make in almost no time at all!
Cajun seasoning is sure to bring the heat! Here's an easy air fryer recipe that takes only 30 minutes to prepare.
Be sure to drizzle on some of the homemade honey glaze, made from brown sugar, chicken broth, and coconut aminos. The sweet and savory qualities of this glaze will balance the Cajun spicy perfectly.
Filled with onions, peppers, spinach, and cheddar cheese, this stuffed turkey recipe is unique, savory, and sure to impress your dinner companions.
While this recipe might sound daunting at first, it's actually much easier to make than it looks. Kitchen twine will help hold it all together once rolled up. Serve with the lime black bean salad included in this recipe!
An electric smoker will help you achieve a rich smoky flavor with your tenderloins. This recipe uses a simple savory spice rub, but it would also taste phenomenal with a BBQ rub.
While smoking the turkey takes about two hours from start to finish, the juicy, tender results will certainly be worth the wait!
Don't have time to cook a whole turkey? Turkey fajitas is a casual and easy turkey tenderloin recipe that takes just around half an hour to make.
Grilling your marinated turkey tenderloins will give them a rich smoky flavor. Load up your fajitas on a tortilla and heap on your favorite toppings!
One of the coziest turkey tenderloin recipes we discovered was this one that features a vibrant cranberry glaze. Made with berries, fresh orange juice, and coconut sugar, the glaze adds sweetness and an elegant touch to the juicy tenderloin beneath it.
Maple syrup and Dijon mustard are the special ingredients that make this recipe's delicious marinade so satisfying. For best results, sear the turkey before baking it. This will help retain the moisture, guaranteeing tender juicy tenderloin every time.
A slow cooker will make it so easy to get tender, juicy meat that can be used for pulled turkey sandwiches. In addition to your turkey, you'll only need three other ingredients: beer, butter, and onion soup mix.
One of our favorite turkey tenderloin recipes is this hearty soup. It's perfect for cozy nights at home when you need an easy weeknight meal, and also a great way to use any extra turkey or veggies in your fridge.
This dish is sure to fill your kitchen with a delightful aroma as it cooks — and it tastes just as good as it smells!
Kabobs are a necessity at summer BBQs! These Caribbean-inspired turkey kabobs incorporate peppers, pineapple, and mango. When tossed on the grill, the simply seasoned turkey pieces will become tender, pairing well with the sweetness of the fruit and peppers.
Simplify your holiday cooking with this tasty turkey tenderloin skillet dinner. We love how this recipe idea takes multiple Thanksgiving favorites and brings them together in such a convenient way.
Make sure to use a skillet that can go not only on the stovetop but also in the oven. Serve this meal with a side of potatoes to make it more complete!
Covered with a comforting homemade gravy, this easy turkey tenderloin recipe with veggies is hearty, filling, and so easy to prepare. To achieve perfectly tender meat and veggies, ensure that all of your ingredients are spaced out evenly across the sheet pan.
Turkey tenderloin recipes made in the crockpot are especially helpful during the holidays when you might be cooking multiple dishes at once. Simply dump in all of your ingredients, then leave it alone for hours as it cooks!
An optional ingredient that will enhance this dish is xanthum gum. Adding this will help thicken the juices from the turkey so that you can make a scrumptious gravy sauce.
These grilled tenderloins take only 20 minutes to cook, making them much simpler than a whole turkey that takes hours to prepare! Cayenne pepper and chili powder add a kick of spice to the meat, and marinating it in Modelo beer will help even more flavor emerge from the tenderloins.
The spiced maple sauce in this recipe doubles as both a delicious marinade and a glaze to drizzle on top. Made with apple cider vinegar, maple syrup, and Dijon mustard, this sauce has tangy, sweet, and spicy notes.
Searing the tenderloins for 5 minutes before popping them in the oven will help them achieve a beautiful brown color and also enhance the taste and texture of the meat.
Pizza and turkey come together in a fun and easy weeknight meal! Stuffed with crispy pepperoni and gooey mozzarella cheese, this delicious turkey dinner is totally kid-friendly and sure to be a hit for the whole family.
Add a heaping scoop of marinara sauce or some fresh basil to take your pizza-turkey fusion to the next level.
Experience a taste of Thanksgiving with this cozy and satisfying stuffed turkey. We love how turkey tenderloin recipes like these combine so many holiday favorites into a single dish.
Filled with butternut squash, cranberries, sage, and pecans, this meal is the perfect balance between sweet and savory. It's so incredibly comforting, and the leftovers will be a treat to enjoy for days.
Using an Instant Pot to pressure cook your turkey will give you amazing tender, juicy results in only 40 minutes from start to finish.
This easy recipe requires minimal effort and is great for meal prep during busy weeks. Slice up some turkey and add it to a green salad or sandwich. Or, you can shred it and use it for tacos!
Don't forget to try some of amazing turkey side dishes like mashed potatoes, rice, and more to pair with your meal.
Let me know which one of these turkey recipes you try in the comments.
More easy ingredient lists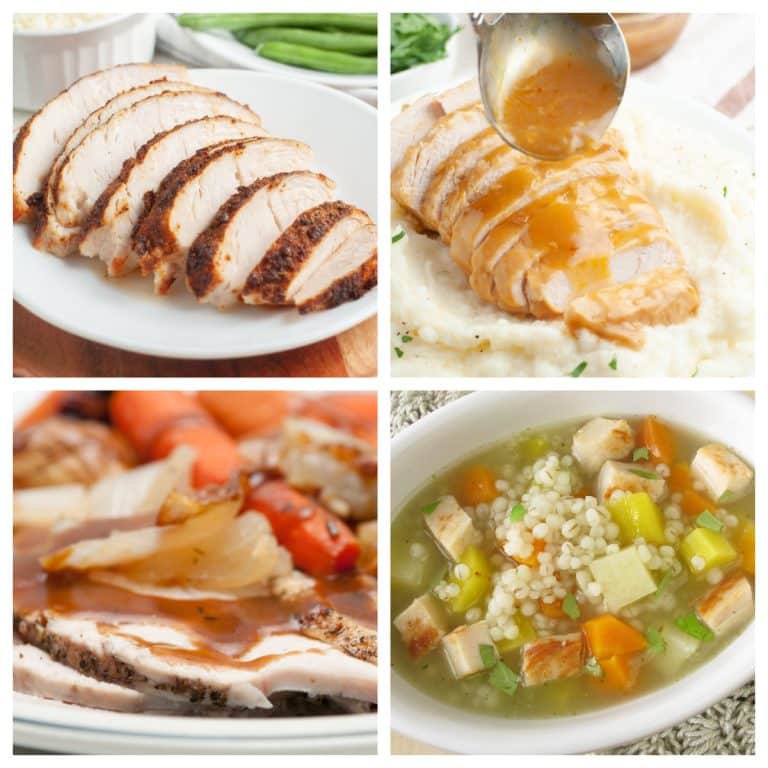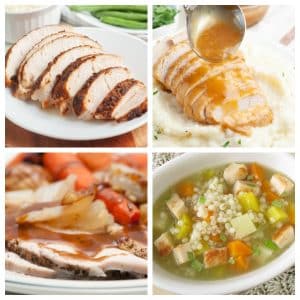 Turkey Tenderloin Recipes
A collection of delicious recipes using turkey tenderloin. Turkey tenderloin is a tasty, lean cut of white meat turkey that is fast and simple to prepare. From slow cooker, to air fryer, soup, and casseroles, you are sure to find a wonderful turkey recipe.
Ingredients
1

package

turkey tenderloin

typically packed with 2 tenderloins

2

tablespoons

olive oil

1/2

teaspoon

salt

1/4

teaspoon

ground black pepper

1/2

teaspoon

garlic powder

1/2

teaspoon

paprika
Instructions
Preheat the oven to 375 degrees F. Line a baking sheet with foil.

Pat the tenderloin dry with a paper towel. Mix together seasonings in a small bowl.

Place turkey tenderloins on the prepared baking sheet. Brush each of them with olive oil. Sprinkle the seasoning mix over each of the turkey tenderloins.

Bake for 25 minutes or until internal temperature reaches 165 degrees F. Let rest 5 minutes before slicing.
Nutrition
Calories:
32
kcal
|
Carbohydrates:
0.2
g
|
Protein:
0.1
g
|
Fat:
4
g
|
Saturated Fat:
0.5
g
|
Polyunsaturated Fat:
0.4
g
|
Monounsaturated Fat:
3
g
|
Cholesterol:
0.1
mg
|
Sodium:
146
mg
|
Potassium:
6
mg
|
Fiber:
0.1
g
|
Sugar:
0.02
g
|
Vitamin A:
62
IU
|
Vitamin C:
0.004
mg
|
Calcium:
1
mg
|
Iron:
0.1
mg
Nutrition information is automatically calculated, so should only be used as an approximation.
Like this? Leave a comment below!