Tired of pork tenderloin that takes forever to cook and still turns out dry? These 25 pork tenderloin recipes are packed with tips and tricks to make sure your main dish comes out juicy and mouth-wateringly delicious every time! From classic cooking methods to bold flavor profiles to crave-worthy presentations, this list is guaranteed to inspire your next dish.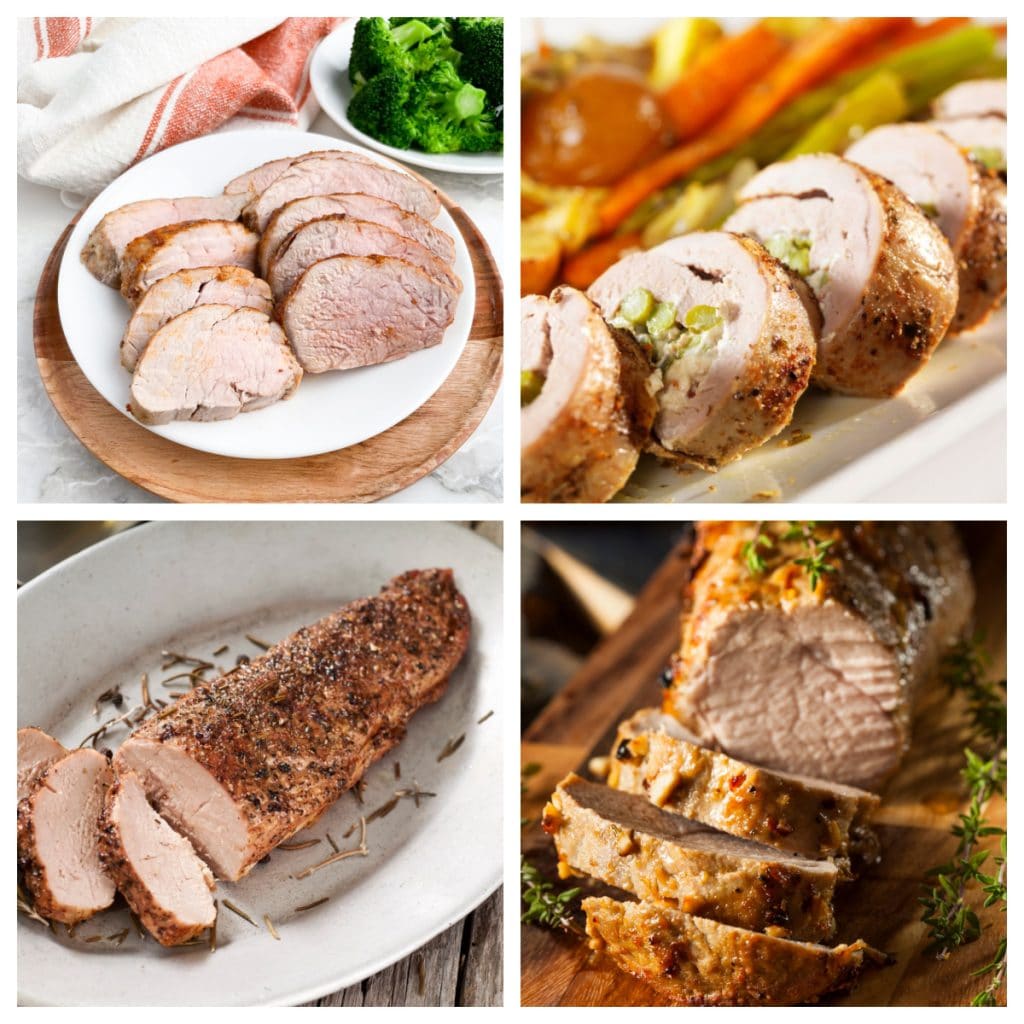 Pork tenderloin is a super tender and lean cut of meat. The quality means it usually costs a bit more, which makes it extra disappointing if the meat turns out dry or bland.
That's why I've rounded up my favorite pork tenderloin recipes so you'll never have to worry about this wonderful cut falling short of expectations again! In fact, with so much delicious inspiration, the hardest part will be deciding which recipe to make first.
Compare classic oven-baking to innovate sous vide cooking, punch up the flavor with BBQ or sweet and sour rubs, find mouth-watering presentation ideas like piccata or banh mi sandwiches, and so much more! Are you ready? Let's dive in.
Learn everything you need to know about how long to roast pork tenderloin for a juicy main dish the whole family will love! Best of all, this easy recipe can be ready to serve in under an hour.
When you're craving flavor, the bright citrus in this dish will leave your tastebuds singing! It's an easy weeknight meal with minimal prep, and you'll love having leftovers to enjoy throughout the week.
The combination of a dry rub and marinade make this pork tenderloin turn out juicy and delicious every time! It's a summer must-have meal you're going to want to grill up again and again.
A sweet and savory blend of olive oil, garlic, mustard, brown sugar, and herbs will infuse flavor into the meat for super tender and juicy results. You can also easily double or triple the recipe if you're cooking for a crowd!
Whether you're using a traditional smoker, a gas grill, or a Trager, learn how to make the perfect smoked tenderloin. The trick is to use mustard to add flavor, tenderize the pork, and help bind the seasonings to the meat.
Get all the tips and tricks you need to cook pork tenderloin with the sous vide method, including a variety of options for adding different flavors! You'll even learn how to sous vide frozen tenderloin so it turns out just as tasty as if you were using fresh.
Pork roulade is impressive enough to wow dinner guests but easy enough to make for family dinner! The mushroom and bacon filling is simply irresistible, and the entire dish only takes about 15 minutes of hands-on prep time.
This dish is smothered in Dijon mustard and fresh garlic, wrapped in bacon, then finished off with a drizzle of honey before it's roasted to absolute perfection! It's a breeze to make but oh-so-irresistible.
Thanks to an easy and flavorful sauce, this meal is sure to have the whole family running to the dinner table. Simply whisk together sauce, combine with the pork and vegetables, let the slow cooker work its magic, and enjoy!
Brown sugar, salt, dry mustard, pepper, oregano, thyme, and olive oil come together for the perfect homemade BBQ rub! This flavorful pork is delicious all on its own or sliced on a bun with a little extra sauce.
Enjoy some midwest comfort by pounding pork tenderloin flat, adding the breading, then pan-frying until crispy on the outside and tender on the inside. If you're craving comfort food, this sandwich is sure to hit the spot!
The honey garlic sauce really make this tenderloin recipe shine! It's ready in a flash for a weeknight dinner you can have on the table in under half an hour.
For busy weeknights, you'll love this sheet-pan recipe that can be ready in just 35 minutes! Juicy pork cooks on a bed of green beans so they can soak up the honey mustard sauce and pork drippings.
This recipe is just as great for an easy family dinner as it is for an impressive dish when you're entertaining guests! The sauce has chunks of crushed pineapple, sweet onions, and orange peel plus rice vinegar, ketchup, and soy sauce for that delectable balance of sweet and sour.
Tender green beans, crispy roasted potatoes, and delicious glazed pork tenderloin come together on one sheet pan! It's a simple, flavor-packed way to get your main dish and sides on the table all at once.
Is there anything that isn't made better by a rich picatta sauce? You can also add some white wine to the lemon-caper butter mixture for an extra burst of flavor. Serve over rice or pasta and enjoy!
For the perfect holiday dinner, pork tenderloin cooked in a cranberry and orange sauce with golden raisins will be the star of any family feast! And because it uses the slow cooker, you'll have plenty of space in the oven for all your sides.
You'll go crazy for this tender Cajun-spiced pork smothered in a tangy pineapple glaze. It's the perfect combination of sweet and spicy with layers of flavor that will take your taste buds out of this world!
This recipe calls for marinating the pork in a delicious honey hoisin sauce, browning in your favorite cast iron skillet or pan, then finishing it off in the oven! The trick is to brush with extra marinade before roasting so it cooks to tender, juicy perfection.
An easy spice rub and quick browning in a pan gives this pork tenderloin a wonderful crust. From there, bake the meat in a simple pan sauce to keep it luxuriously moist and full of rich flavor!
Pork medallions smothered in a creamy garlic mushroom sauce and cooked in a cast iron skillet is every bit as irresistible as it sounds! Best of all, the entire dish can be ready to serve in just 30 minutes. Serve with mashed potatoes, pasta, rice, or veggies!
The right blend of spices and orange juice come together to create ultra-flavorful pulled pork carnitas! You can enjoy as tacos, a burrito bowl, or even over a salad with all your favorite toppings.
Bacon-wrapped smoked pork tenderloin stuffed with jalapeño peppers and cheese is the kind of crave-worthy dish you'll want to make again and again. It's hard to resist this spicy, cheesy goodness!
Marinated and grilled pork tenderloin is topped with quick pickled veggies, cilantro, and flavorful mayo, then served on crunchy French bread for a mouthwatering Vietnamese Banh Mi sandwich!
Tenderloin doused in a well-balanced balsamic butter sauce might be the juiciest, most delicious pork you ever try! Enjoy double the flavor thanks to the spice rub and tantalizing herb sauce.
Tips
More easy pork recipes