Can You Freeze Pulled Pork? (Guide To Freezing)
Unless you're feeding a crowd, cooking a pork shoulder is sure to leave you with plenty of leftovers which might have you asking, can you freeze pulled pork?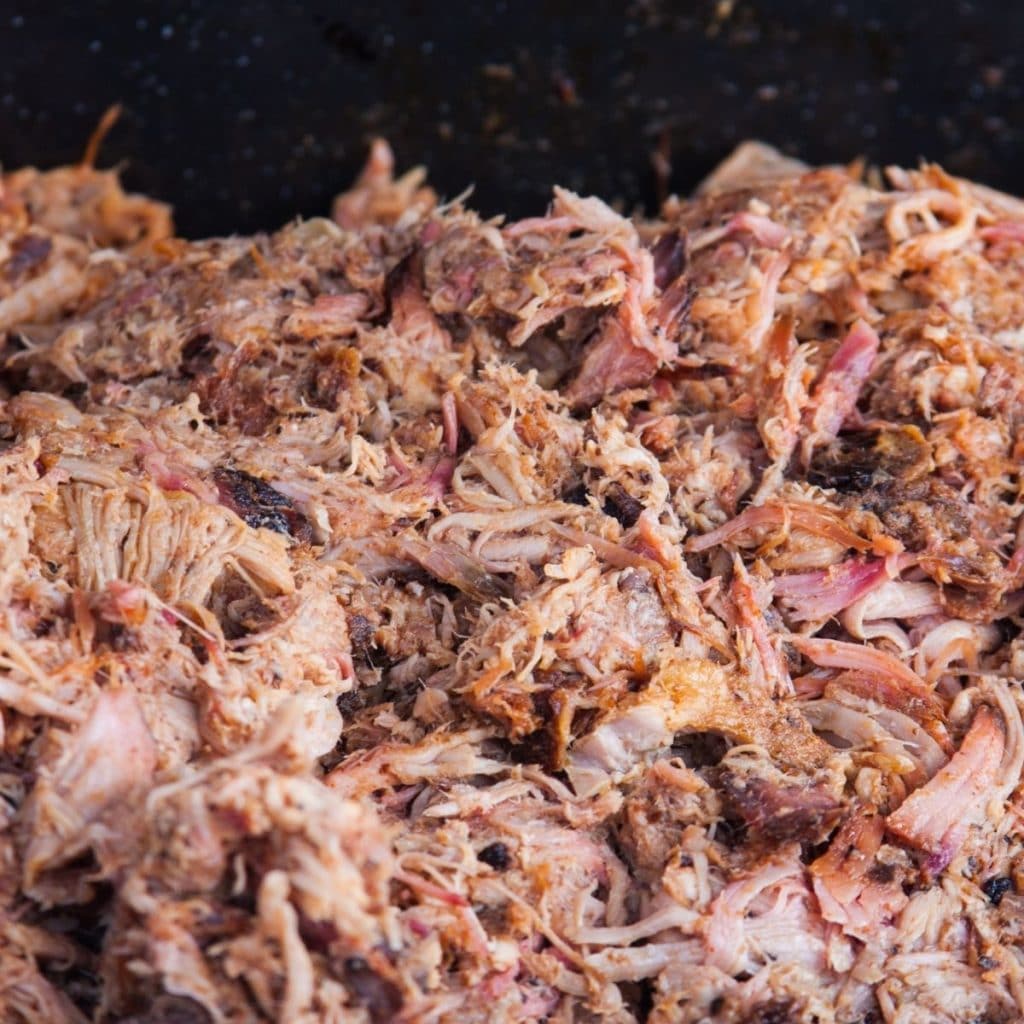 Let me show you how to freeze pulled pork the right way so you can continue to enjoy your hard work for weeks or even months! When frozen properly, the meat stays tender, succulent, and oh-so-delicious. You'll love having this ready-to-go meal waiting in your freezer!
If you've ever tried making pulled pork, you know it involves a pretty large cut of meat. Unless you're cooking for a big group of people, there's a very good chance you'll have lots of leftovers. That's why it's important to know how to freeze pulled pork the right way!
Fresh pulled pork is absolutely delicious. The wonderful savory flavor with the melt-in-your-mouth texture is downright irresistible! And when you freeze your leftovers properly, they'll be just as succulent and delightful as when they were first cooked. How great does that sound?
Whether you love freezer-meals or you just need to know what to do with all your extra pork, this guide has you covered. You'll be able to use the meat in your favorite leftover pulled pork recipes for weeks or even months to come!
Can you freeze pulled pork?
Yes, you can absolutely freeze pulled pork. It is important to freeze the meat so that it keeps as much moisture as possible so it's not dry when it thaws.
What is pulled pork
Pulled pork refers to pork that has been cooked until tender and then shredded. The meat is often mixed with barbeque sauce and then served in a sandwich or on its own. When cooked properly, it's wonderfully tender and savory!
While barbeque is the most popular use, pulled pork is a super versatile ingredient that can be used with plenty of different flavor profiles. You can serve it up as carnitas in your tacos, use it to top a burger, throw together a Cubano sandwich, enjoy it over a salad, and so much more.
The most common cuts of meat used are pork shoulder or pork butt, also known as a boston butt. While similar and often used interchangeably, there is a slight difference between the two.
Both come from the front of the animal (so the "butt" has nothing to do with the animal's actual rear-end). Pork butt comes from the shoulder blade area up to the spine while the pork shoulder wraps around the underside of the pig. Pork butt has a little more fat content.
How to freeze pulled pork
A wonderful way to store leftover pulled pork is to freeze it. The secret to freezing pulled pork is to retain as much moisture as possible. By preventing the meat from drying out, it will still have that melt-in-your-mouth texture after freezing and reheating!
If you already know you're going to freeze a good portion, you can always shred what you plan to eat right away but leave the rest of the pork butt whole. On the other hand, if you do shred it, try to let it fully cool first so the meat can retain most of its juices.
Once the meat reaches room temperature, store it in a large resealable freezer bag or airtight container. You could also cut the meat into portions and store them in smaller bags. The latter is nice if you will only want to thaw a serving or two at a time in the future.
Next, make sure to remove as much of the air as possible. This is the key to preventing the risk of freezer burn.
A Vacuum sealer also work well for packaging frozen pulled pork.
When properly sealed, pulled pork can be stored in the freezer for up to 6 months. It's truly the meal that keeps on giving!
How to reheat pulled pork
You can choose from quite a few different ways to warm up your leftover pork. The trick with each one will be to heat the meat through without drying it out.
For each method, you'll want to thaw the pork first either at room temperature for a few hours or in the refrigerator overnight. You'll also want to use a splash of liquid to keep the meat tender. This could be reserved cooking juices from when you cooked the pork, apple juice, broth, or even just water.
It's also important to make sure the meat reaches an internal temperature of 165 degrees F.
Slow Cooker
The low-and-slow Crock Pot method is almost fool-proof. Just add the pork to the slow cooker, then top with either barbeque sauce or a splash of liquid.
I recommend setting the heat to warm and letting it sit for 2-3 hours. If you're in a hurry, you could also cook it on low for 1-2 hours. Just be sure to check on the meat and stir it occasionally. Once the internal temperature reaches 165°F, it's ready to serve.
Oven
This method is another great option and only takes about 30-45 minutes. Preheat the oven to 225°F, then place the pork in a roasting pan and add your liquid of choice. Cover with aluminum foil, then roast until the meat is heated through. If desired, you can add barbeque sauce for the last 5 minutes.
Grill
Preheat the grill on low. Similar to the oven, you'll add the pork to a disposable aluminum pan with your liquid of choice. Set the pan on the grill rack, then close the lid and cook for 30-45 minutes until the meat is heated through. Again, you can add BBQ sauce for the last 5 minutes if you like.
Stove
Add the pork and liquid to a large saucepan or skillet, then turn the meat to medium-low. Cook, stirring frequently, for 10-20 minutes until the meat is hot all the way through. You'll want to keep a close eye on the liquid, adding more as necessary to keep the meat from drying out.
Instant Pot
An electric pressure cooker is a great way to keep pulled pork nice and tender! First, you'll want to add enough liquid to the bottom to allow the Instant Pot to come to pressure. Next, place your trivet inside the pot. Finally, place the pork in a heat safe dish and set it on top of the trivet.
Close the Instant Pot, turn the valve to sealing, and set the cooker to steam for 5 minutes. Once the cooking time is up, you can let the pressure release naturally or perform a quick release.
Microwave
When you're in a hurry, the microwave is always the quickest and easiest method. Place the pork in a microwave-safe dish, add a splash of liquid or barbecue sauce, and cover. Heat on high for about 2 minutes until the meat is hot.
Sous Vide
First, make sure the pork is in a Sous-Vide-safe plastic bag. Next, use the Sous Vide to bring a pot of water to 165°F. Once heated, place the sealed bag of pork in the pot and allow the meat to reheat for 45 minutes to 1 hour.
Can you freeze pulled pork with BBQ sauce?
If possible, I recommend freezing pulled pork without any sauce. It's just easier in my opinion. However, as long as the sauce you're using is freezer-safe, you can certainly freeze your pork with the sauce already on it!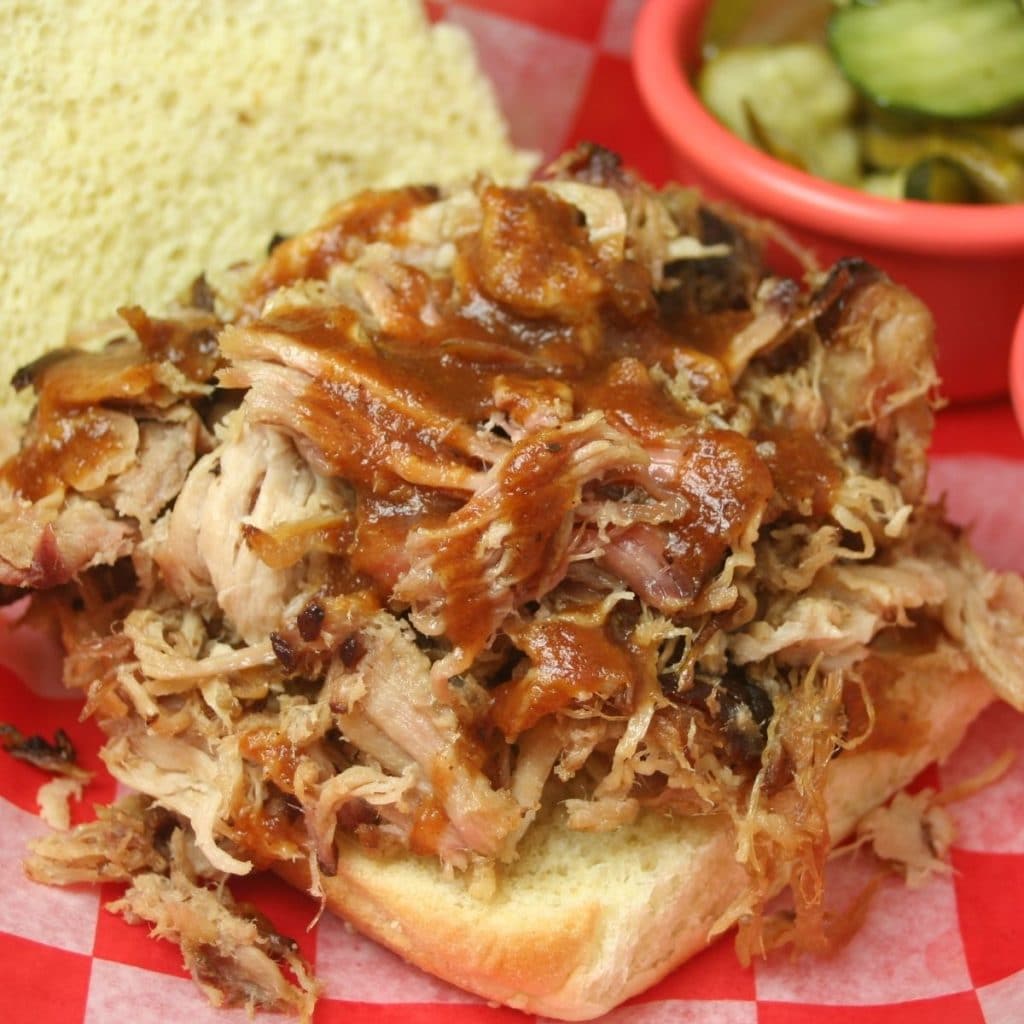 Pork recipes
How do you like to use your pork leftovers? Let me know in the comments below.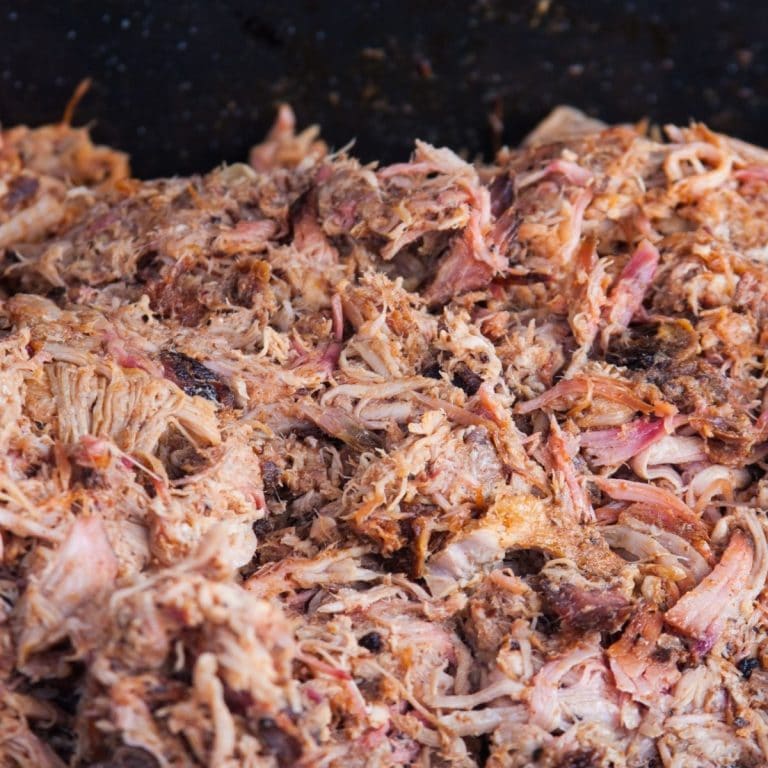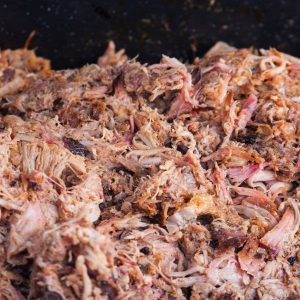 How To Freeze Pulled Pork
Easy method for freezing pulled pork.
Instructions
Let pulled pork come to room temperature.

Place the pork in freezer safe zip-top bags or freezer safe airtight container. Make sure to remove as much air from the bag as you can.

Freeze for up to 6 months. Make sure to thaw before reheating.
Nutrition
Calories:
219
kcal
|
Carbohydrates:
21
g
|
Protein:
15
g
|
Fat:
9
g
|
Saturated Fat:
3
g
|
Cholesterol:
51
mg
|
Sodium:
705
mg
|
Sugar:
17
g
|
Vitamin A:
177
IU
|
Vitamin C:
2
mg
|
Calcium:
59
mg
|
Iron:
1
mg
Nutrition information is automatically calculated, so should only be used as an approximation.
Like this? Leave a comment below!