30 Delicious Italian Sausage Recipes
Add some flair to your dinner routine with these amazing Italian sausage recipes. This underrated protein is a welcome addition to many meals. It adds a depth of flavor and is simply delicious.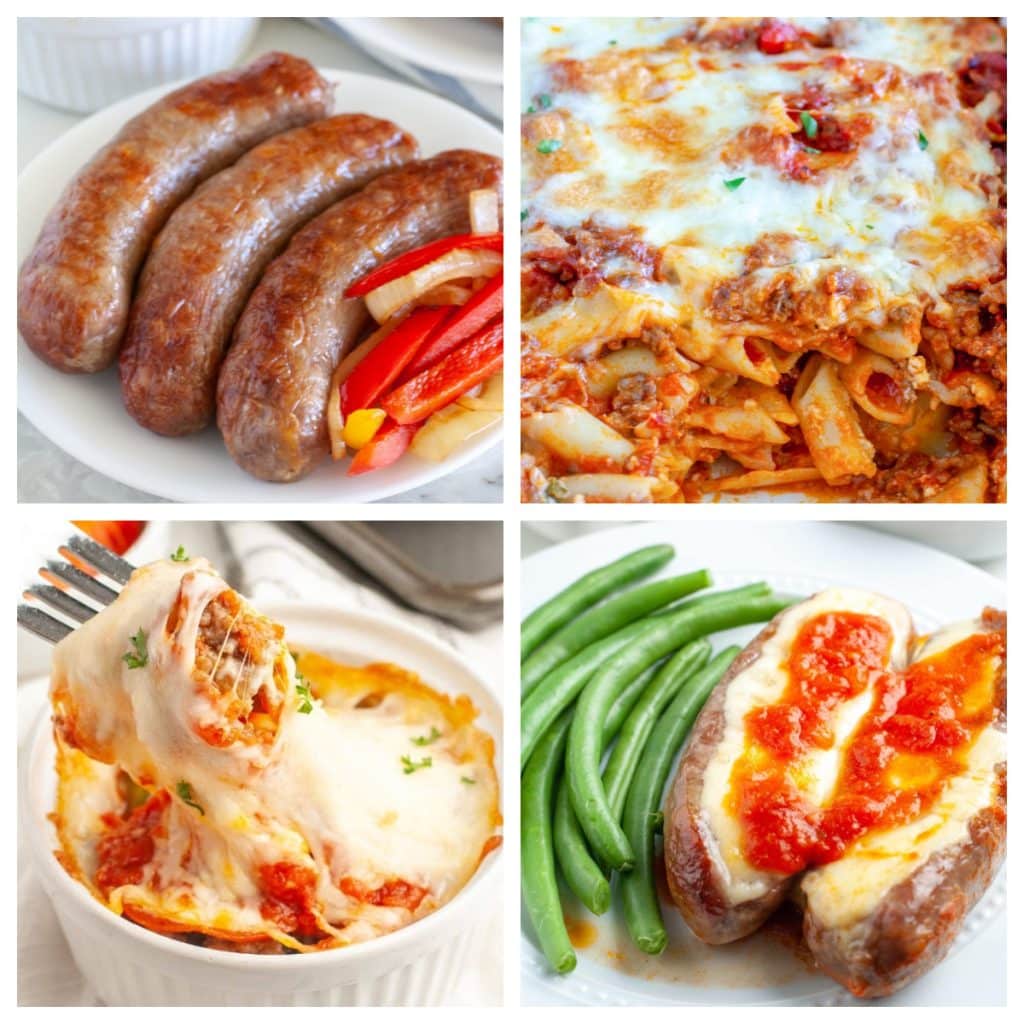 You may be surprised at how versatile Italian sausage is. It's great for quick dinners, low-carb recipes and adds extra flavor to many traditional recipes.
Whether you prefer mild, hot, or sweet sausage, there are many ways to enjoy it.
From sheet pan dinners, soups, pasta, or one-skillet meals, there is something for everyone.
Try these Italian sausage recipes today, and let us know which is your favorite. My guess is that you can't pick just one.
Quick dinners are essential for busy days. This recipe for stuffed sausage only takes 3 ingredients and a half hour to get dinner on the table. It is a delicious blend of Italian sausage, mozzarella cheese sticks, and marinara sauce.
They are low-carb, flavorful, and all-around delightful for an easy weeknight meal.
Cooking sausage in an air fryer is a great way to get protein on the table for a quick dinner. Adding a few bell peppers to the air fryer adds delicious veggies.
Sausage and peppers are a savory combination and versatile. Toss with some pasta, add to a bun, or eat as-is. Either way, you have a delicious meal and easy clean-up.
Italian sausage adds such great flavor to any dish. That's why I love this baked mostaccioli dish with sausage instead of ground beef. It's a mouthwatering, flavorful delight.
Mostaccioli pasta, creamy cheeses, seasonings, and Italian sausage combine for a masterful flavor explosion. Ready in under an hour, it is a quick dinner that tastes like it took hours to make.
Flip pizza night on its head with this fun, easy recipe. Pizza bowls are exactly what they sound like; pizza in a bowl sans the crust. Whether you want to cut carbs or wish to mix things up, pizza bowls have the same great flavors you love without the heavy crust. The great thing is that pizza bowls are customizable, so everyone can have their favorite.
This creamy Italian sausage pasta dish is a divine creation. It feels like you are dining at a high-end restaurant on a meal that took hours to make. Italian sausage, rigatoni, spinach, and sundried tomatoes are tossed in a creamy garlic sauce.
This mouthwatering dish only takes 40 minutes to create, making it a wonderful quick dinner any night of the week.
This savory recipe is a must-try. Sausage and peppers go together like peanut butter and jelly. Bell peppers are stuffed with a delectable mix of hot Italian sausage, rice, onion, tomato, and seasonings.
Topped with cheese and baked, this recipe is out-of-this-world good. Great for family nights or dinner parties, it's a healthy, satisfying meal that is sure to please.
Who doesn't love a one-pot dish for a quick dinner? This recipe comes together in 35 minutes, making it perfect for busy weeknights. Italian sausage and orzo pasta are combined with beef broth, onion, garlic, seasonings, and cream cheese. This dish is a hearty, satisfying meal bursting with sublime flavors.
Hearty, savory, and downright exquisite is what this soup is. Overflowing with incredible flavor, it's a soup that you will crave again and again. Creamy red potato soup full of onion, carrot, celery, garlic, and lots of seasonings is taken to the next level with the addition of hot Italian sausage. Top with cheddar cheese, and this divine creation is complete.
If you love spicy food, then you will love this appetizing dip. The creamy blend of hot Italian sausage, cheese, pepperoncini, tomatoes, and seasonings is a heavenly blend of flavors with a kick. This dip is great for parties or game-day and is a delicious, crowd-pleasing appetizer.
Thanksgiving dinner isn't complete without the stuffing. Sausage stuffing is a classic, and this recipe does not disappoint. This blend of satisfying, savory flavors is just what you need to go with your juicy turkey.
Sage, Italian sausage, celery, onion, garlic, and other ingredients blend together for this spectacular, flavorful stuffing. Your holiday table won't be complete without it!
Looking for a fun, easy, and quick dinner? Look no further than an Italian sausage quesadilla. All you need is 30 minutes, and you've got dinner on the table. Hot Italian sausages, onion, garlic, roasted red peppers, and mozzarella makes this a must-have. It's a fun Italian take on the Mexican favorite.
These incredible sausage stuffed shells are reminiscent of slow, easy days and lounging in the Italian countryside. This restaurant-quality meal is a quick dinner on busy weeknights. When you sit down to eat after a long day, you can close your eyes and enjoy this delightful feast and transport yourself to Italy.
Simple and delicious breakfast casserole that features sausage, potatoes, and eggs. A hearty, delicious meal that can be served any time of day.
Zucchini boats are a fun, tasty delight for a busy weeknight. This is a low-carb, quick dinner that is big on flavor. Ready in 30 minutes, this is a recipe the whole family will love.
Zucchini is hollowed out and filled with a delicious mixture of Italian sausage, bell peppers, onion, garlic, marinara sauce, and cheese. Baked to perfection, this is a must-have recipe.
Soup for dinner? Yes, please! This Italian sausage soup only takes 10 minutes to prep and is ready in 30 minutes. It has a bold flavor, is full of nourishing veggies, and is a hearty, soul-warming meal. Great for chilly nights when you need a quick dinner.
There are a lot of varieties of chili out there, but this one is a definite favorite. It's hearty, delicious, and full of amazing flavors. This one-pot wonder is a must-try. It has ground beef, Italian sausage, bacon, 3 types of beans, tomato, onion, and an array of delicious seasonings. They come together for an intoxicating bowl of deliciousness.
Crockpot meals are the ultimate quick dinner. The ease of the fix-it and forget-it is unparalleled. You only need 10 minutes of prep time in the morning before you go about your day, and dinner is ready when you get home.
This dish is bursting with savory, mouthwatering flavors. Eat this low-carb meal straight from the crockpot, or throw it on a bun. Either way, this is a recipe to have on repeat.
Italian beef and sausage pie is an irresistible one-pot meal. The blend of beef, Italian sausage, bell peppers, seasonings, cheese, and the homemade crust is a scrumptious combination. This is the kind of meal you want to make over and over again because it's that good.
This recipe is a fabulous twist on the traditional meatball appetizer. With only 3 simple ingredients and 30 minutes, juicy, delicious, meatballs are made. Italian sausage, mozzarella cheese, and Pillsbury crescent rolls are all it takes to make these appetizing meatballs. Serve with marinara sauce, and you've got a new culinary hit.
This sheet pan recipe is a quick dinner that is sure to satisfy. Easy to make, it comes together in under an hour. Italian sausage, broccoli, red bell peppers, zucchini, carrots, potatoes, and seasonings get cozy together and bake on a sheet pan. Prefer low-carb? Omit the potatoes, and you still have a wonderful, easy, one-pan meal.
Pizza night is always a welcome, fun night. This easy recipe is a quick dinner that makes pizza night any night! Take a loaf of French bread, pasta or pizza sauce, Italian sausage, onion, olives, and seasonings, and spread them on your bread. Cook, and voila! The pizza is ready. The process takes 35 minutes, is customizable, and is quicker than delivery. That's a triple win!
This incredibly delicious hearty pasta dinner is comfort food at its best. Great for busy weeknights, it only takes 30 minutes to whip up. It's packed with savory, creamy, garlic, and spicy flavors that balance each other out. This is a quick dinner recipe to have on repeat.
This is one of those recipes that envelopes you like a warm blanket on a chilly Autumn day. Acorn squash is filled with hot Italian sausages, onion, garlic, and seasonings. Simple, low-carb, full of flavor, and a mouthwatering delight.
Stuffed mushrooms are a beloved appetizer and come in many varieties. This recipe is a juicy, flavorful, and delectable easy recipe. Italian sausage, shallots, garlic, bread crumbs, and seasonings blend together to stuff button mushrooms for an impressive appetizer. It whips up in 35 minutes and is the perfect appetizer for holidays or game days.
Lasagna is such a beloved dish, yet can feel daunting to cook. This recipe is wonderful and easy to make. It is a quick dinner that feels like it took all day to make.
Using both Italian sausage and ground beef with no-boil lasagna noodles makes this restaurant-quality meal feel like one of grandma's recipes. This enticing dish will surprise your family with its goodness.
One-pot, simple, quick dinners are the name of the game for busy weeknights. This appetizing recipe takes 40 minutes to create and is bursting with delicious flavors. Italian sausage, pan-fried potatoes, onion, garlic, seasonings, and parmesan cheese have a party in a pan for a glorious, easy one-pot meal.
This is another one-skillet, easy, quick dinner that only takes 30 minutes to make. This is a healthy, filling, and all-around scrumptious meal. With hot Italian sausages, bell peppers, sweet onion, garlic, seasonings, and rice, this one-pot wonder is bursting with incredible flavors.
Orecchiette is one of my favorite types of pasta. Shaped like little ears, these gorgeous little pasta rounds are light and soak up the flavors of your dish. This recipe makes a healthy, quick dinner.
The pasta is cooked with sweet Italian sausage, garlic, broccoli, and chicken broth. Add parmesan cheese, and this delectable one-skillet dish is ready to devour!
Hold on to your hats, folks! This incredible restaurant-style dish is a delicious, quick dinner that comes together in 20 minutes! It's bright, healthy, flavorful, and all-around fabulous.
This Italian chicken sausage one-skillet meal is like no other you've had. It's a must-try and sure to be a new favorite, whether it's Sunday dinner or a busy weeknight.
These meatballs are a juicy, flavorful delight. Easy to make, they can be a quick dinner or appetizer. It takes 6 ingredients and 25 minutes to whip them up. You can also batch cook and freeze to have some on hand for an even easier meal. These wonderful meatballs are great in a sandwich, with pasta, in a salad, or tossed in your favorite sauce and served as an appetizer.
Did you try any of these delicious Italian sausage recipes? Let me know in the comments.
More sausage recipes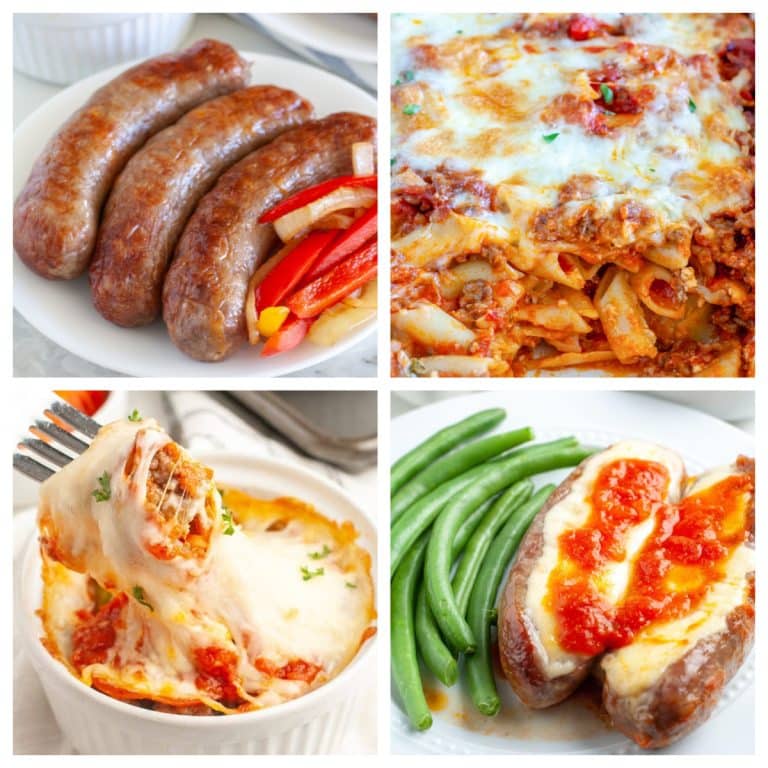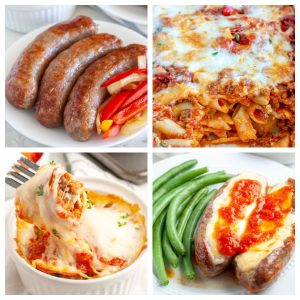 Italian Sausage Recipes
Delicious Italian sausage recipes that can be used for meals all day long including a breakfast casserole, stuffed peppers, and more like this simple sausage skillet.
Ingredients
4

Italian Sausage Links

sliced into 1/2-inch rounds

1

tablespoon

olive oil

1

cup

diced onion

1

yellow squash

sliced into rounds and then cut in half

1

zucchini

slice into rounds and then cut in half

1

teaspoon

Italian seasoning
Instructions
Place Italian sausage into a large skillet over medium heat. Cook until sausage starts to turn brown and cooks through.

Add in olive oil, onion, squash, and zucchini. Sprinkle in Italian seasoning.

Stir and cook for another 4-5 minutes.
Nutrition
Calories:
452
kcal
|
Carbohydrates:
8
g
|
Protein:
18
g
|
Fat:
39
g
|
Saturated Fat:
13
g
|
Polyunsaturated Fat:
5
g
|
Monounsaturated Fat:
19
g
|
Cholesterol:
85
mg
|
Sodium:
825
mg
|
Potassium:
604
mg
|
Fiber:
2
g
|
Sugar:
4
g
|
Vitamin A:
205
IU
|
Vitamin C:
22
mg
|
Calcium:
53
mg
|
Iron:
2
mg
Nutrition information is automatically calculated, so should only be used as an approximation.
Like this? Leave a comment below!