25 Best Stove Top Stuffing Recipes
Aug 16, 2022, Updated Apr 21, 2023
Who said stuffing was just for the holidays? These stove top stuffing recipes are wonderful to enjoy all year long.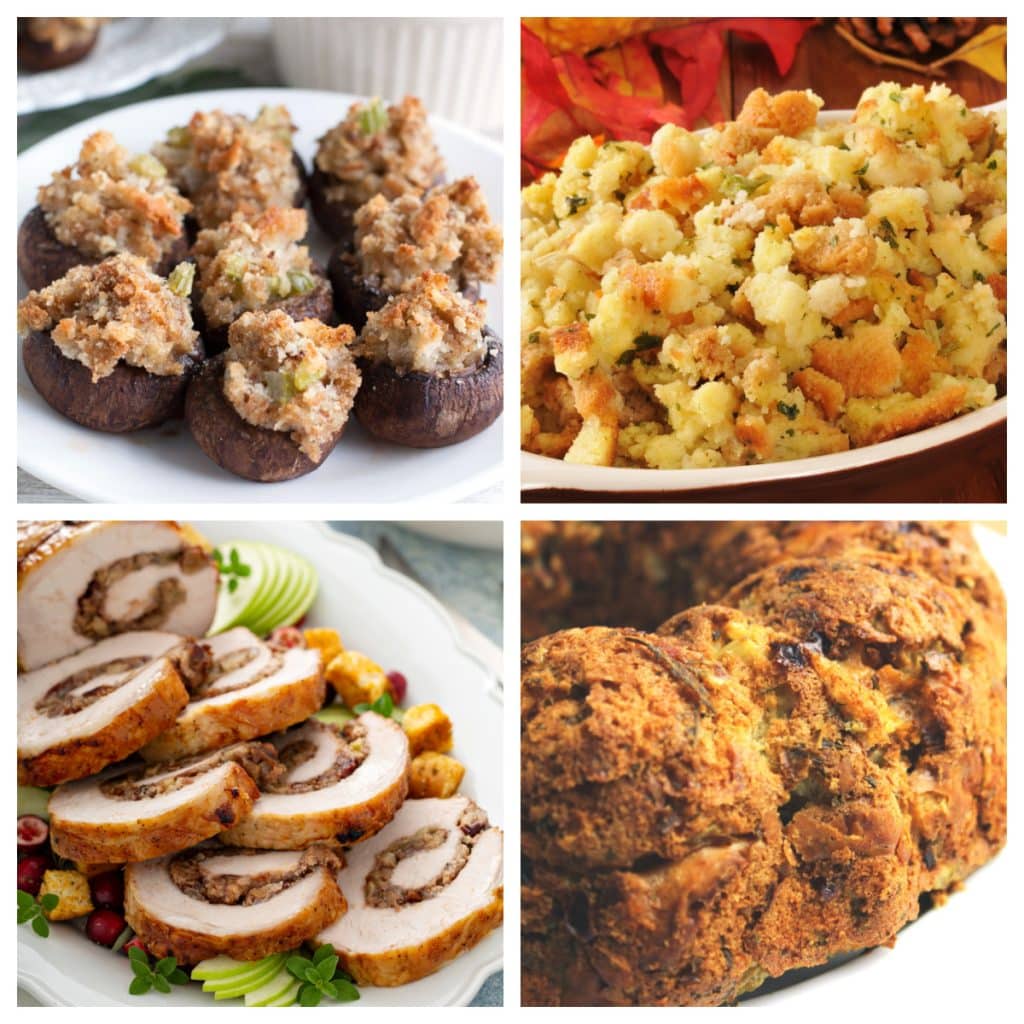 Using Stove Top stuffing mix is a great way to add variety to your dinner routine. Many easy dinner recipes include stuffing and will certainly become new favorites.
Whether it's in a savory casserole, juicy shredded chicken sandwiches, or even empanadas, Stove Top stuffing mix is a versatile pantry ingredient to keep on hand.
Of course, some of these fabulous recipes certainly will grace your holiday table, however, many are simple recipes to be enjoyed any time.
These stove top stuffing recipes are easy to make, don't take much time, and are full of delicious flavors.
The flavors of the holidays are enticing, palate-pleasing, and heart-warming. This stove top stuffing recipe is quick to whip up any time of the year and makes an easy dinner recipe. Dried bread cubes, onion, chicken broth, celery, garlic, and seasonings combine to create a mouthwatering stovetop stuffing mix.
You don't have to go South for the winter to enjoy this incredible southern cornbread recipe. Amongst the top stuffing recipes, this recipe has all the wonderful flavors of traditional stuffing with homemade cornbread.
Once the cornbread is made, it gets tossed with a variety of seasonings, onion, and celery, and then added to a baking dish to bake in the oven. It's a heavenly dish, sure to please all your little turkeys at the holiday table.
This savory, mouthwatering chicken stuffing bake is one of those recipes to make any time of the year. It is an easy dinner recipe and comfort food that fills the soul and warms the belly.
Stove Top stuffing mix is combined with chicken breasts, cream of chicken soup, and broth, then added to a baking dish and baked to perfection. A delectable and delightful dish during every season, this recipe is not to be missed.
Mix up your appetizer routine with these tasty little bites. This creative recipe is sure to knock the socks off of any party-goer. It only takes 3 ingredients; bacon, Stove Top stuffing mix, and butter. The results are delicious, savory, dainty bite-sized balls of goodness.
Stuffing mushrooms isn't a new culinary art, but have you ever stuffed them with stuffing? They are an impressive treat that whips up in no time. If you have leftover stuffing from your holiday meal, this is a great way to reinvent it. These mushrooms are an exquisite appetizer to wow guests or enjoy as your dinner!
Among the top stuffing recipes reigns this gem. What is so great about it is the ease of how it comes together yet tastes like it took hours to make. It's an easy dinner recipe that doubles as a dynamite stuffing recipe.
Whether you make this for your next holiday feast or a cozy weeknight dinner, you will be praised for its sensational, tasty flavor.
Meatloaf is a classic meal and one of the easiest dinners you can make. This recipe is a fun twist on the traditional recipe that comes together in 10 minutes.
Ground beef is mixed with Stove Top stuffing, water, and egg. A quick ketchup glaze is also included. Throw it all in a baking dish, and you have an incredibly delicious meal.
These gems are a unique appetizer or fun addition to your holiday table. Two holiday favorites combine for a bite-sized, tasty ball of Thanksgiving. They are delicious on their own, dipped in gravy, or served with veggies for a complete, easy dinner recipe.
A classic recipe that has been around for decades, this is one of those comfort foods that is also an easy dinner recipe. Pork chops are placed in a baking dish and topped with Stove Top stuffing, cheddar cheese, and other ingredients.
They are juicy with flavorful, moist stuffing. This is one of those delightful recipes to have on repeat throughout the colder months.
You haven't had a savory, tasty shredded chicken sandwich like this one. Prepare to be wowed with a simple yet amazing recipe. Great for an easy dinner recipe or football Sunday, this recipe is a must-try.
Chicken, Stove Top stuffing mix, Ritz crackers, and cream of chicken soup simmer in the crockpot to make an out-of-this-world chicken filling. Toast your bun and enjoy!
This is an easy dinner recipe that has big flavors. Tender broccoli, juicy chicken, and a creamy cheese sauce combine in a baking dish. Make your Stove Top stuffing mix, then layer on top of the chicken and broccoli. Bake and voila! A healthy, appetizing, and comforting casserole is ready to devour.
When the weather starts to cool, the summer days are gone, and football is on the television, you start dreaming of the holidays. It's the perfect time to make these exquisite sausage stuffing bites. They make a fabulous, delicious appetizer and are perfect bite-sized balls of Thanksgiving.
Two worlds collide in a culinary explosion of delightful flavor with this easy dinner recipe. Meatloaf made with ground beef, creamy mushroom soup, onion soup mix, and seasoning is combined and added to a baking dish.
Then Stove Top stuffing is made and spread over the top of the meatloaf and baked. This culinary mash-up is a hearty, flavorful meal everyone loves.
When you aren't sure what to do with all of your amazing holiday leftovers, look no further than these tasty muffins. This is an easy dinner recipe or snack which uses your leftover stuffing mix and turkey to create delectable stuffing muffins. Grab that leftover cranberry sauce or gravy and dip these delightful muffins in them for the full palate-pleasing effect.
Casseroles are a family favorite and wonderful for potlucks or dinner trains for someone in need. They are one-pot meals, easy dinner recipes, and overall, a huge hit. This one is a fun, mouthwatering, flavorful dish that gets made often.
Chicken, basil, and mozzarella cheese are layered on the bottom of a baking dish. Then it's topped with Stove Top stuffing mix, tomatoes, and garlic and baked to perfection.
You only need a handful of ingredients for this easy dinner recipe. The slow cooker does all the work for you making it an impressive fix-it and forget-it meal. Juicy chicken, Swiss cheese, cream of chicken soup, milk, and Stove Top stuffing mix, combine for a mouthwatering casserole dish. Add a side salad or veggie to your plate for a complete, satisfying meal.
You haven't had a green bean casserole like this one. As the name implies, it is quite yummy! The green beans, Stove Top stuffing mix, cream of mushroom soup, cheddar cheese, chicken broth, and seasonings get tossed into a baking dish.
Mix it all together, cook, and you have a savory, inviting, easy dinner recipe the whole family will love. You can enjoy it as a side dish with chicken, as a vegetarian meal, or add poultry for an even easier one-pot meal.
Take the stress out of the holiday meal prep with this easy crockpot stuffing recipe. As one of the top stuffing recipes, it is a flavorful, moist, perfectly seasoned stuffing to enjoy with your Thanksgiving turkey. The best part is that it's a fix-it and forget-it recipe.
This casserole is a great way to use your leftovers from Thanksgiving. The leftovers are reinvented into this savory, delicious easy dinner recipe. It takes a few additional ingredients with your leftover turkey and stuffing combined. Add the mixture to a baking dish and bake for 30 minutes and you've got an impressive meal.
These bites are Thanksgiving in a ball. Combine mashed potatoes and Stove Top stuffing mix, roll them into balls, then deep fry them into a golden brown bite-sized ball. They make a great appetizer. These scrumptious balls are crispy on the outside and soft and savory on the inside.
There's something about a stuffed pork tenderloin that feels like fall to me. This easy dinner recipe is wonderful to enjoy and puts you in the mood for the holidays with its savory, inviting flavors.
Simply cut your pork tenderloin lengthwise and stuff it with your prepared stuffing mix. Add to a baking dish and bake until done. This is a stuffing recipe that hits all the right notes.
You might not think empanadas and Thanksgiving leftovers go together, but don't knock it until you try it. This delightful recipe is easy to whip up and use those wonderful leftovers.
The result is an incredibly delicious hand-held mini pie. The best part is you can freeze them for later, so no food goes to waste.
A fun way to elevate the presentation on your holiday table this year is to make your stuffing and bake it in a bundt pan. This easy recipe shows you how. Make your favorite stuffing recipe that would fit into a 9×13 baking dish and instead, put it in a bundt pan and bake. The presentation is stylish, impressive, and an all-around show-stopper.
Quick and easy dinner recipes that are also healthy can be hard to come by. This one hits all the right notes. With a handful of ingredients of rotisserie chicken, zucchini, Stove Top stuffing mix, cream of chicken soup, butter, and sour cream you've got a meal that comes together in under an hour. T
his enticing dish is kid-approved and one to be added to your dinner rotation.
It doesn't have to be the holidays to enjoy quality stuffing. This recipe is a top stuffing recipe and only takes 15 minutes to make. Great to enjoy any time of the year, it's homemade with the help of a store-bought stuffing mix. This delicious recipe makes a wonderful side dish and is full of savory, delightful flavor.
More delicious recipes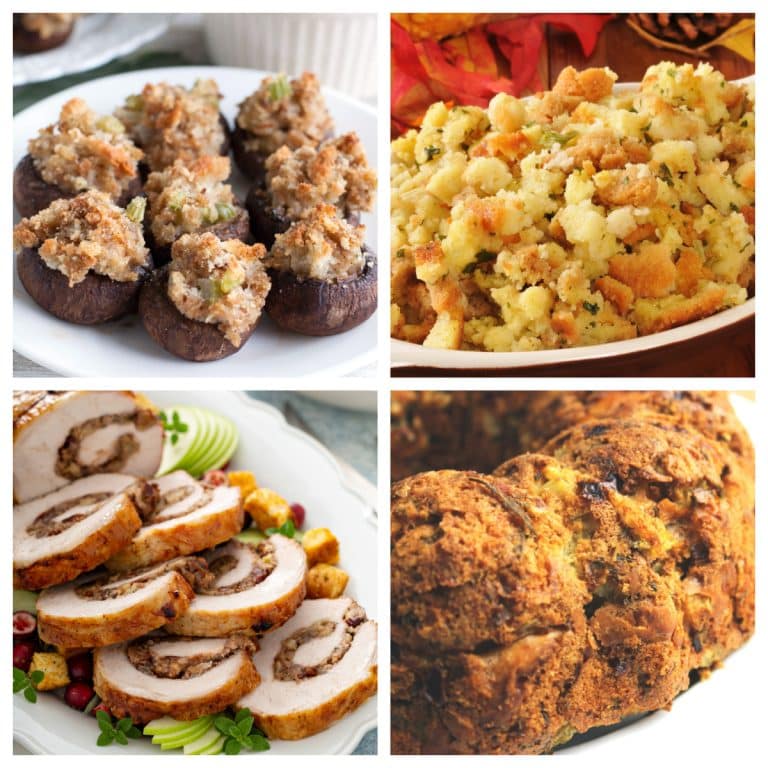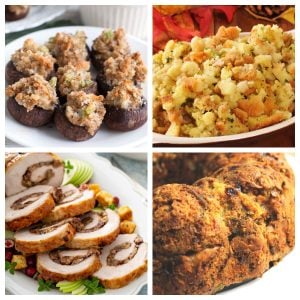 25 Best Stove Top Stuffing Recipes
A group of delicious stove top stuffing recipes. From stuffing bites to stuffing meatloaf.
Instructions
Choose your favorite stuffing recipe.

Gather ingredients and prepare according to directions.
Nutrition
Nutrition information is automatically calculated, so should only be used as an approximation.
Like this? Leave a comment below!