There's always room for pasta! Forget the noodles and enjoy these sublime gnocchi recipes instead. Gnocchi is traditionally a potato pasta that is little soft, pillowy balls of heaven. There is a variety of gnocchi, such as sweet potato, kale, and ricotta to name a few.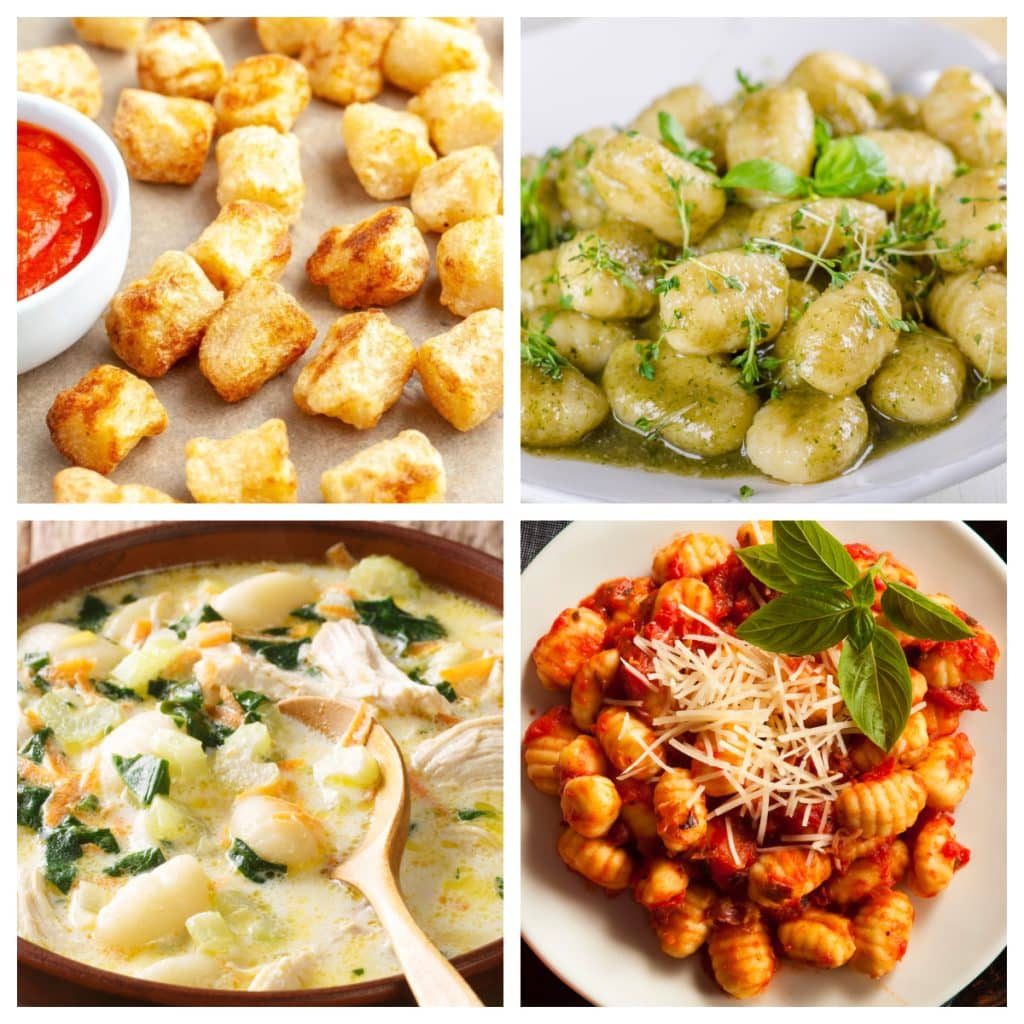 Whether you make homemade gnocchi or buy it at the store, it's a customizable pasta that has endless pastabilities. What's wonderful about gnocchi is that it's simple to cook, and you can make many easy meals with it.
We've rounded up the best gnocchi recipes. From ultimate comfort food dishes to healthy meals, there is something for everyone.
So, read below and find your new favorite gnocchi recipe today.
An ultimate comfort food, this gnocchi chicken pot pie is what love feels like. Think chicken & dumplings meets chicken pot pie. It is savory, delicious, and a heart-warming bowl of goodness that feeds your soul. The best part? It comes together in 30 minutes!
One-pot meals are the name of the game for busy weeknights. This hearty dish hits all the right notes with savory seasonings, garlic, sausage, cream, gnocchi, and other ingredients. It's a filling meal that's packed with inviting flavors.
Ricotta cheese is used to make light, fluffy homemade gnocchi. Once the gnocchi has been cooked, it gets tossed with marinara sauce and baked. The result is pillowy gnocchi and a flavorful, delightful one-pot meal. This is a wonderful vegetarian dish, to which you can always add meat, such as rotisserie chicken.
This famous soup is now an easy recipe to enjoy at home. In just 30 minutes, you'll be enjoying the mouthwatering flavors in this spinach, chicken, and creamy gnocchi soup. This is an easy recipe to make and the ultimate comfort food in the form of soup. Perfect for chilly days, warm blankets, and curling up with a hearty bowl of this incredible soup.
A fun twist on a classic recipe, this dish combines shrimp scampi with gnocchi for an inviting, delightful meal. All of your favorite scampi flavors with the texture of pillowy gnocchi make this dish a must-try. This is an easy meal to make in 30 minutes and the perfect dish to elevate a busy weeknight meal.
Succulent salmon swims in a sea of creamy tomato sauce, spinach, and pillowy gnocchi. This is a one-pot dish that takes weeknight meals to a new level. This easy meal is a sublime treat and one not to be missed.
You don't have to be a trained chef to make incredible, to-die-for meals. An impressive meal for any novice cook, this dish is a wonderful blend of flavors and presentation. It's great to make during the fall months when butternut squash is in season. It has warm spices and delightful flavors and is an exquisite, easy meal to enjoy.
Light Caprese salad and delicious gnocchi meet for a light and easy meal in this delightful recipe. Gnocchi, cherry tomatoes, bocconcini balls (small balls of mozzarella), fresh basil, and other ingredients create a lovely blend of Italian flavors. Great for busy weeknights; it only takes 25 minutes for this sheet pan recipe to be ready to devour!
Looking for a healthy snack? Cauliflower gnocchi that cooks in the air fryer is a healthy, quick, and easy dish. Perfect for an appetizer or light snack, the air fryer crisps the outside while keeping the inside pillowy soft. Enjoy them on their own or dip them in your favorite simple tomato sauce.
Cheeseburgers and gnocchi? Yeah, it's a thing, and it's amazing! All you need is 20 minutes to enjoy this incredible one-pot easy meal. Seasoned ground beef, onion, garlic, gnocchi, cheddar cheese, cream, broth, and other ingredients make this meal a stand-out ultimate comfort food. It's got everything; delicious flavors and great texture, and it is a hearty meal that warms the soul.
Fresh, earthy, and savory are the flavors of this delectable dish. Homemade gnocchi is made out of sweet potatoes and added to an irresistible sauce. This dish is vegan, paleo, and Whole30, but you wouldn't realize how healthy it is due to its out-of-this-world goodness. You'll be drooling over this mouthwatering dish.
A perfect Autumn meal, pumpkin and sausage gnocchi will put you in the fall spirit. It's an easy meal to enjoy any time of the year but is especially enjoyable in the fall months. Pumpkin, Italian sausage, kale, onion, garlic, and other ingredients make this gnocchi dish a divine creation.
Simple recipes that make a delicious meal are necessary for our busy lives. Gnocchi carbonara is one of those recipes. Pillowy gnocchi is tossed with bacon, peas, and a light sauce. You can customize it by adding mushrooms or other ingredients or taking out the peas. Either way, it's a fabulous, tasty dish.
Gnocchi is in its simplest form when pan-fried and quickly tossed with seasonings. In 15 minutes, you've got an inviting, impressive dish. The gnocchi is boiled first, then pan-fried in simple ingredients like butter, garlic, red pepper flakes, and salt and pepper. It has a crispy outside and pillowy soft inside. Topped with parmesan cheese, this heaven-sent dish is great to enjoy on its own or as a side dish to any protein.
Easy meals for weeknights are essential, and this simple recipe whips up in a mere 15 minutes. Pillowy gnocchi, pesto sauce, cream, and sundried tomatoes blend together for a perfectly pleasurable meal. While this dish is vegetarian, you could add rotisserie chicken for protein and have a well-rounded, tasty meal everyone will love.
Decadent and delicious, this recipe will knock your socks off! Gnocchi is cooked until pillowy soft, then tossed in a rich blue cheese cream sauce. Fresh spinach is added and gives the dish a burst of freshness, then it's topped with crispy prosciutto. The prosciutto adds a texture element and helps balance the flavor. It's a divine dish full of inviting flavors.
Buckle up for an explosion of flavor with this easy meal. It's a nutritious and hearty one-pot meal that comes together in 30 minutes. Tender, pillowy gnocchi, smoked sausage, fresh spinach, fire-roasted tomatoes, savory white beans, and aromatic ingredients combine for a flavorful, texture-rich dish. It's the ultimate comfort food without the guilt.
I'm not sure there is anything better than a one-pot meal. Fewer dishes to clean, and all your food is in one delectable dish. This recipe delivers both and is an easy meal to make. The blend of chicken parmesan with soft, pillowy gnocchi in a skillet is hard to beat. A flavorful, enticing meal that the whole family will love.
This is the ultimate comfort food in soup form. Creamy tomato sauce with pesto, pillowy soft gnocchi, onion, and garlic with seasonings add to this heart-warming soup. This vegan, luscious soup is sure to please. Soup season is upon us, and this is a recipe you don't want to miss.
Cacio e Peppe is a traditional Italian dish from Rome made with cheese and pepper. It is found on many Italian restaurant menus, making this dish a favorite classic. The traditional dish gets a mouthwatering twist with this easy recipe. Baked with pillowy gnocchi, a creamy cheese sauce, pepper, and seasonings, this really is the ultimate comfort food. It's a palate-pleasing meal that will have you dreaming of Roma.
As the name implies, this recipe is a fresh summer dish. An easy meal to make in 45 minutes, this has all the freshness, tastiness, and goodness you would expect from a great summer skillet meal. With onion, garlic, shiitake mushrooms, grilled corn, and pillowy gnocchi, it's an earthy dish full of flavor. Some may say it's a summer hug in a bowl.
Switch up pizza night with this fun recipe. It's not quite a pizza and not quite a pasta dish, it's its own unique, delightful, and delicious easy meal. Layers of seasoned tomato sauce, ooey-gooey cheese, and pillowy gnocchi are topped with pepperoni and then baked to perfection. Some may call this the ultimate comfort food, but I call it a scrumptious meal.
Ham and cheese bakes are great fare, but this one-skillet easy meal is a refined dish that takes the basic ham and cheese from ordinary to extraordinary. Pillowy gnocchi, diced ham, peas, onion, mozzarella, and cheddar cheese all blend for culinary magic. It's the ultimate comfort food dish, perfect for rainy days, chilly nights, and quick weeknight meals.
If you like French onion soup, you will fall in love with this wonderful recipe. Caramelized onions, seasoned ground beef, beef broth, pillowy gnocchi, creamy, gooey Swiss, and parmesan cheese create a palate-pleasing masterpiece. This easy meal takes 30 minutes to throw together and yields big flavors. Hearty, savory, and delightful.
Family meals are about being together, discussing your day, and enjoying laughs over great food. Bolognese gnocchi is a casserole dish made for family dinners. It's a superb blend of chunky tomato and beef Bolognese sauce with soft, pillowy gnocchi. The casserole is topped with mozzarella and parmesan cheeses to round out this flavorsome dish.
Simple enough for a quick weeknight dinner yet elegant enough to wow dinner guests or to enjoy on date night. Soft, pillowy gnocchi is tossed in a spicy, creamy sauce for ultimate flavor. This easy meal whips up in 20 minutes but presents as if you've had the sauce simmering for hours. An elegant, delectable dish full of flavor. Pick out your favorite wine to go with it, and Bon Appetit!
Cauliflower gnocchi is a great alternative to the traditional potato gnocchi when you want to cut carbs. This recipe is a flavorful blend of cauliflower gnocchi with earthy mushrooms, sausage, fresh spinach, garlic, and seasonings. It's a healthy, savory, earthy, and utterly fabulous easy meal that whips up in 20 minutes. Don't walk, run to make this desirable dish today.
Making homemade gnocchi is not as difficult as you may think. Gnocchi is a fluffy, pillowy soft pasta made from potatoes. These step-by-step instructions are easy to follow and make the best homemade gnocchi. Batch cook gnocchi and freeze so you can pull them out anytime you want to make your next culinary masterpiece in a short amount of time.
What's better than broccoli and cheese? Broccoli and cheese gnocchi! This is an amazing recipe you can make in under 45 minutes making it perfect for a weeknight or busy day. The gnocchi is pan-fried with broccoli and seasonings to get a crispy outside and soft inside. Once cooked, they are tossed with a creamy cheese sauce. It's the next level of ultimate comfort food.
Gnocchi and eggplant simmer happily together in a garlicky tomato sauce with fresh spinach, basil, and mozzarella. This one-pot, easy meal whips up in 25 minutes. It's full of delicious flavor and has a palate-pleasing texture. This is one of those recipes to have on repeat.
Pomodoro is a classic Italian sauce that has big flavors. It's a luscious sauce full of herbs, olive oil, and tomatoes. Soft, pillowy gnocchi are coated in this divine sauce and topped with fresh mozzarella. It's the ultimate comfort food that warms your heart and your belly.
Looking to mix things up a bit? This exciting twist on the classic potato salad may be your new favorite thing to bring to summer parties. Potato and Kale gnocchi are mixed with dill pickle, red onion, and celery. The salad is tossed in a creamy vegan mustard dressing. It's a wonderful take on the classic salad that's full of flavor.
Did you try any of these delicious gnocchi recipes?
More pasta recipes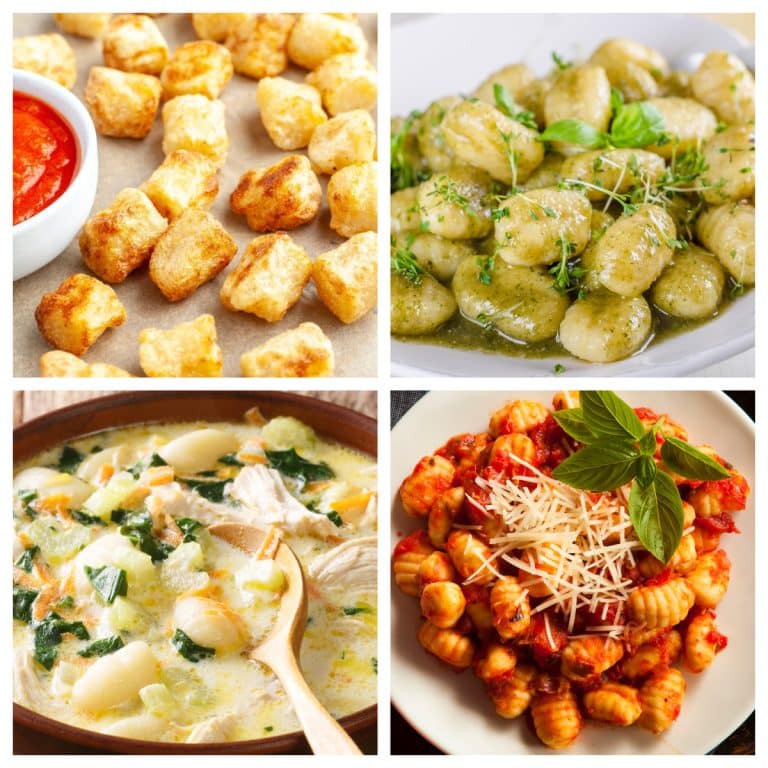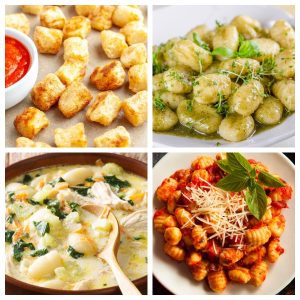 Gnocchi Recipes
These delicious gnocchi recipes are wonderful for an amazing meal or even side dish like this simple parmesan gnocchi.
Ingredients
1

16 oz

gnocchi

2-3

cloves

garlic

minced

3

tablespoons

unsalted butter

1/8

cup

grated Parmesan cheese

pinch

salt

pinch

ground black pepper
Instructions
Fill large pot with water and add 1 teaspoon salt. Bring to a boil.

Add gnocchi. Cook gnocchi according to package directions. Usually it's about 3-4 minutes.

Drain water. Heat saucepan over medium heat. Add butter. Let melt and then add in garlic. Stir so that it doesn't burn. Cook garlic for 1-2 minutes and then add in cooked gnocchi. Season with salt and pepper and top with grated Parmesan.
Nutrition
Calories:
91
kcal
|
Carbohydrates:
1
g
|
Protein:
1
g
|
Fat:
9
g
|
Saturated Fat:
6
g
|
Polyunsaturated Fat:
0.4
g
|
Monounsaturated Fat:
2
g
|
Trans Fat:
0.3
g
|
Cholesterol:
25
mg
|
Sodium:
57
mg
|
Potassium:
14
mg
|
Fiber:
0.04
g
|
Sugar:
0.02
g
|
Vitamin A:
290
IU
|
Vitamin C:
0.5
mg
|
Calcium:
33
mg
|
Iron:
0.1
mg
Nutrition information is automatically calculated, so should only be used as an approximation.
Like this? Leave a comment below!