20 Of The Best Leftover Spaghetti Recipes
Feb 28, 2022, Updated Aug 17, 2023
Looking for some creative ways to enjoy last night's pasta? From the classic to the surprising, this list of leftover spaghetti recipes is full of pasta-bilities! You may find yourself looking forward to the leftover recipes even more than the original spaghetti night. Whether you want to keep it simple or get a little saucy, this list has plenty to noodle over!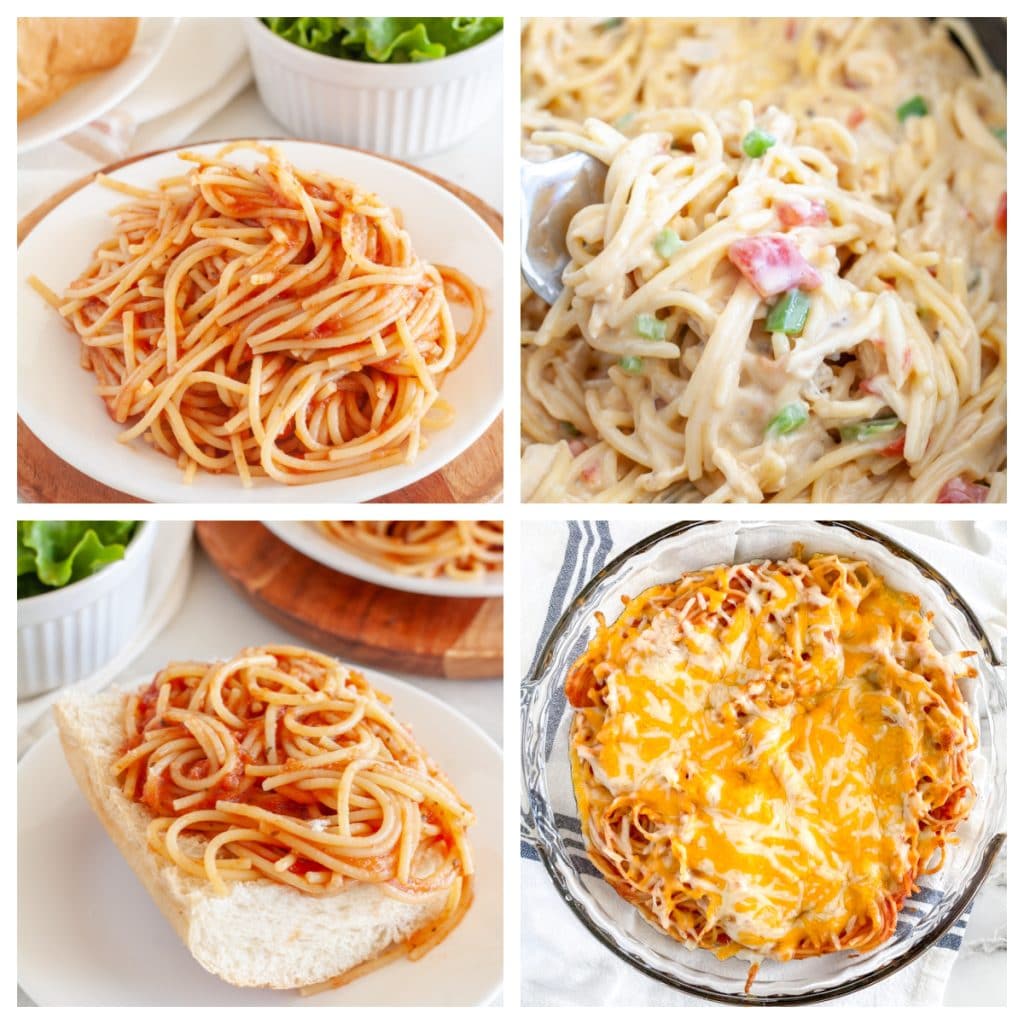 Are you looking for some fun ways to enjoy leftover pasta that doesn't involve simply reheating and eating as-is? When it comes to leftover spaghetti recipes, you might be surprised by all the pasta-bilities!
Choose from classics like baked spaghetti or spaghetti pie to saucy creations like spaghetti lo mein and even chocolate spaghetti! There are so many delightful flavor combinations to try and ways to give new life to your leftovers.
The beauty of pasta is that doubling or tripling the amount you make doesn't add any extra work. And with so many delicious ways to enjoy your leftovers, you might as well make a big batch and save the extra to try out a few of these recipes!
These tasty little sandwiches are fun to make and even more fun to eat! After all, how often do you get to eat spaghetti with your hands (and not make a TOTAL mess)? This one is sure to become an instant family favorite.
Get ready to be transported back to your childhood. This nostalgic recipe is good old fashioned comfort food and a great way to use up leftover spaghetti or beef sauce. You can also freeze any extra for up to 2 months!
Who would've thought you could turn leftover pasta into such a fun little handheld meal? These spaghetti fritters are a bit like rice cakes and get a wonderful, crispy exterior while staying nice and soft on the inside. These cakes are also lunchbox friendly!
When you want to turn your leftovers into something that's just a little bit different, this easy bake transforms them into something entirely new! The melty, gooey cheese on top really makes this dish.
This quick and easy chilled pasta salad is always a crowd-pleaser. Leftover spaghetti noodles are tossed in a savory homemade Italian dressing is bursting with zesty flavor and loaded with plenty of fresh veggies.
Believe it or not, this is an age old Italian pasta frittata recipe that's just as great for brunch as it is for dinner! Eggs, cheese, bacon, and red peppers compliment the spaghetti beautifully.
Melt-in-your-mouth tender beef with broccoli, carrots, and spaghetti noodles tossed in a rich sauce made with soy sauce, makes for an incredibly easy meal! Just skip Step 1 of cooking the noodles and use your leftover spaghetti to save time.
Grab your muffin tins for a fun 4-ingredient twist on a classic! Single-serving spaghetti cupcakes are crispy around the edges, gooey in the center, and absolutely irresistible. Feel free to mix it up with your favorite sauce too!
Cheesy garlic bread stuffed with hearty pasta? Yes please! Whether you called these "Skettie Sandwiches" growing up or you've never even thought of this combination of spaghetti stuffed in French bread and topped with mozzarella cheese, this recipe is the epitome of comfort food.
Also called "Baked Million Dollar Spaghetti," this creamy dish has a melty cheese center and is topped with meat sauce and extra bubbly cheese for an instant favorite the whole family will love! One of my favorite ways to use spaghetti with such rich flavors, even a small portion is plenty satisfying.
This super fun dish is like the inverse of spaghetti and meatballs! Leftover spaghetti is combined with a ricotta mixture and lightly fried in oil, then served in a rich meat sauce. It's quirky, unique, and completely delicious.
This tasty dinner idea is full of seasoned meat, tomatoes, cheese, and Mexican-inspired flavor. It's a quick weeknight meal that's kid-friendly and comes together in one skillet for easy prep and clean-up.
The creamy 3-cheese blend with cream cheese, cheddar, and mozzarella takes this cheesy pasta bake to the next level! Use diced chicken breast or shredded chicken to add some protein. Rotel tomatoes add a pop of color and flavor while red pepper flakes and fresh parsley give it the perfect finishing touch.
Did you know that in the Big Easy, we make our mac and cheese with spaghetti noodles? Coated in a creamy cheese sauce and baked to golden-brown perfection, this comforting dish could become a staple in your home.
If you can't decide between pizza and pasta, this leftover spaghetti casserole combines all your favorite flavors into one delicious dish! Spaghetti noodles are topped with sauce, pepperoni, and cheese, then baked until the cheese is bubbly and the pepperoni is perfectly crispy.
This simple dish is bursting with fresh, vibrant flavors. It's great when you're short on time, want to use leftover noodles, and the recipe only requires a handful of basic ingredients to throw together a super yummy dinner.
This easy skillet recipe will have you actually looking forward to spaghetti leftovers! Mix up your pasta with tomatoes, green pepper, and a little Parmesan cheese and never let day-old noodles go to waste again.
If this recipe sounds crazy, you just have to go with it. It's like pasta served in rich and creamy pudding! This one sure to fulfill all your chocolate cravings, but you'll only know how amazing it is if you give it a try.
This easy recipe will make your spaghetti taste even better than when you first served it! It's cheesy, crispy on the edges, and has yummy pieces of browned cheese throughout. Best of all, this dish can be ready in just 10 minutes!
With pork, barbecue sauce, and cheese, this recipe is like the spaghetti version of BBQ pizza. The finished casserole is a comforting, easy dinner that tastes unlike anything you've ever had before… in the best way!
How many days is leftover spaghetti good in the refrigerator?
Spaghetti should last about 3-5 days in the refrigerator is stored properly in an airtight container. Make sure to check for any spoilage and also smell to make sure it has a fresh smell.
Did you try one of these recipes to make leftover spaghetti taste better? Let me know in the comments below.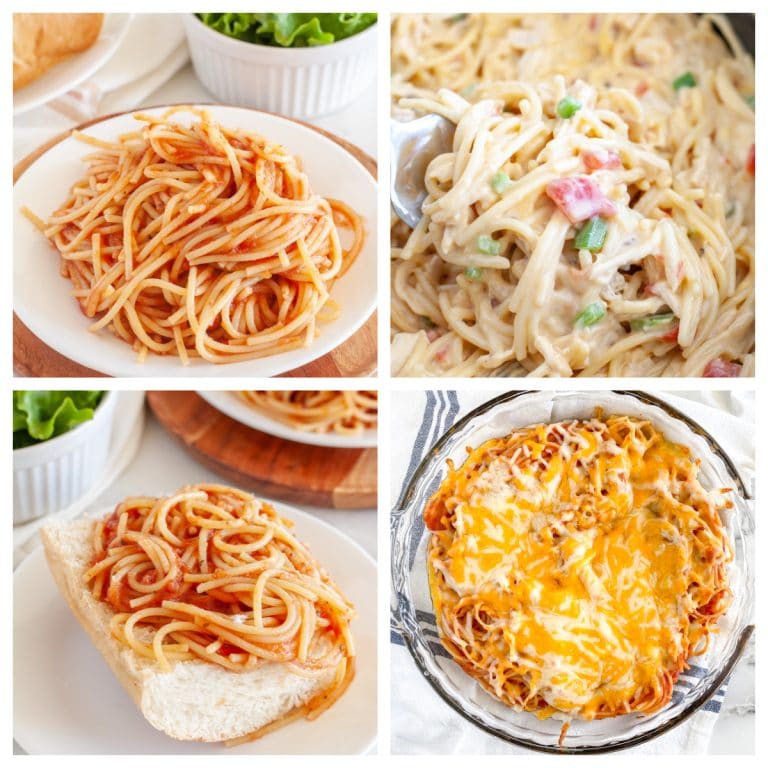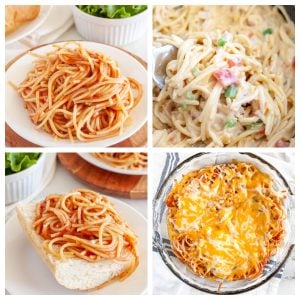 Leftover Spaghetti Recipes
A collection of recipes using leftover spaghetti and how to store leftover spaghetti.
Instructions
To store leftover spaghetti, let it cool to room temperature. Store in an airtight container in the refrigerator.

To reheat, microwave for 4-5 minutes in a microwave safe container. Or place leftover spaghetti in a saucepan and warm over medium heat until heated through.
Nutrition
Calories:
439
kcal
|
Carbohydrates:
88
g
|
Protein:
15
g
|
Fat:
2
g
|
Saturated Fat:
1
g
|
Polyunsaturated Fat:
1
g
|
Monounsaturated Fat:
1
g
|
Sodium:
7
mg
|
Potassium:
264
mg
|
Fiber:
4
g
|
Sugar:
3
g
|
Calcium:
25
mg
|
Iron:
2
mg
Nutrition information is automatically calculated, so should only be used as an approximation.
Like this? Leave a comment below!