Can You Freeze Ham – How To Freeze, Thaw, Reheat
Mar 14, 2022, Updated Oct 11, 2023
What can't you do with ham? This protein-rich, delicious meat is the ultimate ingredient for a ton of easy, simple meals. You can literally eat it with anything — Top a salad with it, add it to your favorite casserole or make it the star of your grilled cheese sandwich.
Since delicious ham is so incredibly versatile, we often end up buying it in bulk. But, what if you have leftovers and don't want it to go to waste? Can you freeze ham?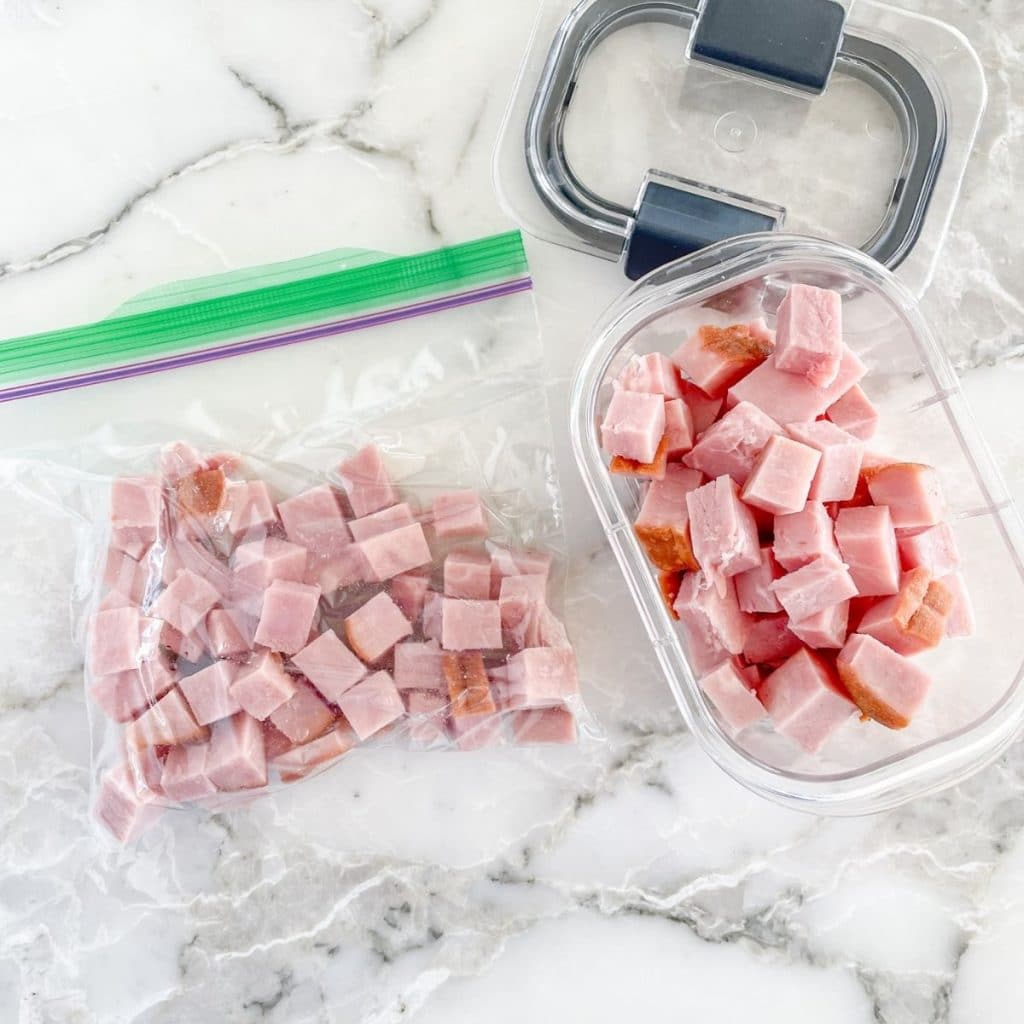 Fortunately, yes. You'll be happy to know that it is entirely possible to freeze leftover ham for later! In fact, it's actually quite simple, but there are a few things you need to know about before attempting to stick your ham(fresh, cooked, sliced or whole) in the fridge, such as where to put it and for how long.
We'll show you how to freeze your ham properly so that you can enjoy your favorite ham recipes all the time.
Can you freeze ham?
Absolutely. All ham lovers can rejoice in the fact that you can now purchase your guilty pleasure in bulk and not worry about finishing it all before it goes bad.
Especially in the holiday season, where having ham is a staple in every household, freezing it is a surefire way to make sure you don't waste all that delicious meaty goodness you spent so much time(and money) whipping up for your family.
Properly frozen ham can last in the freezer for months. You can freeze diced ham, spiral ham, honey ham, deli ham, leftover ham, and more types of ham. As long as you freeze it the right way, you can enjoy ham for at least a year. Best of all, freezing ham doesn't affect its taste or texture.
Storing cooked ham in the refrigerator will only last you 3-5 days. So are you going to force your friends and family to eat ham for the rest of the week? Or is there a way to preserve it?
How to freeze ham
For starters, if the ham is unopened, you can freeze it with its original store packaging. However, leftover ham — which includes whole ham and ham slices — has some additional freezing steps you need to follow.
Don't worry, though. The process of freezing ham will not ruin the texture or taste at all. It will taste just as delicious as it did the first time you got your hands on it at the grocery store. So the next time you see this meat on sale — make sure you stock up!
How to freeze a whole ham
When it comes to holiday dinners, a delicious, whole ham is usually the centerpiece of our dinner tables. But unless you are going to feed an entire town, you're bound to end up with lots of leftovers. And if you don't want to see it all go down the drain, it's time you learn how to freeze a whole cooked ham.
The freezing process of whole ham is just a tad different from freezing smaller portions. Here's what you need to do to freeze whole ham:
Make sure to wrap the entire ham in Aluminum foil.
Pack the ham in an airtight container or seal it in a freezer-safe bag.
Make sure to label and date the containers so you can keep track of its age.
You can freeze whole ham for up to 12 months.
How to freeze ham slices
Freezing ham slices individually can make it super easy to take out smaller portions, particularly for all the busy moms or teenagers looking to make some quick ham sandwiches to grab on the go. Here is how you can store ham slices properly in the freezer:
Dice up the ham in smaller pieces according to your desired size and thickness.
Separate the ham slices into serving sizes of your choice.
Make sure to store each portion in a vacuum-sealed bag or a freezer-friendly sealed bag. (A pro tip is to squeeze out the air from the bag and then seal it)
Don't forget to label the date on the bag so you can easily track the age of the cooked ham slices.
Did you know that ham isn't just known for its delicious flavor, but it's also super popular due to the added health benefits? Yes, that's right. Ham is rich in protein, an incredible source of B vitamins, and best of all — it's far lower in saturated fat than beef or lamb. So why not give this heart-friendly meat a try?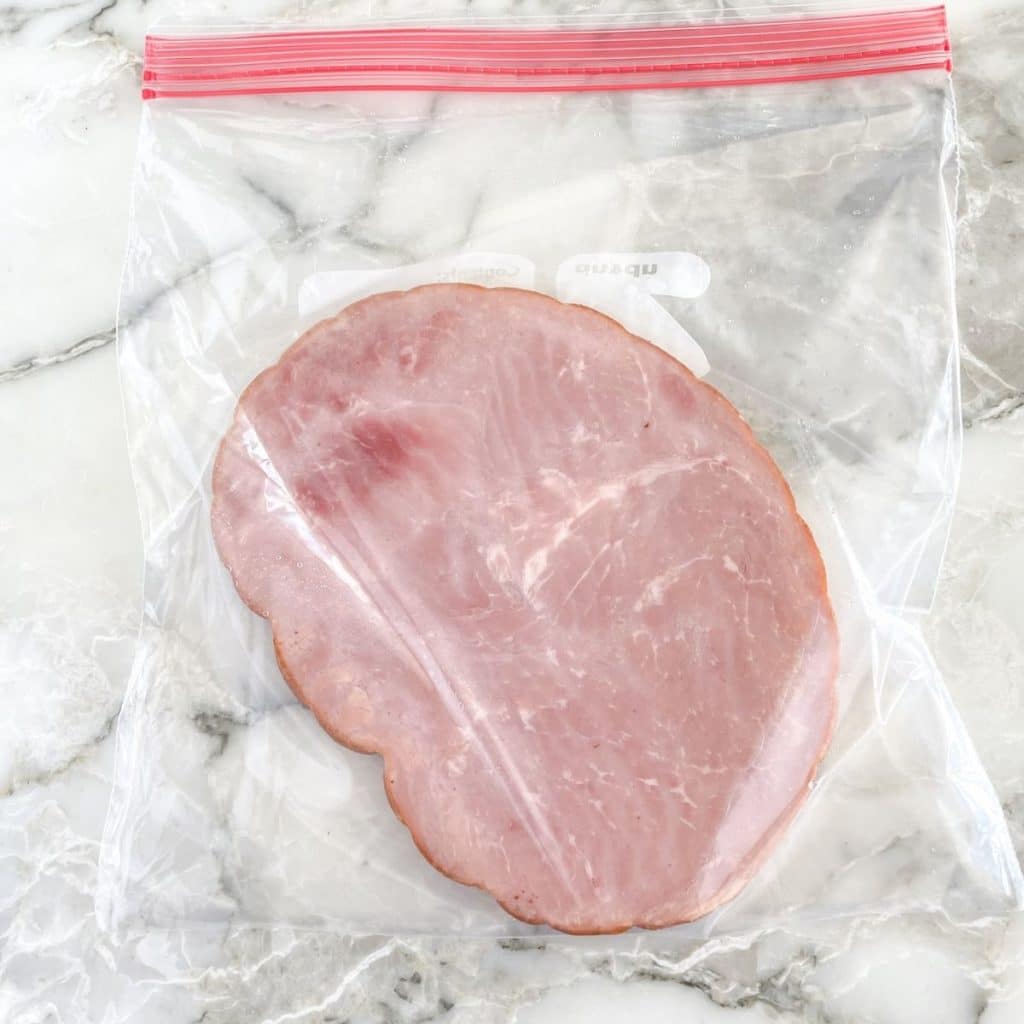 How long can ham be frozen?
So, how long can you store frozen ham? And does it change the taste?
Well, that depends on how you store the meat. Usually, you can freeze ham for a good amount of time without worrying about it. But, nothing lasts forever. If you let your ham sit in your freezer for years and still expect it to taste good, think again.
That being said, properly stored ham — preferably in an airtight container( to avoid freezer burn) — will last you well for a few seasons.
Uncooked, uncured, and fresh ham can last up to 6 months in the freezer.
Uncured, cooked, and fresh ham can last from 3 to 4 months.
Cured, uncooked, cooked-before-eating ham will last around 3 to 4 months.
Unopened, fully cooked vacuum-sealed ham can last from 1-2 months.
Country ham cooked lasts for 1 month.
Parma, prosciutto, Spanish type- ham can last for 1 month.
Canned, shelf-stable ham will last around 1 to 2 months.
Cooked, store and wrapped ham can last for 1 to 2 months.
IMPORTANT NOTE: Cans that are labeled "refrigerate" and are unopened should not be frozen.
The longevity of frozen ham depends on the way it is stored. So as long as you've got the storage method all figured out, you'll be good to go for a long time.
How to thaw ham
For the vast majority of us, the whole ham we buy for the holiday season will be frozen when we bring it home. And boy, is that ham frozen solid.
Unfortunately, it's common for the ham to be still frozen on the morning of the dinner party. And worse, if thawed incorrectly, foodborne germs can multiply to dangerous levels and cause people to get sick — and you don't want to invite foodborne illness to the party.
But with a little know-how, you can easily avoid that situation (and cope with it if you find yourself in it). Here's how to make sure your ham is safely defrosted right on schedule for your holiday meal.
How to thaw ham in the refrigerator
The best, albeit the longest, way to thaw ham is by sticking it in the refrigerator. Start by setting the temperature of your refrigerator to around 35 to 39 degrees.
Always place the ham on the bottom shelf of your refrigerator. And make sure you put it inside a container with a baking sheet to absorb any drips that will happen during the thawing process.
The reason why it's recommended to place the ham in a container and on the bottom shelf of your refrigerator is to prevent any cross-contamination of the other foods in your refrigerator.
How to thaw ham in cold water
Probably the simplest way to thaw your ham is using cold water. For starters, let the cold water run in the sink until it covers your ham. Keep draining and changing the water every half hour. You will need around 30 minutes to thaw one pound of ham properly. If your ham is in a smaller package, you could place it in a bowl of cold water.
Keep in mind that the ham should be securely packaged and leak-proof before you place it in the water.
How to thaw ham in the cooler
Don't have any space in your refrigerator to thaw ham? Don't worry; we've got you covered. You can simply thaw your ham inside a cooler.
All you need to do is place the ham in a cooler and set the cooler somewhere out of the way (ideally somewhere that is a little cool, like a garage or basement)
Keep checking the inside temperature of the cooler from time to time, and don't let it rise above 40°F. If the temperature starts to rise, place ice packs around the ham.
How to thaw ham in the microwave
While it isn't generally recommended, you can thaw your quarter or petite-sized ham in the microwave if you're in a pinch.
Make sure to double-check your microwave's manual for the power level since it's very easy to accidentally 'overcook' your ham when defrosting in the microwave. Also, keep in mind that you need to cook the ham immediately after thawing it in the microwave.
PRO TIP: To prevent the ham from drying out in the microwave, just slather some butter on the outside.
The biggest hurdle with thawing is ensuring that the ham doesn't lose moisture. Fortunately, a simple and quick solution exists. Just grab some aluminum foil and wrap the ham in it to help it retain its moisture.
How to reheat leftover ham
The difficult part is over. You cooked the holiday meals perfectly, and they were deliciously enjoyed by many. But unless you send everyone home with a bag full of food, you're likely left with a chock full of scrumptious ham leftovers. When you're ready to indulge in them the next day, here are the best ways to reheat this staple holiday food:
If your ham isn't glazed, start by covering up your ham tightly in aluminum foil or a baking bag.
Next, preheat your oven to 325 degrees Fahrenheit or 160 degrees Celsius and pop the ham in once the oven is ready to go.
If the ham is glazed, you'll need to bump up the temperature to 200°C or 400°F.
Let the ham cook until the internal temperature you can record through a meat thermometer reaches 60°C or 140°F.
You can also brown individual ham slices in a skillet or frying pan for a quick meal.
You can definitely reheat the leftover ham with your microwave. However, remember that microwaving tends to remove a lot of the moisture and dries ham out. But who's to say you can't microwave a few slices of ham for a quick bite?
Can you eat cold ham?
Yes, of course. You can eat the different kinds of ham — including cooked vacuum-packaged ham, spiral cut cooked ham, and canned ham — right out of the package.
In fact, spiral cut hams (which are fully cooked) are best served when cold because heating can dry out the meat and cause its glaze to melt. However, if cold ham isn't your thing, you can slightly warm it up to an internal temperature of 145°F.
How to tell if frozen ham is bad?
If you open the ham and it has a sour smell it's best take extra precautions and to throw it away.
You notice ice crystals on the ham.
The color of the meat has lightened or turned color.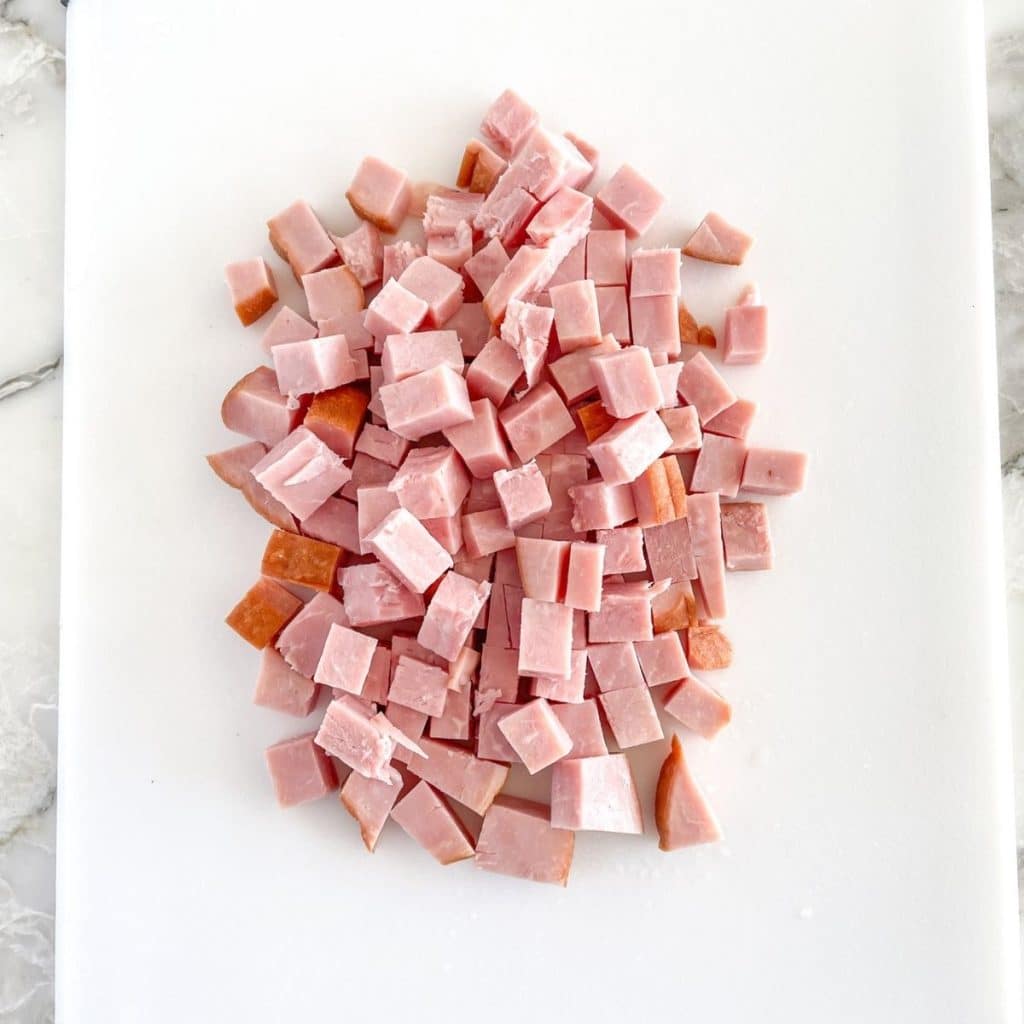 Conclusion
While this might shock you, ham is one of the foods we waste the most. Since it's so versatile and easy to cook, we often end up purchasing it in bulk. However, with some simple tips and tricks, you can safely freeze ham — cooked/raw — so it stays fresher for longer. And more importantly, nothing goes to waste.
More foods to freeze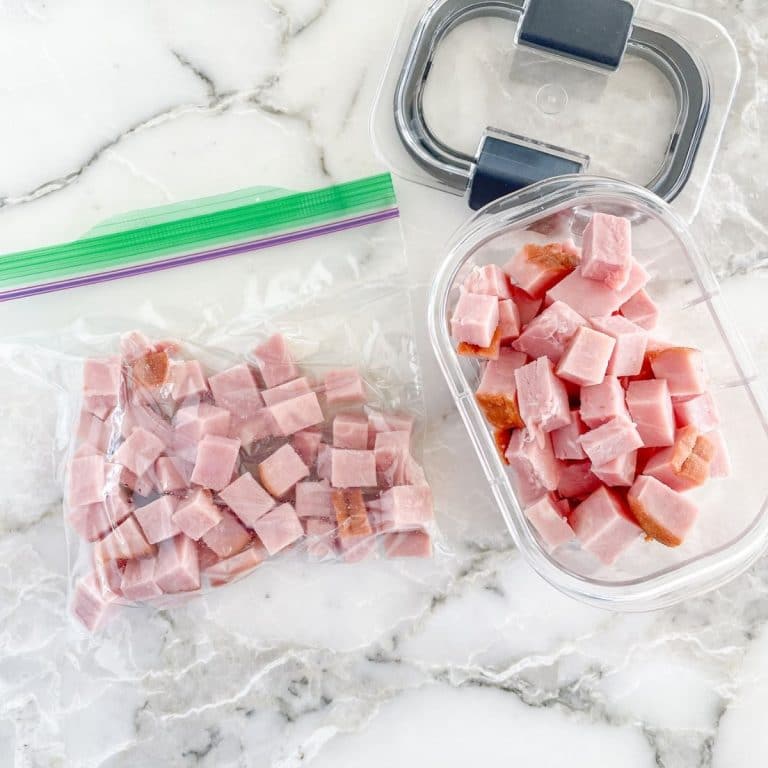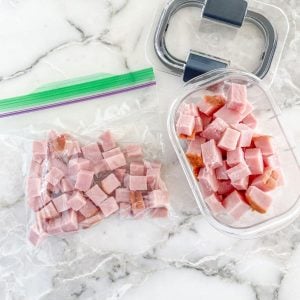 Can you freeze ham
Learn how to freeze ham and how to thaw and reheat ham.
Instructions
To freeze sliced or diced ham, place in a freezer safe bag or container. Freeze for up to 6 months.
Nutrition
Calories:
276
kcal
|
Protein:
24
g
|
Fat:
19
g
|
Saturated Fat:
7
g
|
Polyunsaturated Fat:
2
g
|
Monounsaturated Fat:
9
g
|
Cholesterol:
70
mg
|
Sodium:
1346
mg
|
Potassium:
324
mg
|
Calcium:
8
mg
|
Iron:
1
mg
Nutrition information is automatically calculated, so should only be used as an approximation.
Like this? Leave a comment below!