Main course or side dish, baked beans are downright comforting.
One of my favorite ways to serve them is as an accompaniment with these Instant Pot Country Style Ribs.
However, we almost always wind up with some leftovers when we make them. Which got me thinking, can you freeze baked beans?
I'm guessing you've probably wondered the same thing. And if so, you probably also wondered what's the best way to store them?
If you found yourself with leftovers, I'll answer your questions on if and how to freeze baked beans.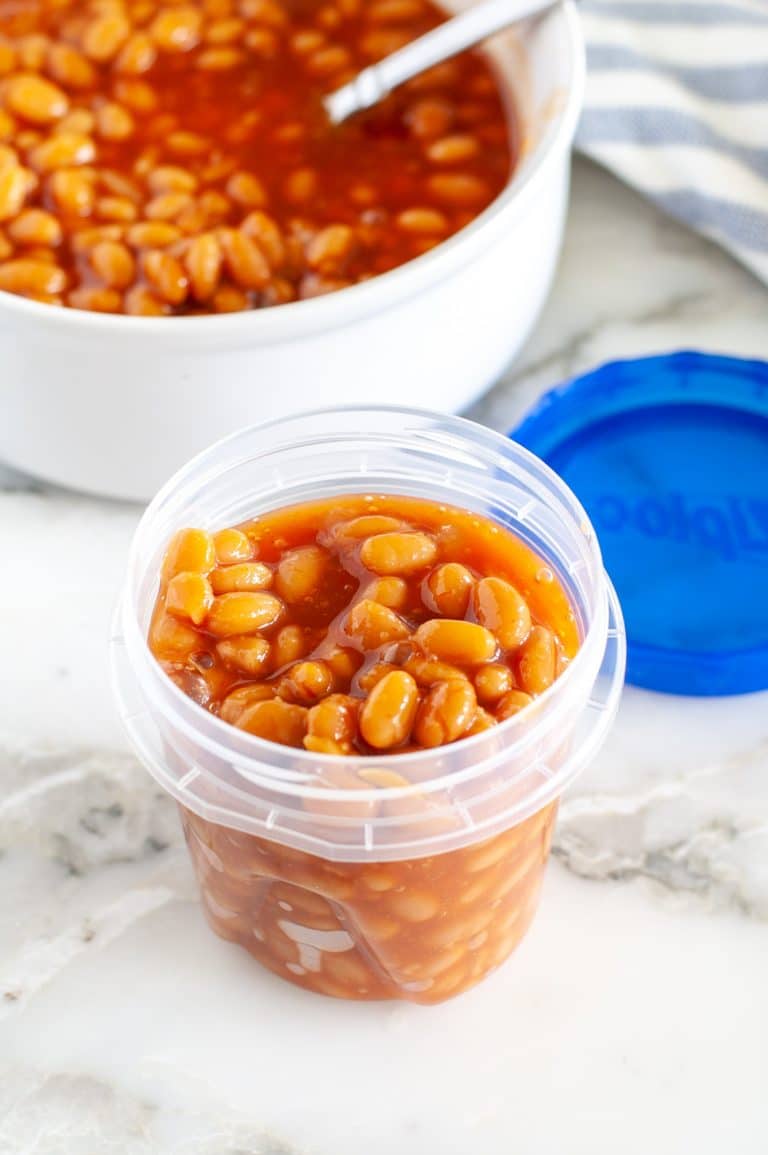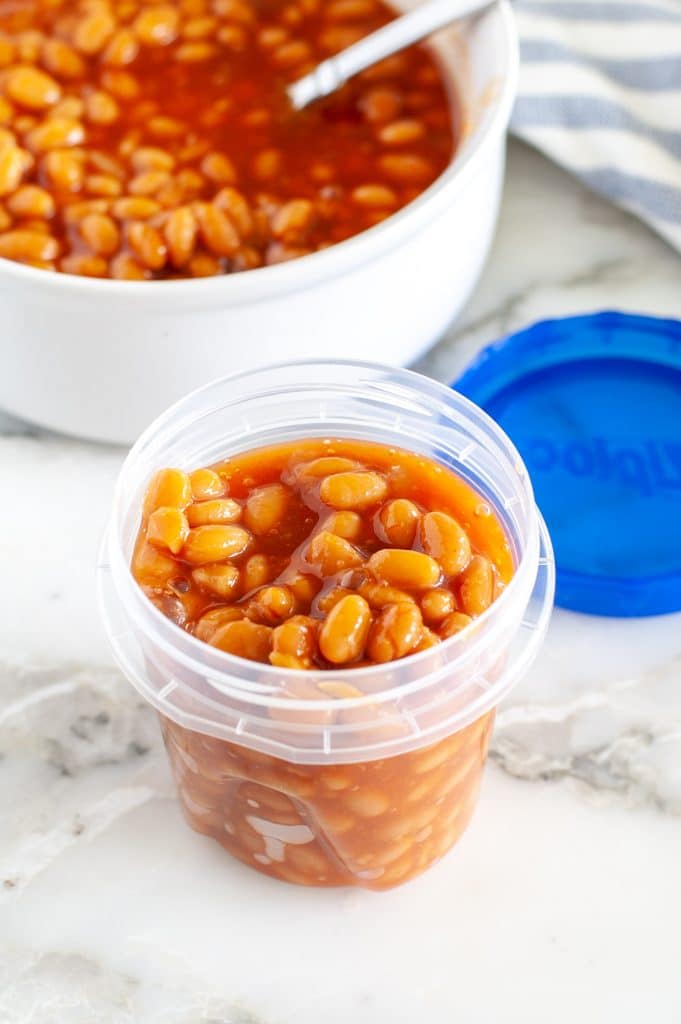 Can You Freeze Baked Beans
Let's get right down to it. You can definitely freeze baked beans. 
And I recommend you do!
Baked beans are a great dish to have on hand for busy weeknights.
Especially if you need a quick meal, but don't want to go through the hassle of whipping something up.
How To Freeze Baked Beans
Proper storage increases the shelf life of food. It also helps to preserve better flavors.
There are different ways to freeze baked beans depending upon whether they're store bought or homemade.
Here's how to do both.
Freezing Canned Baked Beans
Canned baked beans can easily be stored in the freezer.
Simply transfer them into an airtight container or a freezer-safe sealable bag.
Be sure to leave a little room inside the container for the frozen food to expand.
This will prevent the container from cracking. Also, write the date so you can keep track of how long they're good for.
If you choose the resealable bag option, pay head to how and where you place the bag in the freezer.
Otherwise, the bag may get torn and it won't keep properly. Not to mention probably make a mess!
Store bought baked beans can be stored in the freezer safely for up to six months.
But whatever you do, do not freeze them inside the can!
Frozen canned goods are not safe to eat and not worth the risk.
Freezing Homemade Baked Beans
Before freezing your homemade baked beans, make sure they have cooled down to room temperature.
Then, like store bought baked beans, you'll want to freeze them in an airtight container or freezer bag. And write down the date!
It's hard enough to keep track of your daily to do list, let alone try and remember when you put your baked beans in the freezer.
One trick I found helpful is to portion out your beans prior to freezing. That way you can defrost only what you plan on eating and save the rest for later.
This also helps quicken up the defrosting process.
Oh, and be sure to freeze your baked beans the same day you make them. This will help enhance shelf life.
Homemade baked beans can also be stored for up to six months. But the longer you wait, the more flavor they will lose over time.
How To Thaw Baked Beans
When it comes to thawing baked beans, you have a few options.
Just remember that the more servings you have in a container, the longer it will take to thaw.
How To Thaw Baked Beans In The Microwave
For a quick thaw, the microwave is your best bet.
Place your beans in a microwave-safe container, cover, and hit the defrost button.
I recommend defrosting for a minute and then checking.
The point is to defrost them, not cook them. So this won't take too long.
To keep them from drying out, you can sprinkle the beans with a little bit of water.
How To Thaw Baked Beans In The Refrigerator
If you have time, the easiest and best way to thaw frozen baked beans is in the fridge.
This can be done by placing the same container you froze them in right into the refrigerator.
Let them sit overnight and they'll be ready for you the next day.
If you want them for that night's dinner, then take them out in the morning.
The fridge method takes about 8 hours so they should be good to go after work.
How To Thaw Baked Beans On The Stove
To thaw baked beans on the stove, transfer them to a pot or skillet of choice.
Add a little bit of water or cooking oil if you like. Then thaw on low heat until they have fully defrosted.
Be sure to flip and stir as needed so they don't burn.
This method does take a little bit more effort. Although, this can be a good option if you don't have a microwave and want to eat sooner.
How To Reheat Baked Beans
Once your beans are thawed, you have a few options to reheat.
But never reheat canned baked beans in the can!
All those old school western movies may have done it, but this is not a safe reheating method.
How To Reheat Baked Beans In The Microwave
Place the beans in a microwave-safe container or bowl and cover.
Like thawing, you want to reheat baked beans in intervals to avoid unevenly reheated foods.
The best way to do this is to reheat for about a minute, check, stir, and repeat.
Do this until they are fully reheated to your liking.
Obviously, if you're reheating a larger portion, this will take longer.
How To Reheat Baked Beans In The Oven
Another easy way to reheat baked beans is in the oven.
Preheat your oven to 275°F.
While the oven preheats, put your baked beans in an oven-safe dish and cover with an oven-safe lid or foil.
This should take about 5-10 minutes.
How To Reheat Baked Beans On The Stove
The stove is the best way to reheat baked beans if you want to doctor them up a bit.
It's also a great method for even reheating.
In a pot or wide rimmed skillet, place your beans inside and put them on low heat.
This should take a few minutes depending upon your serving size.
But keep an eye on them!
You'll want to stir as you go so you don't wind up with burnt beans.
I like to add a little bit of extra sauce to prevent sticking and drying out. Water or oil could also be used.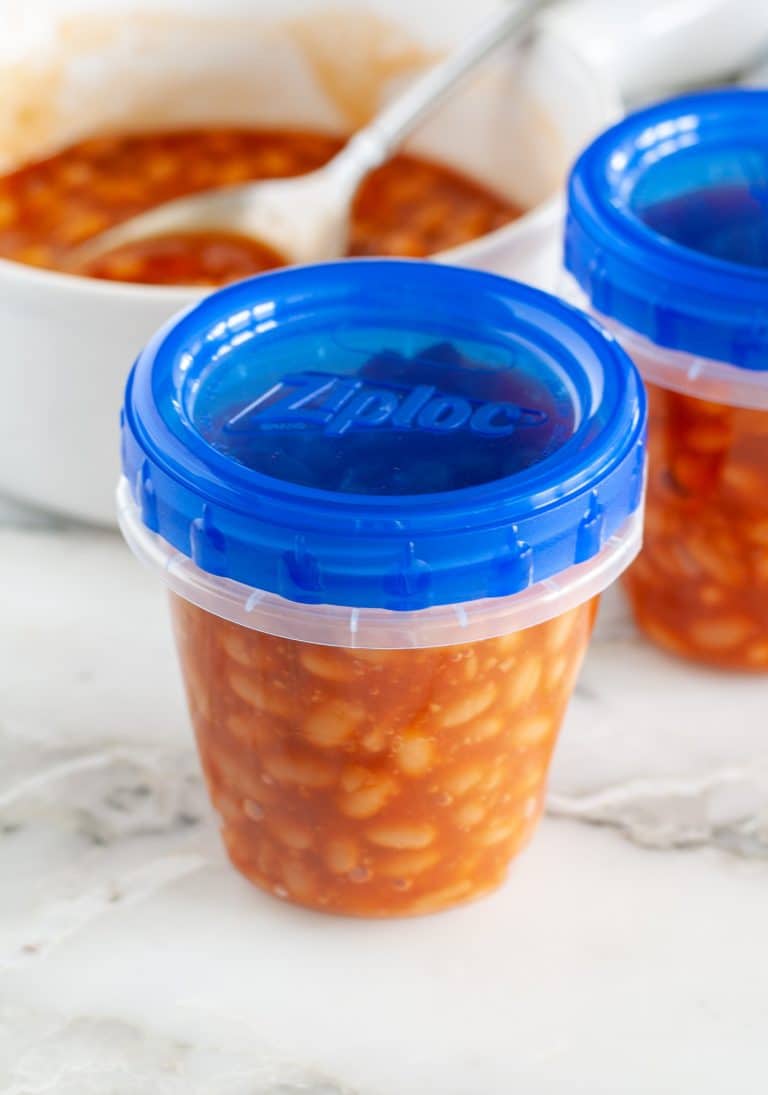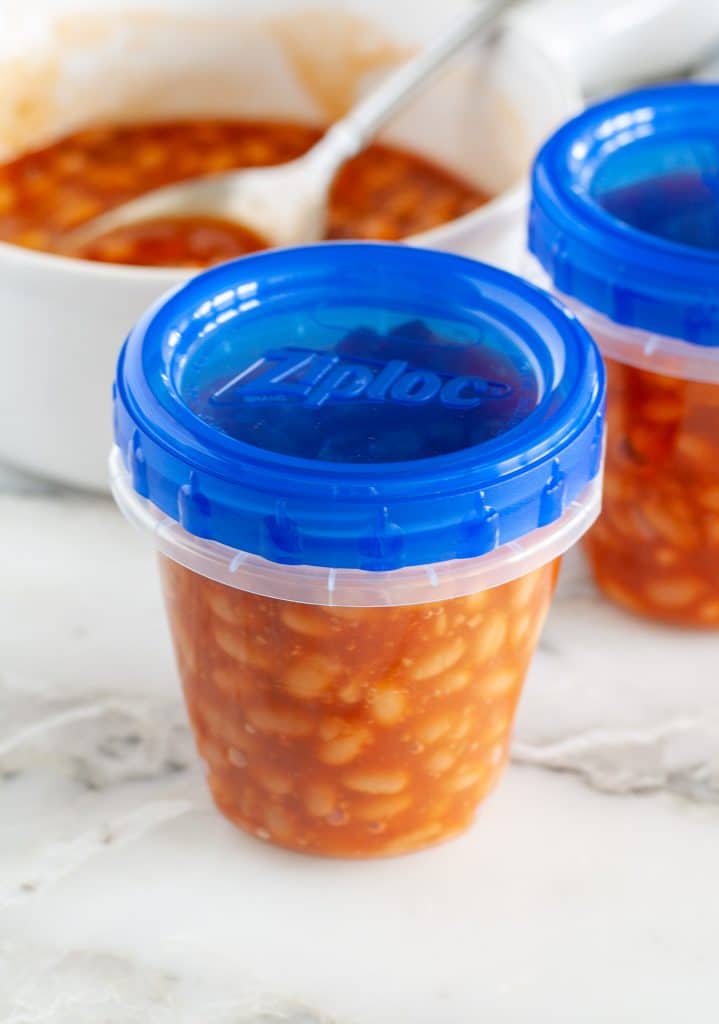 Can You Freeze Cowboy Baked Beans?
Absolutely! You can freeze cowboy baked beans and they will taste great once defrosted.
I find this cowboy baked beans recipe is a big friends and family request come summer.
They're perfect for outdoor gatherings such as BBQs and picnics.
And they're even better because you can make them in advance!
Despite being summer, our schedule doesn't slow down.
So if I have an event coming up I'll cook up a batch of cowboy baked beans and store them in the freezer.
When I store them, I place them in an airtight container with some head room. Then I just place them in the fridge the night before to thaw out.
Trust me, in this case the fridge and freezer are your best friend!
What To Do With Leftover Baked Beans
Now that you know how to freeze baked beans, what should you do with the leftovers?
Here are a few scrumptious ideas to leave you with:
Baked bean burritos
Spicy cowboy chili
British baked beans and toast
Cheesy baked bean casserole
Enjoy!