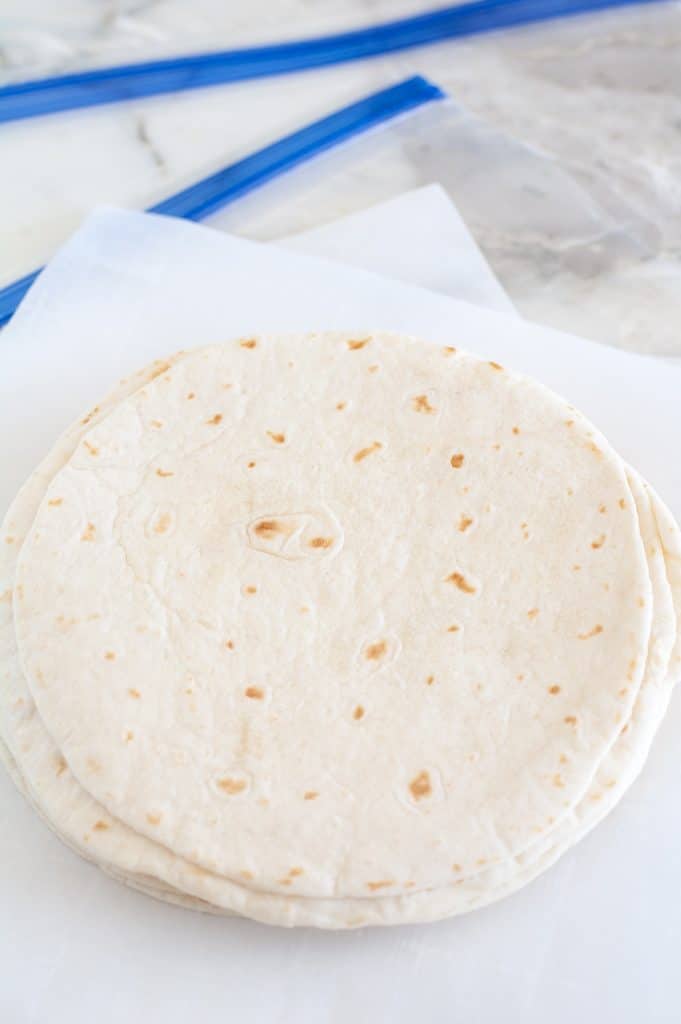 When we have big families to feed, having carb-based meals are a great way to keep everyone full and satisfied. Tortillas are a popular base for many meals, and some people even like to eat them plain! It's always good to make food last and store it safely though, so are there any rules or health concerns when it comes to freezing tortillas?
At the proper temperature, frozen tortillas can be good for as long as 6-8 months. Storing them in either airtight containers or freezer bags is the best way to store them. When you're ready to prepare them for a meal, take them out a few hours before and let them thaw out slowly in the fridge.
In this article, we'll be going over the different benefits and issues that arise when you want to freeze tortillas. We'll also be going over the different storage needs for each tortilla type and good rethawing techniques.
Freezing Tortillas: Corn and Flour
Corn and flour tortillas are very good for freezer storage and can be stored in their original packaging or zip-lock freezer bags. If you're planning on storing both corn and flour tortillas separately, they can be packaged inside parchment papers or with sheets of tin foil or wax paper between each tortilla. Then put your stack inside a freezer bag and squeeze out all air inside. This will help prevent freezer burn!
It's best if your tortilla stacks do not exceed 5-10 tortillas per stack. Not only does this help them keep their shape, but it keeps the tortillas from sticking together. If there is a lack of fridge/freezer storage containers or substitute bags/paper, you can also wrap the tortilla stacks in clingfilm. If the tortillas are made fresh by hand, wait for them to cool before storing/freezing them.
Freezer Vs. Fridge: Tortilla Storage
When storing tortillas in the fridge, it's better to eat them again sooner than later so you can enjoy the good quality that the dough had when first purchased. Tortillas in the fridge are good for ten days and any longer will cause them to "stiffen up" and crack easily when folded.
If you currently live in a warmer area and have either an opened package or freshly baked tortillas, you shouldn't keep the tortillas out at room temperature.
Storing tortillas inside the freezer is good for long-term storage as their freshness will still be available after properly thawing. What makes this method great is that the tortillas can easily last for up to 8 months. Having good storage materials to place the tortillas in (the same as fridge storage) helps keep the nutrients and freshness.
After taking the tortillas out of freezer storage, place them out and have them thaw out on their own for an hour. It can take longer if your tortillas are made thicker.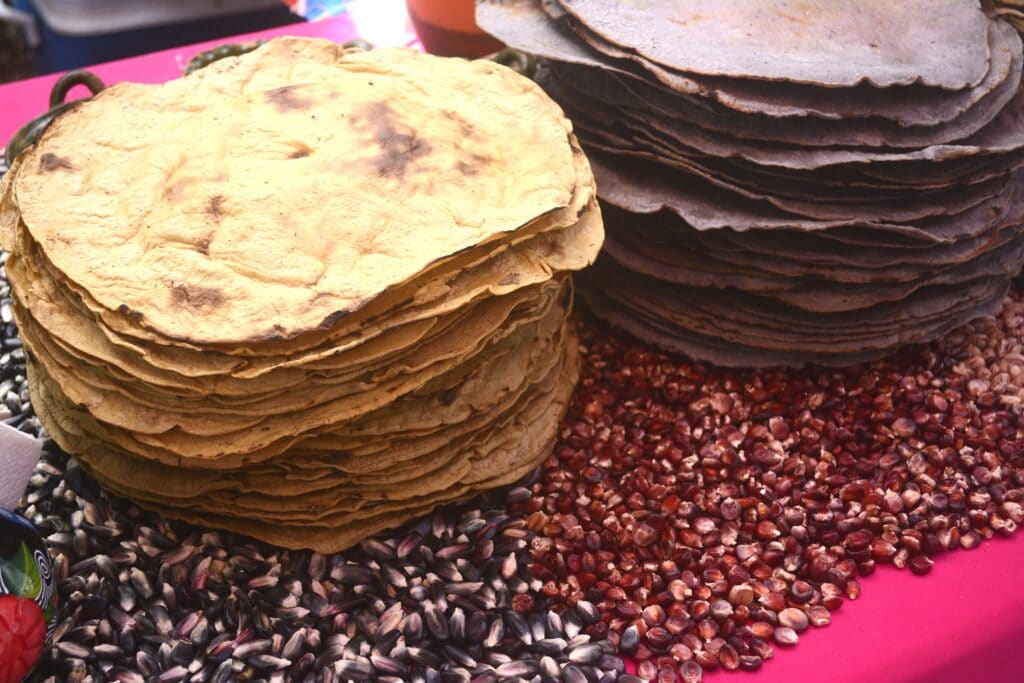 Storing Different Tortillas
While it's best to eat your tortillas after a week of fridge storage, extending the shelf life in storage depends on the original shelf life and best-by-date labels. When properly stored, various types of tortillas can be enjoyed all at once in most cases.
For pantry storing, other tortillas such as spinach and whole wheat can last up to a week, whereas homemade tortillas last up to 2-3 days. Also, flour and corn-based tortillas last for 7-10 days. In the fridge, spinach and whole wheat tortillas can be stored up to 3-4 weeks excluding homemade as they can only be good for 5-7 days.
Grain-free tortillas are especially good for long winters and first-week purchases when stored frozen at their best by date. When thawing, remember to leave them in the fridge from the week first opened. Using materials like parchment paper help when freezing this tortilla type.
When extending the shelf life in tortillas, you are choosing to cut down on the grocery budget and eating healthier. You are also practicing good hygiene for your body and giving your family fresh food.
It's best to keep non-refrigerated tortilla packages in the pantry or other cool dry environments where the temperature isn't affected too much. But if they stay at room temperature for too long, the moisture inside the packaging can grow mold over time and contaminate the food.
To prevent this, fridges are highly recommended for shelf life extension, especially for homemade tortillas. Keep the fridge temperature at 40 degrees Fahrenheit or lower.
It also doesn't hurt to research different food companies when buying store-bought tortillas as some companies will use different preservatives. This not only helps to figure out how long the company's tortillas last but to see if there are any products being used that could cause health problems.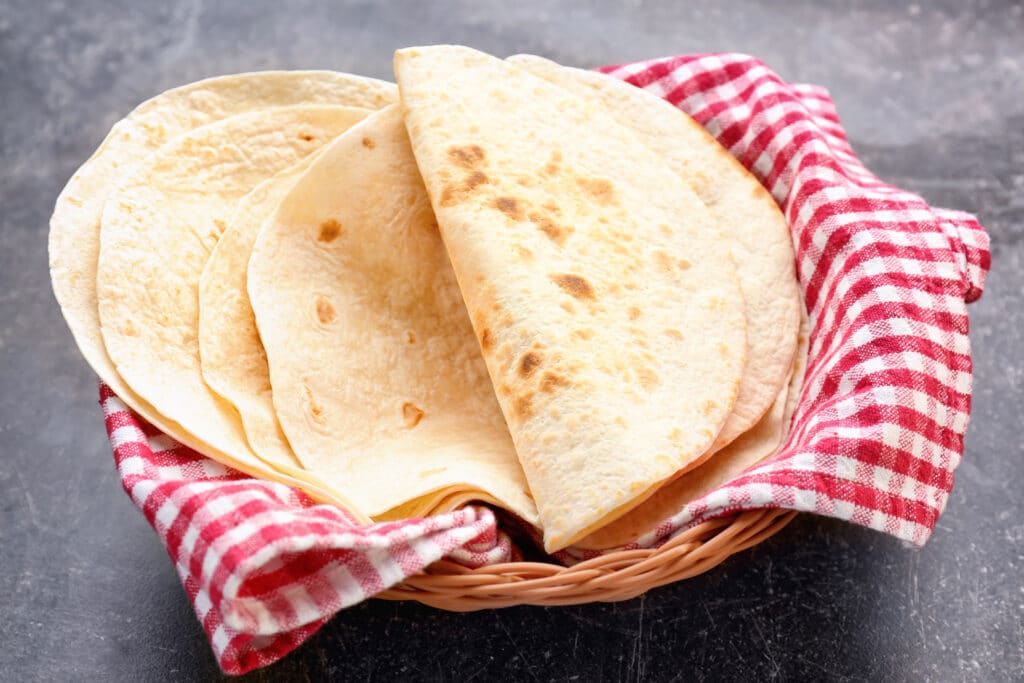 Reheating Tortillas
If your tortillas are kept in the freezer, it's a good idea to place them in the fridge 2-3 hours before eating. This gives them time to slowly thaw. If the tortillas were already in the fridge, you're free to pull them out and reheat them Mexican-style with a tortilla press, griddle them with a stovetop pan, or place them in the oven. Dry-heating is usually the best method to have tasty tortillas!
When using a tortilla warmer, you can heat them on the stovetop as they are made of ceramic. Gently apply the stacks of tortillas (5-10 tops) to the heat from the stovetop. You can also use tortilla warmers to reheat casserole dishes too if needed. Most people do not have a tortilla press if making tortillas is a new process to them so one quality press can be found here if interested!
Reheating tortillas with a griddle needs to be either done with a griddle pan or a cast-iron skillet while the tortillas are placed on a flat surface with the griddle pressing each tortilla separately with the stovetop's heat at medium. Have them pressed for only 30 seconds for each side. This helps when first cooking tortillas as it keeps them looking puffy yet crispy.
Lastly, reheating tortillas with an oven needs to start with a preheat of 350 degrees Fahrenheit with the tortillas wrapped in tinfoil stacks of five and left on the baking tray for 10 minutes. You can also keep the tortillas warm in the oven when wrapped in paper towels on low heat.
For a quicker thaw out, turn on your microwave to low power and place them inside for 30 seconds. Any sooner can make the tortillas squishy, easily torn, and give them a gross taste.
Conclusion
Freezing tortillas is a wonderful way to extend the life of any leftover tortillas. Use them for things like tacos, quesadillas and enchiladas.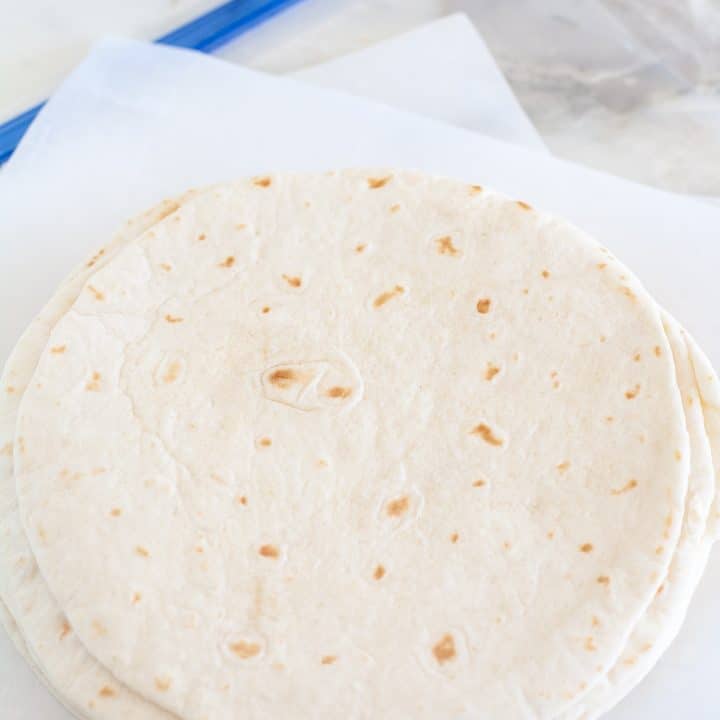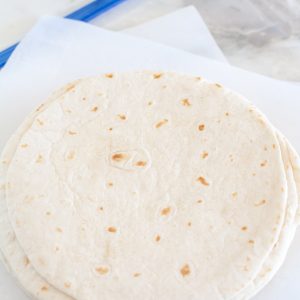 How To Freeze Tortillas
Learn how to freeze tortillas.
Ingredients
tortillas

flour or corn

parchment paper

or wax paper

freezer bags
Instructions
Take tortillas out of original packaging.

Place a single tortilla in between parchment paper. Make a stack with remaining tortillas.

Place in freezer safe bag. Remove as much air from the bag as possible and seal.

Thaw in the refrigerator before eating.
Nutrition
Serving:
1
g
|
Calories:
138
kcal
|
Carbohydrates:
20
g
|
Protein:
4
g
Nutrition information is automatically calculated, so should only be used as an approximation.
Like this? Leave a comment below!