Butterscotch Cheesecake Bars
Jul 25, 2021, Updated Jun 20, 2023
These butterscotch cheesecake bars have a deliciously creamy cheesecake center with an easy, rich butterscotch crust. A dessert that is sure to be loved by family and friends.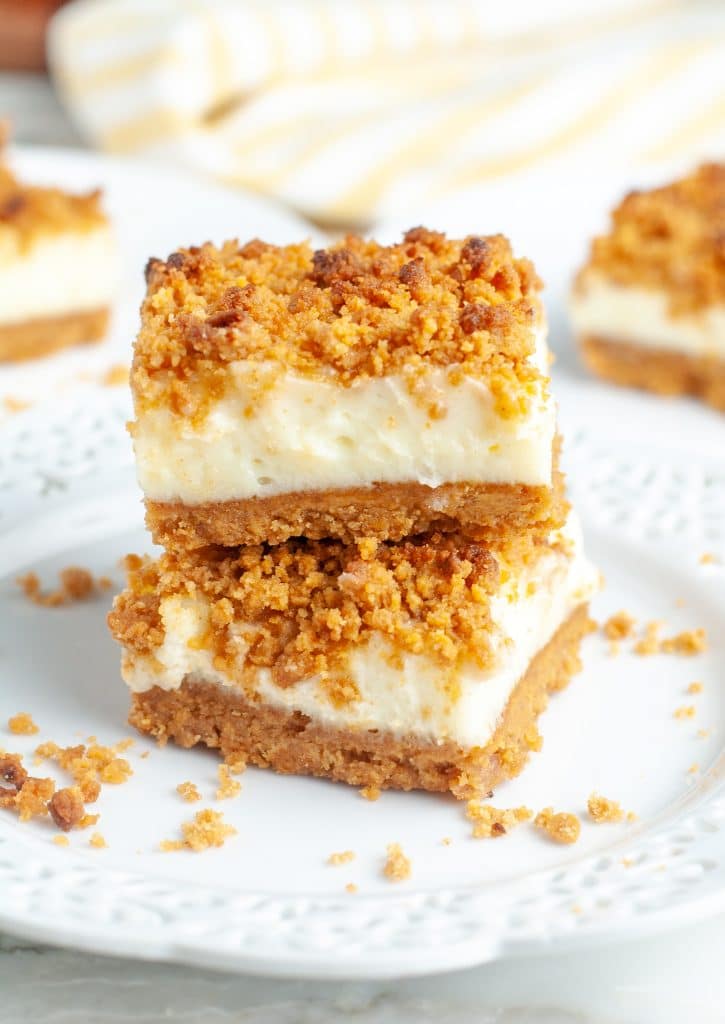 Butterscotch is one of my favorites when it comes to a sweet treat. Everything from butterscotch brickle pie, butterscotch brownies and butterscotch sauce, the rich flavor really can't be beat.
These butterscotch cheesecake bars are the ultimate combination of rich, sweet butterscotch and sweet, slightly tangy cheesecake center. The crumb crust is made with butterscotch chips and graham cracker crumbs and the center is a super simple cheesecake mixture.
The full recipe is being shared at Dixie Crystals. Find the full list of ingredients and directions at Dixie Crystals Butterscotch Cheesecake Bars.
Ingredients needed
Graham cracker crumbs – Pulse graham crackers in a food processor or blender to make crumbs. You will need 2 cups or about half a box of crackers.
Butterscotch chips – These are used to make the crust and crumbly topping.
Butter – Unsalted, sweet cream butter.
Sugar – You will need granulated sugar to help sweeten the cheesecake layer.
Cream cheese – Make sure to use very softened cream cheese. I like to set mine out at room temperature about 30 minutes before cooking.
Vanilla extract – Adds sweetness and warmth to the cheesecake.
Salt – A pinch of salt helps to balance out the sweetness.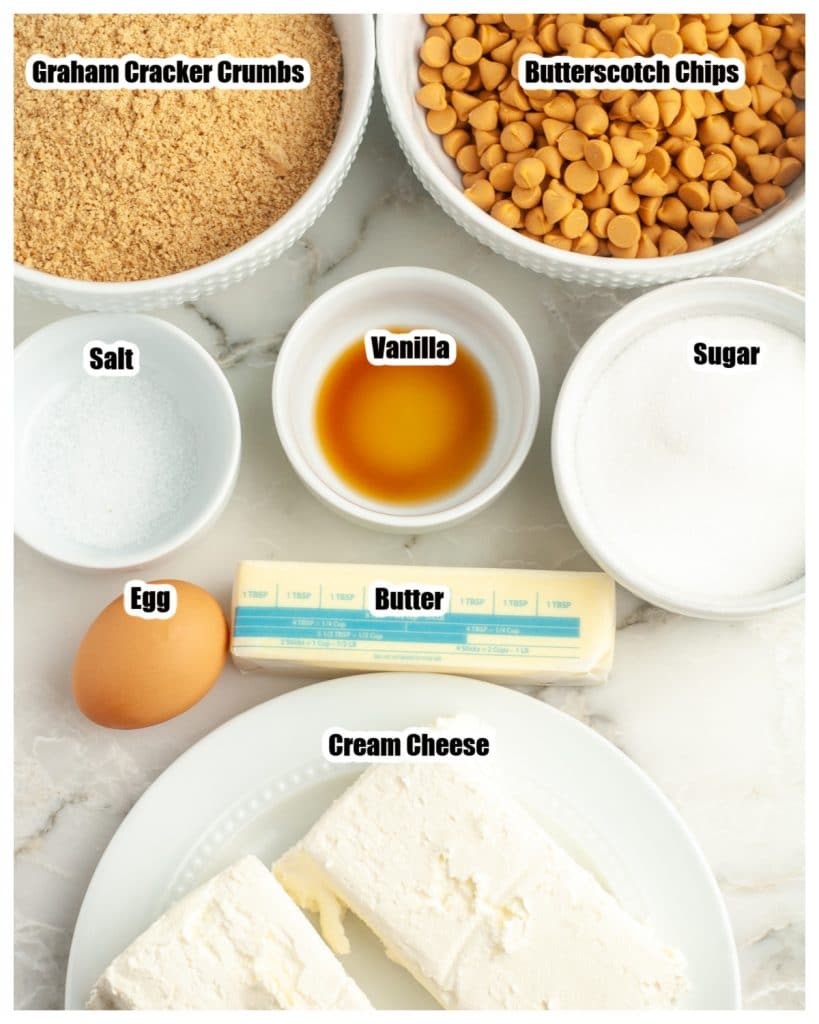 How to make butterscotch cheesecake bars
Click here for the full recipe and instructions.
Crust : Place butterscotch chips and butter in a saucepan over low heat. Stir constantly to melt. It will take around 4-5 minutes. Take the saucepan off the heat and mix in graham cracker crumbs.
Take out a cup of the crumb mixture to use for the topping.
Add the remaining mixture into a prepared baking dish. Press down to form a crust. You can use your hands or the back of a measuring cup to help press down the crust.
Cheesecake: Mix together cream cheese and sugar until creamy. Add in egg, salt and vanilla.
Pour the cheesecake mixture over the crust and spread it out evenly. Sprinkle the rest of the crumb mixture over the cheesecake.
Bake for about 30 minutes or until the edges start to set. Remove from oven and let cool for about one hour. Cover and chill in the refrigerator for at least 2 hours. Overnight is best so that they can completely cool.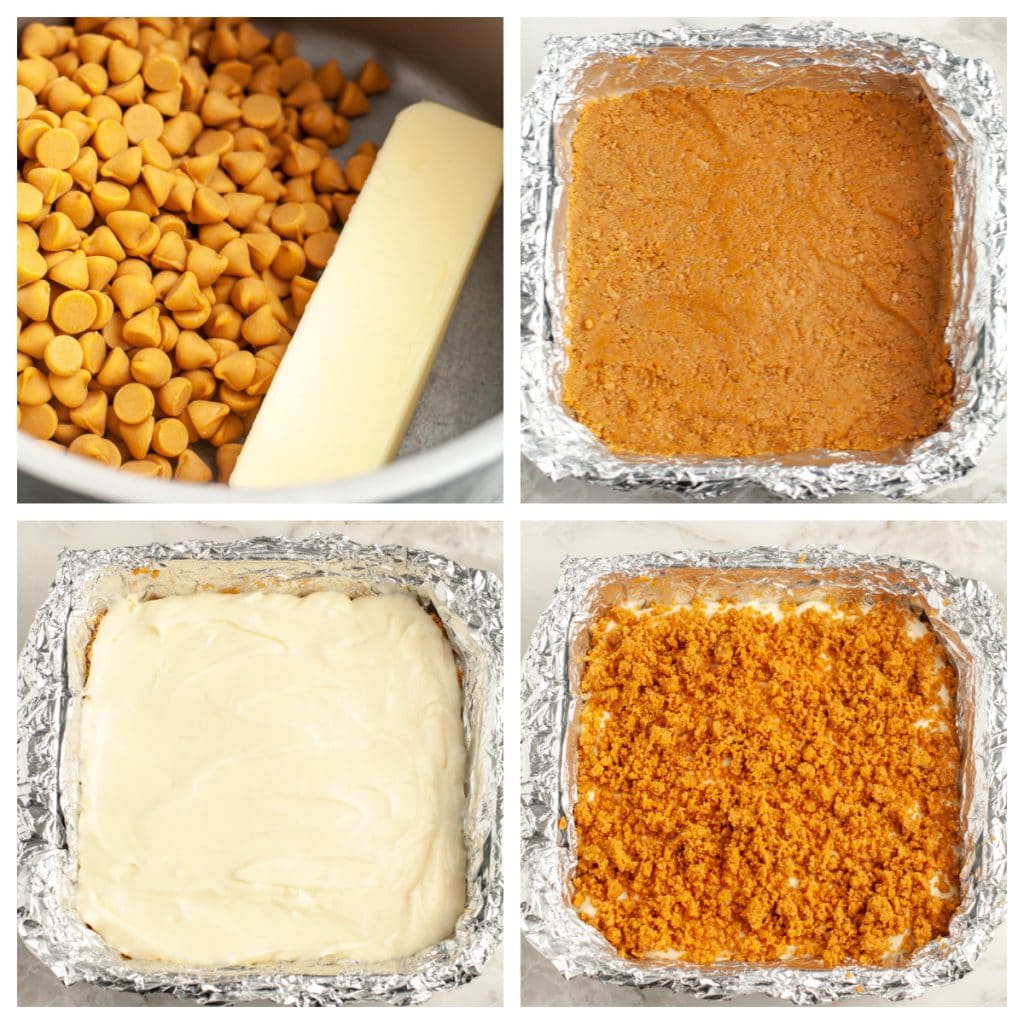 Recipe tips
Make sure to let your cream cheese softened at room temperature. This helps to get a nice creamy cheesecake without lumps.
When melting the butterscotch chips and butter, be sure to continuously stir over low heat so it doesn't burn. This will take 3-5 minutes for everything to melt.
These bars take about 30 minutes to bake. The edges should start to set but the middle might still be a little jiggly. Don't worry, it will finish setting when it cools.
The longer you can let the bars chill in the refrigerator, the easier it will be to cut them into bars.
How to store
Store these cheesecake bars in an airtight container in the refrigerator for 4-5 days. I don't recommend freezing them because the cream cheese looses it's texture.
More easy dessert recipe
***Food Lovin' Family has an ongoing relationship with Dixie Crystals for developing recipes. I have been compensated for this post. All thoughts and opinions are my own.